By Gary Wien
originally published: 09/27/2018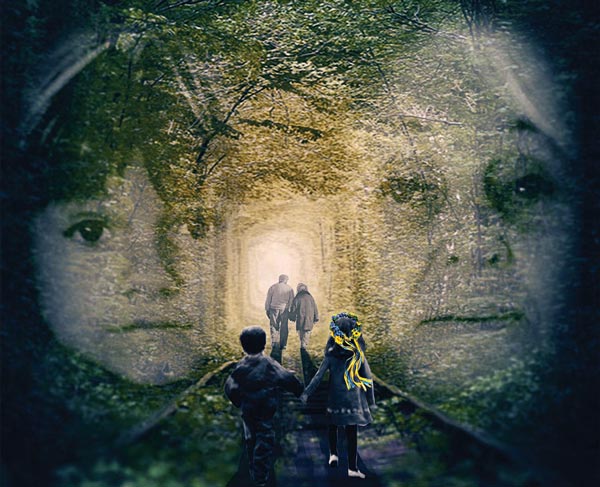 Among the many intriguing films being screened at New Jersey Film Festival Fall 2018, one title immediately caught our eye — Baba Babee Skazala: Grandmother Told Grandmother.  
It's a documentary on a little-known story about Ukrainian children who were torn from their homes and their nation when the Nazis invaded the territory and clashed with the Soviet army at the height of World War II.  Spending their childhoods as refugees in Europe, these Ukrainians later immigrated to the United States and created their own communities through their grit, faith, and enduring belief in the importance of preserving their culture.
The film is by Matej Silecky, a first-time filmmaker from Verona, NJ.  It will be screened at the New Jersey Film Festival on Sunday, October 7th in Voorhees Hall at 7:00pm following a screening of the short, Eli by Collin Gerard.  Silecky will take part in a Q&A session after the screening.
This is a subject with a very personal connection for Silecky whose grandparents had to flee during that time period.  "My grandmother's story was actually one of the first ones that got this documentary moving and paved the way for traveling around and across the United States to gather the stories of our elders," he said.
There are Ukrainian communities throughout the country and they often know of people in communities in other states.  When he found one survivor, they often led to more.  Over 2 million Ukrainians were displaced from their homes as they fled deportation and death.  At the war's end, approximately 200,000 ended up in displaced person (DP) camps, later immigrating to other countries. Many of the people he interviewed were either teenagers during World War II or close to being a teenager.  This meant they were old enough to remember the atrocities, the DP camps, and the struggles of the day.
---
The article continues after this ad
---
---
"Baba Babee Skazala translates literally to 'grandmother told grandmother,'" explained Silecky. "It goes back to when there was no television, no radio, no newspapers or anything.  So, how was news shared? It was shared through the grandparents because grandparents oftentimes were the people who were no longer at work.  They were 'retired' and would be about the town or city and speak to each other about the family doings.  As you can imagine, news would travel around the city quite quickly."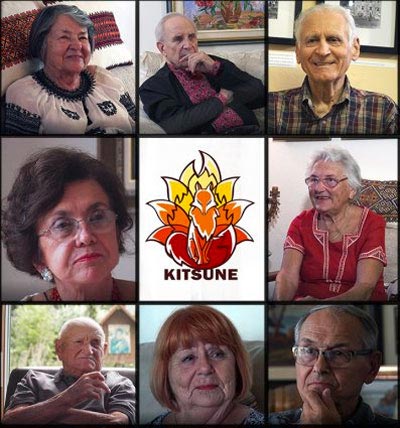 The Ukrainians were up against threats to their people's history and their homeland, as well in danger for their lives. The Soviet government wanted to claim the Ukraine as their own.  It was an ambitious goal, but one that still persists today.  "Ukraine" translates to "borderlands" and those borders are constantly challenged. Currently, the challenge stems from Russia's annexation of Crimea, leading to ongoing disputes along the eastern border.  In World War II, the Soviets attempted to destroy Ukraine's history and its meaning in the world.  The only way to share information was from person to person.  There was a war waged against the Intelligentsia - educated people that helped shape the culture and politics of society.  This group often included artists, teachers, academics, writers, and journalists. It's difficult to watch this part of the film without thinking about the war currently being waged against the press led by the American president.
The film illustrates that saying that history always repeats.  In addition to the war on the Intelligentsia, the comparison of Ukrainians in DP camps is startling with the way refugee children are treated in America.  While the U.S. government put the children in cages, the Ukrainians attempted to turn the DP camps into as much of a positive environment as possible.  The film shows them bringing culture and sports into the camps and making the best of a bad situation.
"The Ukrainian community is very resilient," said Silecky.  "Whether it's in our blood or not, I do not know. I do know that when the Ukrainian community came into the DP camps they looked at the situation and said, 'This is not amazing, but we're going to make it amazing.'  I know that there's a lot of people for whom that becomes difficult - especially with the way the world is today.  It's becoming more and more difficult to see the positive that could come out of these situations.  But I think sometimes knowing stories like these, do help bring the light at the end of the tunnel for these groups.  I'm not a political expert.  I don't know very much about the nitty gritty of the situations as they currently stand, but I do see how the whole history of history always repeats itself is prevalent.  Hopefully this documentary does share some insight and helps people make connections to today's age."
One person who is a political expert and recognizes the connections to today's world is Dr. Alexander Motyl, a professor of political science at Rutgers-Newark and shares his views in the documentary. But Silecky's film focuses less on the immediate comparisons and more on the people interviewed who can still remember their time in the DP camps.  Silecky was fortunate to be able to interview many who shared their experiences - a process that bonded him with his subjects in a very personal way.  Sadly, a few of the people passed away before the documentary was completed.
Most of the people Silecky contacted were very willing to share their stories.  Even though it's within the last 100 years, there are hundreds of little known stories from World War II. One gets the sense the subjects of his documentary felt an obligation to share their stories to keep the history of their family and friends alive.
Silecky noted, "About 90 percent of them said, 'This is a really important topic.  I love this.  I cannot believe that no one has done this before.  I appreciate you taking this on.  Here is my story. What else can I give you?' That's engaging and exciting.  It meant a lot to me as well."
The other 10 percent were people who were worried about sharing their stories out of fear that there were still groups searching for surviving individuals.  Stories of hit men sent after them were very real to a few survivors. It was something Silecky had not expected to hear, but gave him new insight into the documentary's importance.
Having survivors interviewed in the documentary makes the history more real.   Even though their stories have been passed down from generation to generation, it's powerful to hear the story directly from one who lived it.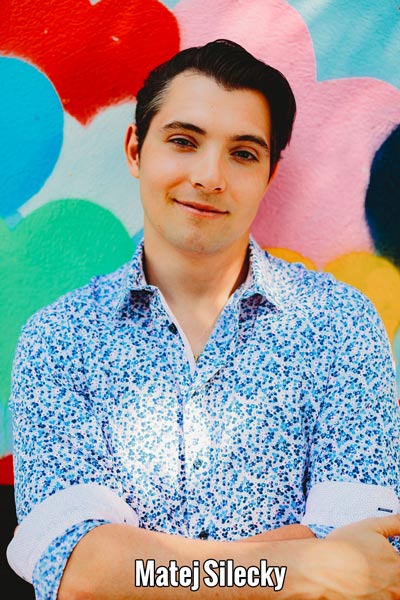 In addition to filmmaking, Silecky (a 2015 University of California, Berkeley graduate) is an actor, writer, digital artist, concept artist, photographer, and a competitive figure skater. H was seen by millions of fans in England on the popular UK show Dancing On Ice. One of the most interesting aspects of the film is how Silecky utilized digital art and animation in the film to help photographs come to life. The end effect is akin to a 3D, surrealistic dream.  Silecky compares them to the way we perceive memories.
"What are memories?" he asks.  "To an extent, memories are brought into our dreams.  So that whole concept of dreamscape plays an important role as well.  I did the animations myself, splitting some of the artwork with a fellow artist in the Ukraine.  There is a slight difference in the artistic style of them, but the artwork and animations were designed to be not fully realistic.  I love doing art and I do math paintings as well.  The concept of my artwork is what would be used in films and video games.  I wanted to do something somewhat different with this because memories are not completely realistic and they're not the complete truth of things at times.  They are the concepts and important aspects of moments.  So, in creating these art pieces, there's nothing you can find online or even in archives that can portray the feelings and the emotional aspects of what these people endured, felt, or saw.  Each of these pieces that is in there are intended to provide that memory aspect."
He continued, "It was exciting because a lot of these people are sharing their story with me and then I go out and I work with another artist and we create something for different individuals and bring it back to them.  They're like, 'Wow, this is exactly what I was thinking about' or 'This truly brings across my memories and the feelings of it.'  Whether it's exactly what they were thinking or not, it does help capture that important meaning."
Silecky says he sees himself continuing to do documentaries.  He didn't know what to expect from his first one, but enjoyed the experience so much that he would like to continue shedding light on vital stories from throughout history that need to be shared.  Not just Ukrainian cultures, but all cultures he explained.  Stories that hopefully can connect the world and history more together.
For a full listing of films at the New Jersey Film Festival visit www.NJfilmfest.com
---
Gary Wien has been covering the arts since 2001 and has had work published with Jersey Arts, Elmore Magazine, Princeton Magazine, Backstreets and other publications. He is a three-time winner of the Asbury Music Award for Top Music Journalist and the author of Beyond the Palace (the first book on the history of rock and roll in Asbury Park) and Are You Listening? The Top 100 Albums of 2001-2010 by New Jersey Artists. In addition, he runs New Jersey Stage and the online radio station The Penguin Rocks. He can be contacted at gary@newjerseystage.com.
---