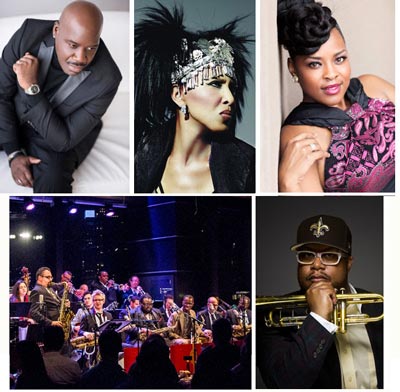 (NEWARK, NJ) -- The New Jersey Performing Arts Center (NJPAC) and Audible have announced the first three national performance dates of "Jazz in the Key of Ellison," celebrating the musical world of the esteemed African-American novelist, critic and scholar Ralph Ellison and his remarkable collection of jazz recordings.
This rich multimedia production, which premiered at NJPAC's TD James Moody Jazz Festival in 2016, is inspired by Ellison's novels and writings about the search for identity by African Americans in mid-20th century America, and his life as a trumpeter and jazz aficionado, as well as his understanding of the oral tradition that has defined Audible from its founding.
"Jazz in the Key of Ellison" is the latest attraction of NJPAC Productions on Tour, which brings exciting, original theatrical works to cities here and abroad. Its properties include "The Hip Hop Nutcracker," which this year embarks on a fifth annual, 28-stop tour; "Carefree: Dancin' with Fred & Ginger," a song-and-dance salute to America's favorite ballroom duo, and "Showtime with Shakespeare," a hip hop adaptation of a book from Mary Pope Osborne's best-selling "Magic Tree House" series for young readers; its inaugural national tour launches in the spring.
"Jazz in the Key of Ellison" performance dates are:  Friday, Feb. 8 at the Adrienne Arsht Center for the Performing Arts of Miami-Dade County in Miami, Florida; Saturday, Feb. 16 at the Balboa Theatre in San Diego, California; and Friday, Feb. 22 at the Chicago Symphony Center in Chicago, Illinois. 
This concert production features today's preeminent jazz and R&B artists interpreting Ellison's themes of African-American struggle. Musical selections draw on the evolution of jazz from the Harlem Renaissance to the birth of R&B. Black American music, predominantly jazz, was a cornerstone of Ellison's life and infused his literary works, such as "Invisible Man," "Living with Music" and "Juneteenth."
---
The article continues after this ad
---
---
Performers featured in "Jazz in the Key of Ellison" include acclaimed jazz/R&B vocalist Will Downing; Grammy Award-winning trumpeter and composer Nicholas Payton; singerNona Hendryx, formerly of Labelle ("Lady Marmalade"); Quiana Lynell, 2017 winner of NJPAC's Sarah Vaughan International Jazz Vocal Competition; and Andy Farber and His Orchestra.
The evening is augmented by still images and video of Ellison and jazz greats; projections of paintings by Romare Bearden, Ellison's close friend; and dramatic readings of excerpts from Ellison's prose, by special guest to be announced.
"We are thrilled to bring 'Jazz in the Key of Ellison' and its interpretation of Ralph Ellison's important work by world-class musicians to venues across the country," said Audible founder and CEO Don Katz. "From its earliest days, Audible's vision and mission have been inspired by Ralph Ellison's understanding of the power of oral tradition and his ability to hear the music in well-wrought arrangements of spoken words. "My own fascination with the sound of well-composed words and the music embedded in language goes way back to my good luck of having Ralph as my teacher and mentor. In many ways, Audible exists today to honor his legacy."
"Following the outstanding success of NJPAC's production of 'Jazz in the Key of Ellison' in Newark, we realized that it was vital to tour it to other cities nationwide," said NJPAC President and CEO John Schreiber. "Hearing a literary legend's observations on African-American culture, brought to life by an ensemble of amazing musicians performing the music he loved, will stay with listeners long after the last note rings out."
"Jazz in the Key of Ellison" is presented in two parts. "Early Lasting Influences" features the ensemble performing music by Louis Armstrong, Bessie Smith, Duke Ellington, Mahalia Jackson and others. "Minton's and After" includes works by such jazz icons as Charlie Parker, Dizzy Gillespie and Thelonious Monk. The program features beloved standards such as "Cotton Tail," "Stardust," "Everybody Loves My Baby" and "Black and Blue."
Ellison was more than a visionary author and scholar. He was also a trumpeter and friend of Armstrong, Ellington, Count Basie, Miles Davis, Ray Charles and countless other jazz and R&B greats.
"Invisible Man" (1952) is Ellison's novel about an African-American man's journey to find his place in a society corrupted by prejudice and intolerance. Winner of the National Book Award, it is considered one of the most important American literary works of the 20th century.
Other notable writings by Ellison include "Flying Home and Other Stories" and "Shadow and Act" (1964), a collection of political, social and critical essays. An Oklahoma City native who lived most of his life in New York City, Ellison died in 1994 at age 81.
"Jazz in the Key of Ellison" is produced by NJPAC and Danny Kapilian and sponsored by Audible with support from the National Jazz Museum in Harlem, and the Institute for Jazz Studies in Newark.

 
ABOUT THE ARTISTS

 

Will Downing – Acclaimed jazz/R&B singer Will Downing is known as the Prince of Sophisticated Soul. The solo artist has worked with Jennifer Holliday, Kool & the Gang, Gerald Albright, Billy Ocean, Regina Belle and others. Downing's 1988 version of John Coltrane's "A Love Supreme" reached No. 4 on the Billboard Hot Dance Club Songs chart. In 2018, Downing released his first gospel album, "The Promise."  

 

Nicholas Payton – Multi-instrumentalist, composer and trumpet master Nicholas Payton is one of the most important working and recording artists today. A virtuoso before he was out of high school, his talent and skills have earned him accolades and ensured his place in musical history. Payton has composed, arranged, performed and recorded with his own groups in many settings and spanning a multitude of musical genres; his full orchestral work, "The Black American Symphony," debuted in 2012. He received a Grammy Award for his collaborative album "Doc Cheatham and Nicholas Payton." 

 

Nona Hendryx – In the spirit of two-fisted political singer-songwriters such as Nina Simone and Joni Mitchell, Nona Hendryx tackles social issues, love and politics with a smoky vocal tessitura somewhere between funk and the end of the stratosphere. Hendryx's legendary career spans six decades of sound and style evolution. She is best known as one-third of the Rock & Funk Glam Divas Labelle, who produced the No. 1 hit single, "Lady Marmalade." 

 

Quiana Lynell – The winner of NJPAC's 2017 Sarah Vaughan International Jazz  Vocal Competition, Quiana Lynell is a fast-rising presence on the jazz scene and is quickly positioning herself to be a longstanding artist. She infuses her classical training with her gospel upbringing and approaches jazz as a storyteller, hitting every note with perfect timing and impeccable pitch. Lynell believes every word that journeys from her soul, making for mesmerizing performances.

 

The Andy Farber Jazz Orchestra – A professor at the prestigious Juilliard School of Music, award-winning jazz composer, arranger and saxophonist Andy Farber has worked extensively with legendary jazz singer Jon Hendricks and Juilliard Jazz Director Wynton Marsalis. Farber has written arrangements for numerous and diverse artists and ensembles, including Shirley Horn, Bobby Short, Willie Nelson, Paul Simon, Stevie Wonder, B.B. King, Bob Dylan, Ray Charles, the Boston Pops Orchestra and several symphony orchestras throughout Europe.