By Gary Wien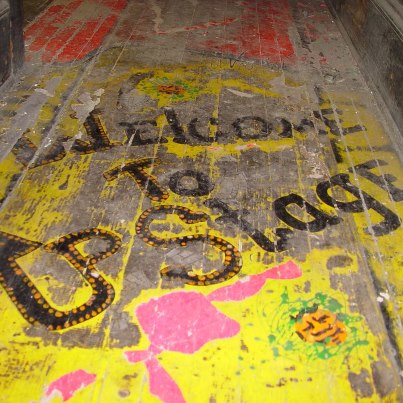 While searching my computer for an old file, I stumbled upon this proposal to bring back the Upstage Club. This was actively proposed to the City of Asbury Park in 2004. Unfortunately, at the time, neither Asbury Park nor Monmouth County or even New Jersey had money to really get a project like this off of the ground. I'm posting it to show some of the ideas we had -- some of which have begun seeing the light of day in recent years -- with the hope that maybe some more will become reality in the future. It's also kind of cool looking back at how Asbury Park was in 2004 and just how far it's come in less than a decade.

Asbury Park just might be the most untapped tourist destination in the world. Once a great seashore resort, the town has been pretty much a ghost town for over a decade. A massive redevelopment plan is now underway, which will once again make Asbury's boardwalk come to life and bring tons of tourism dollars to the area. Signs of progress can be seen in the downtown district where several new restaurants and stores have opened in the past two years. Music was the one thing holding the town together through the long years and music will continue to lead the town's rebirth. The time is now to bring back the Upstage Club, one of Asbury Park's legendary music venues, to provide a salute to the past and a glimpse of the future. In doing so, the Upstage Club will begin the process of having music capitalize on the city's returning tourism trade.
The Upstage Club was only open for a few years, but its role in music history is legendary. Bruce Springsteen and many members of the E Street Band honed their craft there, as did Southside Johnny and Bill Chinnock. If there was one place that truly symbolizes the history of rock and roll music in Asbury Park, it is the Upstage Club. Thanks to the Internet and several Springsteen related music history books, the club is known throughout the world. The club's musical history and it's central location makes it a perfect place for a rock and roll museum, premier venue and coffeehouse.
Music Tourism is the idea of bringing music fans to a particular area that holds a special history. Some of the most popular examples of music tourism include Graceland (Memphis), Liverpool (England), Cleveland (Ohio), and Seattle (Washington). All of these places have had tremendous success with attracting visitors. The Experience Music Project in Seattle opened in June 2000 and recently celebrated its two millionth visitor. The Rock and Roll Hall of Fame in Cleveland, which opened in 1995, had its five millionth visitor this past October and generates about $100 million in tourism revenue to the city. Elvis Presley's Graceland in Memphis is visited by over 600,000 visitors per year and provides over $150 million in tourism revenue to the local economy.
Liverpool's growing interest in music tourism has responded to the creation of an industry that pumps over $800 million in tourism revenue to the area. It is clear that musical destinations are becoming more important to our society as the numbers of visitors to music locations indicate. Asbury Park is fortunate to have not one but two rock and roll superstars (Bruce Springsteen and Jon Bon Jovi) that arose from the Asbury Park scene. The town is also one of the few music-related areas with the ability to bring in tourists for other reasons as well. Asbury Park has a beach, a boardwalk, convenient access to mass transit via a train line that runs up and down the Shore to New York City, and borders Ocean Grove, a Victorian-styled tourist town.
By creating a rock and roll museum, premier live venue and coffeehouse, the Upstage Club would be one of the most unique musical destinations in the world. Not only could music fans learn about the history of the Asbury Park scene, but they could witness future stars on stage. The time is now to create such a destination. Asbury Park is changing so quickly that there may not be another chance to acquire a building with the history and location as the one that once housed the Upstage Club. There is a general feeling in the area that this time redevelopment will fully return the town to glory. Music was there is the down years, music should be the centerpiece behind its resurgence. This project is such a centerpiece.
The Museum
A) Museum Artist Exhibits
1) Bruce Springsteen would be the biggest draw to any local museum and so Bruce should be the major focus. His fans have already shown that they will travel from around the world to Asbury Park to see the places sang about in his songs. The museum should contains items and memorabilia dealing with every stage of his career (Castiles, Earth, Child, Steel Mill, Dr. Zoom & the Sonic Boom, Bruce Springsteen Band, and E Street Band, solo work, etc.) as well as point out his role and importance with Asbury Park (everything from his first record being called Greetings From Asbury Park to press photos shot in town (like the classic band shot in front of Tillie) and coverage of events like the "Today Show" special for the release of The Rising.
Although Springsteen's early days have been covered in books and Internet websites, there are still a lot of things that a museum exhibit could have which would surprise even the most diehard of fans. Besides it's one thing to see something like hand written song lyrics in a book and quite another to see it in person. Rare photos, memorabilia, videos, and audio recordings are all possible.
2) Jon Bon Jovi would be the second largest draw to the museum. Interestingly, he would also bring a largely different audience than Springsteen due to a younger fan base and different style of music. His early career was honed in local clubs like the Fast Lane and Stone Pony. Unlike Springsteen, Bon Jovi's early days are not very well known so the museum exhibit would be able to contain lots of items that fans have never seen before.
3) Southside Johnny and the Asbury Jukes would be the third largest draw. This band may not have sold millions of records as Springsteen and Bon Jovi did, but they have a dedicated fanbase throughout the world. A few years ago, 300 fans (many from Europe) paid $140 for tickets to JukeStock, a Southside Johnny convention held in Tinton Falls. This is an excellent example of music tourism in action.
4) To fully represent Asbury Park's music history the museum should contain smaller exhibits on a full range of Asbury Park musicians. Obviously, the other members of the E Street Band should get a decent amount of exposure as Garry Tallent, Danny Federici, Clarence Clemons, Patti Scialfa and ex-members Vini Lopez, David Sancious and Boom Carter were all involved in Asbury Park music for ages (including many shows at the Upstage as well). Other significant artists from the area include Margaret Potter and the Distractions, Bill Chinnock, Big Danny Gallagher, Big Bobby Williams, Billy Ryan, Ricky D, Sonny Kenn, George Theiss, Billy Hector, Lance Larson, Cats On A Smooth Surface, Glen Burtnick, John Eddie, Redhouse, Dramarama, Smithereens, Mr. Reality, Whirling Dervishes, The Outcry, Last Perfect Thing, deSol, New Blood Revival, Joe D'Urso & Stone Caravan, Borealis and Highway 9.
Although the Asbury Park music scene clearly had a peak era, the music scene has continued throughout the years. Bands like New Blood Revival, Borealis, and deSol have all signed major record deals in the past few years. This is another unique aspect of the Asbury Park project - the history continues to be written. As each new artist builds a national following, the museum gains a new audience. This adds even more credibility to the long-term prospects of a rock and roll museum in Asbury Park.
B) Museum Venue Exhibits
1) The Upstage Club will obviously be well represented but there will also be exhibits on other clubs that are no longer in existence. The list might include places like the Sunshine In, Student Prince, Mrs. Jay's, and T-Birds Cafe.
2) Current venues like the Stone Pony, Fastlane, and the Saint will have exhibits highlighting their history and classic shows. The Stone Pony is one of the most famous rock and roll clubs in the world and celebrates its 30th anniversary in February. Fans from around the world already come to visit the club and the museum will be able to capitalize on that existing audience.
3) One of the most interesting things about Asbury Park's rock and roll history is the staggering amounts of top bands that have played there through the years. For a town with a population of under 20,000 to have seen bands like Led Zeppelin, the Doors, the Rolling Stones, Kiss, U2, the Police, and the Replacements is quite remarkable. Photos, memorabilia and stories from those shows would make for a very interesting exhibit.
C) Types Of Items Included In The Exhibits
1) Memorabilia like original hand-written song lyrics, old instruments, band promotional items, rare records/CDs, posters, showbills, etc.
2) Physical items like club marque signs and paintings that were on venue walls.
3) Photos of the artists which could change every few months.
4) Videos of the artists.
5) Biographies and interesting facts about each artist.
6) A family tree linking each artist to similar artists in the Asbury Park scene.
7) A "then and now" segment showing early photos with current ones.
8) Listening booths to hear the artists' music.
D) Changing Exhibits And Conferences
1) Exhibits could be set up based around a particular artist that was playing in the area or to help celebrate the release of a new record.
2) The museum would be an excellent place for "visiting" exhibits such as the "Bruce Springsteen: Troubadour of the Highway" exhibit which has toured around the country.
3) A tie-in with other music museums such as the Rock and Roll Hall of Fame in Cleveland could provide items on loan for temporary exhibits.
4) The museum venue area would also serve as a great rental space for small conferences or lectures. The Rock and Roll Hall of Fame rents out their space several times a year.
E) Museum Store
1) The store would sell lots of museum related items like t-shirts, program guides, glasses, etc. as souvenirs. The store would also sell items worldwide via the Internet.
2) The store could set up deals to be sell officially licensed merchandise by artists like Bruce Springsteen, Bon Jovi and Southside Johnny.
3) Memorabilia and CDs signed by the artists would make for interesting souvenirs.
4) Asbury Park does not currently have a CD store, so simply stocking CDs from all of the local artists would bring a lot of sales.
---

The Venue
A) Listening Room
The ideal setup for the Upstage Club would be to utilize the space for a true "listening room" premiere music venue modeled after places like the Tin Angel in Philadelphia. The room would contain state-of-the-art sound and lighting systems and set up with either table or stadium seating.

The listening room setup goes along with the idea of creating a unique musical experience that will draw people from around the world.

The Saint occasionally has shows similar to a "listening room" experience and they do very well. They not only get a different crowd (those who are really into hearing the music) but they attract different artists as well. There are plenty of national artists who choose to only play in rooms like this. By being situated between Philadelphia and New York, the Upstage Club would attract many performers to add a show in between playing those two cities. By attracting artists that normally would not have played in Asbury Park, the Upstage Club will not have to compete with the other venues. Instead, the Upstage may find itself more like a partner to nearby clubs like the Saint and Harry's Roadhouse than a competitor. The Upstage and its museum will bring more music fans to the area and thus bring more fans to the other clubs as well.

B) Upstage Jams
National and local acts would play throughout the week with weekly "Upstage Jams" held until 5am. It was through the jams at the original Upstage Club that many performers became the talented musicians they are today. The current Asbury Music scene would truly step up a notch
if the musicians were given that same opportunity to play again.

Currently there isn't anything like this in Asbury Park and it can be very difficult for local bands to get their chance at established clubs like the Stone Pony. The open mic night at Harry's Roadhouse has shown a glimpse of the camaraderie found at the original Upstage. It proves that the local musicians on the scene today can still create magical nights in Asbury Park if given the chance. The Upstage jams would give them that chance and, once again, offer something different from the rest of the clubs.

C) Independent Films
In addition to providing live music performances, the Upstage Club would be a perfect venue for a small independent movie theatre. Films could be shown every night of the week with the live music following the films. Local film festivals can help bring the best films to the area.

Asbury Park is a very artistic community that does not have many theatres showing independent films nearby. The nearest places are all several miles away and in a tourist town, people want things they can walk to.

D) Music Conference and Lectures
The venue would be a great location to bring in music executives from New York City for Asbury Park sponsored conferences and lectures.

E) Live Television Show and Live CDs
Thanks to close proximity to VH-1 and MTV, a live television show ("Live from the Upstage Club") could be broadcast each week. Since the club would be set up with a great sound and lighting system, it would have everything in place to make a great set location.

In addition, there could be a "Live from the Upstage Club" CD series as well.

---
The Coffeehouse
A) Location
The Upstage Club is in a very good location for a coffeehouse. You can see the club from Main Street and it is located only a block in. There is a large parking lot nearby as well as parking on the street. The city municipal building is located about 2-3 blocks away and several large corporations are located about 3 blocks away. In addition, there are plans to create lots of apartments in the area near the Upstage building. So, there should be no shortage of people within walking distance.
B) History
The original Upstage Club was a coffeehouse on one floor and the main venue on the other floor. In a way, the coffeehouse is part of history as well and could serve as a second museum.
Memorabilia could be placed throughout the coffeehouse giving it a very unique look that would go well with the museum.
C) Live Performances
As with the original Upstage Club, there could be performances by singer-songwriters or small bands in the Coffeehouse portion as well.
D) Small Restaurant
The location of the Upstage Club is near several very good restaurants that are a bit on the higher-priced end. A small menu of affordable food would probably do pretty well. As noted above, there are several large businesses and many government employees within walking distance. If the food was available late at night (during the Upstage Jams for instance) it would be one of only a few places open late in Asbury Park.
---
Revenue Sources
A) Publications
The museum has the ability to produce several different publications to raise revenue. Based on material owned by Carrie Potter (one of the principals involved), there are over a thousand color photographs from the original Upstage Club. These photos include pictures of Bruce Springsteen, Southside Johnny, Bill Chinnock, Danny Federici, Garry Tallent, Vini Lopez, and David Sancious. A coffee-table book showing the best music photos would sell very well.
A second publication could be produced with the photos showing the people at the club and scenes from Asbury Park. There are photographs showing sixties clothing in its bright colors and pyschedelic designs; photographs of old Pepsi can designs; photographs of Asbury Park landmarks like the Palace and the Casino; photographs of the Asbury Park riots, and photographs of the experience of being at the Upstage.
In addition, Gary Wien, (one of the principals involved) publishes a monthly arts & entertainment magazine called Upstage which could be an additional source of revenue as well as a great promotional tool for the club/museum.
B) Tickets
The museum could probably offer tickets for up to $10 based on prices at similar museums around the country. The venue could charge between $5 and $35 for these live performances based on prices at similar venues. The entire building could be leased out for special functions such as a corporate function or a private tour of the museum.
C) Museum Store
The Upstage store would sell everything from Upstage Club and Asbury Park museum t-shirts, to bumper stickers, coffee mugs, program guides, hats, postcards, etc. Autographed copies of CDs, showbills, posters or other memorabilia would be excellent souvenirs as well.
Prints or framed copies of Upstage photos could be sold as well.
Amazingly, there isn't a single record store in Asbury Park to buy a Springsteen record. Many of the tourists visiting the area wish to purchase a CD in Asbury Park during their trip. The store could include rare cds or out of print cds as well as current ones. Officially licensed t-shirts and other memorabilia from local artists like Bruce Springsteen and Jon Bon Jovi would sell well around the world via the Internet site as well as at the store.
D) Asbury Park Related Books
Books on Asbury Park like "Beyond the Palace" by Gary Wien and Asbury Park history books by Helen Pike should be stocked. Books covering artists like Bruce Springsteen and Jon Bon Jovi should be stocked as well.
E) Fundraiser Concerts
Special concerts held to raise money for the museum would provide an excellent source of working capital.
F) General Sponsors
People would sign up as sponsors through "buy a brick" or "buy a seat" programs which will let them feel as if they are a part of the museum.
---

Promotional Ideas
A) The Internet
Thanks to the Internet, you could have more people know about the Upstage Club and Museum within a week than ever knew about the former rock and roll museum at the Palace Amusements in the 1980's. The old museum had thousands of visitors within its few years of existence, yet it was largely based on word of mouth. Through posts on Springsteen, Bon Jovi and Southside Johnny websites, you could have hundreds of people coming through your doors from day one. In addition, the website would also be linked to other music, museum and tourism related websites in New Jersey and throughout the world.

B) Press Coverage
The opening of the Upstage Club is virtually guaranteed press coverage throughout the world. The story of the Granddaughter of Tom Potter, who started the Upstage Club and was basically forced out of business by the Asbury Park riots, coming back to Asbury Park and reopening the club could become a symbol of the rebirth of Asbury Park. This is an incredible human interest story that national and international papers would pick up for sure.

In addition, there would certainly be plenty of coverage in Springsteen related publications like Backstreets Magazine and Springsteen-related websites like www.greasylake.org. The news about the club would most likely make it in dozens of music-related publications around the world. These publications (especially those from Europe) really do consider Asbury Park one of the top music history eras and treat the city as if it was a Liverpool or Nashville.

The grand opening would likely attract many politicians as well as famous musicians, actors, and writers. There would be no shortage of press coverage in covering the event.

C) Music Tourism Packages
Many people wonder how Asbury Park will ever get music fans to visit, but the truth is they're already coming. In fact, they've been coming for years. In 1986, Asbury Park had its own Rock and Roll Museum open and tens of thousands of fans strolled through its doors in its few years of operation. That was long before the Internet and that was long after Asbury Park had started becoming a ghost town. The visitors came from word of mouth and because they had decided to come to Asbury anyway just to see the town. With the help of the Internet, music tourism can flourish here just as it has in Liverpool, England. In the early 1980s, Liverpool really didn't have much for the music fan to see. Once the city realized how many fans of the Beatles were visiting each year, it decided to build upon the music tourism idea. There are now special buildings, museums, walking tours, and events throughout the city. Things are coordinated between hotels and travel agencies. They make it easy for the fan to see where the Beatles grew up and started their careers. Asbury Park can do the same thing.

Although local residents may bump into Bruce Springsteen or Jon Bon Jovi at a local restaurant or bar that same experience may be the highlight of somebody else's life. We take it for granted that the music started here. Many residents don't even think twice about the fate of the old Palace Amusements building, but thousands of fans around the world are trying desperately to save it through the Save Tillie Campaign. The Stone Pony was scheduled to be moved to another part of town due to redevelopment but fans from around the world started a campaign to keep it where it is. These fans form the basis behind our music tourism. What is needed now is to form a plan, something that we can build upon to bring Monmouth County up to the level of Liverpool.
---

The Principals
A) Carrie Potter
Carrie is the Granddaughter of Tom Potter, the owner of the original Upstage Club. She has Tom's collection of photographs from the Upstage (over 1,000 photos) as well as plenty of memorabilia from the club in her possession. Many of the items in her collection are extremely rare.

B) Gary Wien
Gary is a writer from the Jersey Shore who wrote "Beyond the Palace", a history of rock and roll music in Asbury Park. He is currently the publisher of Upstage Magazine, an arts & entertainment magazine for Central New Jersey. In addition, he runs a popular local music website
called AsburyMusic.com.

C) David J. Mieras
David was a regular at the original Upstage Club and has been very involved in the Asbury Park music scene for over 30 years. He currently owns the website UpstageClub.com. He is a part of the "Save Tillie" organization.

D) Eileen Chapman
Eileen has been involved in nearly every rock and roll club in Asbury Park including the Stone Pony, Fastlane, and Mrs. Jay's. She was instrumental in setting up the "Save the Stone Pony" organization. In addition, she owned her own record store in Belmar for a number of years.
---
Sadly, a lack of funds and the work of a local newspaper blasting the project (based solely on personal reasons) help defeat any progress made back then. I'm glad to see music tourism starting to flourish in Asbury Park these days; first with the SOAP Monument by Convention Hall and, more recently, with the Asbury Angels plaques along the boardwalk...
Maybe Asbury Park will get it right after all.

---
Gary Wien has been covering the arts since 2001 and has had work published with Jersey Arts, Elmore Magazine, Princeton Magazine, Backstreets and other publications. He is a three-time winner of the Asbury Music Award for Top Music Journalist and the author of Beyond the Palace (the first book on the history of rock and roll in Asbury Park) and Are You Listening? The Top 100 Albums of 2001-2010 by New Jersey Artists. In addition, he runs New Jersey Stage and the online radio station The Penguin Rocks. He can be contacted at gary@newjerseystage.com.
---