---
For great Jersey music and much more, tune into our radio station at AsburyMusic.com
---
Asbury Park Pays Tribute To The Concert For New York City On Anniversary Of 9/11
By Gary Wien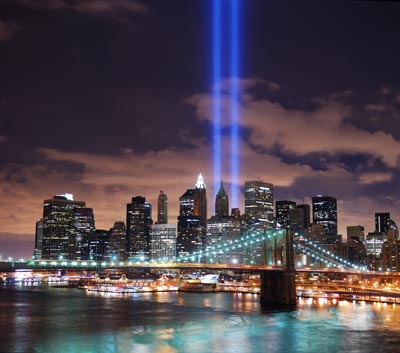 (ASBURY PARK, NJ) -- Several generations of musicians will gather on stage to pay tribute to the artists who helped soothe the soul of America following the attacks on 9/11. Inspired by the Concert for New York City, Marc Ribler and an assortment of local artists including Glen Burtnik, Bob Burger, Sandy Mack, and Emily Grove will perform original music inspired by September 11 and cover songs by many of the musicians who took part in that legendary showcase. The tribute takes place on Tuesday, September 11th at McCloone's Supper Club in Asbury Park.
Proceeds from the $12 admission will benefit the Empty Sky Memorial, which pays tribute to the hundreds of lives of New Jersey residents lost on that fatal day. Located in Liberty State Park in Jersey City at the mouth of the Hudson River across from the World Trade Center Site, the memorial was named after the Bruce Springsteen song and designed by Jessica Jamroz and Frederic Schwartz. It was dedicated on Saturday, September 10, 2011 - just before the tenth anniversary of the attacks.
The one thing that all of the artists have in common is what bonds nearly everyone in the tri-state area to that day -- they all remember exactly where they were when they learned about the planes hitting the towers. Bob Burger was on vacation in the middle of a Beatles tour in London when he heard the news. He said he wound up on the first flight back to the United States and remembers how emotional the landing was for all on board. Sandy Mack recalls driving in his car, listening to Howard Stern, when the news hit. He says his mother was working right next to the Trade Center at the time. He tried calling, but couldn't reach her because the phone lines were so jammed that the system literally crashed. Meanwhile, Emily Grove was just in 6th grade and starting Intermediate school at the time.

"At first, the teachers kept the news from us, because they didn't want everyone to get upset," said Emily Grove. "They called students out of class if they knew that their parents worked in Manhattan, so that they could call home. At around 2 o'clock, we watched the news in class. I don't think that I really understood the enormity of it until later, when I got home. We had the television turned on all day and night, watching for information."
The event clearly hit home with songwriters throughout the region. In addition to Springsteen's classic album, The Rising, Marc Ribler penned "Turn This World Around" for his debut CD, which was released in 2003; Glen Burtnik wrote the touching "Window on the World" for a Jersey Jams/Jersey Cares compilation in 2002; and Bob Burger said that while he never set out to write a song about 9/11, many of his fans have gone on to associate his song "Empty Track" with the day. It's very likely that all three of these will be played during the tribute.
Additional artists who will be part of the show include Layonne Holmes, Jack Daley, Joe Daley and Arne Wendt. For many, participating in this event will be very special for personal reasons.
"I was born on the day that Iraq invaded Kuwait, and the news as I was growing up focused on trouble in the Middle East," said Emily Grove. "And I guess that's where I thought the violence was. Not here. My parents took us to Sandy Hook to see the Twin Towers Memorial where they had two beams of light shining up into the sky. Just a bunch of people on the beach looking across the water at where it happened. So close. It happened to all of us."
"I'm glad to be part of the show," said Bob Burger. "I like doing things like this so long after the fact better than at the time, it gives credence to American commitment."
"I love the idea of this tribute," Sandy Mack said. "I think it helps keep the healing process going. I'm thrilled to be involved. I saw the concert on TV...it was amazing! One of the highlights for me was seeing Clapton and Buddy Guy playing a Muddy Waters song and then a Little Walter song and then seeing everyone in the audience dancing to those songs. I was thinking that 99% of them probably had never heard of Little Walter and if you told them they were listening to 'blues' instead of "Clapton", they may have stopped dancing!...but seriously it was nice to see Walter and Muddy being played at a major event because both are huge influences on me (obviously Clapton too)."
"Because of my age at the time, I should have been most impressed by the Backstreet Boys and Destiny's Child. I did have their CD's, after all," Emily Grove admitted. "But for me, the most emotional performance came from the Who, because of their energy, and because the firemen just seemed so excited to see them."
If you've never actually seen the Concert for New York City or saw it live but can't quite remember it, it's worth finding clips on YouTube or ordering the tape from Amazon.com. The concert took place at Madison Square Garden just a few weeks after 9/11 (October 20, to be exact). The crowd was comprised of thousands of firefighters, police officers, survivors, families, and some lucky music fans who saw artists like Paul McCartney (who organized the event), David Bowie, John Mellencamp, Bruce Springsteen, Jon Bon Jovi, and the Who perform emotionally-charged sets that will make you tear up. Just watching the firefighters, police and rescue crews finally get a moment to enjoy life again was simply amazing.
The highlight of the concert for me, and for many, was seeing the Who tear the roof off of the place with a set better than they've probably had in decades. Their set turned anger and pain into pure release for the thousands singing along in the audience. Next in line had to be watching Springsteen turn a song about Asbury Park into a national anthem. "City of Ruins" might have originally been about our little city, but it was adopted by New York and the world that night, and its meaning would never quite be the same.
I love the idea of this tribute. While much of America remembers 9/11, I think our area really lived it. The memories will hold for us the way people held on to where they were when Kennedy was shot and Pearl Harbor was attacked. Music soothed our soul once, tribute nights like this can do it again.
---
For more by this author, click here
---


Jann Klose and The Voice's Josett Diaz To Perform At Ethical Brew To Benefit A Cause Close To Home
(TEANECK, NJ) -- On Saturday, December 8th, singer-songwriter and recording artist, Jann Klose will perform at Ethical Brew on behalf of Mind-Builders Creative Arts Center, a community arts and cultural center for children and teens located in Bronx, New York.  Doors open at 7:30, show begins at 8:00pm.
---
Kenny Chesney To Perform At Hard Rock Hotel & Casino
(ATLANTIC CITY, NJ) -- Focusing on smaller venues and markets not directly impacted by his massive stadium tours, Kenny Chesney sought to make his Songs for the Saints 2019 Tour mirror the intimacy of its namesake album. Inspired by the resilience of the people around him, Chesney doubles down on the human connection for his 2019 tour by seeking those members of No Shoes Nation who have spent the past decade and a half making the trip to stadium markets for what is now a summer tradition. On Saturday, May 11, 2019 he brings the tour to Hard Rock Live at Etess Arena in Atlantic City, NJ.
---
State Theatre New Jersey presents Cirque Dreams Holidaze
(NEW BRUNSWICK, NJ) -- State Theatre New Jersey presents Cirque Dreams Holidaze on Friday, December 7 at 8:00pm, Saturday, December 8 at 2:00pm and 8:00pm, and Sunday, December 9 at 2:00pm. Cirque Dreams Holidaze, a division of Cirque du Soleil, has become a critically acclaimed, state-of-the-art Broadway musical, and a fun-filled, holiday family show. Tickets range from $35-$98.
---
NJSO presents 2019 Winter Festival, 'Music Speaks'
(NEWARK, NJ) -- A trio of renowned guest artists with distinct musical voices—pianists Emanuel Ax and Daniil Trifonov and soprano Dawn Upshaw—headline the NJSO's Winter Festival, "Music Speaks," in January 2019. The Orchestra's signature artistic event takes place across three weekends, January 10–27, in six New Jersey venues.
---
RVCC Chorale to Perform Annual Holiday Concert on December 8th
(BRANCHBURG, NJ) --The RVCC Chorale will give its annual holiday concert on Saturday, December 8 at 8:00pm in the Welpe Theatre at Raritan Valley Community College's Branchburg campus. The program will feature Johann Sebastian Bach's cantata, Das Neugeborne Kindelein, as well as a cappella pieces from by Sergei Rachmaninov, Zoltan Kodaly and Giuseppe Verdi. The program also will include an audience singalong of traditional carols.
---


"Great Music!" Tavares and Harold Melvin's Blue Notes LIVE! at the Strand Theater
The music of the 1970s is alive and well this Saturday, November 3, 2018 at Lakewood, NJ's Strand Theater with a concert by the '70's R&B and soul groups Tavares and Harold Melvin's Blue Notes!
---
"An Amazing Musical Genius!" Brian Wilson LIVE! at the State Theatre
In the music room in the back of our house, there's an electric bass and amp, two acoustic guitars, a microphone and PA speakers, several pieces of music recording equipment, and a bookcase filled with books on music, not to mention a slew of assorted music memorabilia. But, perhaps, one of the most highly prized items in the room is hanging directly above the piano next to the college music diplomas.
---
Jazz Saxophonist Don Braden LIVE! at Toms River's Grunin Center
It's a breezy day for a new installment of the Jazz On a Sunday Afternoon concert series at Toms River, NJ's Grunin Center of the Arts this Sunday Oct. 27, 2018 afternoon. Today's special 3pm performance is entitled Earth, Wind and Wonder and is presented by jazz saxophonist Don Braden.
---
Charlie Thomas' Drifters, The Classics IV, and The Brooklyn Bridge LIVE! at The Strand, Lakewood
The stars are out this Saturday Oct. 26, 2018 evening in Lakewood, NJ for a "Golden Oldies" concert featuring Charlie Thomas' Drifters, The Classics IV, and The Brooklyn Bridge!
---
PODCAST: Grammy Winner Terri Lyne Carrington At TD James Moody Jazz Festival
Drummer, leader, and composer Terri Lyne Carrington made history as the first woman to win a Grammy for Best Instrumental Jazz for her album "Money Jungle: Provocative in Blue." Now, she brings her interpretation of Duke Ellington's "Money Jungle" to the TD James Moody Jazz Festival at NJPAC on November 11, 2018, as part of a program called "Jazz Vinyl Revisited." Producer Susan Wallner talks to Carrington about her connections to the jazz greats Clark Terry and Max Roach; her newest project, the Berklee Institute of Jazz and Gender Justice; and why she thinks drummers make natural leaders.
---
Event calendar
Sunday, Nov 18, 2018
---
MUSIC

---
Allen Stone

@ House of Independents, Asbury Park - 8:00pm
---
---
---
---
---
---
---
---
---
THEATRE

---
Annie

@ Broad Street United Methodist Church, Burlington - 2:00pm
---
---
Annie

@ Axelrod Performing Arts Center, Deal Park - 3:00pm
---
Apples In Winter

@ Centenary Stage Company - Kutz Theater of the Lackland Center, Hackettstown - 2:00pm
---
---
---
---
Pinocchio

@ The Newton Theatre, Newton - 3:00pm
---
---
---
---
---
---
DANCE

---
---
---
KIDS

---
---
---
LECTURE

---
---
View all events
---