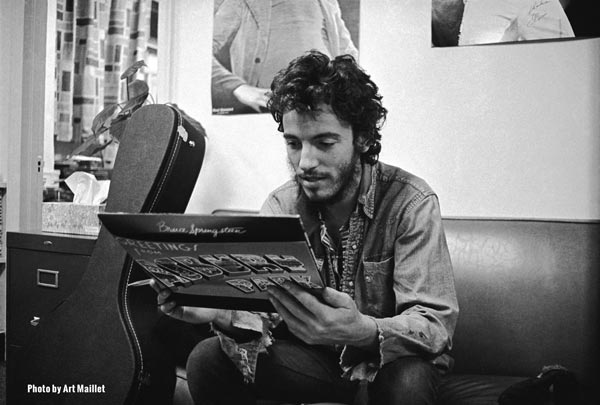 (ASBURY PARK, NJ) -- The first ever Brucebook Convention is just around the corner.  Named after a popular Bruce Springsteen fan group on Facebook, the convention will take place September 22-24 in Asbury Park with events scheduled for each day. Fans from all over the world will celebrate Springsteen's birthday in his adopted hometown, while Brucebook raises money for Fullfill NJ (formerly known as the Food Bank of Monmouth & Ocean Counties).  Last year Brucebook raised nearly $9,000 for the food bank and they're hoping to beat that mark this year.
The convention begins with check-in in the lobby of The Berkeley Hotel on Friday, September 22, from 4:00pm till 8:00pm.   All those registered will receive a Brucebook "goodie bag" filled with lanyards, name tags, a complete itinerary of events, a local restaurant guide and other surprises.  They will also receive a wristband which will serve as their identification and ticket to the concert on Saturday night as well as other activities.
Acclaimed Springsteen photographer Debra L. Rothenberg will be on hand Friday night and all day Saturday to document the event with candid photos and a group photo, which will be available for sale after the Convention.
The weekend will feature "mixers" for fellow Brucebookers to get to know each other, exciting tours in and around Asbury Park with special guest Vini Lopez (the original drummer of the E Street Band and a member of the Rock and Roll Hall of Fame), and the Main Event, a special Brucebook concert at the Wonder Bar on Saturday, September 23rd, featuring DJ Lee Mrowicki, The Ries Brothers and The Bobby Bandiera Band.
On Sunday, a group of about 50 Convention goers will board a luxury bus for a four hour Rock and Roll Tour of the Jersey Shore led by Stan Goldstein, Jean Mikle and special guest, Rock and Roll Hall of Fame member and original E Street drummer Vini Lopez. Others will have a chance to explore the Boardwalk and the shops and boutiques along Cookman Avenue.
---
The article continues after this ad
---
---
The Convention has been completely sold out for months with people coming from all over the world, many to see Asbury Park and surrounding towns for the first time.  More than 300 people have registered and are expected to be on hand. 
"This is the first-ever Brucebook weekend Convention and we are expecting it to be filled with great music, conversation and a final goodbye to summer," said John J. Kelly, Brucebook Founder and Director.
The fundraiser will kick off online a week before the Convention.  A silent auction will be held on Saturday night, September 23rd at the Wonder Bar to help raise funds.
"This year we plan to work even more closely with the talented workers at Fulfill and we think $10,00O is a very reachable goal, given the past generosity of Bruce Book members," said Kelly, noting that specifics are still being ironed out. "We will call on Springsteen fans from all corners of the Internet to help with their generosity and enthusiasm to succeed."