By Gary Wien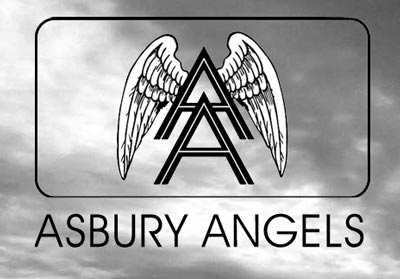 (ASBURY PARK, NJ -- SEPTEMBER 23, 2012) -- Apparently, it just became a little easier to be a saint in the city...

Thanks to a new boardwalk walk of fame, a dozen members of Asbury Park's musical history who have passed on were honored as "Asbury Angels" with memorial plaques along the Asbury Park boardwalk. The walk of fame was officially opened with a ceremony and ribbon-cutting on September 23.

"The mission of the Asbury Angels is to honor and memorialize the lives and history of the Asbury Park musical community, including but not limited to, musicians, tech support persons, DJs, journalists, club owners, record company personnel, managers, and promoters," said Tony Pallagrosi, the former member of Southside Johnny & the Asbury Jukes and long-time concert promoter.

"About a year and a half ago, after the loss of yet another friend within our musical community, it occurred to me that if something wasn't done to preserve the lives and significant contributions of our musical family - which have been so important to the City of Asbury Park - many of those people and those contributions would be forgotten," continued Pallagrosi. "Asbury Angels was created to ensure that that will absolutely not happen!"

You couldn't have asked for a better September day; bright sunshine and still warm enough for shorts - a far cry from the bitter cold day when the SOAP (Sounds of Asbury Park) monument was dedicated next to Convention Hall many years ago. A huge crowd of musicians, music fans, relatives and loved ones of the Angels themselves gathered to hear Tony Pallagrosi read off the initial inductees. Looking across the crowd, one could tell that music really is the thread that binds the City together.

The only thing that could have made the day even more special would have been some live musical performances. It continues to amaze me how the town "where music lives" always forgets to take advantage of the local music scene for special occasions like this. Seems like a missed opportunity to me. With so many legendary artists in the crowd, the event could have been the site for a very memorable jam session.

In Pallagrosi's words, here are the initial Asbury Angels:

"Our first inductee: Arthur Willard Pryor, a trombone virtuoso, profilic composer, renowned soloist, and conductor with the Sousa Band. Pryor formed his own band in 1903, playing to millions upon millions of fans across America and here in Asbury Park. The Arthur Pryor Band became Asbury Park's band in residence from 1909 to 1926. He was a major musical force in America and Asbury's first musical superstar."

"Bobby Alfano - a soulful keyboardist, harmonica player, and vocalist. Alfano was an influential member of the Asbury Park music scene for many, many years. He played in bands such as Sunny Jim, Odin, The Disco Rejects, and Live Bait as well as Bruce Springsteen's seminal first band, The Castiles. Bobby cowrote "Mr. Jones" with Springsteen in 1967."

"Larry "Bozo" Blasco - Larry was a lighting tech, guitar tech, tour manager. He was also part of the first in-house production staffs at The Stone Pony. Bozo managed shows at almost every venue in the Shore, including Asbury Park's Convention Hall and Paramount Theatre. He was a member of The Stone Pony's original production staff and toured with artists such as Wyclef Jean, Southside Johnny & The Asbury Jukes, John Eddie, and Garland Jeffreys."

"Bill Chinnock - A soulful singer, lyrical slide and electric guitarist, he was also an electrifying harmonica player and a consummate songwriter. John Hammond discovered Chinnock. He toured with blues legends like Albert King, Willie Dixon, and played in Shore area bands including The Storytellers, The Downtown Tangiers Band, and Glory Road. He released acclaimed albums Badlands, and Dime Store Heroes on Paramount Records and much, much more."

"Clarence Clemons - The Big Man. One of the most iconic saxophone players in the history of rock and roll. His partnership with Bruce Springsteen began after the two met and jammed right down the street at Asbury Park's Student Prince night club in 1971. A key member of the E Street Band, he was also a solo artist, writer, actor, and night club owner. Clemons collaborated with a wide range of notable musicians including Aretha Franklin and Roy Orbison."

"Danny Federici - The Phantom. An accomplished accordionist, synthesizer player, glockenspiel player, and keyboard virtuoso, Federici's music speaks volumes. He met and played with Springsteen at Asbury Park's Upstage Club and collaborated with many Shore area bands including Child, The Storytellers, and Dr. Zoom. He was a prominent member of the E Street Band for over 40 years. He also played with Springsteen's band Steel Mill and the Bruce Springsteen Band in the late '60s and early '70s."

"Johnny Luraschi - C'mon give it up, Johnny Luraschi! Many of us wouldn't be here without that guy. Johnny was an amazing rock solid bass player, songwriter, and Upstage Club regular. Luraschi played in a series of seminal Asbury Park-based bands including Cahoots, with me in Cold, Blast & Steel, the George Theiss Band, Hot Romance, Whistler & The Wheels, Sonny Kenn Blues Band, Steel Mill Retro, Boccigalupe & The Bad Boys, and The Disco Rejects. Johnny's influence on musicians in Asbury Park and the scene is second to none."

"Joe Arthur Major - An iconic rhythm & blues singer with a renowned deep bass singing voice, Major formed The Mar-Keys in 1954 and recruited fellow Asbury Park High School student Lenny Welch to the group, giving Welch his start in music. He later performed with city groups, The Uniques and The Broadways. He inspired many, many musicians and is known as one of the pioneer vocalists of the Asbury Park's West Side."

"Arthur Morris - A gospel singer, a concert promoter, and a community leader, Morris served as mentor to many of the singing groups from Asbury's West Side. He was lead vocalist of the Golden Harmonaires, and hosted the Gospel Train Radio Hour. He played a major role in the development of music in the city in the 1950s and in the 1960s."

"Tom and Margaret Potter - The Potter's opened the Upstage Club on Cookman Avenue in 1968. Musicians like Bruce Springsteen, Southside Johnny Lyons, Steve Van Zandt, Garry Tallent, Ed Manion, and many, many others honed their skills at the all night jam sessions until it closed in October of 1971. The Club helped shape the careers of many who would make Asbury Park famous."

"And the last but certainly, certainly not least to many of us... A wonderful man and concert promoter, Moe Septee. A concert promoter and Broadway producer whose Summer of Stars concert series starting in 1964, brought rock music back to the Asbury Park boardwalk. Septee booked hundreds of rock and roll legends at Asbury Park's Convention Hall including The Rolling Stones, The Doors, Jimi Hendrix, Jefferson Airplane, Janis Joplin, and Led Zeppelin."

"The Asbury Angels project consists not only of the Boardwalk Walk of Fame but also an interactive website (http://www.AsburyAngels.com)," said Pallagrosi. "The plaques can be scanned. There's a barcode on the plaques. If you scan a plaque with your smart phone it'll bring you right to that person's page on the Asbury Angels' website. Also, information can be posted by friends, fans, and the public about people who are Asbury Angels. So, it'll be very interactive and will grow over time."

Personally, I love the idea of the Boardwalk Walk of Fame. This concept was part of our plans for the New Jersey Music Hall of Fame back around 2004. While we were looking to have plaques saluting the great artists from the area, I think honoring those who have passed on is an even better idea. I'm glad that the organization is open to possible expansion of its criteria down the road as I could easily see people argue to include those die-hard music fans who are such a part of the community as well.

I'm especially pleased that the people behind the Asbury Angels chose to recognize people in every aspect of the music business as I think we all help to create the community. Unfortunately, it may be tricky for the organization to decide upon future inductees because of the nature of the industry. Let's face it, there are far more sinners than saints and egos are the norm. Will the organization have the courage to recognize a music journalist like Chris Barry who helped the careers of so many local bands and worked endlessly as a concert promoter in the area, but was a lightning bolt for controversy? Or a venue owner who may have burned bridges with many over the years? Only time will tell.

I'm hopeful that the Asbury Angels will choose to recognize all that deserve to be remembered - warts and all. After all, it's our sinners that make the saints look so good.

---
Gary Wien has been covering the arts since 2001 and has had work published with Jersey Arts, Elmore Magazine, Princeton Magazine, Backstreets and other publications. He is a three-time winner of the Asbury Music Award for Top Music Journalist and the author of Beyond the Palace (the first book on the history of rock and roll in Asbury Park) and Are You Listening? The Top 100 Albums of 2001-2010 by New Jersey Artists. In addition, he runs New Jersey Stage and the online radio station The Penguin Rocks. He can be contacted at gary@newjerseystage.com.
---