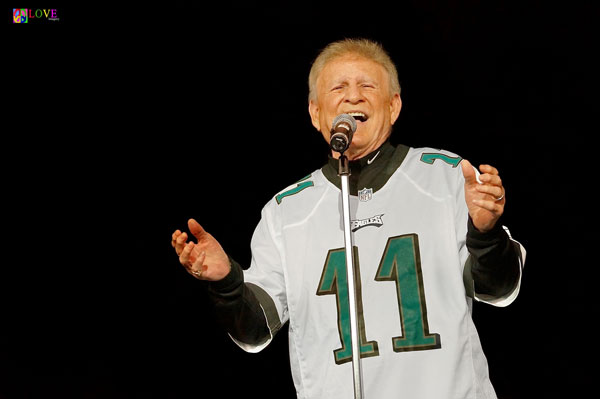 It's drizzling lightly outside the PNC Bank Arts Center in Holmdel, NJ, this Tuesday, September 19, 2017, but several thousand NJ music lovers are still streaming in to see a free 1:30 pm concert by the world-famous '60s music idol, Bobby Rydell.
As we walk between the raindrops, we arrive at the amphitheater's back entrance where we happen to come upon tonight's warm-up act, singer Vinnie Medugno.
Taking a moment to chat with Medugno, a native of nearby Staten Island, NY, we ask him how he enjoys performing here in the Garden State.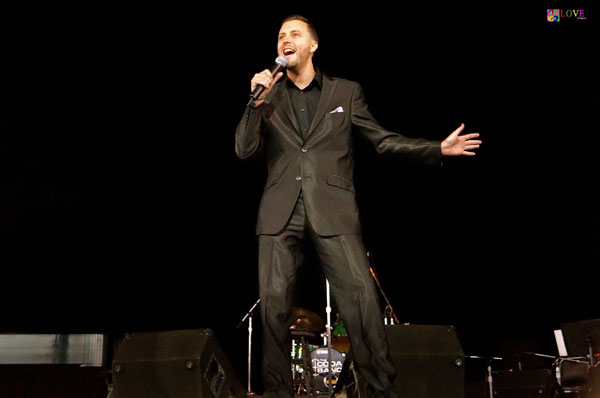 "I love coming to Jersey," exclaims Medugno, "and the PNC Bank Arts Center is an especially fun place for me to perform because the staff here is great. It's like being home."
Medugno — a real throw-back artist in the mold of Harry Connick, Jr. or Michael Bublé goes on to talk about the main act for this afternoon's concert declaring, "Bobby Rydell is just great — I grew up on his music! He reminds me — in my brain — of the era in which I 'live'," adding, "You know, I feel like I really belong to his generation, not my own."
---
The article continues after this ad
---
---
As the clock strikes 1:30pm, we make our way over to our seats inside the impressive PNC Bank Center auditorium.
Ron Gravino, VP of the organization that produced today's show — the Garden State Arts Foundation — takes the stage to welcome the crowd.
Gravino thanks the sponsors of todays' free concert with Bobby Rydell and Vinnie Medugno — LiveNation Entertainment and PNC Bank, among others — and also thanks the audience members here today for their generous donations stating, "If you haven't done so already, please consider making a contribution so we can continue these free performances."
After Gravino introduces today's opening act, Vinnie Medugno leaps out onto the stage asking, "New Jersey — are you ready?" as he opens his dynamic set with his rendition of Tom Jones' "Help Yourself."
Asking "Are there any Engelbert fans out there?" Medugno segues into a delightful rendition of Engelbert Humperdinck's "Another Time, Another Place."
Then, he moves on to Louis Prima's "Just a Gigolo," the audience clapping and joyfully singing along on the "I ain't got nobody" lyrics.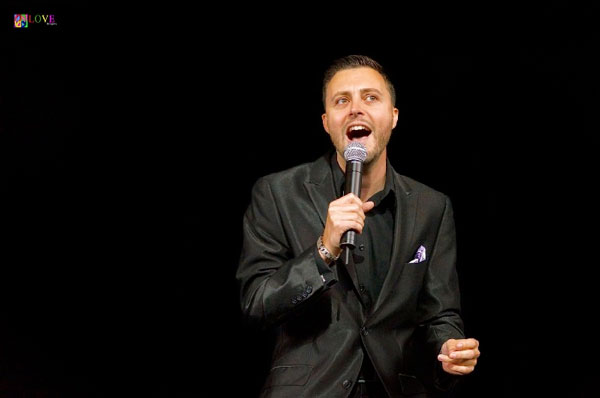 In between singing, Medugno talks to the crowd, making statements like, "I'm Italian. I live at home with my mother and father. Who's got it better than me?" and making encouraging comments like, "You sound good today, New Jersey!"
Following enthusiastic applause, Medugno confesses, "Every day is a gift. And on this day, I get to share the stage with Bobby Rydell!"
Smiling, Vinnie performs one of the highlight numbers of the afternoon's set — a stellar rendition of Lou Christie's "Lightnin' Strikes" complete with accurate falsetto!
Talking about another "Italian Jersey boy" with a falsetto voice, Medugno covers Frankie Valli's "Can't Take My Eyes Off You," the crowd happily singing along on the "I love you baby" bridge.
"You guys are awesome!" remarks Medugno, to which an audience member screams out, "We love you!"
Talking about growing up listening to such well-known Bobby Rydell songs as "Volare" and "Wild One," Medugno suggests to the audience, "When Bobby Rydell comes out, be sure to let him know how much you appreciate him, because he appreciates you!"
Moving on to an impassioned rendition of Elvis Presley's "Hurt," the audience applauds well before the number is even over for the long note near the end of the song which Medugno impressively holds.
Thanking the Garden State Arts Center Foundation and the audience for the opportunity to perform today — announcing, "We love you — you guys preserve this music!" — Medugno leaves the stage and runs through the audience performing Dion's "Runaround Sue." As he sings, just for laughs, he changes the song's lyrics for this Jersey crowd from "She took my love, then ran around/With every single guy in town" to "She took my love, then ran around/With every guy in Middletown."
Concluding his set with Jay and the Americans' "Cara Mia" — again featuring his impressive falsetto pipes — the crowd cheers on Medugno's performance of the ultra-long final note and rises to reward him with a well-deserved standing ovation.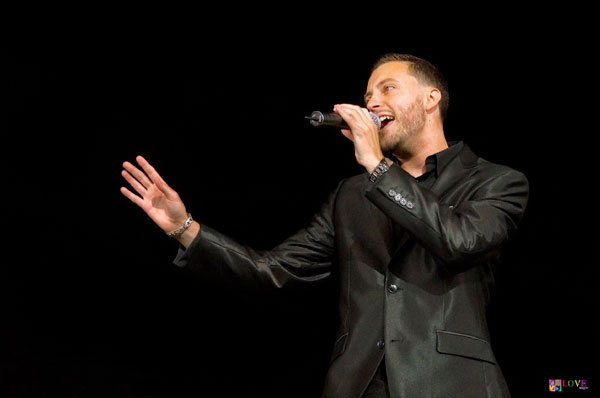 "Thank you," states Medugno, advising the crowd, "Love life and love music — that's what it's all about," before he personally introduces Bobby Rydell.
Backed by a live ten-piece orchestra, Rydell — looking good in his Philadelphia Eagles #11 Rydell jersey — takes the stage to great applause and opens his set with a staple from his live Las Vegas shows, "Goody Goody."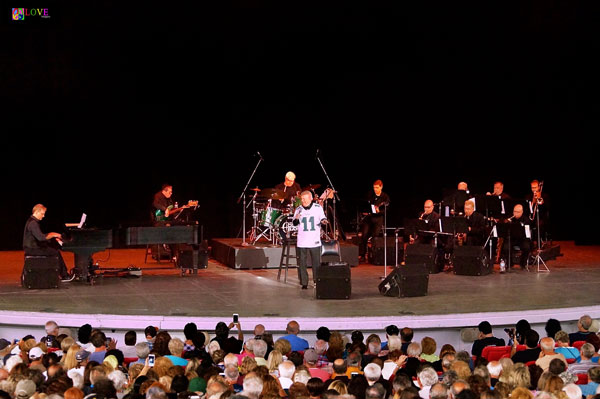 His voice sounding as rich and strong as ever, Bobby segues into his 1962 Top 5 hit, "Wild One," the audience happily singing and clapping along.
"How's everyone?," asks Rydell, adding, "It's nice to be here this afternoon!"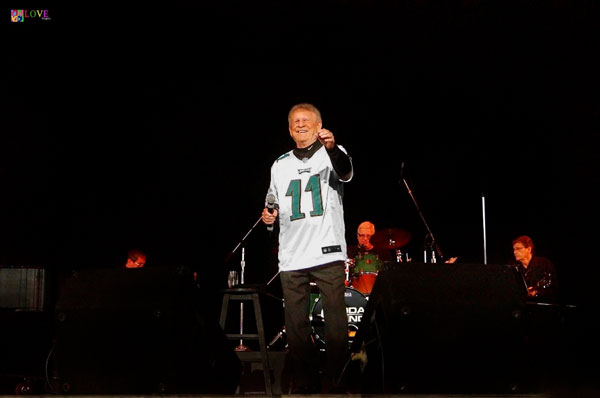 Continuing, "It's nice to be anywhere this afternoon," Rydell reveals to the audience that he is the recipient of a "new liver and kidney" which came from a 21-year-old donor. Acknowledging his donor "saved six other people's lives as well," Rydell makes a plea for all audience members to "please consider becoming an organ donor."
Rydell explains to the crowd that his next number was written especially for him by Tony Hatch — well known for such Petula Clark hits as "Call Me" and "I Know a Place." Recalling the song was originally released as a "45 rpm record," Rydell asks, "Remember those?" before adding, "And how about those RCA record players?"
When the audience replies in the affirmative, Rydell exclaims, "You're my kind of crowd!"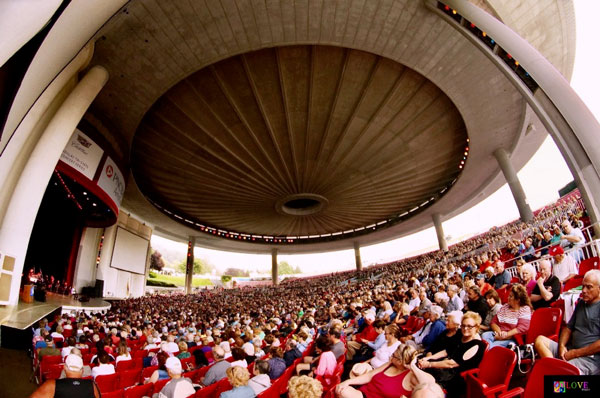 Here, he launches into a rousing rendition of his 1964 Top 5 hit, "Forget Him" — a song which ostensibly inspired Paul McCartney and John Lennon to write The Beatles' "She Loves You."
Following spirited applause, Rydell lets the audience in on the fact that each time he's performed here at the PNC Bank Arts Center for the Garden State Arts Foundation, VP Ron Gravino has asked him, "'When are you gonna sing 'The Cha-Cha-Cha'?" At this point, Rydell sings this 1962 Top Ten hit, his deep resonant voice clearly delighting the crowd.
Taking a seat on a stool in front of the orchestra, Rydell performs a wonderful retro rendition of his 1959 cover tune, "Teach Me Tonight."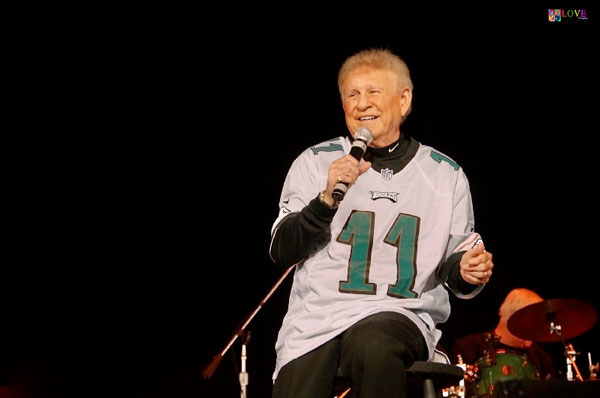 His backup musicians — notably his saxophone section — swing like a 40's-style big band.
Sensing Rydell is somewhat uncomfortable on his stool, however, a concerned audience member makes her way to the stage and hands Rydell a seat cushion to sit on!
Afterwards, Rydell moves on to a dynamic medley of Bobby Darin tunes including "Somewhere Beyond the Sea" and "Mack the Knife."
Taking time to chat with the audience, Rydell — whose given name is Robert Louis Ridarelli — reveals, "I was born and raised in South Philly — in the Italian section — on 9th Street," noting "there aren't too many Italians there any more." He gets laughs in the process when he suggests trying to go over to a Japanese-owned food stand these days to ask, "Got any calamari?"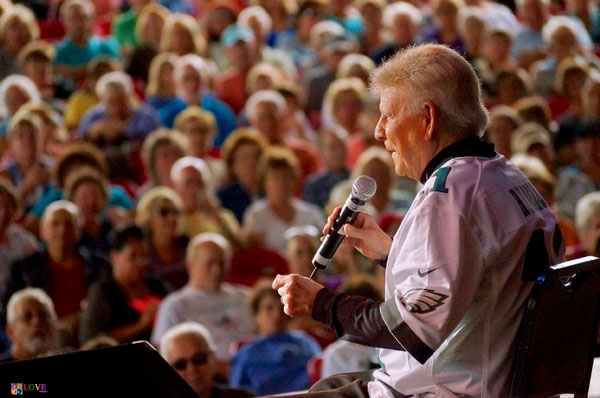 Revealing how much he loves big band music, Rydell also tells a story about a time when, as a young man, he got to meet Frank Sinatra. Here, he launches into a tribute to Ol' Blue Eyes, a stellar rendition of "I've Got the World On a String." The big sound of his voice fills the amphitheater, backed up by the swingin' sound of the big band behind him.
Following lively applause, Rydell concludes his set with a high point of this afternoon's program. Never sounding better, he performs a stellar rendition of his 1960 Top Five gold record, "Volare."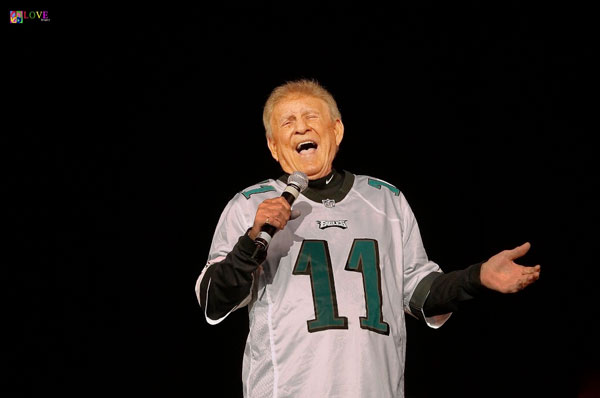 The audience sings along with Rydell with gusto and, at the conclusion, rewards him with a warm standing ovation to which Rydell sincerely replies, "Good afternoon and God bless."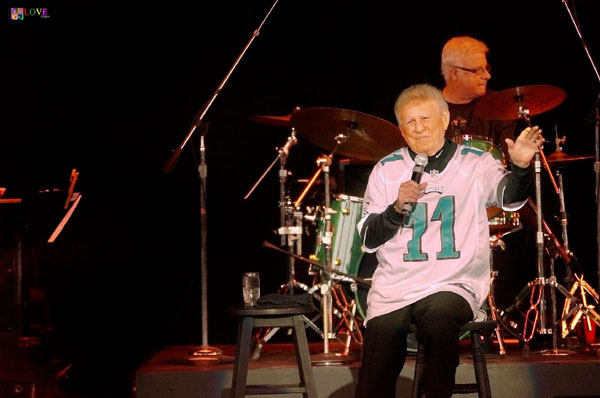 After the performance, we take a moment to chat with several audience members who share their thoughts regarding today's concert starring Vinnie Medugno and Bobby Rydell.
Whereas Tom from Clifton comments, "I really enjoyed this show," his wife, Doris, agrees and adds, "Vinnie Medugno was very entertaining and personable and Bobby Rydell showed what a really strong voice he has!"
Joe from Kearny concurs, remarking, "It was a good show! It was nice to hear the old music again — and Bobby Rydell has got quite a vocal range!"
Likewise, Arlene from Kearny remarks, "Today's warm-up — Vinnie Medugno — was fabulous, and Bobby Rydell's voice is so strong for his age," exclaiming, "and he's 75!"
Similarly, Mary Ann from South Plainfield calls Vinnie Medugno's performance "excellent," but she and her husband, Ed, acknowledge that because they are long-time fans of Bobby Rydell, they "wanted to hear even more of Bobby's hit songs!"
Whereas Phyllis from Toms River states, "We enjoyed Vinnie Medugno — he was excellent!" her friend, Phyllis from Jackson, acknowledges, "I enjoyed hearing all the old songs again, and Bobby Rydell truly gave his performance his all!"
Emilia from Old Bridge concurs, stating, "We really enjoyed Bobby Rydell," and her friend Pat from Manahawkin agrees, declaring, "Bobby Rydell's voice is very strong and his songs brought back many great memories," before further adding, "and Vinnie Medugno was fabulous — he's another Michael Bublé!"
Lastly, we chat with Charlie from Baltimore who remarks, "I love Bobby Rydell. Of all of the singers of his era — Frankie Avalon, Fabian, etc. — Bobby Rydell was 'the man with the voice.' He could just do it all," before summing up by stating, "and, today, he sounded as great as ever!"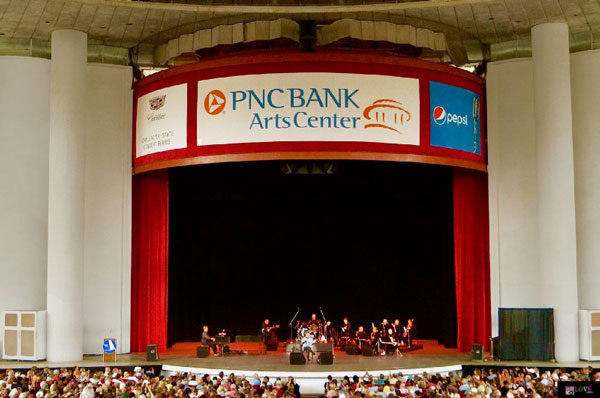 For more information on Bobby Rydell, please click on bobbyrydell.com. To learn more about Vinnie Medugno, please go to vincentmedugno.com. For information on upcoming shows at the PNC Bank Arts Center sponsored by the Garden State Arts Center Foundation, please go to gsafoundation.org.
Photos by Love Imagery
Spotlight Central. Your source for Jersey entertainment news and reviews
Love Imagery Fine Art Photography. all you need. peace/love/flower/power