The year was 2000 and Catherine Lazen was inspired to create an art school which would champion people with disabilities.  Fittingly, Lazen named it Arts Unbound.   Seventeen years later the nonprofit, located in Orange, New Jersey, is providing professional fine arts education, vocational assistance and a gallery exhibition space to 200-300 artists annually, thereby  challenging the stigma and lack of viable employment opportunities that all too often are associated with their constituency. 
Lazen's inspiration was the love and compassion she felt in her third pregnancy. She recalls how medical doctors were urging her to terminate the pregnancy, warning her that the baby she was carrying had a genetic anomaly and would surely be born with multiple disabilities.  Lazen was already 25 weeks pregnant.  She explains that although her views were pro-choice, she feared the risks of having a late term abortion and "chickened out." 
While pregnant she researched programs designed for people with developmental disabilities. Her motivation was to connect with programs serving that population in order to  "build a community, get some support, and form relationships."  She hoped, thereby, she could learn how to best provide her daughter with an opportunity for a rewarding life.  But when she volunteered, what she found profoundly disturbed her.  She says, "I found paper plates, popsicle sticks, macaroni, glue and paper - crafts designed to keep people busy for a few hours" -  without actually teaching them about art. She says she believed such programs grossly underestimate the inherent artistic talent that many people with disabilities possess.  She was convinced that their nascent artistic gifts were not being tapped by these programs and could be reached with the right education.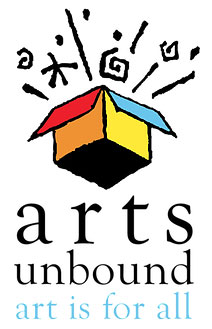 During this time she became familiar with the "outsider art movement" – forms of creative expression outside of accepted cultural norms.  In particular, she was inspired by the work of Judith Scott, an artist with Down Syndrome whose work became internationally famous, particularly in Japan.  "Her disability fell away and her identity as an artist is what shined forth,"  Lazen explains.  At the same time, she was inspired by the nonprofit organization that provided Scott with instruction, materials and support, called  "Creative Growth," located in Oakland, California. Based on the influence of Scott's work and the work of the organization that supported Scott, Lazen launched Arts Unbound, whose mission is to support the artistic vision of seniors and people of all ages with physical, developmental or psychiatric disabilities.  Lazen says endearingly, "I had a selfish interest:  I imagined that some day my child might benefit from this."    With that intention in mind, she continued with the pregnancy, giving birth to Evelyn.  However, by some miracle Evelyn was not touched by this genetic anomaly.  She is now a healthy 16 year old, with a 4.5 average in high school, with interests in both science and dance.  
Nevertheless,  prior to giving birth to Evelyn, Lazen had already conceived Arts Unbound and was moved to actualize her mission – providing quality arts training and representation to the disabled and to seniors that would help left the stigma that often accompanies her target populations. Arts Unbound is staffed with highly educated and accomplished artists.  Lazen was determined that the studio arts and vocational training be of the highest quality, not compromised by any therapeutic end goal.  She clarifies, "any therapeutic benefit would be a byproduct.  The ultimate goal would be legitimate artistic expression."  Her initial guidelines for hiring staff reflected that aim.  She at first "hesitated to hire people trained as art therapists, because in therapy, art is used as a tool, whereby the end goal is a therapeutic result.  I became concerned that that would undermine the artistic achievement of my consumers."   Eventually she did hire art therapists, recognizing their value. In addition, she worked in partnership with other agencies who serve disabled populations to understand what were the specific challenges for their constituents, such as how to help a person who does not have use of hands or speech to communicate an artistic vision. In addition she made the building physically ADA compliant.
---
The article continues after this ad
---
---
Lazen served as Arts Unbound Executive Director until 2006.  During that time, she was responsible for overseeing staff training, budgeting, allocation of resources, fund-raising, strategic planning and internal operations.  In under two years, Lazen was able, with the help of the sponsorship of the NY Foundation for the Arts, to transform her vision into a viable 501C3 tax exempt organization.  Over time, Arts Unbound was awarded grants and received charitable donations from individuals and local organizations.  Lazen has a Master's Degree in Educational Psychology and Curriculum Design from the University of Virginia.  She is a trained practitioner of Expressive Arts Therapy.  She has worked  with children who are learning disabled, and as an arts educator. She is currently in a master's of social work program at Simmons College.
To accommodate the diverse needs of its constituency, Arts Unbound augments its onsite arts courses with private classes in people's homes and group classes in off site locations like residential facilities, day programs and senior centers. Some students have moved on to attain national recognition through prominent NY galleries and museums.  Many have learned how to market their work. Others have benefited intangibly from the benefits accrued from skill-building, self-expression and personal achievement.  Others have learned vocational skills and gained retail experience from placement in Arts Unbound's offices and retail galleries.  Many benefit intangibly from mentoring relationships with staff and from residing in community with other students with similar goals and ambitions.  Others gain in attention span and eye-motor coordination.    
Thomas Yezza and Romelia Young Jones are two artists whose lives have changed because of their affiliation with Arts Unbound. Both indisputably talented, their work went largely unseen because they didn't have the resources and know-how to break into the arts scene.  Arts Unbound gave them both the exposure and recognition they both desired.  Yezza and Jones are both seniors.  Yezza also has a medical disability – a seizure disorder.   He started to pursue art when he went on medical disability.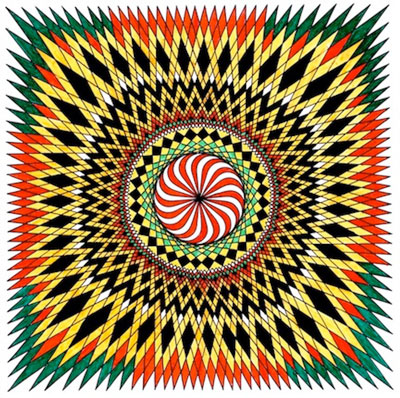 Tom Yezza's geometric designs are tantalizing. They gyrate. They play tricks on the eyes.  At first when viewing any one of his many prints and canvases you have the impression of being sucked-in to their central core. Then in the next instant your eyes are drawn outward toward infinity.  Forms seem to implode inward and yet simultaneously lines, curves, diamonds and squares seem to move outward in a kaleidoscopic array. Others coil and snarl, still others twirl, churn and spin; others cut and pierce. The art work is so exacting that viewers often think they are digitally enhanced.  But in fact his extremely complex geometric abstractions are hand drawn and painted.  Some are rendered with black ink on paper, others are painted onto canvas and wood.  These works can be viewed on his website, www.tomyezzageometricart.weebly.com.    He also sells reproductions of his original works.  He scans them on the computer and then prints them onto canvas.  Most recently his designs have been printed on textiles. 
His works are so precisely rendered that one would imagine they are meticulously planned.   But Yezza insists he creates in the moment, spontaneously moving from "dot to dot" with only one preliminary sketch as his guide. Yezza has created about 30 wood pieces to date. The wood he uses, a precious commodity to him, so he feels he must be ultra careful.   He says he calculates as he goes along.  He takes careful measurements using ruler, compass, and wire.  So it is not surprising to learn that before turning to creating art in retirement Yezza worked in the computer industry for 21 years, lastly as a computer operations manager, an exacting and methodical job.  Before he began to render mathematically inspired art he made a living from his capacity for interpreting and managing technical data and processes.  
He explains that there is a connection between data processing and his art:  He says in data processing "there are two numbers : zero and one.  There is a rhythm to it, and you could find it," he says.   This is telling, for Yezza describes his technique as stemming from a process of "connecting two points - point A and Point B.  I continually do that.  I take certain measurements.  I apply dots.  Then I connect the dots." He further elaborates on his website,  "now I join an inner point to an outer point, clockwise then counter clockwise. However, there are many shapes one may use as a line, but ultimately you're always moving from point to point.  Repetition is the one constant in all my work."  On his website he sums up his technique , "compass+ruler+geometry+imagination."     
Yezza says of his wood pieces,  "It's not like working on paper which you can throw out," he says laughing.  So he works very slowly, painstakingly, creating just two or three wood images a year.  "You create a certain part of it and then you walk away.  And then you go back to it.  Relax with it." He notes playfully, "If you do make a mistake somewhere you better be sure you make it in another place.  That's what you call balance."
 The key to his many works is the  "harmonic balance" he achieves between geometric shapes.  The visual harmony he creates, be it on paper, canvas, wood, or textiles, he defines as adhering to the same laws of harmony that exists in mathematics, music and poetry.  For Yezza, each discipline is an expression of the other.  Music is his pulse.  The first thing he does when he is about to draw is put on classical music. "Music is created by applying laws of frequency and sound in certain ways.  That applies to art too," Yezza says.   He finds inspiration from ancient philosophy.   On his website he posts Pythagoras' description of geometry as visual music.  In music, Pythagoras says, "States of harmonic resonance are produced when frequencies are combined in ways that are in unison with universal law.  These same laws can be applied to produce visual harmony.  Instead of frequency and sound it is angle and shape that are combined in ways that are in unison with universal law.  Geometric shapes can be orchestrated in ways to produce visual symphonies that show the harmonic unification of diversity."
Poetry is also an essential ingredient of Yezza's creative process. He quotes an ancient saying  he found in Bartlett's Familiar Quotations, "Painting is silent poetry and poetry is painting that speaks."  (Simonides of Ceos, 556bc-469 bc.)
Over the past year Yezza has moved almost exclusively to computer generated art,  digitizing literally thousands of abstractions using computer design software.  Each image is a variation on a theme.  Some of these images are used as patterns for textiles which are manufactured by Arts Unbound and sold in their retail gallery in Maplewood New Jersey.  
Yezza has hundreds of art pieces and thousands of designs for textiles  so it is surprising to learn that he didn't start creating art until about 1990.  Yezza, now age 71, had no inclination to become an artist until he was forced to retire from computer operations in 1987 on a medical disability – due to a seizure disorder - and was looking for something to fill the void created by leaving his full time job.  At age 2 Yezza was diagnosed with encephalitis, inflammation of the brain, due to infection.  The seizures started shortly after diagnosis.  At first they were manageable with the help of medication.  But eventually the drugs stopped working, the seizures became worse in frequency and severity and in 1987 he was compelled to go on permanent disability. But amazingly, after Yezza had Gamma Knife Surgery in 2011 the seizures stopped with the exception of one seizure in 2013 which landed him in the hospital.   He continues to take seizure medication. 
Yezza, who is entirely self taught, started getting recognition for his art early on.  In 2005 he exhibited his work in Upstream People Gallery, an online international art exhibition, and was selected as a finalist among thousands of contestants.  Over the next 11 years he submitted his work for competition annually and five times won a $500 stipend award and "World Wide Recognition" for his work.  Still, it wasn't until about two years ago, when he discovered Arts Unbound that Yezza started to get the recognition his artwork warrants.  For the first time in Yezza's life his wood and canvas pieces are being exhibited and sold in a physical gallery space. This is crucial for Yezza who is essentially homebound and hence cannot physically promote his work.   Since then Arts Unbound has exhibited his work both in their Dora Stern gallery in Orange and in shows they sponsor in restaurants and schools. Currently, Yezza's work is being exhibited at the Rutgers New Jersey Medical School, located at 185 South Orange Avenue, in Newark.  This exhibit, a collaboration of four arts organizations serving artists with disabilities, will be open through August.  Yezza also exhibits at the Limner gallery in Hudson, NY.  In addition, for the past two years Arts Unbound has reproduced his designs on scarves which they are selling in their retail gallery in Maplewood.   Arts Unbound assumed the cost of the textiles as well as the manufacturing and production costs and is currently promoting the work.  In addition to exhibiting his work, Arts Unbound has also helped Yezza  create multiple websites and to network with other artists. 
Romelia Young Jones is a senior who has been pursuing art since childhood, but had never exhibited her work before she connected with Arts Unbound.  When a friend invited Jones to visit the Arts Unbound gallery about three years ago she thought it would be a nice day out.  She didn't imagine it would be a life changing experience.  Jones had created a formidable portfolio over her lifetime, but her work went virtually unrecognized.  It was not because of lack of talent but rather that Jones is sorely lacking in the business skills necessary for all artists to acquire if they want to gain professional recognition.   The initial interchange with Celene Ryan, the Director of Artist Development and Marketing  for Arts Unbound was exquisite in its simplicity.  Jones, then 65 years old, was eligible for services from Arts Unbound as a senior.  Ryan asked Jones to submit some of her work.  Jones eagerly responded two days later.  It was a good fit.  Arts Unbound has been exhibiting and selling her work ever since.  
And since connecting with Arts Unbound Jones' work has grown stylistically.  Her style has progressed and evolved from "Realism" to "Realistic Abstraction."  She continues to work from a model and from still life arrangements.  She never works  from a photograph or solely from her mind.  But realistic representation is just a point of departure.  She elaborates her themes with an ethereal intensity.  Her belief in God, her spirituality, is suggested in her works.  Her portraits, her favorite subject matter of recent years, are enhanced with floral depictions.  Some include collage.  She also paints animals.  Her lush watercolors, her principle medium, gush on the page.  Shapes blur and blend.  Her forms are soft and gentle; there are no firm lines or contours.  Bright colors absorb into the paper with a sponge-like quality.
As good as her work is, she continues to shy away from the business aspect of art.  Before Arts Unbound started to exhibit her work in both their galleries three years ago, the only exposure Jones generated were the images of her work she reproduced on greeting cards that she hand distributed to family, friends and colleagues.  Yet she was encouraged by the positive feedback that garnered her.  She was confident that her work deserved greater visibility and she yearned for an opportunity to exhibit.  That first encounter with the Arts Unbound gallery expanded her opportunity to exhibit "100 fold" she says with appreciation.  "That visit started me in the right direction to have my work seen by others," she says.  But her limitations at mastering computer technology is still holding Jones back from getting the recognition her work warrants.  However, she accedes the importance of technology if she is to have a viable career in the arts. "Arts Unbound is such an invaluable resource," she says. They offer her the opportunity to learn the technology at her own pace. 
Jones believes she was born to be an artist.  She remembers at age 3 or 4, first being intrigued by shapes and images and a sense of texture when turning the pages of a Life magazine that was on a table in the living room in her home.  At that time she was living in the projects in Memphis, Tennessee.  She remembers creating art in grammar school and she recalls how, at age 9, she was inspired to make a painting of a local gas station in Orange, NJ, where the family moved at that time.  It was "a very nice, but lower middle class neighborhood," an environment that nurtured her artistic vision.   She started formal arts education in the late 1970's studying at the Arts High School, a well respected public school of the arts in Newark, NJ.   Over the years she has taken many classes at the Montclair Arts Museum and the Visual Arts Center in Summit. 
Jones says since retiring from her high school teaching position she has had more time to devote to her art.  And now that she is selling her work she is even more motivated to produce.  She says with age comes a realization that life is finite and she has a desire to make her mark before she goes.  She has a sense of "purpose and intention," a motivation to "get the work done." 
Yezza and Jones are part of a broad community.  "You don't have to dig down deep," Lazen interjects.  "In every family there is a senior citizen who has an artistic vision.  In many families there is a person who has a challenge whether it is a developmental disability, a mental health challenge, a physical disability, or a chronic illness."
Lazen points to the prosperity of Arts Unbound's retail store in Maplewood as an indication that Arts Unbound's mission is working.  "Our customers are attracted by the beauty of the work, only to be delighted to learn that a senior or a person with disabilities made it. It serves to lift the stigma, to illuminate the power and strength of a people that society tends to underestimate," Lazen says.
Arts Unbound's office space, studio arts school and Dora Stern Gallery are located at 542/544 Freeman Street in Orange, New Jersey.  The gallery hours are Monday-Friday 10-4 and  Saturday 12-5.  The retail gallery showcase is located at 100 Baker Street in Maplewood, New Jersey.  Hours are Wednesday through Friday 11-6 and  Saturday 10-6.
For more on Arts Unbound visit www.artsunbound.org