By Spotlight Central
originally published: 04/04/2018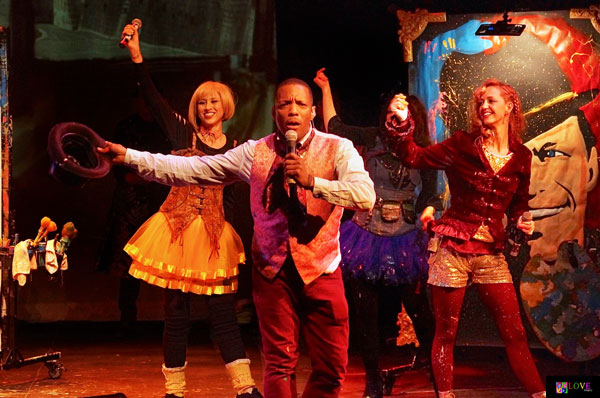 As we enter the lobby of the Toms River, NJ's Grunin Center of the Arts on this unseasonably chilly March 24, 2018 evening, we're surprised to be greeted by costumed actors encouraging each patron entering the venue to select a finger ring with a small colored light attached.
As we look around, we can see the lobby is filled with kids of all ages — in addition to adults from parents to grandparents — all happily chatting with one another as they go about choosing just the right colored rings.
While we make up our minds about our own rings — ultimately choosing green — we take a moment to chat with the performer who is offering them to us: Lauri from Ontario, Canada, one of several talented artists from tonight's show, entitled Artrageous.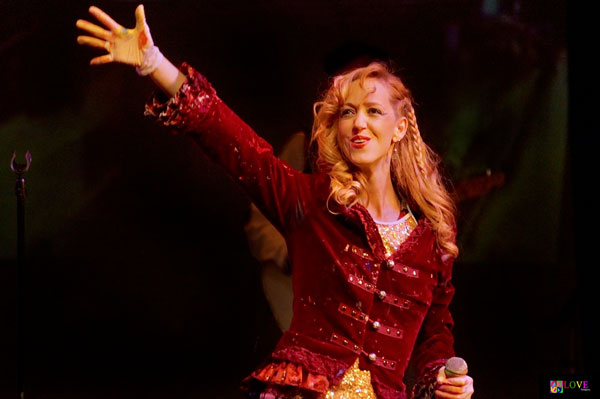 Lauri enlightens us as to what to expect at this evening's performance. Explaining that Artrageous is a show where all of the creative arts are presented together on a single stage, Lauri tells us that we can expect to see lots of live painting, music, dance, puppetry, and audience participation which, she assures us, will include use of our light rings.
When asked how Artrageous was originally conceived, Lauri reveals that the creative arts group was founded in Vancouver, Canada in the 1980s by a cadre of street performers. Over the years, it evolved from a juggling, clowning, and puppetry group to a children's theater troupe, a '90s show band called The Pink Flamingos, and ultimately to the interactive arts experience, Artrageous, we will see tonight.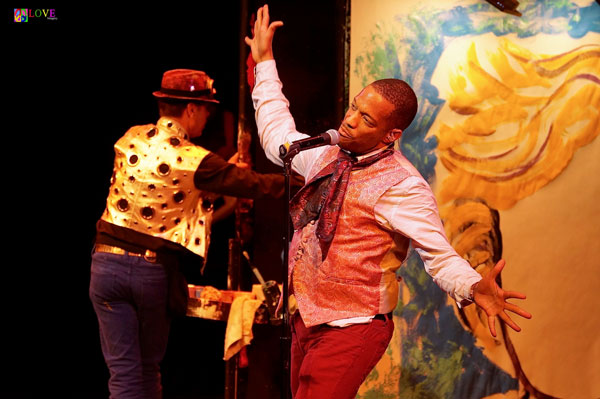 ---
The article continues after this ad
---
---
Now based in New Mexico, the current crop of Artrageous performers has been on an extended tour of the United States. Just last night, they performed at Stockton University in Pomona, NJ. Lauri informs us that some of the audience members from last night's show enjoyed the experience so much they even came to see tonight's performance!
"We love the folks here in New Jersey!" exclaims Lauri. "The people here are so kind and friendly!"
Making our way inside the Grunin Center auditorium, we're greeted by more costumed performers distributing large squares of bubble wrap to audience members and asking the folks to hold on to them until instructions are given as to how to use them during the show.
Looking around, we notice that one costumed performer is wearing a large white sandwich board and handing smiling youngsters colorful markers so they can create original works of art on it.
As '60s and '70s music by artists like The Lovin' Spoonful and America plays over the sound system, we notice a large screen on stage on which quotes by creative artists are projected. For example, a quote by musician Louis Armstrong, "What we play is life" is included, as well as one by choreographer Twyla Tharp who says, "Art is the only way to run away without leaving home."
All of this pre-show activity clearly leaves the audience intrigued to know exactly what tonight's Artrageous performance will be about. And, as we soon find out, Artrageous is a presentation of live art in it's purest form. The cast of thirteen not only includes actors, but also visual artists, singers, dancers, musicians, puppeteers, comedians, and stage hands, all working together in a theatrical event which encourages audience members to participate in a unique creative arts experience!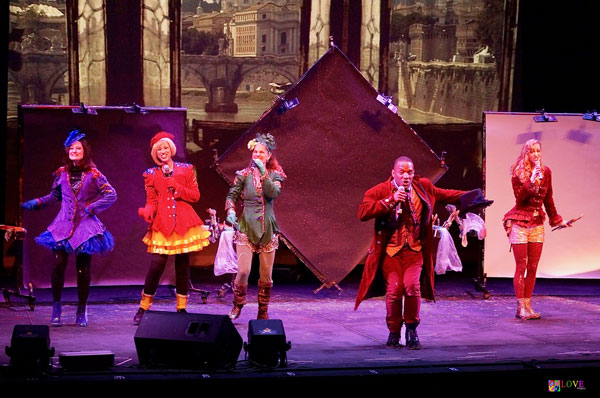 As one of the show's live musicians, John — who plays bass — says about the show, "Artrageous wants to provide an atmosphere where people can participate and not just observe — so, for us, it's all about interacting with the arts. Our message is that it's important to work with others, as creating art is a whole other level of team work, before acknowledging, "And no two shows are the same, because of the creative aspect of the experience."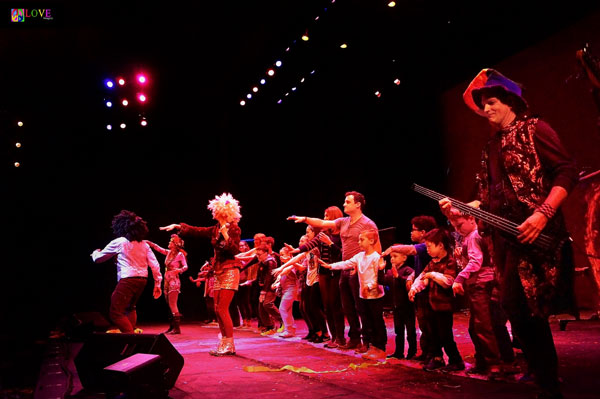 And, as we learn, as John suggests, each scene or musical number in Artrageous includes some type of audience participation. As the cast performs, the audience has the opportunity to become immersed in the creative process by singing along, clapping, dancing, etc., to the music as the visual art comes to life in front of their very eyes.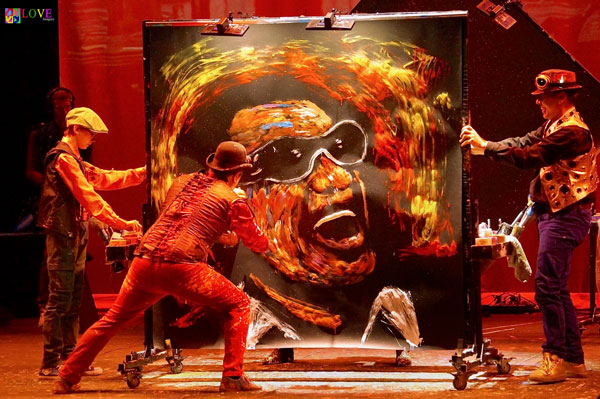 For example, the show opens with a rousing musical number led by the cast's Master of Ceremonies.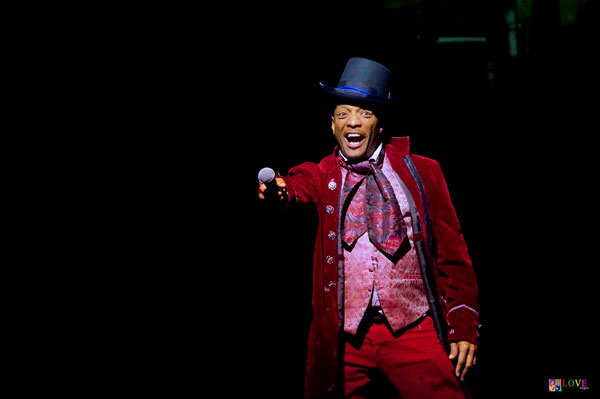 He teaches the audience a vocal part which they sing throughout the troupe's performance of Cab Calloway's "Minnie the Moocher" while artists begin to create visual art on large canvases.
When cast members high five and snap to Justin Timberlake's "Can't Stop the Feeling!" audience members are invited to dance at their seats, and many stand up to party!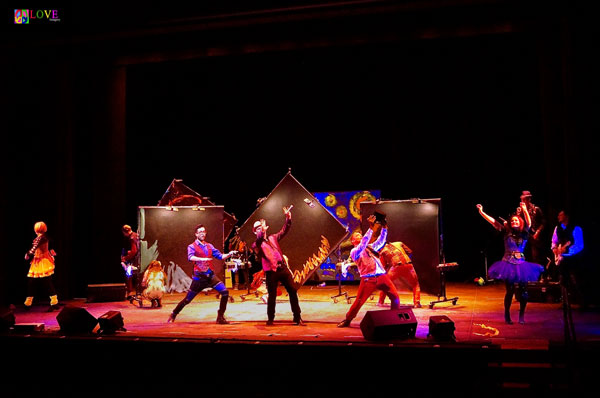 Using gloved hands, brushes, and, at times, even plastic wrap, the company's talented performers move to the live music as they create visual art, making lines and shapes that become the contour of a face — from Ray Charles, to Marilyn Monroe, to the Garden State's own "Ol' Blue Eyes" himself, Frank Sinatra.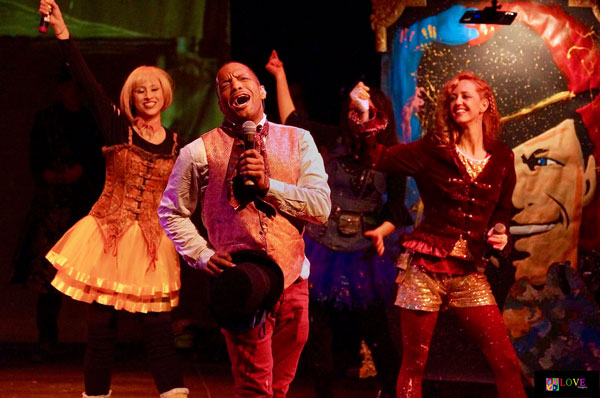 As they create, the visual artists add line, color, and texture to their works while the intrigued audience tries to guess what the ultimate subject of each piece will become — for example, a portrait of Martin Luther King or one of Beatle John Lennon.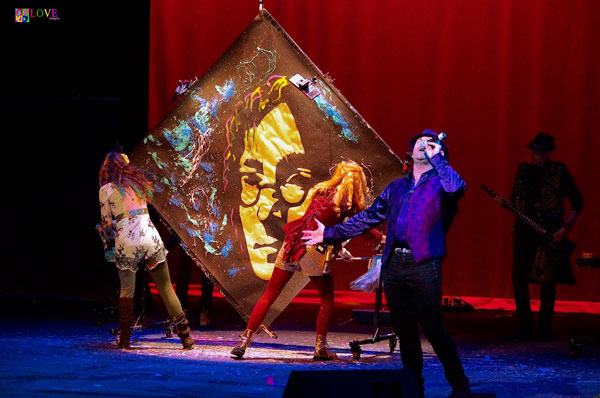 The cast members communicate with the audience through song, dance, and dialog as the visual art brightens the stage — each piece ever-changing until the artist completes it and signs it with a handprint.
The song styles vary from pop to country to R&B and include smooth harmony on such numbers as The Temptations' "My Girl," where audience members sing along making their finger lights dance to music which is played and sung live by the Artrageous vocalists and musicians.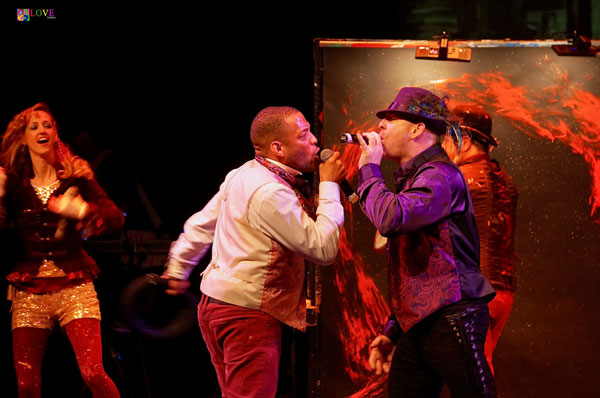 At strategic points during the show, audience members — including Katie, age 8, from Toms River — are invited up on to the stage to dance with the cast.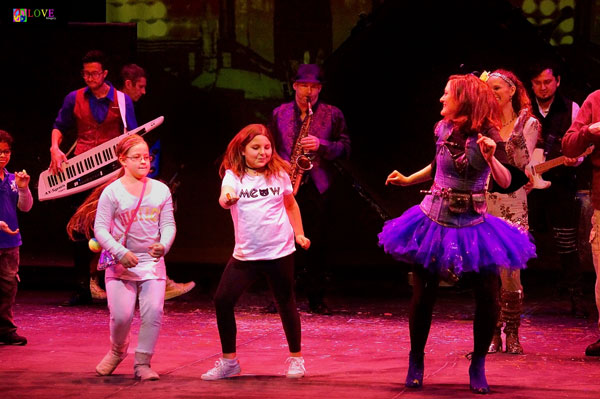 Regarding her on-stage experience, Katie later exclaims, "I loved it!" Her mother, Karen, comments, "I loved it too — everything was so unique!"
Following along like pros, young audience members swim, twist, jerk, monkey, pony, and boogaloo across the stage, including Nate, age 8, from Stanhope, who — as we learn — is up there to join his Aunt Cheryl, an Artrageous cast member!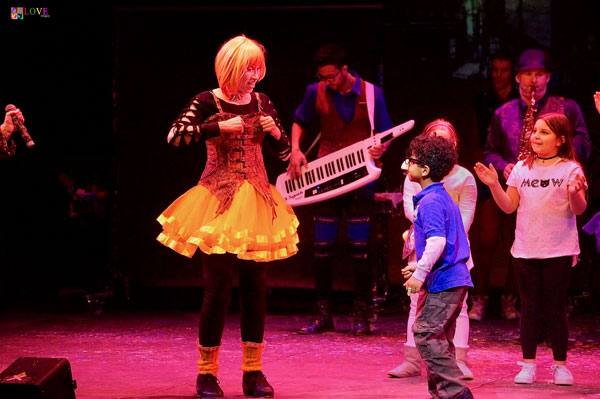 After his time in the spotlight, Nate recalls, "My favorite part was going onstage and dancing with my Aunt Cheryl." Nate's brother, Max, 6, however, says "I liked having fun with the finger lights."
Nate's and Max's dad, Dean, who has never seen his sister, Cheryl, in Artrageous before, exclaims, "It's great! It's cool to see them do the painting live and everything." And Dean's wife, Lauri, agrees with her husband, exclaiming, "It's wonderful!"
In one memorable scene, puppetry is used to take the audience on a neon journey.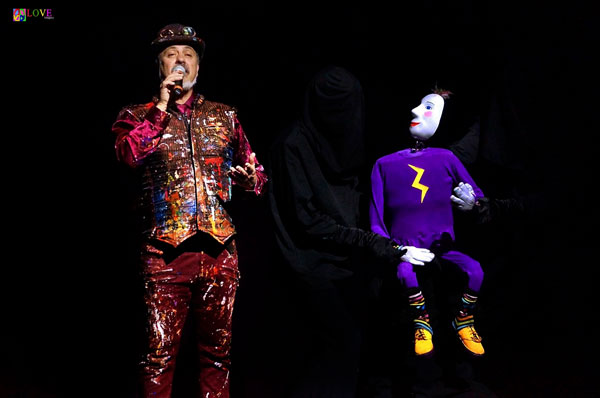 Under black lights, a giant puppet named Howard draws his way through an imaginative dream sequence story with a magic crayon.
On The Beatles' "Across the Universe" and on Aerosmith's "Dream On," the talented Artrageous musicians hit all the high notes. For this performance which looks as good as it sounds, the crowd cheers its approval!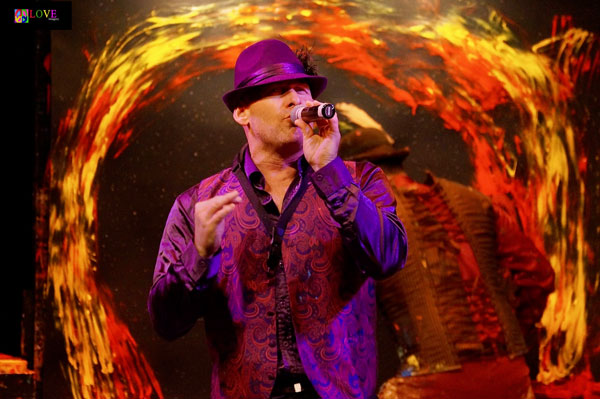 Additional highlights of the show include Lauri and the rest of the cast dressed up in 1960s and '70s wigs and costumes performing to blacklight renderings of Jimi Hendrix and Vincent Van Gogh's A Starry Night.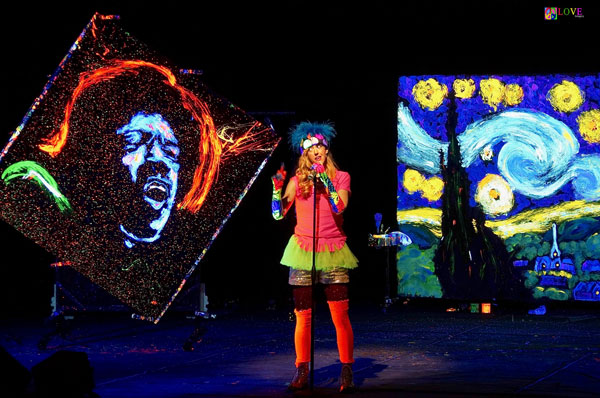 At the performers' request, everybody dances on their bubble wrap squares to a rockin' version of "Route 66," and on Artrageous' rendition of Bruno Mars' "Uptown Funk," everyone is up and dancing in the audience.
The grand finale consists of a medley of John Denver's "Take Me Home, Country Roads," "America the Beautiful," and Fleetwood Mac's "Don't Stop Thinking About Tomorrow."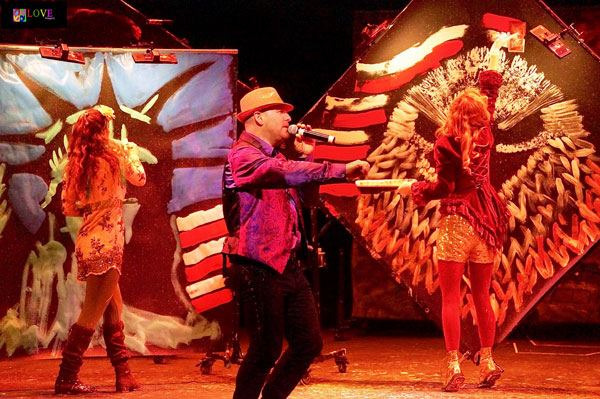 The medley does not only produce a trio of memorable works of art, but also leaves the members of this Grunin Center audience cheering on their feet!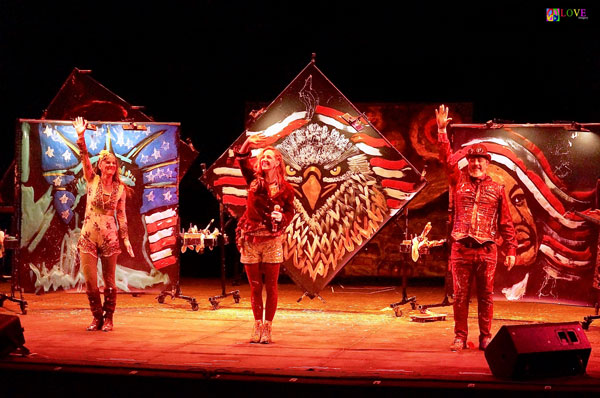 At the end of the program, the entire crowd is invited up onto the stage to view the artworks created over the course of the evening. Here, in this unique on-stage gallery setting, audience members join the cast and marvel at the art as they greet the actors, take photos, and enjoy a completely different perspective of the show.
Says Ava, 12, from Point Pleasant, about her Artrageous experience tonight, "It was amazing!"
Ava's friend, Anna, 13, a dancer from Point Pleasant, says, "It was great! I loved the combining of all the arts, and I especially liked how they did the painting at the same time as the singing and dancing."
Anna's mom, Laura, calls the show, "Phenomenal," adding, "I'm kind of speechless. I liked how they combined the dance, art, music, and acting, all while promoting the idea of being an individual through the arts."
And, lastly, we chat with Carla from Brick who likely sums up the feelings of many in the crowd tonight when she exclaims about this creative fusion of so many different arts, "It really was Artrageous!"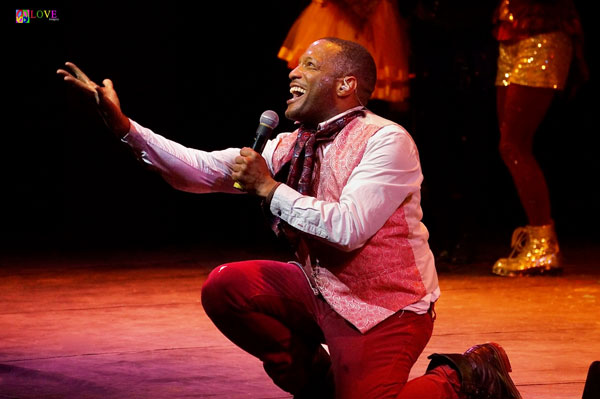 To learn more about Artrageous, please go to artrageousexperience.com. For information on future performances at Toms River's Grunin Center of the Arts — including Tom Chapin and the Chapin Sisters on April 21, and Peter, Paul, and Mary's Peter Yarrow on May 11 — please go to grunincenter.org.
Photos by Love Imagery
Spotlight Central. Your source for Jersey entertainment news and reviews
Love Imagery Fine Art Photography. all you need. peace/love/flower/power