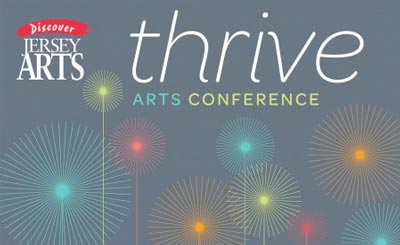 (BURLINGTON, NJ) -- Executive, marketing and development staff of nonprofit arts organizations from all over New Jersey will be coming to Princeton University's McDonnell Hall on Thursday, June 2 for the third biennial Thrive Arts Conference. Presented by the Discover Jersey Arts program—a cosponsored project of the ArtPride New Jersey Foundation and New Jersey State Council on the Arts—this year's conference will explore how diversification and the broadening of perspectives can cultivate organizational growth. 
"Spend a day exploring new ways to diversify your organization's leadership and support base in a world that's changing faster than your Facebook page," said Nick Paleologos, Executive Director of the New Jersey State Council on the Arts. "The planning committee has put together an important, 'must-attend' event for New Jersey arts professionals – which is why we're extremely proud to help present the third Thrive Arts Conference."
National and local thought leaders, including Aaron Dworkin, Founder of The Sphinx Organization and Dean of University of Michigan's School of Music, Theatre & Dance; Hil Moss, Senior Strategist at LaPlaca Cohen; Christopher Williams, Vice President of Capacity Interactive; and Victor Barbella, Principal at Proscenium, will be among the speakers leading 250 regional arts professionals in plenary and breakout sessions during the conference. The focus of these sessions will be on how cultivating new audiences, donors, funders and leaders will help ensure the vitality of New Jersey's cultural community. 
"We hope this year's program will encourage its attendees to learn and grow together, with our primary goal being to provide valuable, practical knowledge that our state's arts organizations can apply to their daily work," said Adam Perle, President & CEO of the ArtPride New Jersey Foundation. "The success of our industry moving forward relies on the impactful collaboration of our diverse and passionate cultural community."
Registration is now open and includes continental breakfast, lunch and admission to two plenary sessions and two breakout sessions. For a complete conference schedule visit www.ArtPrideNJ.com/Thrive. 
---
The article continues after this ad
---
---
The Thrive Arts Conference 2016 is made possible by the support of the ArtPride New Jersey Foundation, New Jersey State Council on the Arts, Lewis Center for the Arts at Princeton University, Investors Bank, Reid Sound, Mayo Performing Arts Center, Spark Creative Group, South Jersey Cultural Alliance, Princeton Regional Chamber of Commerce, American Repertory Ballet, New Jersey Tourism Industry Association, Borden Perlman Salisbury & Kelly and Grounds For Sculpture.
About the ArtPride New Jersey Foundation

The ArtPride New Jersey Foundation is a 501 (c)(3) organization that promotes the value of the arts to New Jersey's quality of life, education and economic vitality through research and a variety of programs and services. For more information about ArtPride, visit ArtPrideNJ.com. 
About the New Jersey State Council on the Arts

The New Jersey State Council on the Arts is a division of the NJ Department of State. It receives funding in direct appropriations from the State of New Jersey through a dedicated Hotel/Motel Occupancy fee and grants from the National Endowment for the Arts. Since 1966, its volunteer members and professional staff have worked to improve the quality of life in New Jersey by helping the arts to flourish. To learn more about the Council, please visit www.artscouncil.nj.gov. For more information about what's happening in the arts statewide, visit www.jerseyarts.com.