By Gary Wien
originally published: 05/19/2016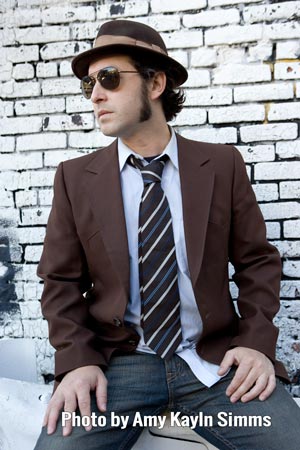 In another time, Arlan Feiles would not be an artist floating under the radar.  Talent like his would undoubtedly have risen to the top with a record deal, radio airplay, and a collection of writers comparing him to the greats.  Unfortunately, Feiles' solo career emerged during a period of change in the music industry. Many record labels went out of business, MTV stopped playing music videos, and radio station playlists began looking identical from coast to coast. Yet, he refused to let that deter him as an artist. In the past 15 years, he's released several critically acclaimed albums and has watched one of his songs take on a life of its own - something every songwriter dreams about.
In 1995, Billboard Magazine wrote, "Also about to sign with Island is Arlan Feiles, former singer of a popular (now defunct) local band called Natural Causes.  An intense, compelling performer, Feiles is a prodigiously gifted songwriter whose style recalls Neil Young, Bob Dylan, and Kurt Cobain.  Feiles is currently in pre-production with veteran producer Tom Dowd."
Feiles, a Los Angeles native, was living in Florida at the time.  He originally left Los Angeles to study at Berklee School of Music in Boston where he formed bands with fellow classmates.  When one returned from

Miami with news about a ton of clubs featuring live music every night, they all moved down south, eventually leading to the Natural Causes band.  After several successful years in Florida (and some great records), Feiles moved on to a solo career.
When the Tom Dowd produced album with Island Records never materialized, Feiles decided to hit the road.  He got in his van with his dog, and began traveling around the country, playing city to city, street corner to street corner, selling CDs out of his van.  He did this for a few years until eventually ending up in Brooklyn where he met his future wife in a music venue in the city.  A Jersey native, she brought him to the suburbs where he's put out a series of brilliant releases.  In fact, a pair of them ended up in the book Are You Listening? The Top 100 Albums By New Jersey Artists Released Between 2001-2010 (Razing A Nation at #7, and Come Sunday Morning at #33) with another, Weeds Kill The Wild Flowers, released just after the book's time period in 2012.
On July 2, Feiles will record his next album live at the Strand Theatre in Lakewood, NJ.  Since his last release he's composed some of his best work to date, including a beautiful song called "Wake (Don't Back Down)" which was used in the official trailer for the Matthew McConaughey film Dallas Buyers Club, and the powerful "50 Miles," which was written for the 50th anniversary of the death of civil rights martyr Viola Gregg Liuzzo.
---
The article continues after this ad
---
---
Feiles says planning to record an album live is exciting and immensely stressful.  In addition to needing a setup that's far more comprehensive than a regular show, there is plenty of pre-production planning and the risk of something going wrong during the performance.
"I think the biggest obstacle is just the ability to perform the material well enough to make it worthwhile on the record," explained Feiles.  "I don't think the listener realizes - even with the biggest bands in the world - just how many clunkers get hit, words get missed or changed, or how many beats get dropped during a show.  When you go back and listen to all that stuff you can pick those things out."
Generally, when bands set out to record a live album they record several different shows so they can get the right take for each track they want on the album. Independent artists rarely get that opportunity though. Feiles and his band will be recording the album in just one night.  They will, however, record a test run-through from earlier in the day to have an alternative take if needed.  With the talented cast assembled by Feiles, it might not be needed after all.  The lineup for the Strand show is expected to include guitarist Jack Petruzzelli (a founding member of the Fab Faux who has worked with artists like Patti Smith, Rufus Wainwright, Ian Hunter, and Joan Osborne), Dan B Green (a musician that has performed with Feiles for years) on upright bass guitar, and Bess Rogers (a singer-songwriter that performed with Ingrid Michaelson) on rhythm guitar.  Providing back-up vocals will be the wonderful pair of Eryn Shewell and Layonne Holmes.
Some of Arlan's favorite artists growing up were those who didn't shy away from being topical or even controversial.  He found inspiration in the music of Bob Dylan, Woody Guthrie, John Lennon, and Bob Marley.  Following their lead, Arlan learned early on to recognize the opportunity he has in front of an audience.
"As you step on a stage, you have an opportunity to do a few things and they're all valid," said Feiles.  "One is to entertain the people who are there to watch you.  Another is to try to inspire them to act on something, and that's what drives me to continue stepping on stages.  It's the opportunity to say, 'Hey man, you're actually listening to me.  I have a microphone in my hand.  Let me tell you something.  We've got to work harder.  We've got to participate.  We've got to vote.  We need to make the world a better place because if you don't my kids are going to suffer.  And I need you to join me to make a difference — to make changes, to be activated and involved, so that we have an opportunity to bring about change.'"
"Change is something that we all seem to want so greatly, but many of us are still struggling with ways to participate or feel that it's all in vain — that participation is kind of false," continued Feiles.  "Many have given up the idea that no matter what we do, the powers that be have already decided what will be.  We need more people to be involved; to be aware that their involvement can make a difference.  It's why I write music.  My first inspiration is not the music, it's the vehicle. 'What is this going to say? And how is that best going to be delivered?'"
Feiles believes voting can make a difference.  It's an issue that he believes in strongly and one closely tied to his song, "Viola."  The song was written about Viola Gregg Liuzzo, a woman he learned about while watching a special on the civil rights movement on television.  Viola's family learned about the song from a story in the Asbury Park Press that they saw on the Internet.  The family got in touch with Feiles, and their lives have been intertwined ever since.  They have invited Feiles to be with them at various engagements across the country.  Most notably, they invited him to be part of Selma 50, the 50th anniversary of Dr. Martin Luther King's March to Montgomery and to join them in the Liuzzo family memorial for Viola at the memorial marker where she was murdered.
As Feiles was headed to Selma 50, it occurred to him that this was going to be a once in a lifetime experience that should be documented.  As luck would have it, he had a stop in Atlanta before flying to Montgomery.  Daniel Demme Krutchkoff, a film director he had known for years, was based there.  So, he decided to give him a call.  He told him he was off to Selma and wanted to document it.  Krutchkoff wound up driving him all the way to Montgomery where the footage for 50 Miles, a documentary about this experience was shot.
"Daniel knew about the March from Montgomery, but he didn't know Viola's story," said Feiles.  "I think the whole experience for him was more emotional because he was learning along the way as he met Viola's family and heard their stories about that time and their fight for their mother's justice."
One of the first things Feiles learned about the Liuzzo family is that they have spent the last 50 years fighting to keep their mother's story alive and to get the truth about her murder known.  A key part of the film touches on the family's investigative work, which proved that the guy who shot Viola was actually an FBI plant instead of the Klu Klux Klan member which was reported.
"In order of avoiding the embarrassment of him being in that vehicle and the woman dying, they started a whole smear campaign against Viola to discredit her so her death wouldn't be so shocking to all of white America," explained Feiles. 
The two of them sat with Viola's son as he pulled out a book with years of research.  He had spent years in court fighting the government to get restitution and an admission that it was actually a botched undercover job.
"He pulled out all these pictures of the crash scene and his mother's autopsy reports," recalled Feiles.  "He just poured through all of this stuff and it was simply astounding.  I don't believe the story is finished being told.  As more and more people are aware of the circumstances that surround her death, I think there will eventually be somebody who reopens the case."
Thanks to the work of her family, Viola's name was one of forty inscribed on the National Civil Rights Memorial in Montgomery in 1989. Two years later, the women of the Southern Christian Leadership Conference placed a marker in her honor on Route 80 at the place of her death. 
A good documentary tells a story that few may have known about.  A great one tells a story and affects the audience as well.  50 Miles, which premiered at the Asbury Park Music In Film Festival in April, does both.  The film explains who Viola was and why she is important in the history of the Civil Rights movement.  It details the struggle for justice and the truth that her family has fought for and continues to fight for.  And it shows the bond that has been established between Feiles and the family, and the song that changed both of their lives.
"Meeting them has been a real pleasure in a way," said Feiles.  "When you write a book or a song about something that means something to you, was inspirational, or was about one of your heroes, there's a very small expectation that you're going to meet that person or their family or become part of their legacy in some fashion… talking with them about voting rights has been so enriching in my whole process.  It's what I always wanted music to do for me.  I wanted it to activate me.  So, they are grateful that their mother's name is being shared, and it's an honor to help get that word out.  It's special.  It's a unique thing."
Feiles was able to sing "Viola" and "50 Miles" during this trip. He describes performing the songs as a pretty intense experience — almost like a dream.  Things appeared to go by very fast and very slow all at once. He was surrounded by people who took part in that march 50 years earlier, by those whose parents had marched, and by others who, like him, were inspired by the activities of that day and what had gone on.
"Viola died for our right to vote. To be there on that moment on such a big anniversary of what happened was just a tremendous honor," said Feiles.  "I suspect there won't be many like that in my lifetime."
---
Gary Wien has been covering the arts since 2001 and has had work published with Jersey Arts, Elmore Magazine, Princeton Magazine, Backstreets and other publications. He is a three-time winner of the Asbury Music Award for Top Music Journalist and the author of Beyond the Palace (the first book on the history of rock and roll in Asbury Park) and Are You Listening? The Top 100 Albums of 2001-2010 by New Jersey Artists. In addition, he runs New Jersey Stage and the online radio station The Penguin Rocks. He can be contacted at gary@newjerseystage.com.
---