By Gary Wien
originally published: 06/24/2019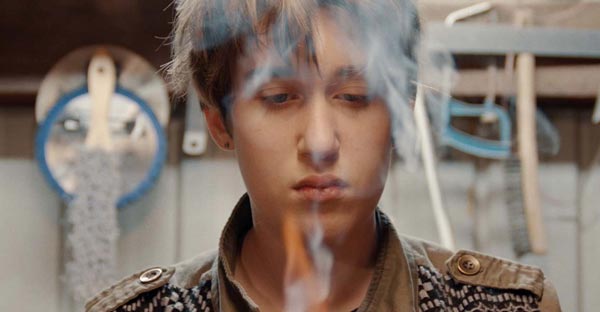 Among the many films screened at the recent New Jersey International Film Festival at Rutgers was Anywhere Is Here, the debut feature film from Ian Lettire.  The screening took place not long after Lettire graduated from the Mason Gross School of the Arts at Rutgers University.
Anywhere Is Here is about a teenage girl named Sarah Dawson who has an abusive father and a neglectful mother.  Seeing no other option, she devises a plan to steal her father's money and run away with her best friend Ben.  Unfortunately, the plan goes awry and she finds herself headfirst in the world of white-collar crime.  Sarah stands at a crossroads where she must decide to flee or take over her father's business.  
Will she rise to the challenge or remain a victim of circumstance?
Lettire grew up in Stewartsville, a small town in Warren County.  He began working on films while a student at Phillipsburg High School; creating music videos as well as directing video content for a Pennsylvania design company. He is part of a fascinating family of artists.  He and his father started the company Chamber of Noize Productions when Ian was just 13.  At first the company revolved around music. In time it added films, books, and illustration projects. Together the Lettire family has created original music, video content, an animated band, a novel, and several short films.  Three members (Ian, his father David and his sister Faith) all acted in Anywhere Is Here and his mother, Meryl, was the executive producer.
Between film festivals, graduation and post-production of his next film, he spoke with New Jersey Stage about his career.
---
The article continues after this ad
---
---
What was it that led you to filmmaking in the first place? Was there a particular movie or director that sparked your interest?
I don't know if there was a particular film, but I always liked a wide range of films and was always interested in storytelling.  I felt it was the core of what we are.  I loved movies and felt movies are the highest form of storytelling - at least in today's world.  I wasn't much of a reader, so I would watch tons and tons of movies.
I was probably influenced by westerns like those by Sergio Leone and indie films. I guess subconsciously it just seeped in.  One day me and my dad wanted to get a camera and give it a shot; then we did it.
For me this film is the fulfillment of a dream I had of creating a fully realized, visual narrative from concept to completion.  On the surface it's a story of corruption and greed, but it is much more that that.  The film is about something deeper.  It's about an individual's reaction to circumstance and how this reaction determines what they will ultimately become in this world.
When you are coming up with the idea for a movie, do you see it more as a visual medium than a book?
Definitely and I think that's where I come in. For Anywhere Is Here, my dad, my sister, and me wrote the screenplay together.  It was a collaborative effort. My sister will bounce off ideas; my dad's a big plot and story guy; and I'm more about the description.  We all had our own roles that made it work in a way where if it was just one of us I don't think it would have worked.
My dad is more of a writer.  I see things very visually and that's why I do the directing.  We can brainstorm an idea and I'll see it in a shot.  Then I'll be able to write out a shot list and see it through on set.
In both Anywhere Is Here and your earlier short, Basement Boxer, there are several scenes with limited lighting or in darkness itself.  Is that something you are utilizing to build your own filmmaking identity?
Yeah, I think so.  There's a 'noir' kind of aspect to my films.  I like night scenes and giving that feeling of being surrounded by darkness and uncertainty.  I made sure in Anywhere Is Here when we were filming that scene at night when the father is drunk and he comes down with his gun.  I wanted to do it at night, but I had never done a serious night scene before.  So we got lights and literally made moonlight by setting up all these lights outside, by the windows, and everything.  It's definitely a conscious choice to keep these dark scenes in the films to give a feel of noir.
I was wondering if you had a course on that or learned mostly on the fly.
We did learn a bit about lighting in cinematography class, but I think most of the knowledge comes from on the fly learning.  A lot of it comes from me and my cinematographer Matthew Hazell.  He went to school with me and we've collaborated on every project through college.  He's an amazing cinematographer and goes out of his way to learn about all of those things in depth.  He knows a lot more than I do, so I just sit down with him and ask how we want to approach something.  He's like, "we'll put the lights here and here and we'll do this."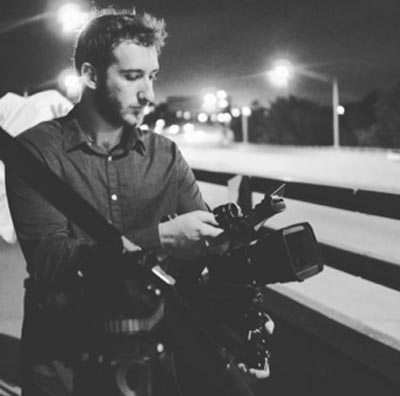 What do you think you learned by making a feature film that you didn't learn while making a short or in class? You never made an hour long film in school did you?
No and this film originally was a 10 minute short for a class.  We did that film and were pretty happy with how it came out.  Then we all sat down and said, "If we can do 10 minutes, why can't we do an hour? It's just more of what we did."
I think that's what I learned the most - just do it and figure it out, learn along the way.  I think we learned a lot of things - especially about audio and editing.  Audio is so key.  I never thought about audio until we had to bring everyone down to the studio and overdub almost the entire movie because the audio was horrible.  In hindsight, I learned you can prevent a lot of headaches in the long run by doing it right the first time.
Another thing I learned about is distribution and going through the film festival process.  We're turning the business into an LLC and trying to get an agent.  It's propelling us into the next year and making us get with the business realm of it.  It's a great thing.
It's a good era for filmmakers with the popularity of video-on-demand and streaming.
Yeah, it's crazy.  Honestly I think it's the golden age of cinema right now because everyone's watching for hours a day.  I think there's always going to be a need for content between the Netflixes and Amazons and movie theaters.  They can't produce content fast enough.  I think there's always going to be a market for people who create compelling content.
The first 10 minutes of Anywhere Is Here are about the incident itself and the rest of the film is about the aftermath.  Did you have the complete story in mind from the beginning?
Actually it was more about the incident at first - just a 10 minute short done for class. I intended for it to be just a short, but once we showed it to my family they wanted to make it longer.  So we used the inciting incident to lead to the whole film.  Then we wrote in parts.  I did another 20-25 minutes for another class the next semester. Basically I used class projects to continue making the film and then we wrote the third part. It was like writing a television show where you write episode after episode; we straightened things out along the way.
You've got music you created and plenty of shots of the Cannibal Face logo in the film.  Are you set on filmmaking for your future or do you hope to continue doing both film and music?
I am definitely set on being a filmmaker.  I do like doing both though.  I like incorporating the music into the films and we have a large catalog of music already.  What we've learned from music is that it's very hard to get an audience with music if you don't have the backing of a label.  So, there isn't much of a future right now in music making solely.  In a way, the films are a vehicle for people to listen to the music.
The film we're finishing up now (Too Damn Long) is about a country music singer who is played by my dad.  It's centered around a song that he wrote a few years ago.  We basically made the story around the song.  I feel like music and film are always going to be hand in hand, but I'm more interested in film now.
Where do you see your career going from here? Are you mostly interested in doing your own projects or could you see yourself as a director for hire?
I'm not entirely sure, but I do know we have a plan.  We always have a long range plan and have a body of scripts and a bunch of projects lined up.  I want to try to get an agent and try selling some scripts while working on other projects, but if the opportunity arose to be a director for hire I wouldn't be opposed to it.  I think another big thing for me is to keep getting more experience in the industry.  I see a lot of paths at this point and am just going to navigate them as we go along.
I noticed that you placed a casting notice in Backstage for your latest film.  Was this the first time you did that?
Yes, we actually had always used friends before.  My friend's mom is a talent agent so we got some of the actors through her.  Most of our actors were just people I knew that I thought looked like they fit the roles.  I kind of thought if they looked like they fit the roles and I knew how they talk I could sort of train them to be compelling enough for the first film.  
For the next film Too Damn Long, which is in post production now, we went a different route.  The process I used works, but actors are everything. That's one of the things I learned from Anywhere Is Here - everybody did a good job, but there's something about professional actors who bring it to a whole another level.  We want to go all out for this one so we did the Backstage ad and we got some actors from there.  I think it worked out well. The film is very musically oriented and we got a talented band to play in the film.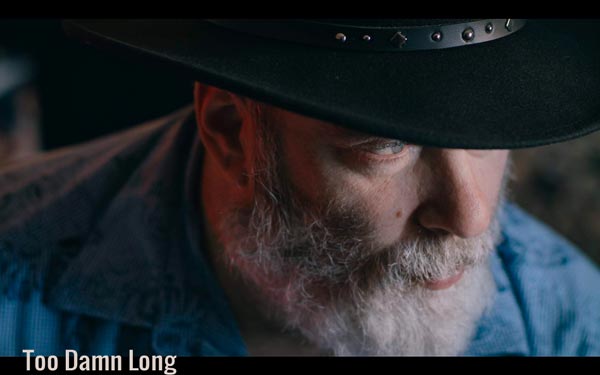 What are you most proud of with Anywhere Is Here?
I'm most proud of my family because I feel like I have this support system which is amazing.  I'm trying to tackle one of the biggest, scariest industries in the world, but I'm not doing it alone.  I'm doing it with my family and I feel like most people don't have that option and it's amazing.
---
Gary Wien has been covering the arts since 2001 and has had work published with Jersey Arts, Elmore Magazine, Princeton Magazine, Backstreets and other publications. He is a three-time winner of the Asbury Music Award for Top Music Journalist and the author of Beyond the Palace (the first book on the history of rock and roll in Asbury Park) and Are You Listening? The Top 100 Albums of 2001-2010 by New Jersey Artists. In addition, he runs New Jersey Stage and the online radio station The Penguin Rocks. He can be contacted at gary@newjerseystage.com.
---