By Gary Wien
originally published: 07/09/2016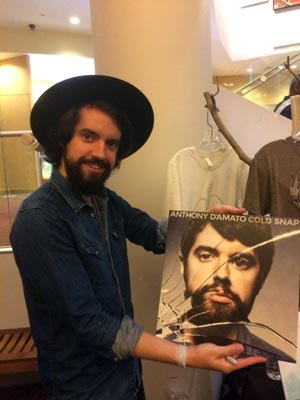 (SOUTH ORANGE, NJ) — On Sunday, June 12, the South Orange Performing Arts Center (SOPAC) was filled with music fans who came to see Valerie June and her band.  But some in the audience were there to see the opener, Anthony D'Amato, instead.  I was one of them.  Having known Anthony since he was a teenager who wrote for several publications (including Upstage Magazine and AsburyMusic.com - previous incarnations of New Jersey Stage), I've followed his musical career from early albums recorded in his Princeton University dorm room to his major label releases.  And this would be my first time seeing him on a big stage.
The SOPAC show was the final night for Anthony's brief solo tour in support of Valerie June.  He would begin a new tour with his full band shortly thereafter in support of Cold Snap, his latest release on New West Records.  Armed with an acoustic guitar and a harmonica, Anthony strolled out on stage and asked the crowd, "How's it going?" before launching into "Was A Time" from The Shipwreck from the Shore.  The evening was mostly split between songs from that album and his latest release.
After playing "I Don't Know About You" from the new album, Anthony told a story about the Stetson hat he was wearing.  He got the hat from playing a show in SXSW. He said he went out for breakfast in Austin and was wearing the hat when the waiter gave him food and said, "Enjoy the rest of Rumspinga, young man." If you don't know what Rumshpringa is, it's the period when young Amish kids go out to experience the world and see if they want to remain Amish or not.
"So now I wear the hat wherever I go for a built-in excuse for the dumb shit I do," said Anthony before playing a beautiful version of "On The Banks Of The River Where I Died" from Paper Back Bones.
"I come from New York City," he said although several in the crowd - including his parents - were well aware of his Jersey roots.  After the concert, his mother groaned, "Brooklyn!" when I mentioned Anthony joining the ranks of Jersey artists abandoning the Garden State. "I'm of mixed heritage.  At least I didn't change my name," he joked, reminding me of a time when the New Jersey music scene had two artists named Anthony D'Amato — one we called the Princeton Anthony and one the Asbury Anthony.  The latter now performs as Remember Jones.
---
The article continues after this ad
---
---
One of his best stories of the night introduced "If It Don't Work Out" — a song about when a relationship ending doesn't correspond with the end of a lease.  Years of performing, including many tours in support of big names, have helped Anthony develop into quite a confident live performer. His stories are interesting, often funny, and actually provide a good insight into his songs and career.
The first single from the new album, "Rain On A Strange Roof," was next.  He had just taped a live performance of this song on CBS Morning Show.  Hearing it made me really wonder how people continue to throw out the Bruce Springsteen comparisons to him.  I just don't hear it.  His sound, his lyrical style, and his voice have absolutely nothing to do with Springsteen.  I know Springsteen was an influence of his just as Dylan was an inspiration, but, seriously, what folk artist hasn't been inspired by those two? The comparison, to me, begins and ends with two artists born and raised in New Jersey.  I've been guilty of comparing a few artists to Springsteen over the years but it's something I try not to do.  I think it's a bit lazy to constantly compare every Jersey artist to Bruce, not to mention unfair to the artist. To me, Anthony has developed a sound entirely his own over his career - from his independent albums that are definitely worth seeking out (especially Down Wires and Shades of The Prison House) to his recent releases on major labels.  
Above all, his lyrics show the difference.  In many ways, the lyrics of Springsteen and Anthony developed in opposite directions.  While Springsteen was introduced to the nation with the lyrical wordplay and rhyming found throughout Greetings From Asbury Park, his style developed more into storytelling with less importance to rhyme.  Meanwhile, Anthony started out with lyrics more in the story mold with each album featuring more minimalist lyrics that emphasize rhyme and repetition to keep a unique beat and time. Years of studying with the Pulitzer Prize-winning poet Paul Muldoon at Princeton helped him find his own style.  The songs are based in folk music, but include modern rock sounds as well.  It's a blend that would lead someone to be hard pressed to compare to Springsteen if his Blairstown, New Jersey roots were not known.
As a fan of his older work, I asked Anthony if he could play one of my two favorite tunes at the SOPAC show.  The two choices were "Skeleton Key" and "Holy War."  With the show taking place just hours after the Orlando terrorist attack, I had a feeling which song he would play.  Performed in front of a crowd still trying to come to grips with the news from Florida, the song's message hit home.  It's always nice to see people introduced to great songs that they've never heard and "Holy War" is a truly beautiful song — one that Anthony says he hopes will lose its relevance, but never does.
"Captain Captain, my aim is true / shot those men like you told me to

'cause they don't pray the way we do / captain captain, my aim is true.
But I don't know what I'm fighting for / and I don't know what to feel no more

And I don't know why they bother keeping score / 'cause there ain't no winners in a holy war"
One of my favorites from the new album, "Honey That's Not All," was up next.  This was the type of song which excelled at SOPAC in front of an audience that was obviously fans of NPR type stations.  The audience intently listened to every word in a venue that was as close to a listening room as you'll find in New Jersey.  While there is something wonderful about seeing concerts in an old, classic venue that has been restored to its original beauty, there's something amazing about venues like SOPAC — new venues designed for the best sound, best sightlines, and modern technology.  I can't imagine a better place to hear an acoustic artist in the state.  Throughout the song, you could hear the crowd laughing at lyrics they were likely hearing for the very first time like:
"I got Jesus' name tattooed in black / But I got sick of waiting for him to come back

Now I got a savior in my neighbor I can hear through the wall / She's getting love oh God and that's not all"
Valerie June came out to join Anthony on "Good and Ready" and it was clear the two had become friends along the tour.  Anthony has a history of doing that.  As a writer, he became friends with many he interviewed like Jesse Malin and Sam Roberts — connections that would come in handy as his musical career began taking off.  This song was a perfect fit for Valerie's vocals and presence.
"Let me die on a Sunday for to stay outta hell

Let me die on the subway, could they even tell?

Let me die when the war ends, you could paint my face

Let me die in New Orleans, I wan'na march with 'em saints.

 
Anthony ended his set with "Ballad of the Undecided," a song that appears on his latest album in a more folkie version than the original rocker which kicked off Down Wires years ago.
When Valerie June's band came out, it turned SOPAC from a listening room to the feel of an intimate recording studio.  The band was composed of simply incredible musicians and their wall of sound filled the venue.  The crowd loved her, but for me she saved the best for last.  Rather than coming out for a single encore she did a four-song encore that was like a mini concert of its own.  And the songs were incredible.  The venue's sound continued to impress me.  For those who haven't been there, the venue is located basically next door to the NJ Transit South Orange train station. This was my first time at SOPAC but it definitely won't be the last, and it's always great seeing artists you've followed for years on the big stage.  For Anthony D'Amato, the stages just keep getting bigger…
---
Gary Wien has been covering the arts since 2001 and has had work published with Jersey Arts, Elmore Magazine, Princeton Magazine, Backstreets and other publications. He is a three-time winner of the Asbury Music Award for Top Music Journalist and the author of Beyond the Palace (the first book on the history of rock and roll in Asbury Park) and Are You Listening? The Top 100 Albums of 2001-2010 by New Jersey Artists. In addition, he runs New Jersey Stage and the online radio station The Penguin Rocks. He can be contacted at gary@newjerseystage.com.
---