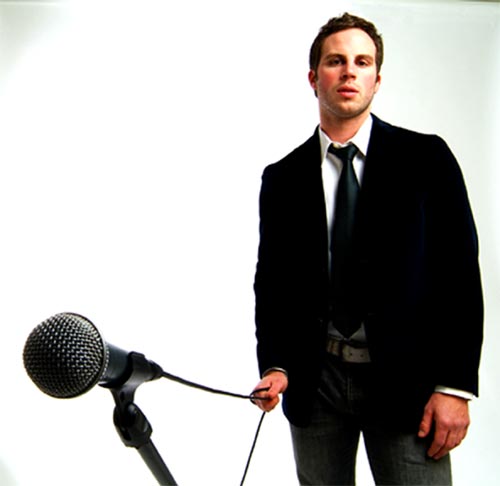 Andrew Holtz has been running all of his life. The former Christian Brothers Academy track star earned a scholarship at Fordham University. After graduation, he ran through a series of accounting jobs until he finally was at a top New York city firm. And once he got there, he decide to run one more time - back to his dream of being a musician. His debut CD, "Leaving New York", will be released this month with release parties at the Sidehatch Bar in Asbury Park on May 18th and the Bitter End in New York City on May 22nd.
"The title track has the undertones of a love song, but it really is about me saying I've got to leave New York and come back home and put my life together as a musician rather than the life I had built for myself in the city as an accountant," explained Andrew Holtz. "I needed to come back here to concentrate on music and leave all those things that were pressuring me to not to do music. Just come back home and clear my head."
Growing up, Andrew was in hardcore bands, heavy metal bands, and even emo and punk bands, but he began getting serious about his own sound when he got to college. It was there that he began listening to more and more types of music and he found that he was always attracted to the great pop rock songwriting that featured a big hook coming up. He lists groups like the Gin Blossoms, Goo Goo Dolls, and Counting Crows as examples.
His first record is a pure pop rock record that doesn't try to be anything else. It was recorded by The Churchills, a group of musicians and producers who just might be the local leading authorities on how to create a great pop rock sound. Ron Haney of The Churchills even liked the music so much he joined up as a member of Holtz, the new band created by Andrew.
"I'm not somebody who likes to write in metaphors and stuff," he said. "I write very literal lyrics that I think people can relate to. I spent a lot of time writing and rewriting and paying close attention to make sure every song is a story and that people are going to be able to get it off of the bat.
"The record has 12 songs including those in your face uptempo rock songs in the vain of Butch Walker or Gin Blossoms and it has some acoustic based ballads that stretch it from the Goo Goo Dolls to John Mayer. The thing that really sets it apart is the production. I went into the studio with The Churchills and we recorded it. That's why I'm just calling it Holtz instead of Andrew Holtz. Even though it is still like a solo project, in a way it's like a solo project with the heart of a band."
"Leaving New York" contains songs about love, losing love, and moving on in your life. Holtz describes it as the "daily struggles you go through with yourself about following your heart or following your head." In the end, he says it's all about taking chances.
Holtz says he's confident that if the music can just get out to enough people that it's going to catch on. Right now, he actually draws more to a show in New York City than he does in his backyard. It's something that he hopes will begin to change with this year's Wave Gathering festival where he'll be performing with his band one day and performing solo acoustic on another.
"The Wave Gathering is what it's about to be part of this music scene down here," he said. "People will be out and watching and listening to the music and even if they come in for just a couple of songs and then move to the next venue it's cool. It's impossible to see all of the bands you want anyway. It's going to be awesome to be able to do that and then do it again at the Bitter End."
For the last few years, Holtz struggled with where he fit in with the Asbury Park music scene. In a state where indie bands and emo bands seem to be getting all of the attention, a guy writing pop songs doesn't stand out very well.
"I don't know if I'm taking it too personally but I always feel kind of ousted by some of the other bands in the area because I am that pop rock guy," explained Holtz. "I'm not like those too cool for school indie guys; that's never been me. I'm not concerned about that stuff. I like the big hooks rather than really clever lyrics. I like everything to be out in the open and accessible to anybody that wants to listen to it. I kind of see myself as trying to stick up for the the pop rock guys who sometimes get labeled as sell outs."
Holtz grew up in the Middletown area and has always been good at three things: numbers, track and music. Nowadays he leaves the numbers up to his manager to focus on the music, but he still loves getting out for a run each day. Although his days of doing the decathlon may be in the past.
"Running is my addiction," he says. "It's my cocaine. I usually get out to do at least 5 miles a day."
During the recording of "Leaving New York", Holtz said that both he and Ron Haney would take breaks and go run along the boardwalk and finish with a jump in the ocean even up until Christmas when the water was about 30 degrees! He might be one of the first local rockers to join the polar bear club if he keeps that up. But the race is just beginning for Holtz and the finish line is looking sweeter than ever.
Catch him at the Wave Festival on May 18th & 20th and at the Bitter End on May 8th and 22nd. For more information visit http://www.myspace.com/holtz