By Gary Wien
originally published: 05/11/2016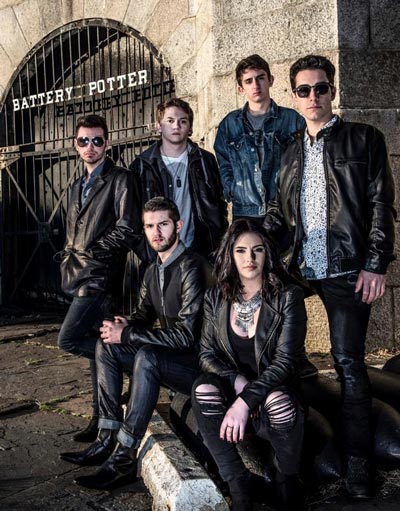 The Taylor Tote Band is headlining Friday, May 20th at The Stone Pony in Asbury Park with SØF  and Wyland.  A veteran of the club, but headlining for the first time.  New Jersey Stage spoke with Taylor about the show.
What does headlining a show at the Stone Pony mean to you?

This is the first time that I am headlining the Pony with my band and I am very excited for the show and so proud of how hard my band has been working.  We are so excited to headline a special show to connect with our friends and fans, and the people that have been supporting me through my journey.  We have had a busy schedule with traveling, performing, and recording, so I'm so thrilled we were able to work out a date to headline The Stone Pony... it is extra special and means so much, this is where we come from, this is our roots and based on the fact that we were asked to headline is really humbling.  We have had the honor to open for some really great acts at the Pony, but it is invigorating to be the headliner!  And the Pony's support means so much to us, we truly love everyone there.  We can't wait!
Kyle Brendle said, "One of the Jersey Shore's brightest talents brings it with a headline show at the Pony on Friday, May 20th!"  What does it mean to have the support of the Pony and guys like Kyle in your corner?

Kyle has been a huge supporter from the very beginning.  I met him when I was 16 so I've known him for about five years now.  He's always called me "one of the Jersey Shore's brightest talents."  I doubt myself every now and again because this industry is a tough one.  I always wonder if I'm making the right moves or if I'm good enough but when some one like Kyle says something like that, it restores my hope for sure.  I've known the other staff members for about four years and they're just as supportive.  I feel like they're always genuinely happy to see us because they're always smiling and welcome us with open arms.  I feel like they do what they can to make us look and sound the best and that truly means a lot.
I know you've played the Pony many times.  What's it like being up on that stage? When I've seen you there, it seemed like the perfect room for you.

The vibe of the Pony is incredible... We really feed off the energy in the room which is ALWAYS high.  It's really hard to put on a kickass performance when you feel like there's no energy or people aren't into it.  That's never the case at the Pony though.  And because I've performed there so much, I'm definitely comfortable.  I know the stage really well, the sound guys understand us, and we understand the crowd because the energy in the room is consistent.  I think it's hard not to go there and not be pumped up whether you're just going there to watch or performing.
Tell me about the show. I hear you're trying to have a new single ready in time and might debut some new songs.

Yes!  I'm really excited about this single.  My guitar player, Nick, and I wrote this song together and we could instantly hear the arrangement in our heads.  Once we showed it to the rest of the band, everything came together and I think it's probably the band's favorite song of ours right now.  The lyrics are sad, but totally relatable.  But it tricks you at first because it's actually quite a fun song.  We're recording the song with Ron DiSilvestro of Forge Recording Studios in Philly.  It's coming out wonderful and we can't wait to show everyone!  I'm really excited that 95% of our set will be originals: some old, some new, and some resurrected.  But our cover selection is also exciting.  It's going to be stuff people wouldn't expect us to do but we're going to pull it off really well.    Most people have only seen us do smaller sets so I'm excited to show people another side of us.  It's going to be different from the EP release show last year.  It's a different atmosphere this time and we've grown immensely since then.  We're doing a longer set and have more exciting things happening.
---
The article continues after this ad
---
---
You've got a pair of great acts in SØF and Wyland on the bill with you.  What led you to choose these bands?

Yes!  I'm so super excited about these acts.  I chose SØF because I think she has a great sound along with awesome songs.  I met SØF when we were both about 16 and I always thought she was so good.  Since I've known her and her music for awhile now, I've had the chance to see her grow and develop as an artist and she's come a really long way.  She was really good then but she's 100x's better now... that's saying something!  Even though it's just her and her guitar, and her percussionist, Megan, they totally rock it.  I admire the sound they achieve with just the two of them.  She's a singer-songwriter but pulls of the edgy pop feel without a band behind her.  What she does works so well and there was no doubt that she'd be a perfect fit for this show.
I remember the first time I saw Wyland... They played after us at Stella Blues in Connecticut and I was instantly hooked by their sound and their stage presence.  Their music was so mind-blowing to me and I couldn't stop talking about how good they were. They have this sound that's like a combination of Coldplay and Mumford and Sons but they have so much energy.  Not only does their lead singer, Ryan, have a killer voice but he plays his keyboard on one song and then is ripping a guitar solo on the next.  Once I found out they were from Jersey too, I turned to my band and said, "They will be openers at our headline show," and we hadn't even had a date planned for it yet!  I just knew.  I think they'll really help pump up the crowd before our set.
A portion of the ticket sales will go to fund the Taylor Tote Music Scholarship.  How has the scholarship been going?

I'm so pleased to be able to offer the scholarship again this year.  Last year was the first year we handed out the scholarship and we had quite a few students apply which was really great!  I'm hoping to get a great turn out this year as well.  Currently the program is designed for Monmouth Regional High School students who wish to pursue further studies in performing arts.  My long term goal is to eventually make this a yearly scholarship and even expand to other schools in the state of NJ.  This scholarship is important to me because I don't think most people realize is that future artists and entertainers need to attend school as well, which may, very likely burn a hole right through their pockets.  It is not necessarily that they need to attend college, although encouraged, I encourage any student to further their studies in college, but they need training, specialized training.  Excelling in performing arts is something that is extremely expensive to do and when I was in high school, there were no scholarships being offered to performing arts students.  I want to help someone that has the same passion as I do, even if its just a little bit.
Finally, how cool is it to actually be headlining the Stone Pony?

I couldn't be more excited about this show.  I want the audience to have the best time.  When we're playing an opening slot, we have less time to command the audience.  Without the strict constraint of time, my hope is that the audience will get to see a deeper side to our music than when they might see us opening or at a smaller venue.  We definitely have a high energy set, so I hope that's the vibe of the audience.  I hope they all wake up the next morning with our songs stuck in their heads.  We hope to see you there!  Expect to see Taylor Tote Band at its best!
The Stone Pony is located at 913 Ocean Avenue in Asbury Park, NJ.  Photo by Kostas Lymperopoulos
---
Gary Wien has been covering the arts since 2001 and has had work published with Jersey Arts, Elmore Magazine, Princeton Magazine, Backstreets and other publications. He is a three-time winner of the Asbury Music Award for Top Music Journalist and the author of Beyond the Palace (the first book on the history of rock and roll in Asbury Park) and Are You Listening? The Top 100 Albums of 2001-2010 by New Jersey Artists. In addition, he runs New Jersey Stage and the online radio station The Penguin Rocks. He can be contacted at gary@newjerseystage.com.
---