By Gary Wien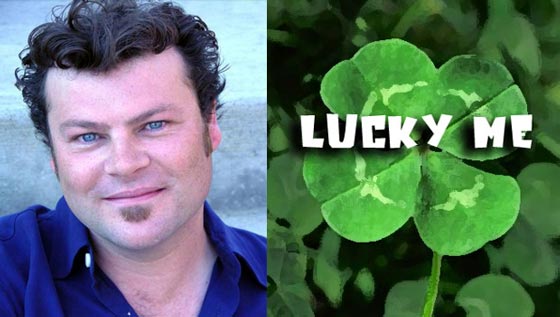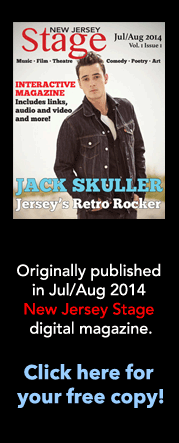 "Lucky Me", the latest work by playwright Robert Caisley, will be presented by New Jersey Repertory Company in Long Branch, NJ. The show runs from July 31 to August 31, 2014.

Sara Fine's having a bad week. The light bulbs in her apartment keep burning out; the aquarium is perpetually full of dead fish; the cat's gone AWOL, again, and her blind, elderly father -- who chased off her last beau -- is immediately suspicious of Tom, the new neighbor, a TSA agent who just brought Sara home from the emergency room on New Year's Eve with a fractured 5th metatarsal. As Tom's attraction to Sara intensifies, he learns of an increasingly bizarre streak of bad luck that's been haunting Sara for years – twenty two years to be precise.

Sara Fine sounds like an interesting character.
I've got some friends who think they are either lucky or unlucky and whenever I ask them to provide me with any evidence to support their theory, it seems like the same kinds of things that happen to me. So, I started thinking about a character who, in many ways, sort of wills herself to be the unfortunate, unlucky individual she claims to be.

But what we find out in the play is that its just coincidental. And all it takes is somebody to not be frightened off by her bad luck to sort of turn around her life.

I personally think this is a comedy, but it does have a dark side to it. I really wanted to write a play that was broader in its comic appeal and also had a real romantic center to it. I described it to myself as a romantic comedy.

So I thought about a woman that's incredibly unlucky -- not only in love, but in life in general -- and just design a series of bizarre things that happen to her that don't seem to happen to anyone else, and then introduce a love interest and see what happens when he tries to deal with the various issues she has.

NJ Rep is one of the theaters that really believes in and depends on producing new work. How important is it for a playwright to have theatres like that? Many theatres consider new works a harder sell.
Yeah, what's interesting about that is I teach theatre history at the University of Idaho and I'm still trying to figure out where in the history of theatre did we get this obsession with the distinction between new plays and plays that have been done before? Because I think the golden age of dramatic writing in the United Kingdom was during the Elizabethan period when Shakespeare was writing.

Shakespeare made his career on new plays and he was competing with a bunch of other playwrights who were writing insatiably to meet the demands of an audience who only wanted to see the next new play.

I'm not sure if it's the cost of theatre has become such that theatres have to market something other than the thing itself that they are producing, which is the story told in front of a live audience by live actors, or something else. Somewhere along the way, the theatre establishment made the audience adopt this prejudice towards a new play being something of a risk and an old chestnut being a guarantee of entertainment.

Personally, I've had some of my most thrilling experiences in the theater seeing something that's never been done before and I've had some of the most God awful experiences in the theatre seeing plays that for hundreds of years have been touted as tried and true classics!

It's absolutely vital that theatres like NJ Rep continue to have a robust production calendar. I only wish more professional theatre companies took the same view of new work and were excited by new work as opposed to being nervous or cautious or daunted by the fact that they've never heard of the play or the playwright.

NJ Rep is a particularly great theatre for playwrights like myself to collaborate with because they not only do new work, but they do them really well. And they market them to the audience like "It you don't see it now, you're going to miss the chance to see it for the very first time." Plus many plays have gone on to have an afterlife beyond NJ Rep.

---
Gary Wien has been covering the arts since 2001 and has had work published with Jersey Arts, Elmore Magazine, Princeton Magazine, Backstreets and other publications. He is a three-time winner of the Asbury Music Award for Top Music Journalist and the author of Beyond the Palace (the first book on the history of rock and roll in Asbury Park) and Are You Listening? The Top 100 Albums of 2001-2010 by New Jersey Artists. In addition, he runs New Jersey Stage and the online radio station The Penguin Rocks. He can be contacted at gary@newjerseystage.com.
---