By Gary Wien
originally published: 08/11/2019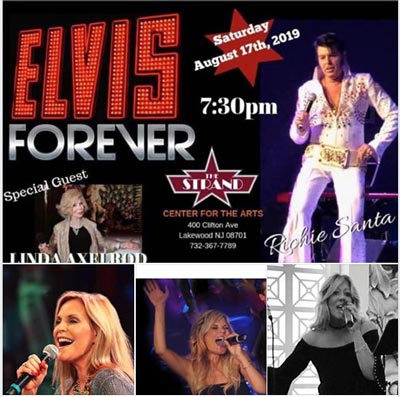 Richie Santa is a singer/Elvis Tribute Artist, who was born and raised in Brooklyn, NY and now lives in Staten Island, NY about twelve miles from where he initially grew up. His career started with a band called Neighborhood Jukebox, which was an oldies band that opened for Roy Orbison and sang live on the Don K. Reed Do Wop-Shop Radio show on CBS's 101.1 FM. Richie also sang the title track to a short-lived TV show back called "Fast Forward."
It was around that time that a friend and then unknown comic from Brooklyn named "Andrew Dice Clay" had gotten his big break and asked Richie and his band to back him up at such venues as Philadelphia's Spectrum, LA Forum, Nassau Coliseum, etc.  Richie also got the chance to meet many stars along the way such as  Jerry Lewis, Danny Aiello, Arnold Schwarzenegge, and Rodney Dangerfield.
Richie Santa and his 10 piece band return to The Strand Theater in Lakewood on Saturday, August 17 at 7:00pm. A special performance by Comedian Linda Axelrod as Joan Rivers will open the night. Tickets range from $25 to $45. Richie spoke with New Jersey Stage about the show.
What can people expect to see at Saturday's show?

Well for this show let me start by saying we have a great opening act. Linda Axelrod is a talented Joan Rivers impersonator. I know the audience will love her. From me, they can expect to see an energetic performance with passion and commitment. My band is top-notch and their representation of his music is as vital to the show as I am. We know it's about creating the illusion and taking the Elvis fans on a journey back in time.
You've performed at The Strand several times now.  What do you like about the venue and its audiences?

The Strand Theater is like home to me. I've been performing there for three years and have done six shows and counting. What started out as a business between the Strand and myself has turned into a great friendship that I treasure. Fran Whitney and Lori Davis and myself were at the same place at the same time and the rest is history. Thank you, Fran and Lori. The entire staff there is wonderful and I feel completely relaxed when I'm in that historic building. The audiences there are wonderful and friendly, and I'm not just speaking about my shows. I have attended many concerts there and I have never had an unpleasant experience yet. 
---
The article continues after this ad
---
---
How did you first start out performing as Elvis?  Did you ever imagine doing this for so long?

Well, I've been a performer for many years covering many different artists but, Elvis was always number one to me. Ten years ago I decided to take my love for the king to the next level and go full out as an ETA / Elvis Tribute Artist. As far as I'm concerned I'm just getting started. So yes I could imagine doing it this long. 
What is it about his music that still resonates decades after his death?

Simply the music was great. I had heard that other than the movie songs Elvis picked what he wanted to record. He had a great sense of what would showcase his voice best. He also knew what the fans wanted of him. Plus having every songwriter at his disposal didn't hurt. 
With so many hit songs to choose from, how do you create your setlists? Do you focus on any particular themes? 

No themes. It's more about giving the audience a mix of all three eras. So that would include 50s, 60s, and 70s songs. I don't assume that everyone in my audience is well versed in Elvis. So I try and do mostly relatable songs and maybe a few obscure ones as well. 
What is your favorite song to perform?

I get this question a lot. I honestly don't have a favorite, but I have noticed with me that usually, the newer tunes are exciting to sing.  I guess 'cause they're fresh to me.
Is there one song which seems to be the crowd favorite?

I'd say "How Great Thou Art." That's one of his gospel tunes that he actually got two Grammy's for - the recorded 60s version and the live 70s version. There are others that people like like "American Trilogy", "Suspicious Minds" and many more. 
Finally, what do you like best about performing his songs?

I'd say what I like best about performing his songs is how it makes me feel inside and how his songs touch the people I'm singing for. It's such an obvious connection that I love. By far the greatest and most rewarding thing I've ever done. They say find your passion and purpose in life. I'm very happy I found mine.
I just want to add that no one makes it alone and there are many people along the way that help you get there.  My manager and promoter Robert Santa i thank you for everything that you do. To Sal, Angioletti thank you, buddy. We're just getting started...
---
The Strand Theater is located at 400 Clifton Avenue in Lakewood, New Jersey.  Tickets are available for purchase online.
---
Gary Wien has been covering the arts since 2001 and has had work published with Jersey Arts, Elmore Magazine, Princeton Magazine, Backstreets and other publications. He is a three-time winner of the Asbury Music Award for Top Music Journalist and the author of Beyond the Palace (the first book on the history of rock and roll in Asbury Park) and Are You Listening? The Top 100 Albums of 2001-2010 by New Jersey Artists. In addition, he runs New Jersey Stage and the online radio station The Penguin Rocks. He can be contacted at gary@newjerseystage.com.
---