By Gary Wien
originally published: 06/20/2016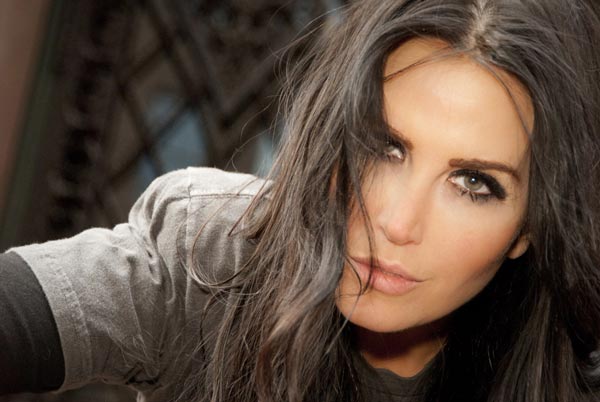 Before Loretta and before Dolly, there was Patsy – Patsy Cline, whose hits like "Crazy" and "Sweet Dreams" heralded the cross-over of country music and pop. Her legacy is remembered in the play Always, Patsy Cline by Ted Swindley.  Directed by Maurice J. Moran, Shadow Lawn Stage's production stars Reagan Richards as Patsy and Katrina Ferguson as Louise.
The play involves a fan named Louise who conjures up memories of where and when she fell in love with the music of Patsy Cline: listening to the radio in her kitchen, meeting her at a local country bar, and seeing her live on stage with a band of country musicians.
Always, Patsy Cline will be presented by Shadow Lawn Stage on the campus of Monmouth University in West Long Branch from July 6 through July 16.
New Jersey Stage spoke to Reagan Richards while she was on the road touring country stations across the country promoting her band's latest single, "Send It To Me."  Her band, Williams Honor, features her along with Gordon Brown.
One of the first videos I ever saw of you was a performance of "Crazy."  What does Patsy Cline mean to you and what has she meant to your career? Haha! When I used to sing in New York every week, "Crazy" was a staple for me. Patsy is that artist who taught me what it meant to not just sing the note, but sing like you mean it. Be authentic. You could always feel the emotion through Patsy's voice and in her songs. You actually feel like you are in the situation she is in. That is how much she made you "feel."
---
The article continues after this ad
---
---
That's how I approach my songs and performances. I want people to leave having felt something.
What interested you in the play? I first saw Always, Patsy Cline in Nashville in 1994 at the Ryman. I never forgot that night when I saw it.  I knew I wanted to do this show one day.
I began writing a musical years ago in Nashville based on Always, Patsy Cline and performed it very briefly, but to do this in its entirety is a dream.  So this is really a personal goal, as well as professional goal.
Always, Patsy Cline is a two woman show about Patsy and a fan, Louise, who became a dear friend to her.  The story is carried by Louise. Without giving too much away, it is really a beautiful story that follows Patsy through her work as a performing artist and this animated, dear woman.
The quirky character of Louise is one to see and of course, along with the music and heart of Patsy, it's just a show that is unforgettable.
The show includes a ton of songs.  What are your favorite Patsy Cline songs to sing? Wow. That is a loaded question.
It depends on the day. I remember getting her CD box set for Christmas years and years ago, which included rare tracks, live performances, outtakes, and the classics. I played those CD's til they wore out.
I would say some top Patsy songs for me are "Faded Love," "Sweet Dreams," "Someday You'll Want Me To Want You," "So Wrong," and "Why Can't He Be You."
When I first moved to Nashville years ago, as soon as I got to town I wanted to go to the studio and record two of my favorite songs. One of those songs was "So Wrong."
See? I can go on and on.
Are there any songs of Cline's that you first learned because of the show? There are a couple that weren't on the heaviest rotation for me, not because I didn't like them, but others took precedence.
Out of the 27 songs in the show, I only had to reacquaint myself with about four.
You've been on the road quite a bit in the past few months.  What's it like preparing for a production like this when you can't have normal rehearsals with the director or co-star? The first thing is to mentally prepare. What better way to mentally prepare to play a country artist who is going to radio and performing throughout the country than doing exactly that?
With Williams Honor, I am hubbing out of Nashville and going from radio station to radio station. I am Patsy in the sense that I am doing exactly what she did. She had a single, she would go to stations and do her interviews, just like we are right now promoting our single, "Send It To Me."
I always speak of Patsy during interviews, as she is my major influence and we always try to throw in a good ol' Patsy tune.
I have the script on the road with me.  Like the saying goes, "Where there is a will, there is a way."
I am making this happen. The director has been so good to me and understanding of my situation. I can't wait to get on that stage and become Patsy with the wonderful people on this production.
Finally, what do you think Patsy Cline has meant to country music as a whole?  And what has she meant to female country artists? Country music is about a lyric. Country music is about telling a story. Like I said earlier, Patsy made you "feel" and Patsy told the story.  All of the country artists who have followed in her footsteps have made their audience feel something.
She was a pioneer. She was a tough woman and certainly held her own in a man's world, which it was at that time. I personally don't think you can be a female country artist and NOT look up to Miss Patsy.
She was the real deal who lived the life, walked the walk and talked the talk. I know for me, that's what's it all about. Authenticity. I say it every time I open my mouth in an interview. You have to actually "be it," because people will know in a heartbeat if it's not.
---
Gary Wien has been covering the arts since 2001 and has had work published with Jersey Arts, Elmore Magazine, Princeton Magazine, Backstreets and other publications. He is a three-time winner of the Asbury Music Award for Top Music Journalist and the author of Beyond the Palace (the first book on the history of rock and roll in Asbury Park) and Are You Listening? The Top 100 Albums of 2001-2010 by New Jersey Artists. In addition, he runs New Jersey Stage and the online radio station The Penguin Rocks. He can be contacted at gary@newjerseystage.com.
---