By Gary Wien
originally published: 09/14/2018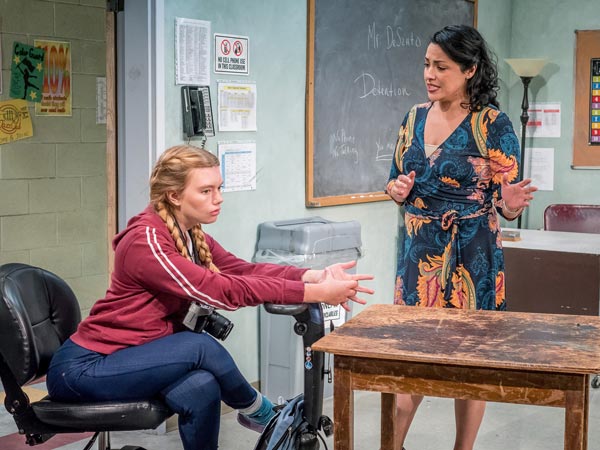 Nicole Pandolfo is a talented playwright from New Jersey whose work has been produced on four continents along with readings and productions throughout the Garden State. Her play, Brick City, is currently being presented at Premiere Stages at Kean University now through September 23rd. The play was commissioned and developed via the NJPAC Stage Exchange program. Premiere's production features Rafael Benoit, Jacqueline Correa, Madison Ferris and Chris Grant under the direction of Jessi D. Hill.
Nicole has also had work developed through the Jerome Foundation, The Actors Studio, the Eugene O'Neill Theater Center, the Lark, and NJ Rep among others and she was a finalist for the Stanley Drama Award, the Edward Albee Foundation Fellowship, and the Leah Ryan Fund for Emerging Women Writers. She is a member of The Actors Studio in the Playwright/Director Unit and received her MFA at Hunter College.
New Jersey Stage spoke to Nicole via email about Brick City and her career.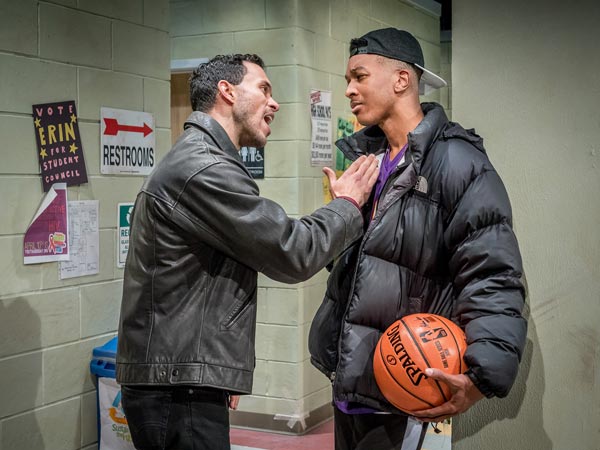 How would you describe the plot of Brick City to friends?

Jessie, a combative high school senior with a disability, and Darnell, the star player of the basketball team, find themselves together in extended study hall during the most important marking period of their lives. As Darnell inches dangerously close to throwing away a lucrative college scholarship and Jessie a potential career as an artist, both discover that things aren't always as simple as they may seem.
Was Jessie having a disability a choice made from the beginning?

This was in the original commission pitch I sent Premiere. Jessie was always a character that used a wheelchair, but I did just notice her original name was Katie!
---
The article continues after this ad
---
---
Was Jessie based on anyone you know? If not, did you do any research into disabilities for the play? 
Jessie is not specifically based on anyone I know, but like all the characters I write has elements of her personality that are based on observing people around me throughout my life. I did do a bunch of research about disability and living with disability for the play from the first draft right and still even into rehearsals. It was really important for me and Premiere Stages to honor the experience of people who have a disability, so that is something we were both very committed to. Nearly twenty percent of Americans have a disability and there should be more people on the stage representing this.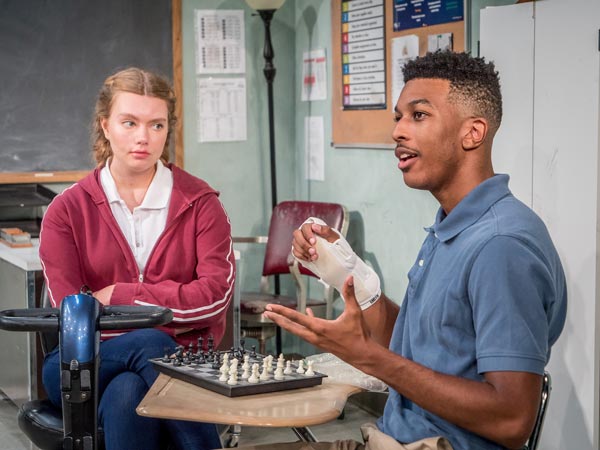 Brick City has been promoted as pushing topical themes.  Without giving anything away, what can you tell us about the themes?

This play explores some of the challenges faced by under-resourced public schools and the lives of the working-poor. The play is also about how we can transcend our given experiences and how so much of what is good in the world is owed to the compassion and caring we can offer one another.
The play was developed through the NJPAC Stage Exchange over a two year process that included staged readings.  How did this help further the play's development and what did you think about this experience?

It was unique working on the play as part of a commission that I knew was going to get produced. Premiere Stages offered a ton of guideposts along the way including several readings both public and private and a 29-hour workshop. Knowing I had their support along the way was very freeing artistically, but also created some unique pressure because I wanted to make sure the end product was something we could all be proud of and they saw versions of the play that really were not audience-read. They stood by me and knew it would get there, and I feel good about what we made together.
I've been very impressed by the work done at Premiere Stages.  What was your experience on this production like?

Working with Premiere Stages was a dream come true. One of the reasons I was so excited about the commission was that I knew because of their reputation of doing impeccable, interesting work that we would make a good play together. Artistic Director John Wooten has to be one of the nicest guys in the business and everyone on his team including Courtney, Heather, and Nick are great at their jobs and dedicated to making great art. The crew and creative team John assembled for the production including Director Jessi Hill are all at the top of their game. I truly couldn't have asked for more.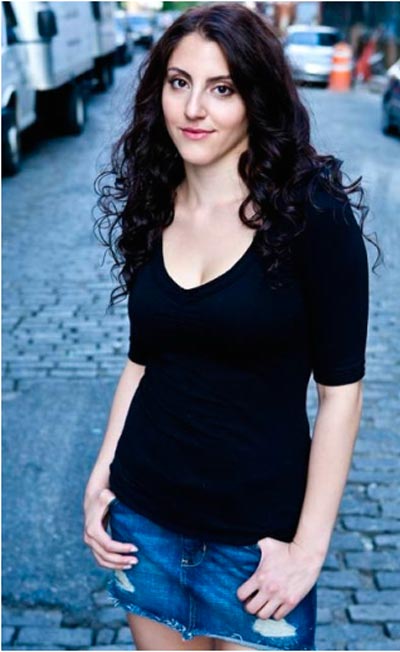 In addition to having work done outside of New Jersey, you've had plays and readings at many Garden State theatres.  As a playwright, how important is it to have so many places close to you interested in presenting new work?

Having theatres interested in your work is huge for a playwright. Like every writer I submit my work to open opportunities, which is how in my career I've gotten it out into the world, but having people actually interested in reading and supporting you as an artist helps keep you going, feeling supported, and reminding you that your work is valued, wanted, and important.
Speaking of New Jersey… the state has definitely played a role in much of your portfolio.  What is it about the state that lends it to your settings? Is it simply familiarity or are you trying to use the Garden State as a centerpiece of your work sort of like August Wilson did with Pittsburgh?

Absolutely- there's something about New Jersey, and the people of New Jersey, that is endlessly inspiring to me. So many great innovators and artists have come from the state and I think it must have to do with its blue-collar nature and how it is geographically located between three major cities (New York, Philadelphia, and Washington DC) which are so close yet so far. New Jersey is the great state of longing.
August Wilson, Arthur Miller and Neil Simon are probably my three favorite playwrights. Who are your three favorites?

My three favorite playwrights: Colman Domingo, Tina Howe, and Martin McDonagh.
What led you to start offering custom made monologues for sale on your website?  I think that's a great idea that I haven't seen before!

I absolutely bit this idea off of the fantastic Bekah Brunstetter. I love writing monologues and actors are always asking me for them, so why not make one that's perfect for them?
Finally, I think I've read that you had Tina Howe as a teacher? What was that experience like?  I remember reading her plays in college in my theater program.

Speaking of Tina Howe- being her student was amazing. She inspires her students to renew their belief in the magic of the art of theater. We've subsequently become very dear friends and she is full of amazing life advice. Anyone who can have the chance to get a martini with her should take it as it will immediately improve your life!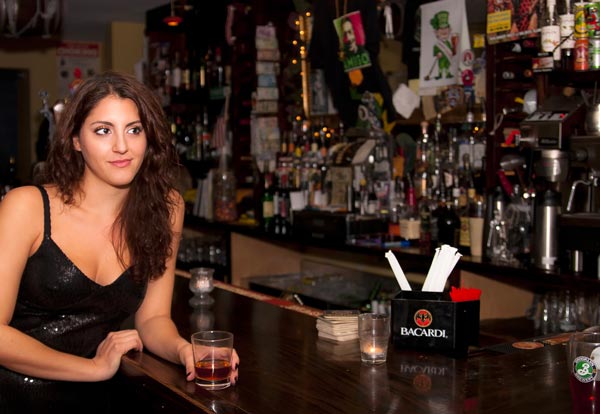 Brick City is presented now through September 23rd at Premiere Stages at Kean University (1000 Morris Avenue in Union, New Jersey). For tickets, click here.
Brick City photos by Mike Peters
---
Gary Wien has been covering the arts since 2001 and has had work published with Jersey Arts, Elmore Magazine, Princeton Magazine, Backstreets and other publications. He is a three-time winner of the Asbury Music Award for Top Music Journalist and the author of Beyond the Palace (the first book on the history of rock and roll in Asbury Park) and Are You Listening? The Top 100 Albums of 2001-2010 by New Jersey Artists. In addition, he runs New Jersey Stage and the online radio station The Penguin Rocks. He can be contacted at gary@newjerseystage.com.
---