By Gary Wien
originally published: 03/19/2015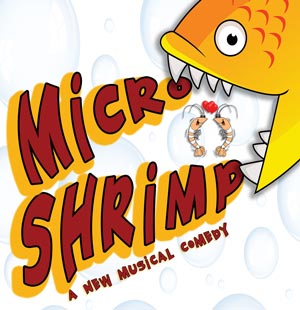 Chances are that when Marcus Yi's parents first bought him a microscope they never expected it would lead to a musical involving dancing shrimp, but that's exactly what happened.  His play, Micro Shrimp,  won the 2014 New Jersey Playwright's Contest held each year by William Paterson University and will have its world premiere March 31 through April 18 at the Hunziker Black Box Theatre.
"I first discovered the existence of brine shrimp when my parents bought me a microscope," recalled Yi. "The booklet that came with it suggested that I take a look at smaller creatures such as algae and brine shrimp so I started breeding brine shrimp to observe through a microscope. Years later when I was looking for subject material to turn into a musical I remembered the shrimp, I thought it was a very original idea to set a musical in a brine shrimp breeding tank. The religious undertones come from my love/hate relationship with institutionalized religion."
This musical comedy is a microcosm of the loves, beliefs and hardships of everyday life in a brine shrimp breeding tank. A society that is complete with beliefs that shrimp are meant for a greater good; the other side, from which no shrimp returns; and an unknown deity - a moving light source and a net. They also have sibling rivalry; gangs of no-goodniks and lovers who vow to spend their entire lives together. The system is challenged when one shrimp returns from the "other side" to reveal their true fate: they are but fish food, and the revolt begins.
If it sounds like a metaphor for human life, you're not far off.
 "When I was writing the show, the economy just crashed in 2008 and there was the whole Occupy Wall Street movement going on," explained Yi.  "I started to realize that there is a definite hierarchy of humans. Some are meant to be predators and others end up becoming the prey. But sometimes those that are perceived as predators are also trapped by circumstance like Felicia Fish in the show. To me, the show is a cautionary tale about the dangers of blind faith."
---
The article continues after this ad
---
---
One of the most valuable benefits of winning the New Jersey Playwright's Contest is having a full production of the play produced on stage.  Yi says that it's difficult to get a full production of a musical whether you have a well-known name in the business or not.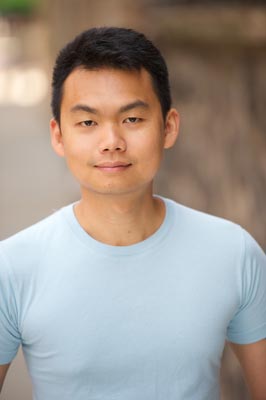 "The Visit, which is finally coming to Broadway has been floating around the developmental circuit for years," said Yi. "Urinetown was rejected by every single theater submission which resulted in the creators of the show having to self produce it. Lucky for them, a producer brought it to Broadway after that. I think if a creator of a show wants it to be produced badly enough, and is willing to put in the hard work to make it happen, it will happen for them."
According to Edward Matthews, the producer of the New Jersey Playwrights Contest and director of this production, the contest judges look for shows and musicals they feel they can do.  They're interested in playwrights whose work is at a level in which they can benefit from a production and work that showcases imagination and theatricality.  "Marcus Yi and Micro Shrimp have all of that," said Matthews.
"In both the play and musical playwriting contests, originality is a key factor but the primary factor – and the main difference between the NJPC and many play contests – is that we are trying to help the authors/composers," explained Matthews.  "This does not mean we aren't looking for quality pieces, quite the contrary.  But we also are trying to help move the writers to the next step, those who we feel will benefit from the experience and exposure we can provide."  
Originally from Singapore, Marcus Yi moved here in 2005 to pursue a B.A. in musical theater performance and later moved to New York to study law and is a full-time immigration attorney. As a writer, actor, and performer, he has created work in Singapore, Atlanta and New York and is the artistic director of Living Room Theater. Yi has worked on over 100 productions.  He believes that his work as a director helps him become a better playwright.
"As a director you are always concerned with what the audience sees," said Yi. "Sometimes playwrights that do not work in the other aspects of theater tend to write works that are extremely difficult to realize on stage. I feel that my work as a director has definitely helped me become a better playwright by understanding the limitations of live performance, as well as molding the pace of the piece."
"We do quality work with a limited budget and very generous support from William Paterson University," said Matthews.  "And for the fans, that taking a chance on new plays and musicals is a great experience and really does help authors shape their work going forward."    
---
Gary Wien has been covering the arts since 2001 and has had work published with Jersey Arts, Elmore Magazine, Princeton Magazine, Backstreets and other publications. He is a three-time winner of the Asbury Music Award for Top Music Journalist and the author of Beyond the Palace (the first book on the history of rock and roll in Asbury Park) and Are You Listening? The Top 100 Albums of 2001-2010 by New Jersey Artists. In addition, he runs New Jersey Stage and the online radio station The Penguin Rocks. He can be contacted at gary@newjerseystage.com.
---