By Gary Wien
originally published: 11/21/2015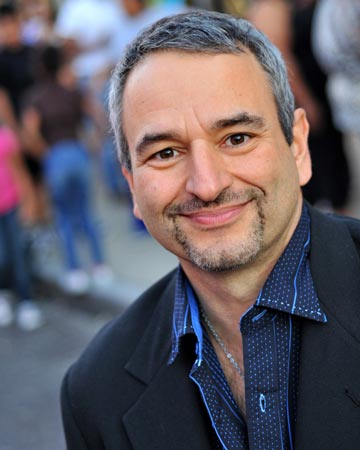 Award-winning playwright, Joe DiPietro, may live in New York City, but his Jersey roots have been apparent in many of his plays from the hit musical The Toxic Avenger to his latest work, The Second Mrs. Wilson.  This play examines a look at a rather unique — and terrifying — period in the history of the United States when President Woodrow Wilson suffered a stroke and was essentially replaced by his second wife, Edith.  This took place during a period in which America was debating about entering World War I and Wilson was trying to create the League of Nations.  The play is currently running at George Street Playhouse in New Brunswick until November 29.
New Jersey Stage spoke with the Bergen County native about the play, how he began writing musicals with David Bryan of Bon Jovi, and if he ever imagined winning Tony Awards and having the success he's had so far in his career.
I've heard you're a bit of a political junkie; did you know about the story of Edith before writing this play? 
I'm a definitely a political junkie — more of a modern one than a historical one.  I was reading an article about female politicians a few years back and it said 'many people believe that Hillary Clinton may be our first female president' and then in parenthesis it said, 'of course, many people believe that Edith Wilson was already the first female president.'  And I thought, 'that's interesting.'
I knew a little about Woodrow Wilson, but not a whole lot, so I immediately went back and did a little research.  I became fascinated by the story of Edith and Woodrow.
---
The article continues after this ad
---
---
The story has a little of everything — romance, danger, even fraud at the highest level.  Were you surprised at their story?
It is stunningly dramatic and it's still a shocking incident in American history.  Amazingly, it is not widely known.  The average person is very surprised when I start telling them about the history of it.
One of the reasons I was so intrigued is my dramatist antenna went up and said, 'oh my God, this is an unbelievable story about a woman that is essentially running the country at a time when women couldn't even vote!  Her story was interesting over a scope of many years, so I had to whittle it down and find the center throughout these vast historical experiences and important events.  The challenge was trying to make it dramatically coherent in two hours.
To do that, the play moves swiftly from one point in time to weeks or months later.  In a way, the staging shows just how crazy that period of time was.
Absolutely.  I worked hard in terms of making sure it was all historically accurate to an extent.  You have to include huge events like getting into World War I and getting out of the war, but they weren't necessarily huge events that I wanted to dramatize with Edith's point of view on them.
It was a period of American history which is 100 years old now and some people know and a lot of people don't.  The Great War, as it was called, is vitally important as is Woodrow Wilson's presidency.  We were an isolationist country and Wilson took us into the modern power we are now.  I was trying to tell as much of that history, while making sure it was understandable and not glib against the backdrop of his great romance.
What also fascinated me about the story was how the personal affects the political.  How Woodrow Wilson may have been the most powerful person in the world, but he was still a human being.  He was grieving the loss of his first wife and fell in love with a strong-willed woman, and those two personalities controlled world events.
Can you imagine the fallout today if a President had a stroke and the administration tried hiding it?
I just think you couldn't.  If Obama was gone for three days, the media scrutiny would be intense.  You could never get away with saying he's suffering exhaustion.  You wouldn't last more than a week if something like this happened.

 

Most, if not all, of the conversations are from your imagination, right?
Yes, for a couple of reasons.  One is because those conversations do not exist in recorded form.  A couple of them are written down, but we didn't transcribe or record everything like we do today.  Another reason is because this is my dramatic retelling of these events.   
Ever wonder if there might be a line or two that winds up in the public's memory the way Tina Fey's portrayal of Sarah Palin did? 
I do.  I actually wonder…. I've thought about it and I've researched and researched and tried to figure out what these people would be feeling going into the scenes.  And I wonder if I actually, just through happenstance, wrote something that was actually said just because I was in their minds.  Part of me would be very happy if a few lines coincided with what they said verbatim.
This is your fifth play to be presented at George Street Playhouse.  How did this relationship come about?
I went to Rutgers and graduated in 1984.  I wasn't writing plays then, but I knew about and went to George Street.  When I started getting produced in the mid to late '90s, George Street was the theatre I knew about, but I didn't know David Saint (George Street's Artistic Director).  I always thought it would be great to work there because it was the theatre I went to in college.
My first show there was The Toxic Avenger.  I had written that show with David Bryan, who I wrote Memphis with.  We're two Jersey boys.  We wrote the play very quickly and the producer said what should we do with this?   I said I've always wanted to work at George Street Playhouse and I'm from Jersey.  The show is full of Jersey jokes.  If anyone is going to like it it's going to be them.  I know these people; I lived there for many years; this is their cup of tea.  Then David Saint read it and we did a reading and he immediately said he wanted to produce this in the next season.  So that began my relationship with George Street Playhouse.  David Saint and I have become collaborators and friends.  And I think just because I grew up here and went to college in New Brunswick, these are my people.  When I write, I speak to them.
How did you and David Bryan first start working together? I know you're about the same age; you didn't meet at Rutgers did you?
No, we are the same age and we went to Rutgers at the same time, but he only went for maybe a half a year and then went on to Juilliard.  He was pre-med at Rutgers, but was always a piano prodigy too.
I had written the first draft of Memphis and it was about the birth of rock and roll. I knew some great theatre composers, but I thought I would love a real rocker on this.  I knew zero rock stars, so I gave it to my agent who said he knew a couple of rock and roll managers.  He said he'd see if anyone was looking for something.  He sent it out to the ether and a couple of months later I got a call out of the blue saying, 'Hi Joe, my name is David Bryan.  I'm the keyboardist for Bon Jovi.  I just read your script for Memphis and I heard every song and I want to know how I can write this work.'  And that literally was my first conversation with David.  Then he sent me a demo of a song in the script and I thought this is the guy.
David and I are the same age and we both grew up in Jersey.  He's got a Jewish mother; I have an Italian mother. He comes from a very specific world of rock and roll and I come from a world of theatre, but we're of the same DNA from our Jersey upbringing during the '70s.
Together, you two won Tony Awards for Memphis.  It's cool that your big break came with another Jersey guy. 
It's very cool.
Did you ever imagine having the success you've had? 
No.  I mean, I dreamed about it I suppose.  I just always loved theatre.  I grew up watching it and reading it.  I read a lot of plays when I was growing up and I still do.  I always thought of theatre as literature.  And so, I think it was my dream to be a playwright, but it seemed very unattainable.  I remember thinking early on that I was sure I'd have to go to Los Angeles at some point and write sitcoms or tv shows.  But I loved theatre and focused on that.  I was fortunate in the sense that people liked my work early on and encouraged me.
I was never the person who was celebrated as the flavor of the month, so I just kept working.  I know people who have been celebrated and it freezes them up, but I always viewed theatre as what I did.  I did different kinds of shows and always liked to challenge myself.  So, did I dream of this? Yeah, I dreamt of it.  Did I ever imagine it? Who knows? But I do appreciate it and I think one of the reasons I'm still so prolific and fortunate to have a lot of plays and musicals done recently is because I appreciate it and I don't want to throw it away, so I continue to work as hard as I can and try to get as good as I can.
Do people in your theatre circle in the City ever give you a hard time for growing up in the suburbs? 
No, everyone in New York is from somewhere else!  I think when I see people make fun of Jersey, it's generally when I'm with relatives in Jersey.  They make fun of Jersey themselves.  Between me and David Bryan, we probably know every Jersey joke there is!
Photo by Andrea Zucker Photography
---
Gary Wien has been covering the arts since 2001 and has had work published with Jersey Arts, Elmore Magazine, Princeton Magazine, Backstreets and other publications. He is a three-time winner of the Asbury Music Award for Top Music Journalist and the author of Beyond the Palace (the first book on the history of rock and roll in Asbury Park) and Are You Listening? The Top 100 Albums of 2001-2010 by New Jersey Artists. In addition, he runs New Jersey Stage and the online radio station The Penguin Rocks. He can be contacted at gary@newjerseystage.com.
---