By Spotlight Central
originally published: 10/12/2017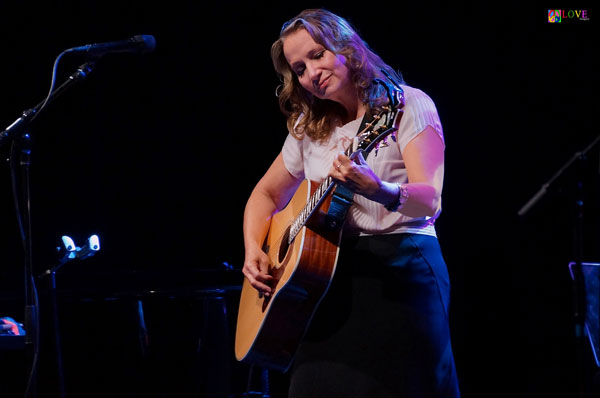 Singer/songwriter Joan Osborne will perform Joan Osborne Sings the Songs of Bob Dylan at the Jay and Linda Grunin Center for the Arts at Ocean County College in Toms River, NJ, this Saturday, October 14, 2017, at 8:00pm.
Osborne, a seven-time Grammy Award nominee known for her work in the area of pop, soul, R&B, blues, and country, started her career as a part of the New York City music scene. In the Big Apple, she attended open-mic nights before ultimately being launched into the spotlight with the breakout single from her 1995 album, Relish, "One of Us."
Osborne's considerable vocal talents have made her a sought-after performer both in the United States and around the world. She not only sang with Motown's legendary Funk Brothers in the acclaimed 2002 film, Standing in the Shadows of Motown, but she has shared the stage with such varied performers as Stevie Wonder, Melissa Etheridge, Emmylou Harris, Taj Mahal, Luciano Pavarotti, and Bob Dylan.
Last year, Osborne decided to perform an entire show's worth of Bob Dylan material during a residency at New York's Cafe Carlyle. It was then she realized that her lifelong fascination with the Nobel Prize-winning musician's work could inspire an entire record.
On September 1st, 2017, Songs of Bob Dylan — Osborne's first album in three years — was released. The album offers new arrangements of such well-known compositions as "Tangled Up in Blue," "Highway 61 Revisited," "Rainy Day Women #12 and 35" and "The Mighty Quinn (Quinn the Eskimo)," in addition to such lesser-known pieces as "High Water (For Charley Patton)," "Ring Them Bells," and "Trying to Get To Heaven."
---
The article continues after this ad
---
---
Spotlight Central recently had an opportunity to chat with Ms. Osborne about her upcoming October 14th concert at Toms River, NJ's Grunin Center, in addition to such topics as her early musical roots, her career as a singer/songwriter, and about her latest project interpreting the compositions of Bob Dylan.
Spotlight Central: As a child, how did you get involved in music?
Joan Osborne: I had a really good music teacher when I was 10, 11, 12 years old. I grew up in Kentucky, and we had this really excellent music teacher named Carolyn Browning. She was our music teacher all through elementary school, but when we got to be a little bit older, she would really challenge us. She had a group that would sing Elizabethan madrigal material, and we would perform at churches, and we even traveled to Colonial Williamsburg once when I was 12 and performed at a lot of different places there around Christmastime. We had these sort of Elizabethan costumes that we wore, and the music was pretty complicated — it was five- and six- and seven-part harmonies; she really pressed us to do challenging stuff — so I think I probably learned a lot about harmony singing from that.
And when I was even younger, my parents had this big console stereo — the one that looks like a big piece of giant furniture. They had a bunch of records — in particular, they liked to get records of Broadway musicals and movie musicals. We had the soundtrack to The Sound of Music and I used to sit there when I was little right next to the speaker and play the record over and over again. And I would sing a different character's part each time I played it — so I would sing each one of the different harmony parts every time I listened. And I would sit there, hour after hour, singing along with that record and, thankfully, nobody bothered me. So I think that was another way to train my ear when I was little — plus I just loved it!
Spotlight Central: And in addition to Broadway and movie music, what other kinds of music did you listen to as a youngster? Motown? Dylan? Other artists?
Joan Osborne: We had a couple of radio stations in town. I lived in a little town called Anchorage, but it was close enough to Louisville, Kentucky, that we got the Louisville, Kentucky radio stations. I liked to listen to the rock station, and once I started getting into high school, I got into The Who and Led Zeppelin and The Rolling Stones and these, sort of, blues-based rock bands. And I also liked listening to the urban station with groups like The Spinners and the Chi-Lites — and there was a lot of disco going on at that time when I was that age, like Donna Summer — so that kind of stuff, I listened to, as well. I liked all of it.
Spotlight Central: What gave you the idea of becoming a professional singer?
Joan Osborne: It wasn't until I was in my early twenties. I moved to New York City to study filmmaking at New York University. I thought I was going to become a documentary filmmaker. But I accidentally stumbled upon this amazing music scene that was happening in the downtown area. I went out to a blues bar with a guy from my building, and he encouraged me to go up and sing at this bar, and I did. And this guy who was working there said, "We have an open mic night here once a week. Why don't you come back?" So I started going to this open mic night. And since this was a blues bar, I would get up and sing an Etta James song or a Muddy Waters song, but I very soon exhausted my limited knowledge of those songs and I had to go out and buy more records and learn more about the music.
And I also started going out and hearing other bands and going to other places that had open mic nights. I was really sort of doing it for fun, but also becoming immersed in this amazing scene and meeting all these other musicians. I was checking out what they were doing and being really inspired by it and just being up late in these bars and dancing and having a great time. I found it was a real community to belong to, and I think that aspect of it — the community aspect of it — and, also, I think, the immediacy of singing — really captivated me. Because making films — from the first idea to the finished product — is a very long process, and it involves a lot of technological equipment, and a lot of other people, and a lot of money, and I found that doing music was much more immediate.
And it kind of just won me over, and I started to get to a point where I put together my own band and I was now playing at these little clubs where I had gone to see other people play. So I was doing that for a little while and, after some time, I could make enough money to pay my rent. It was all very gradual, but I got to a point where I was like, "You know, if I don't pursue this and see how far I can take it, I'm always gonna regret it." So that was the point when I dropped out of school and really put 100% of my focus on music.
Spotlight Central: We know that a lot of people have a tremendous emotional connection with your 1995 album, Relish, which includes some of your own numbers like "St. Teresa," other songs like "One of Us," and even a Dylan song in "Man With the Long Black Coat." Did you have a feeling when you were recording that album back in the 90s that it was going to be as successful as it has gone on to become or that it would have such longevity?
Joan Osborne: I don't think I had a lot of expectations about how well the record would do when we were in the middle of making it. I really just wanted to do something that I thought was good and that I thought was interesting. We were just trying to satisfy ourselves — the guys I was working on the record with — Eric Bazilian and Rob Hyman and Rick Chertoff and a few other guys — we were just trying to make ourselves proud of it.
So that was my point of view, but I think the producer, Rick Chertoff, had more of a global point of view, and he was the one who really lobbied hard to put "One of Us" on the record. I just felt it was so much different from many of the other songs on the record that I wondered if it belonged there. But he really made the case that it did. And he, I think, heard it as a popular song and as a hit song and, for whatever reason, I didn't have that impression of it.
And I don't know if that's really the artist's job — to make something that's really popular. I guess, certainly, you can do that, but I don't know that, for me, I could necessarily set a task for myself where I'm going to write a hit song and then actually be able to do it. Rather, I think I just try to do something that I think is good.
Spotlight Central: How did you get involved with The Funk Brothers and the film, Standing in the Shadows of Motown?
Joan Osborne: I got a call from Alan Slutsky, who is a bass player and a huge fan of the Motown bass players — James Jamerson, in particular. He was putting together a film that was based upon his book about James Jamerson, and he was looking for contemporary singers and artists to come to Detroit and work with The Funk Brothers — the original Motown studio guys. And he just sent a letter to my management saying, "Would Joan be interested?" and I was like, "Are you kidding? Of course!" So it was just about him, I guess, hearing about me or seeing me live and thinking that I might be good for the project and inviting me to do it.
Spotlight Central: And what was the experience doing that project like for you?
Joan Osborne: It was amazing! In the first place, it was funny because the guys — The Funk Brothers — they didn't know who I was — they thought I was the make up girl! And, literally, as I sat in the trailer with them and we made some small talk, they were saying things like, "Are we next in your chair?," and "Where's your stuff?," and "What are you doing on the set?" They had no idea I was going to sing with them.
But once we sat down and they started telling me stories — and, in fact, I think there's a moment in the film where they're actually breaking down how they created the arrangement of "I Heard it Through the Grapevine," and I sort of burst into the song, because I couldn't help myself — at that moment, they sort of turn to each other and say, "This girl's gonna be ok — this is gonna be fun."
And it was just a blast because they sounded just like they did on those records! I really didn't know what to expect. They were older, and I didn't know if they would sound different because of that, but they really still had everything they had had during those years at Motown and then some. It was so thrilling to stand on the stage with them and have that great massive sound of theirs just lift me up. It was really an amazing experience.
Spotlight Central: Your latest recording is Songs of Bob Dylan. So what can audience members expect to experience at your upcoming Oct. 14 concert, Joan Osborne Sings the Songs of Bob Dylan, at the Grunin Center in Toms River?
Joan Osborne: A lot of the material is stuff that we put out on this new record. They're songs that we worked up for a residency at The Cafe Carlyle in Manhattan. And the two musicians who are going to be playing with me at the Grunin Center are the guys who helped me develop the songs for the Carlyle show and who actually co-produced the record. One guy is the keyboard player, Keith Cotton, and the other guy is the guitar player, Jack Petruzzelli, who I think a lot of Jersey people know — he's a bit of a local hero down there.
So it's going to be the three of us, and most of it is going to be the material that we put on the record, but there's also going to be some live only Dylan "bonus tracks," if you will, that we didn't have room for on the album, but that we still sort of have in our back pocket. We're still kind of determining what those songs are going to be — we don't even know yet — but it will be some stuff that people will only be able to hear if they come and see the show. So these will be songs that won't even be available for streaming or downloading — they are songs that people only can hear if they're there with us that day.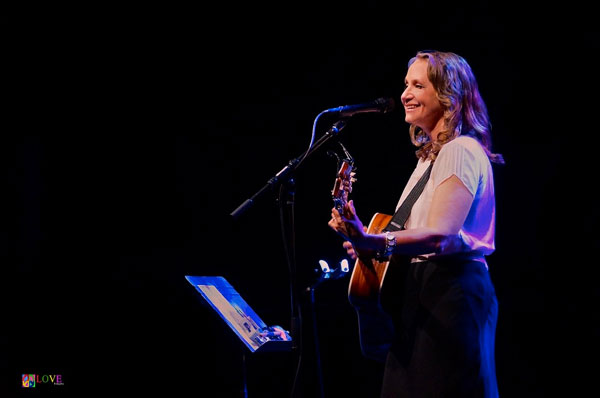 Spotlight Central: And just how is it that you arrive at your interpretations of the Dylan songs — is it by studying the lyrics, or imagining the scenarios depicted, or perhaps something else?
Joan Osborne: It's sort of like casting yourself in a role like an actor would do. And I do start with the words. I try not to listen too much to anybody else's version of the song. Of course, I will listen to the Dylan version of the song just get what the melody is, etc. But then I try to just look at the words on the page and think about them as if I'm an actor saying lines, in a way, and try to inhabit that song and inhabit that character. Sometimes, the character is sort of a creature of my imagination, and sometimes it's me just wanting to say those words and wanting to be the one to give a voice to that poetry.
And as far as the arrangements are concerned, a lot of it is trial and error. We will sit down in our rehearsal process — myself and Jack and Keith — and somebody will throw out an idea and we'll give it a try. We'll move around tempos, and we'll move around keys, and we'll look at the time signatures, and a lot of other different things, and we'll try to come up with something where the song really blossoms — that's what we're looking for.
Spotlight Central: Sounds great! Is there anything else you would like to add?
Joan Osborne: I think this is a particularly poignant moment to be singing a lot of these Dylan songs, just because of the situation that we find ourselves in as a country. We're in a really intense time in our country's history, and this is the kind of time where we need the voices of our great artists and our great poets to help us put words to the things that we're feeling and, also, to bring us to a place where we can come together as a community. Even if we don't necessarily agree with each other about, for instance, our political views, we can use music as a tool to help us recognize our common humanity, and to help us gain a better understanding of each other.
I don't think we're going to paint our way out of this moment where we're so divided as a country. We've got to find a way to bridge the gap, and music is one of the tools that we have to do that — and I think that it's really important, right now, for people to do that.
Joan Osborne will perform Joan Osborne Sings the Songs of Bob Dylan at Toms River's Jay and Linda Grunin Center of the Arts on Saturday, October 14, 2017, at 8pm. Tickets are $35. For more information, or to purchase tickets, please click on grunincenter.org, call 732–255–0500, or visit the Grunin Center Box Office, Monday to Friday,10:00 a.m. to 5:00 p.m.
Photos by Love Imagery
Spotlight Central. Your source for Jersey entertainment news and reviews
Love Imagery Fine Art Photography. all you need. peace/love/flower/power