By Gary Wien
originally published: 07/01/2018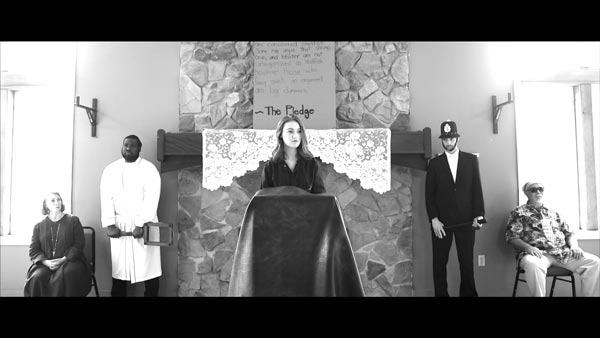 (NEW BRUNSWICK, NJ) -- Point Pleasant Beach native and military veteran JD Wilson's film Shellfish will be screened at the Rutgers University-based New Jersey International Film Festival on Saturday, June 9th at 5:00pm.  The screening takes place on the Rutgers' New Brunswick campus in Voorhees Hall.  It is the feature film of the group, following screenings of several short films: The Magic of Reading by Claudia Moysset (4 minutes); Conflict by Barbara Holstein (5 minutes); Mr. Jim by Jack Foley (13 minutes); and Bullies by Daniel Bydlowski (28 minutes).  Shellfish is 40 minutes in length.  Many of the directors, including JD Wilson, will take part in a Q&A session during the evening.
Shellfish is a timely satire about millennials and their obsessive compulsive attachment to their phones and other tech devices. After a global phenomenon known as "Cloudcrash" wipes out all access to the web, the teenagers are forced to cope with the loss of their tech devices. Mirrors replace screens as the self-obsessed are sent to a rehabilitation facility where they are haunted by a monster named "Truth" and they must learn to get over themselves.  
New Jersey Stage spoke with JD Wilson via email about the film.
The film is beautifully shot.  Did you go to film school or learn on your own?  Is this your first film?  We have received great reviews about the look of the film and the credit really goes to my cinematographers Eric Hackler and Wesley Bailey the III. A lot of times as a artist you have visuals in your head throughout the creative process but often the final product fails to match those initials visions however this was certainly not the case with Shellfish. Eric and Wesley ran with my visions and took it to a new level. I also think sometimes we forget just how beautiful our state of New Jersey really can be, especially our beaches. 
In the words of Quentin Tarantino "I didn't go to film school, I went to films." Definitely self taught and a lot late night hours watching youtube videos on editing.
---
The article continues after this ad
---
---
My first film came from a short story I wrote in college called Kill Mills. After college, came the military and in the desert I started fine tuning the story and eventually set it aside. Several years later after having co-wrote and co-produced a play, seeing how fun and successful that had been, I went back to Kill Mills and started writing it again. I realized it wasn't working as a play, so I recruited my roommate and super creative friend Nick Norcia who came up with the idea of turning Kill Mills into a screen play. Had a wild year filming/editing and eventually in November of 2017 premiered Kill Mills at the House of Independents in Asbury Park with 345 cast, crew, friends and family. Here is a website to Kill Mills: www.killmills.com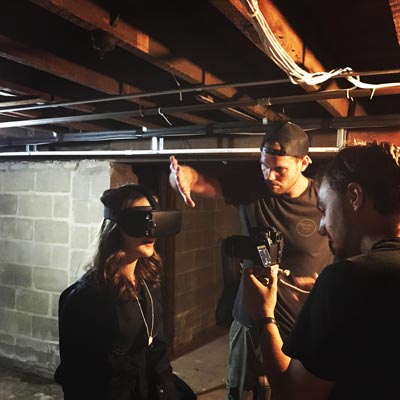 To me, there are hints of 1984 and Dr. Who in the film -- are you a fan of either?  Are you a fan of science fiction or apocalyptic films/stories? For sure, while I have always admired Dr. Who and 1984 from a distance I was and still am a Twilight Zone kid. I still have VHS tapes of the New Years Eve Marathons and know pretty much every Twilight Zone episode by heart. Rod Serling and Twilight Zone was genius to me because every episode introduced new characters and created a new world. Then somehow in a 23 minute span you get wrapped up in these characters routing for their destiny or  demise...again, all in 23 minutes. Pretty rad. 
You fought in Iraq for several years. Did you have ideas for films come to you while you were in the service or after you came home? Yeah the thing about the military or at least my deployment experience is that there was a lot of internal downtime which I spent writing. I can't say that any of my films came directly out of those sessions, Kill Mills was still just a short story, but I will say that my time spent overseas motivated me. I had a newfound appreciation for creative freedom back home and finding that connectivity with those around me. The military helped me realize that life is fragile and pretty absurd so you may as well spend it doing what you love with the people who matter most. 
You went from teaching elementary school to filmmaking.  Was it a difficult decision to leave teaching? As a filmmaker I am most definitely a "weekend warrior" as when I left teaching to start my own company called Lead U which offers school assembly leadership programs for kids all across the state. When it comes to the decision I always reverted back to the George Costanza coined phrase "it's not you, it's me". Teaching was an amazing opportunity but I personally needed to take a leap of faith. My decision to leave teaching was hard at the time however I knew I would still have the opportunity to positively impact kids and do so through my own creative platform. I do miss seeing the same kids and my co-workers for sure but running Lead U and making movies is definetley a better fit.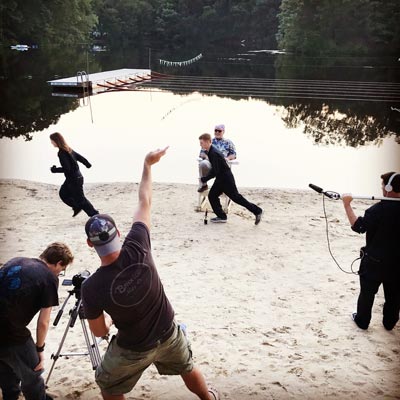 Tell me about where you shot Shellfish and how the cast came about.  Were you involved in the casting process? We shot Shellfish very locally. When you live at the beach and you are writing a film with aquatic undertones theres really no better place than right here in NJ to film. Specifically we shot at Island Beach State Park, Denville, Point Pleasant Beach, and a random field in Tuckerton. 
Casting was easy, as I wrote the characters with specific people in mind. I'm just really humbled and grateful that they all said yes. Everyone in the film is a person I've worked with before in some capacity, whether they were a character in a play or film I wrote, or someone I acted along side of in various plays throughout my acting years; every person is someone I wanted to work with again. My favorite part of making movies is connecting people and this cast featuring Madelyn Barkocy, Shane Hanney, Donne Petito, Eric Walby, Mike Keeks, Wesley Bailey the III and Bobby Jacques are simply some of my favorite people on earth. My girlfriend Brooke filled in the blanks with her family members or friends. She's also my hair, makeup, costume person, and caterer. Everyone just wanted to help and be a part of it. It was a great experience, almost too easy, start to finish.
Did you utilize stock footage of the time lapse and cartoon segments?  If so, you did a wonderful job blending them into the story.  It looks great. This part of the film has gotten a lot of positive attention which is funny to me because wasn't in the original script. That said, I knew I needed a vessel to explain the state of the world and I thought a VR Simulator would be dope. The footage is a mix between a Steve Cutts animated Moby music video, time lapse stock footage, and my friends security camera from his house down in Miami. I appreciate your compliment man because that was a beast of a scene to edit.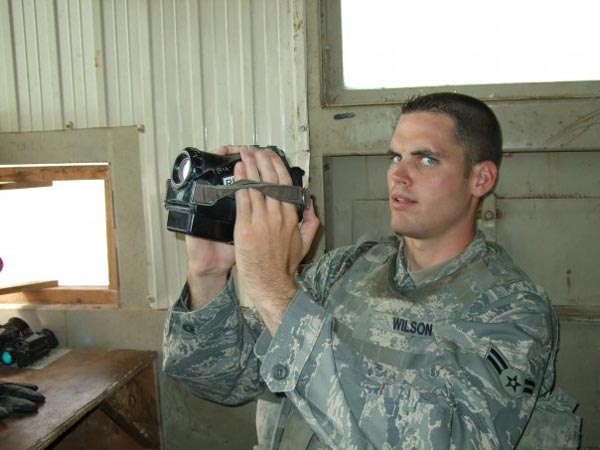 I love how you utilized "Rock Lobster" as almost a futuristic religious song. Did that song help inspire the story itself? It did. I'm always inspired by music and probably enjoy comprising the soundtrack more than any other process.  About halfway through writing Shellfish a friend of mine (musician/actor Dan Effenberger) and I went to a music festival out in LA and ended up seeing the B 52's. They played "Rock Lobster" and we lost ourselves in the pit. On the plane ride home I started researching versions of the tune and found this tripped-out version of the tune which yeah felt like a good fit. 
Do you see people you know focused on their phones like in Shellfish?  If so, does it make you go crazy watching your friends act like zombies? Well, my girlfriend would say Shellfish was inspired by yours truly, and in some ways that's true. Although I'm not a selfie taker, I am on my phone and computer for work and film making quite a bit. It's an addiction man, and I too am one of the zombies at times. I guess the difference for me is that I am self aware "cellular zombie" and I think one of the themes of the film is how far will we push this addiction. 
My girlfriend and I always notice the addiction of others especially in busy public places or at concerts, on trains, planes, or on the beach. Some of this film was inspired by the instagram selfie addiction for sure. Just watching people (former self included) take obviously staged photos, filtering it, and posting with some forced casual caption made me think how wild our world has become. There's also a picture that I love of an older woman, gray hair, at a concert hanging over the blockage fencing and smiling watching the show as everyone around her is filming it. You wonder how much of the show are they actually watching verses how much of their time is spent posting videos and pictures to social media. The old woman is the only one smiling and actually enjoying herself. She's probably the only one that actually remembers it.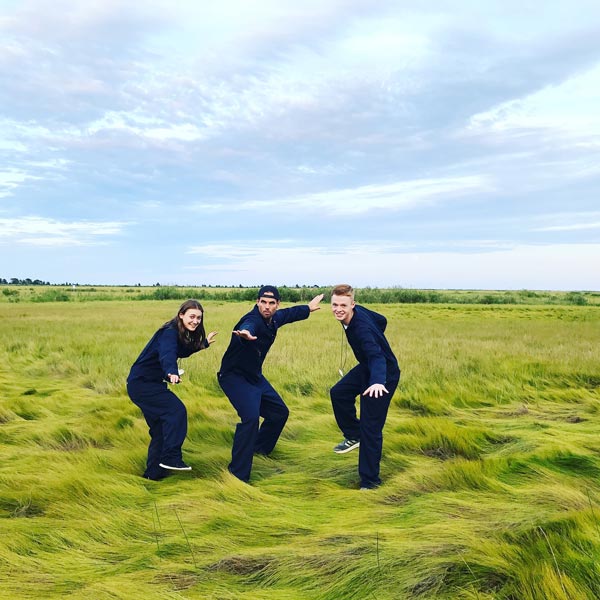 Do you think technology like mobile phones has helped society or hurt it? Both. When cell phones were just for calling and texting I think things were still very normal. I'd almost say its really not mobile phones that have hurt society, its the addiction to social media, now its real time social media and with the introduction to the smart phone its all at your fingertips. 
On the flip side, technology is amazing. I can run my business from my iPhone. Be anywhere with wifi whether on land or in the air and still work, book assemblies and answer emails. I edited a lot of Kill Mills from a beach in Tulum, Mexico. Whats not great about that?
What are your plans for the film? Any future screenings scheduled?  Do you already know what your next film project will be? Early on, my girlfriend said to me "I have a feeling about this one" and she may have been right. We've been asked to attend 2 other film festivals this summer including New Hope and Jersey Shore, and we are up for an award at one of them. I'm already writing a new film and it's definitely a departure from Shellfish. The thing about Shellfish is that despite the satirical vibe, the content, characters, and story were actually quite personal to me and at times it was pretty heavy. So this next thing will hopefully be as much fun to watch as it will be to make. A friend that I work with at Last Wave, the local brewery in town, inspired this one actually. All I can say is that it has a Nicholas Cage meets Final Destination with a sprinkle of Weekend At Bernies 2 sort of vibe...so yeah. 
Finally, a little about you? Where did you grow up?  How long were you in the service? I was born in Wayne, NJ but grew up in Toms River from age 3 on. My mother is from Wayne but my father was from down this way in Atlantic Highlands. I was born on my dads birthday and definitely share his love of south Jersey, the water and our beaches. It was a fantastic place to grow up and I'm grateful my parents decided to move down here. 
I was in the USAF from 2006-2010 during Operation Iraqi Freedom.
Shellfish stars New Jersey natives Madelyn Barkocy and Shane Hanney while featuring performances from Mike Keeks,Wesley Bailey III, Donne Petito, Eric Walby and Bobby Jacques. It will be screened on Saturday, June 9th at 5:00pm at the New Jersey International Film Festival.  For more information visit www.NJFilmFest.com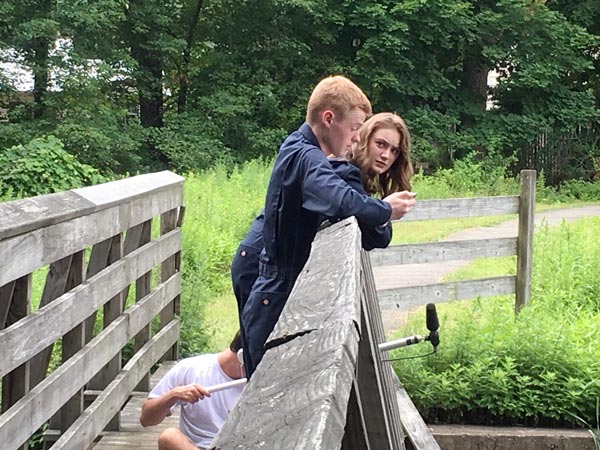 ---
Gary Wien has been covering the arts since 2001 and has had work published with Jersey Arts, Elmore Magazine, Princeton Magazine, Backstreets and other publications. He is a three-time winner of the Asbury Music Award for Top Music Journalist and the author of Beyond the Palace (the first book on the history of rock and roll in Asbury Park) and Are You Listening? The Top 100 Albums of 2001-2010 by New Jersey Artists. In addition, he runs New Jersey Stage and the online radio station The Penguin Rocks. He can be contacted at gary@newjerseystage.com.
---