By Gary Wien
originally published: 04/20/2015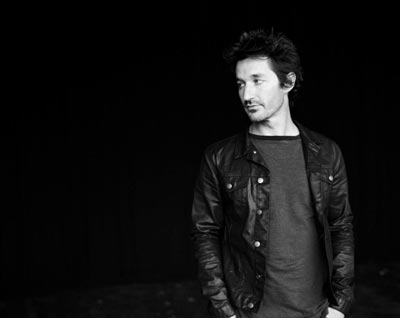 Scott Stamper, the owner of The Saint in Asbury Park, has been high on you for a while.  How important is it to have club owners in your corner? Well, a lot of the time I'm not even aware of it to be honest.  It's hard to know.  When you show up to an event, you sort of feel like they see bands and artists night after night and you wonder if they get bored or tired of it or if anyone really ever stands out.  So you telling me that makes me feel good, I didn't know.  That's cool.
I'll always have a special relationship with Asbury because I was around 24 when my first record came out and I was new at everything.  I had just gotten a deal and a management company took me on and an agent took me on.  I was at my mom's house in Ohio when my agent called me about three months into me doing this and said, "Hey, I've got Springsteen's phone number here.  They want you to call him." I was like "What?"
It was crazy, they had invited me to go open for Springsteen's wife, Patti Scialfa.  I did a run of shows with her and the first show was in Asbury Park.  I came up there with my buddy Paul and we met the whole Springsteen crew and Patti.  Everybody was just so nice and cool, it was a surreal experience for somebody just starting out to have that kind of thing happen so quickly.  We played a show at The Paramount Theatre and Bruce was there for a few nights of the tour.
It was just such a fun experience and I think of that every time I come there and drive by The Paramount Theatre.  I have such great memories.  For people in New Jersey it's probably not that big of a deal but for someone from Ohio you feel like you're walking into a 1985 music video or something!
According to your publicist, "Griffin House is a pretty happy man.  He's got a trifecta of life — music, golf, and family."  Have you found a nice balance between writing, recording, touring, and everyday life? Yeah, I've started to do that.  I've been married a little over five years now.  Before that, I think I was trying to search for fulfillment just through my music and having success doing that.  There was a lot of pressure because it felt like everything hinged on one single and depending on how that was going, it was as if all of my chips were in one basket.  It's been nice to have a more well-rounded motivations.  Music's not even close to my number one anymore.  It's way down there after family and taking care of myself and having a well-rounded life with my wife and kids and all that stuff.
---
The article continues after this ad
---
---
Where is golf on the list? (Laughs) It's down there probably even further than music! But it's something I enjoy so much, I get a lot of relief just going out and hitting the ball around.  I don't take it too seriously.  I have a lot of fun doing it though.   I used to be really serious about golf in high school.  I had a scholarship offer to Ohio State and thought maybe I would play in college and try to continue on and go as far as I could.  But one thing led to another and I decided not to take the scholarship and went to Miami University (in Ohio) and got into music there.
Starting in college is later than most people, did learning guitar come naturally to you? No, it didn't.  It was hard.  I tried playing guitar and took a lesson or two, but couldn't get the hang of it.  I got very frustrated and put it down for a while.  I did some theatre in high school and sang with some friends who could play guitar.  When I went away to college, I brought my guitar with me and saw so many kids playing that I started to think I needed to give it another try.  So I spent a lot of time practicing and playing chords.  It was tough to get over that initial hangup of getting your hands to do these awkward things and then change them fast and do another chord.  But I kept practicing and practicing.  I think it probably was harder for me as an 18 year old trying to learn it for the first time rather than if I had trained myself early on, but I eventually picked it up.
I lived in an arts dorm where everybody was playing music or painting or creating some kind of art.  It was a good environment to be around.  There were a lot of music majors in there and I learned some great guitar stuff from them.  We'd just sit around and jam and that's how I learned how to play; just having them teach me songs that I liked and it took off from there.  I started writing my own songs pretty quickly after that.
Do you think it's easier or harder to build a following in the internet and social media age? It's kind of a mystery.  Artists don't live in the day and age when you could just plug into a record label and have them float you down the mainstream and make sure everything goes smoothly for you.  There's so many people doing it that it can feel like you're just lost in a sea of music.  But, at the same time, I wake up every day and go, "I can't believe that I'm going there and playing a show and 200 people are buying tickets."  That amazes me giving the fact that there's so many people doing this and they're coming to see me.  When I first started out I might have thought I was going to be U2 or Bruce Springsteen.  I'm not like them, but I think it's still a miracle that I can go play for a few hundred people here and there.
I imagine you got this a lot early in your career, but do you still have people think Griffin House is the name of a band? Yeah, that happens all the time.  I have to let them know it's my real name.  House is my last name and Griffin is my first name — it's my mother's Maiden name.   It can be a little weird and frustrating…
Griffin was such an unusual name when I was growing up and now there are hotels called The Griffin House, recovery centers called The Griffin House, even some place in Massachusetts called The Griffin House, a home for aged men or something like that.  When your last name is House, there are going to be a lot of jokes.
Tell me about playing the prison, which led to your latest release, Songs For a Prisoner. It was cool.  It was not something I wanted to do, but I did it because I was invited by my friend/former roommate Jordan Lawhead, who heads up an organization called YouInspire.  I figured whatever experience this was going to be would definitely not be like Johnny Cash Live from Folsom Prison.  I thought the guys were going to either tear me apart or be bored that I'm there.  I didn't know whatever type of music they liked, but I doubted it was acoustic music from a white guy with a guitar!
So, I went in there and played and they were great.  They were hooting and hollering and clapping along.  When they heard a line they like they started screaming.  All of a sudden I'm thinking this kind of does feel like Live at Folsom Prison.  It was really fun.  Luckily, he recorded the whole thing and we were able to release some of it.  I think you can feel some of the energy in the room on a few of the recordings.  It's nice to have that capture.  It was a good surprise for me.
Songs For A Prisoner was the latest release by Griffin House but he's currently running a PledgeMusic campaign to raise funds to put another CD out.    At press time, the campaign was at around 40% of its goal with roughly 50 days left.  Griffin House has several personalized items for those who donate ranging from a custom voicemail greeting to private shows to your name listed in the liner notes of the CD.
Upcoming shows in the area:
4/28 at City Winery, New York City
4/29 at World Cafe Live, Philadelphia
5/6 at The Saint, Asbury Park, NJ
---
Gary Wien has been covering the arts since 2001 and has had work published with Jersey Arts, Elmore Magazine, Princeton Magazine, Backstreets and other publications. He is a three-time winner of the Asbury Music Award for Top Music Journalist and the author of Beyond the Palace (the first book on the history of rock and roll in Asbury Park) and Are You Listening? The Top 100 Albums of 2001-2010 by New Jersey Artists. In addition, he runs New Jersey Stage and the online radio station The Penguin Rocks. He can be contacted at gary@newjerseystage.com.
---