By Gary Wien
originally published: 06/20/2016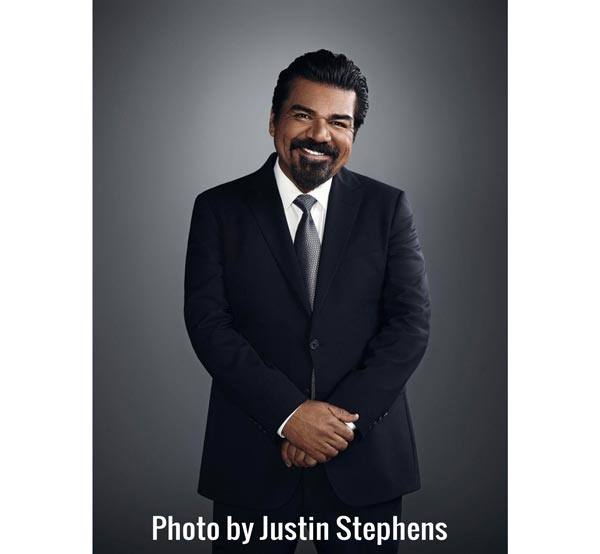 George Lopez has done it all.  He's been in movies, been on tv (including his own sitcoms and a nightly talk show), and received accolades for his years of stand-up comedy examining race and ethnic relations.  He was named one of "The Top 25 Hispanics in America" by Time Magazine and received a star on the Hollywood Walk of Fame. 
His latest show, Lopez, was recently renewed by TV Land for a second season.  The show is even more autobiographical than his previous ones and its timing couldn't be better.  With Donald Trump campaigning for President and speaking against Mexican-Americans, Muslims, and immigrants from everywhere, the conversation on race is front and center.  Lopez tackles the issue through comedy the way All In The Family did in the seventies — it can be brash; it can make you uncomfortable or embarrassed; and it will have you laughing throughout.  The show also takes you behind the curtain into what life is like for celebrities to see how their problems are both similar and very different from the average person. 
We see Lopez as a divorced, single parent raising a daughter in high school; dealing with annoying neighbors; and rescuing a dog that doesn't want anything to do with him.  We also see him struggling to find someone to date who doesn't know him as a celebrity; see tour buses stop at his house each day;  and seeking changing his "brand" in order to land a residency in Las Vegas.
NJ Stage spoke with Lopez before his performance at BergenPAC in Englewood on June 25.
Is Lopez inspired by what happens to you in real life or is it all fiction?  No, listen man, a lot of crazy stuff happens to me.  Aside from being a celebrity, you're a Latino celebrity, so there's fewer of you.  Everybody's got a Little League team, everybody's got an issue with money, everybody thinks you can change their life, and everybody is only worried about themselves and not about me.  They think I don't have any problems and that I can fix their problems.
---
The article continues after this ad
---
---
When TV Land came to me and said, "Show us a side that we haven't seen yet" it's that side.  Like when people go get coffee they come back with coffee and sugar, while I come back with coffee, Sugar in the Raw and 5 business cards.  Or where people go to get coffee and nobody says anything to them, they come up to me and say "Hey, how's it going? How come you're not smiling? I didn't know you lived around here, where do you live?"  It's like they feel like they know you but they overstep the bounds of respect. 
I thought that would be a funny place.  One where people say things and don't even realize they're saying it.  Like I was at this restaurant and this guy at the table next to me was saying, "That's not him."  He goes, "No, that guy's older than him.  That's not him." I'm like, "Mother fucker, I can hear you!  Like dude you're not whispering, you're talking about me and I'm right here."
What's it like with a show that blurs the line between your real life like that? Was your daughter cool with the idea of the show? Well, my daughter wasn't cool with it at the beginning.  She has her own aspirations to act and I told her, "If you want to act and want to be an actress and do things, every actor or anybody creative pulls from some experience.  Some stories are written of personal lives and every actor has to tap into their own life to get to a place of emotion - both humor and tragedy.  Conveying emotions is part of being an actor.  I said you can't have the spoils and not realize where I get it from.  This isn't the first show where I've pulled from my real life, I've done it on every show.
In the show, when we did the episode about having a birthday party and the manager says to me, "She didn't do that to herself, you did it to her when you became successful and that's the world you put her in." And it's true because when you become successful, you don't raise them like you don't have money.  You want them to have good things, but they're so young they don't have a perspective of — like I remember when we didn't have a lot to eat or it was cold in the house.  Fuck it, I'd run into the bed and under the covers, and then I'd run in place because the sheets were freezing.  They won't ever have to do that, which is good, but it gave me a full spectrum.  I've been poor and I've had money.  And I still live kind of the same way.  Other than nicer things, I still have the same mentality. 
And she's also growing up with friends that are in from a different world. Completely, and a neighborhood that's a different neighborhood and a house that's a different house.
Has your dog warmed up to you yet?  Aw… you know what man, it's sad.  When the lady who watches him when I'm out of town comes to pick up the dog, he literally runs over to her and if he could talk he'd be like, "Let's get the fuck out of here!" When he hears the car pull up and the knock, he's at the door.  He's not like "Who is that?" He's crying and running to the door.  I'm like, "Hey dude, it's not that bad here."
The thing about rescues is that I never thought that a dog could have feelings or a personality or a history, but you see it in their eyes man.  They know when they're being rescued.  They know when things are bad and when things are good.  When I started to realize that, I began to have a lot more compassion for pets.  I never thought about them having a range of emotions, but they do.
Is your dog's name Benny like in the show? No, he came with the name Owen.  I call him Van Owen because of Van Halen.  The other one is named Rocco. They're great dogs.
Many TV reviewers are saying Lopez is your best work to date.  Do you feel that way? Well, my first show (George Lopez) was such an anomaly.  I was playing golf one day with Cheech Marin and he put his arm around me and said, "Hey man, you hit it out of the park the first time, nobody does that.  I'm proud of you." 
I remember learning so much on that  show and even the talk show was great. I liked the product of the show. Prince was on and he didn't talk to hardly anybody.  The interview that I did and Arsenio Hall did were where he seemed the most disarmed. It takes a lot to get through to a guy like that.  It was just a relationship of mutual respect and love for each other. I saw Shelia E at the Hollywood Bowl Jazz Festival that I hosted in June and she said, "Remember when he was in the dressing room with us how hard you had him laughing?" I said, yeah, I remember.  We were all in there and for like a half an hour I had him going.  He loved to laugh.  He had a great sense of humor.
Unfortunately, your late night show got caught in the Tonight Show fiasco of changes… Yeah, but Jay Leno should have left and went away.  I mean seriously, when he left the Tonight Show he should have let Conan have a shot to do the show and not try to do a show at 10pm.  That's ridiculous and it started the whole thing with me in motion because it didn't give Conan a good enough shot to succeed.  Then he got bumped and his agents completely played TBS.  They said, "If you don't want him, he's going to go somewhere else." No, Conan wasn't.  He wasn't going anywhere.
That timing may have been bad, but the timing for Lopez couldn't be better.  I think you might have All In The Family type timing going on. Oh, I know.  I think we got through before everything gets wild.  There are some Trump references in this show and they even cut some stuff that I thought was a little edgier.  They sort of kept it in the middle, which I understand.  In the first year you don't want to get too far gone.  But now that we're coming back, I think we'll open it up a little bit.  And I think I'll be a little more active in it because I was in every scene. It's hard to be in every scene and then look at edits and make sure all the jokes stay in.  Next year, I think I'll make a point of saying, "I want to make sure this joke stays in."  I'll look at the cut and do what a producer would do, but as an actor it's like I want the joke in there because I think it's good for the story. 
Next season will be a little bit different.  First season, you want to kind of stay within the margins and not shock people too much.  I think we did that.  This show, like they said, is some of my best work.  That's pretty good because I like tv.  I don't like the waiting around of movies and I like being able to be on tv; that seems to be where I like it the most.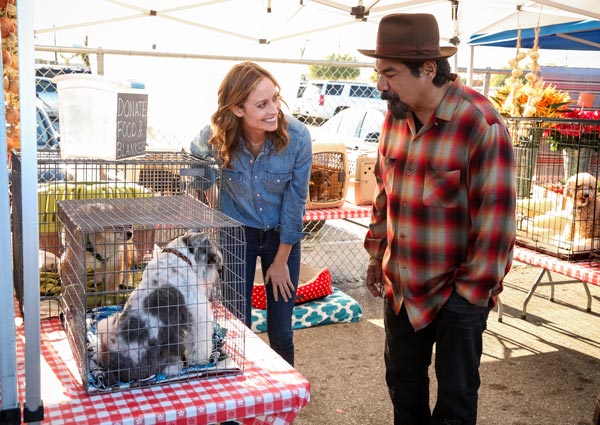 Many comedians who go on to television and movies like you did generally come back or keep doing stand-up.  You've never stopped performing either.  What is it about stand-up that you still get a kick out of?  Well, I think you realize that it's kind of like being free with no limitations.  At different areas you can upset an advertiser, you can upset a guest, or upset a group of people.  Stand-up is really the last place you can be free to voice your opinions and if someone doesn't like it then you take the hit.  It's not you and five other people.  So, it was always meant as a tool to either attack things that were ignorant or bring light to things that people thought were funny.  There's no real defined level of comedy - everybody's comedy is different.  I still do it based on my experiences. It's not about Snapchat or followers.  My stuff still stays true to me where someone younger wouldn't have the same experiences I have or see the same things I see.  But, in my 50s, I kind of like where I am.  I like that I can still do that.
As people grow up, sometimes through personal experience they learn that the things that look the best probably aren't the best for them.  Younger people would have to learn that where I have the ability to look back and speak from experience.
So, what do you think of Trump? I respect him for being politically incorrect. It may be the only thing I respect him for, but I'm not running for leader of the free world.  I'm not even talking about political correctness, just an overall sense of not being divisive.  You look to a leader to bring people together, not bring people apart.  That's separate from political correctness.  I respect him that he doesn't apologize, but I didn't expect him to talk this much shit.  He's after everybody! Radical Islam, banning Muslims, now he's in favor of LGBT.  He doesn't say anything about Latinos who were shot in Orlando and said if everybody in the club had guns it wouldn't have happened.  Come on man, this is ridiculous.
Finally, as a guy who grew up in the Los Angeles area, what did it mean for you to get a star on the Hollywood Walk of Fame?  I've done a lot of things that have made me emotional and are things that I look back on, but when I was in my teens we had a friend of ours who could drive.  He had his own car and we would go in the mornings and drive to Hollywood.  We would drive up and down Hollywood Boulevard and then get out and go to Grauman's Chinese Theatre and walk up and down the boulevard looking at the stars.  I wanted to be a comedian since I was 14 or 15 and I would look at George Burns' star or George Reeves' star or anybody that had George in their name and see my name where it said George.  I never imagined that one day I would have my own star in the Walk of Fame.  It's very special for me and something I'm very proud of.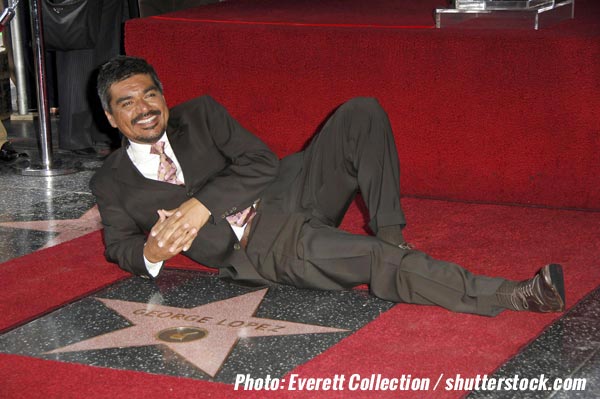 ---
Gary Wien has been covering the arts since 2001 and has had work published with Jersey Arts, Elmore Magazine, Princeton Magazine, Backstreets and other publications. He is a three-time winner of the Asbury Music Award for Top Music Journalist and the author of Beyond the Palace (the first book on the history of rock and roll in Asbury Park) and Are You Listening? The Top 100 Albums of 2001-2010 by New Jersey Artists. In addition, he runs New Jersey Stage and the online radio station The Penguin Rocks. He can be contacted at gary@newjerseystage.com.
---