By Gary Wien
originally published: 05/27/2019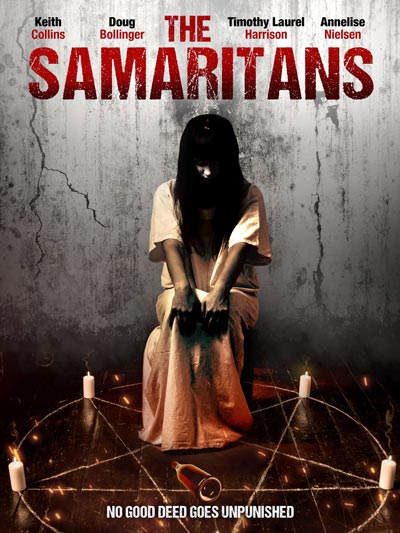 The Samaritans is a new micro-budget horror/thriller flick written and directed by Doug Bollinger and was based on a story by Keith Collins. It tells the story of four co-workers who get together to finish a project at their manager's home. They haven't actually met face to face and they discover they have more in common than the new mobile app they are perfecting.
As they piece together their histories, they realize that each of them has a deadly secret. Their pasts have provoked a vengeful force to show them the errors of their ways. The house they have been summoned to becomes their court and their prison. Can they prove that history doesn't repeat itself? Can they redeem themselves before time runs out? Will they figure out their fateful bond before revenge has its way with them? Is there a way out or are their fates sealed within the house?
The film stars Keith Collins, Doug Bollinger, Timothy Laurel Harrison, and Annelise Nielsen. It was filmed in Monmouth County and features the music of New Jersey singer-songwriter Olivia Bec. Cory Green did the cinematography and editing. Matt Grego took care of the sound department.
Director Doug Bollinger teaches at the Performing Arts High School in Ocean County and makes movies in his spare time. New Jersey Stage spoke with Bollinger about the film which was released on digital and on demand services in April.
Scroll down for the interview.
---
The article continues after this ad
---
---
I've often thought that some of the best horror/thriller films revolve around a simple premise - something we all do or have done. What inspired this film?
Our reference points were Blair Witch Project and Paranormal Activity. These two films were milestones for micro-budget horror/thriller and they each had that "normal" premise that you reference. We couldn't afford a shark, an alien (maybe we could if we had the team from North Bergen High School!), or splatter-inducing weapons so we decided to stick with an everyday activity - working on a project with your co-workers. The threat comes from within the walls of the modest house and that is something we feel adds to the tension. Our goal was to A: introduce characters that an audience would care about, B: put them in a perilous situation that got progressively worse, and C: resolve it in a way the audience does not expect. We think we achieved our objectives but in the end, strangers will decide if they agree with us through their downloads, social media activity, and reviews.
What can you tell me about the app they've been working on?
I knew I wanted them to be working on an app from the beginning, since that was an area my students were so in tune with and I did want to appeal to a contemporary audience. The idea came to me once I went down to my basement (where we ultimately shot the movie) to write some of it. I would spend time down there to try and visualize the space with the characters in it. I sat down in a circle of chairs and put a small table in the middle to put my laptop down. I realized that Keith and I were too tall to stand for any stretch of time so the characters would have to be sitting a lot. That's where spin the bottle came to me as a mechanism to keep the story going while maybe serving as the app as well. Some of us have played some version of this game and even if we hadn't, we knew someone that did.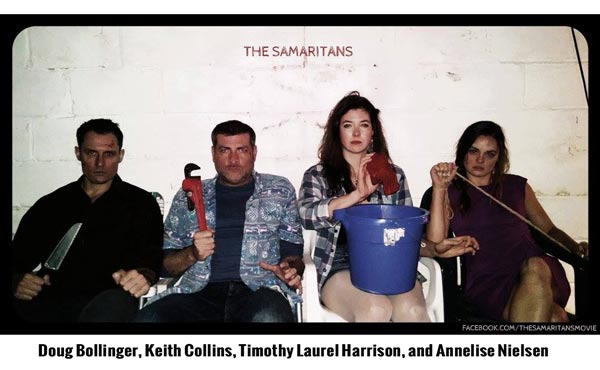 The film involves six people over one weekend in two rooms, using one light, four actors, and no more than three takes on any setup. That's definitely a micro-budget and unique way of shooting a film. How did this limited setup help create the film you wanted to make?
It started as a science experiment. Keith approached Cory Green and I with a question: could we completely shoot a feature film in four days? Cory brought on Matt Grego and between the four of us, we had all the production and post-production bases covered. Cory would shoot and edit. Matt would do sound and color. Keith would handle the business of things, and I would write and direct. The approach was to write something we could do. Keith had an idea about four people stuck in a basement. I took that and ran with it. I knew Keith and I would play two of the roles and once we had Annelise and Timothy, I could really write it for the actors we had. The parameters were real and they dictated a lot of the story. I tried to focus on story and dialogue with minimal effects that we knew we could do. I felt that if the dialogue and performances could help us tell an interesting story, an audience might stay with us. We had to spend our time on building suspense, not jump scares and we were going for creepy instead of gory. The boundaries we created for ourselves really put the spotlight on our storytelling abilities and we were confident that we could make a pretty taut little thriller.
How did the actors handle the situation? You had worked with many of them before, right?
Keith and I had worked together on multiple occasions. We liked some projects more than others but each one proved to be a great learning experience. I knew Keith would handle things like a pro and of course, he did. Keith brought Annelise to the literal and figurative table and he had great confidence in her theater background to really step up and she outdid herself. I met Timothy when I didn't cast her in a previous project. We kept in touch and I cast her in Rock, Paper, Scissors, which I was planning to shoot a few months after Samaritans, and I saw how hard she worked on that. She came on board without even seeing a script. I sent her an outline and she signed on within a few minutes of getting my email. She is a force of nature. Those three raised my level of performance as an actor and director. They knew what they were getting into. Keith and I were very honest. We basically told everyone that we would be staying in my house for four days and we would eat, sleep, and make this movie, shooting about 20 pages a day. They all jumped in headfirst and after Day One, we knew were going to have a blast and make a decent flick.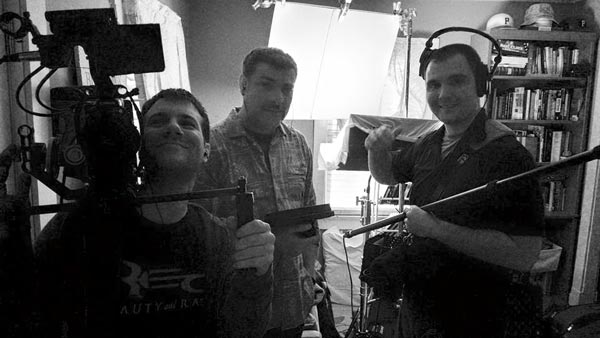 And you weren't just behind the camera, you wrote and acted in the film. How much pressure was that for you?
It was pressure on all six of us. If any of us didn't pull our weight, the project would've failed. Annelise and Timothy had to bring their A game. They knew I was not going to have time to "direct" them too much. They knew we planned to do no more than three takes of any setup. They killed it (no spoilers). Keith was also in charge of the logistics as the producer. He had to keep track of time, breaks, and food. It was his job to keep us sane and fed. He also had to act and he is solid as ever. Any shot you don't see my lap, I had a little monitor sitting there as I tried to collaborate with Cory on shots. I trusted him and since we were going to be editing together, I felt very comfortable predicting if we were going to use a particular shot or not in the finished product. And then there's Matt Grego. He was responsible for sound on set (and a million things in post-production). We didn't have time or money to come back and record actors later for ADR so we really leaned on him to tell us if the neighbor's dog barked on a line or not.We kept the pressure on each other to bring it and also off each other to alleviate any panic or anxiety.
Did you like being part of every aspect of a film?
I do like being involved in every aspect of filmmaking, just not necessarily all at once! I have worn a bunch of different hats during my varied experiences. I was very fortunate to have a dedicated cast and crew for The Samaritans and we all trusted each other. I am not much of a micro-manager and I was really able to focus on one (or two) things at a time. I had to trust the actors to bring something unique every take and the crew of two to get the best sound and picture. I do appreciate having final say on things. This is really the first film I've done where I was the last line of defense. In many ways, I feel like it is really my first film. There is no one to blame here if it doesn't work but me.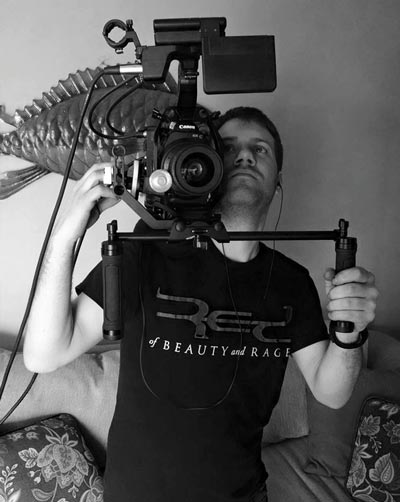 The Samaritans was released on Video on Demand in April. In today's world where there are very few video stores left, is VOD the goal for indies now?
VOD is the norm now. There are so many streaming sites, subscription services, and gaming systems that offer content. My students consume most of their content that way for sure and it has been quite a learning curve for me as an old-timer who grew up on HBO and VHS. It is also a great to way to gauge how well the movie is tracking with the public since reviews are published in real time. We were excited that The Samaritans was lucky enough to sign with an agent after a couple New Jersey Festival appearances. We chose the deal offered by Viva Picture and they are handling all our distribution. VOD started April 16, DVD sales at Walmart.com, and eventually we think we will end up on one of the subscription services. As a tiny little movie, we have to try and maximize, but balance two things - visibility and income.
You currently teach acting at the Performing Arts Academy of Ocean County. It's got to be a pretty good time to teach acting in the area with professional theatres and great film festivals .
100% right! I talk about the theaters and film festivals in the area constantly. We have students involved with a bunch of the local theaters and I love what is happening in our area. None of that was on my radar as a kid. A school trip to NYC, a random news article about someone from the area here and there - that was all we had. I have never met Kevin Smith but if you live here long enough, you realize that there may be some mutual friends. His influence on a generation of young low-budget filmmakers in Jersey (and many places) is lasting. He was the first person that seemed like a regular Jersey guy that also made movies! Maybe I could too.
Finally where did you grow up? And who are your three favorite filmmakers?
I was born and raised in Long Branch, NJ. I've lived in North Jersey, Upstate New York, and Hawaii. I made it back home to Monmouth County and I love it here.
As far as directors go, there are dozens that I love but I'll narrow it down to three. I'm a big fan of Wes Anderson. He is one of the few filmmakers today that have a very specific look and vibe to his films. Like them or hate them, you can't argue that they are part of a unique world. I think what Jordan Peele is doing right now is so exciting. It's only two films but he is deftly incorporating big picture themes into genuinely scary stuff. Ang Lee might be all-time favorite. He has made gems in multiple genres and when I was dreaming of getting into this realm, he was my go-to filmmaker.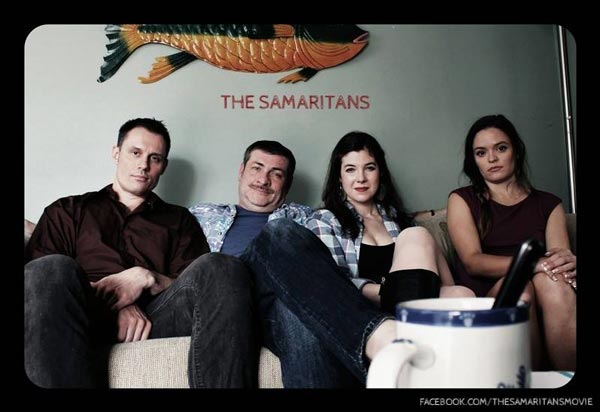 ---
Gary Wien has been covering the arts since 2001 and has had work published with Jersey Arts, Elmore Magazine, Princeton Magazine, Backstreets and other publications. He is a three-time winner of the Asbury Music Award for Top Music Journalist and the author of Beyond the Palace (the first book on the history of rock and roll in Asbury Park) and Are You Listening? The Top 100 Albums of 2001-2010 by New Jersey Artists. In addition, he runs New Jersey Stage and the online radio station The Penguin Rocks. He can be contacted at gary@newjerseystage.com.
---