By Gary Wien
originally published: 03/22/2018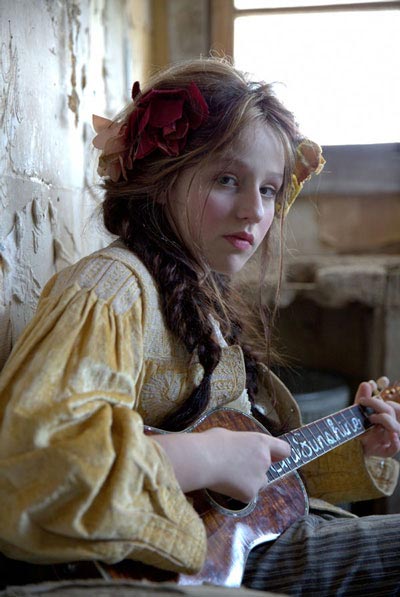 EmiSunshine was only nine years old when a video captured her performing Jimmie Rodgers' "Blue Yodel No. 6" at a flea market in Tennessee and went viral.  This led to an invitation to "The Today Show" that introduced her to the world.  Since then, she has released several albums featuring songs steeped in the sounds of Appalachia.  It's rootsy, Americana music, that has found airplay far beyond traditional country radio stations.
She plays more than 50 shows a year with a group that includes her father on upright bass, her brother (John Letner) on mandolin, and "Uncle Bobby" Hill on drums. In just a few years, she has already performed at the Grand Ole Opry, the Ryman Auditorium, and festivals like CMA Fest and Merle Fest.  She's currently on tour supporting her latest release, Ragged Dreams, and will perform at Monmouth University in West Long Branch on March 30th.  Jersey favorites Williams Honor will open the show.
New Jersey Stage caught up with the young star to learn more about her music, interests, and quick rise to prominence.
You've been quoted saying, "I'm not afraid of any stage." In the past few years, you've certainly performed on many great stages.  Was there ever a venue that made you nervous?
The only place I've ever been nervous was the Ryman Auditorium.  I guess you could say I was a little worried about getting on that stage.  It's a pretty big place and one I'd wanted to play my whole life.  When I got on that stage, I was a little intimidated by it, knowing all the people I love who came before me and played their songs and poured their heart out to that crowd.  I wanted to do the same and do the best there I could.  It kind of intimidated me, but I've never been scared of nothing.
---
The article continues after this ad
---
---
You've been writing your own songs and writing songs with your mother for a while now with a distinctive sound. Do you think you've found a certain groove to songwriting?
Me and mom have been songwriting ever since I was five years old!  The songs kind of come to us. It just depends on the experiences we have and the different things going on in our lives and other people's lives. I guess our songwriting just kind of comes when it wants to.  We don't like to force it; we like to just let it come to us.
What songs on Ragged Dreams are you most proud of?
I would probably say "Danny Ray" and "Ragged Dreams" are my two favorites on there.  I wrote "Danny Ray" when I was around nine years old and it's still one of my favorites.  I love it so much.  It's got a great tempo and some pretty good words in it.  It's a story song and it talks about some crazy stuff - it's practically a murder ballad and I love murder ballads. I love "Ragged Dreams" as well because it has this heartbreak in it, but, at the same time, it still has this happiness that kind of draws you to it.
Even your sad and mournful songs seem to be a bit uplifting.
I think that when you put that sadness and despair and happiness all together, I think it just gives it that little bit that it needs.  It's like that even in the movies.  You wouldn't see a movie be all happiness; you'd see the ups and downs and all the crazy things that happen.  I think that's the same way songs go too.  My fans are drawn to the songs because they have all of that in them.
The song "90 Miles" from Ragged Dreams is about autism.  Do you know someone who is autistic?
I have a friend who is autistic.  I met him when I was pretty young.  I saw that he had so many struggles and, at the time, I didn't know what autism was but I didn't judge him for that.  I thought he was great.  He was very kind and smart.  
I was at a birthday party and some of my friends were telling me not to play with him or talk to him because he won't be able to answer back.  "He don't know" they said.  Every time I would try to talk to him, they would say, "He don't know" and that bothered me for so long.  I became close to him and we became good friends.  Over the years, I had to leave a lot to go to shows and other things, so I wasn't able to see my friend much.  I didn't know what was going on in his life, but I found out he was having troubles with school and with his family and everything that was going on.  I thought, "This shouldn't be happening to him.  He's such a sweet person and he should be having a better life."
He would get bullied for being like he is and I just think that's wrong.  We're all different in every way and I don't understand why that has to be a bad thing.  So, I started writing "90 Miles" one night when I was thinking about him.  It just talks about how there are things he wishes he could do.  He knows that he can talk to you and he wants to, but he just can't.  So, I guess that song is to let people know that, "Hey, I'm a person too.  I want to say these things and do these things, but I just can't."
I want people in the world to know they aren't freaks. They're not challenged, they just aren't able to express the things we can.  And they shouldn't be judged for that.  They should be embraced for that.  We all have our own different ways of doing things and they just have a different way too.
I read that you get some of the inspirations for your songs from watching scary movies.
That's true.  I've always watched a lot of scary movies.  I guess over time, different things have inspired me.  I write a lot of murder ballads, a lot of killing songs, and a lot of ghost stories too.   I'm very inspired by The Louvin Brothers who wrote so many murder story songs.  I get inspiration from them, from scary movies, and from just listening to other people's conversations.  
It's crazy, you never know what you're going to find from other people.  This one time we were out on the streets and we saw a homeless man sitting out there.  We started writing about him and about the different things that were probably going on in his life.  Just seeing somebody and listening in on their conversations gives us inspiration.  We just kind of pick up our inspiration wherever we go.  For "90 Miles" it was for my friend.  It was everything going on with his life and this person's life and we just kind of bring it into ours and shed some light on what's going on with their lives.
Other than music and scary films, what are some of your other interests?
I guess music has been in my life forever.  I love to get home and do things, but I love to be on the road.  I've been doing it for so long, it's become my main passion in life.  I guess I don't get to be home very much, but, at the same time, I am home because I'm traveling with my family on a bus and going everywhere. It's pretty crazy and it's one of the main things I love to do.
I also love to go to different festivals and hula hoop.  I love to hula hoop; it's one of my favorite things!  I love writing and drawing as well. I've been drawing for a while and it's another way to display my art.  There's singing, writing, and drawing; practically everything I do has something to do with art.
Does it help to have your family with you on the road?
Well, it helps that over the years they've always encouraged me to do my best and to be the best kind of person I can.  I've always been this person who's never been scared of anything.  I'm never intimidated by anything because my family's taught me not to be.  They taught me to wear the clothes I want to wear and just go with that. Because if you don't do that, what are you doing?  You need to put yourself out there and just go through life knowing who you are.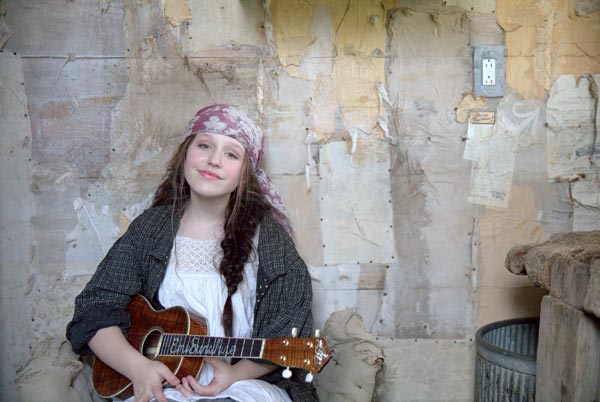 Is there any place you haven't played yet that you want to pay someday?
Oh gosh, I would love to play at Red Rocks.  I've been wanting to play at Red Rocks forever and that's one of the places I've been excited about.  I'll be playing at the New Orleans Jazz Fest pretty soon, which I'm excited about.  That's one of the places I have on my bucket list.
Was there one moment when you realized your musical career was actually taking off?
When I was around 9, I got to play the "Today Show" and I saw this woman right outside the glass.  She had a giant sign that said, "We love Emi Sunshine" and it shocked me.  I never had that kind of fans before and it was something I couldn't believe.  I was standing there and she was holding up that sign and screaming; she was having so much fun.  When I saw her, I thought to myself, "This is my life now.  This is amazing." That was the one point I was just standing there thinking, "Wow, this is crazy!"
We flew to New York to film the "Today Show" and then came back to Tennessee. It was so quick and so crazy.  I couldn't believe we were there so fast and gone so quick.  It's still an awesome memory for me.
---
Gary Wien has been covering the arts since 2001 and has had work published with Jersey Arts, Elmore Magazine, Princeton Magazine, Backstreets and other publications. He is a three-time winner of the Asbury Music Award for Top Music Journalist and the author of Beyond the Palace (the first book on the history of rock and roll in Asbury Park) and Are You Listening? The Top 100 Albums of 2001-2010 by New Jersey Artists. In addition, he runs New Jersey Stage and the online radio station The Penguin Rocks. He can be contacted at gary@newjerseystage.com.
---