By Gary Wien
originally published: 12/30/2017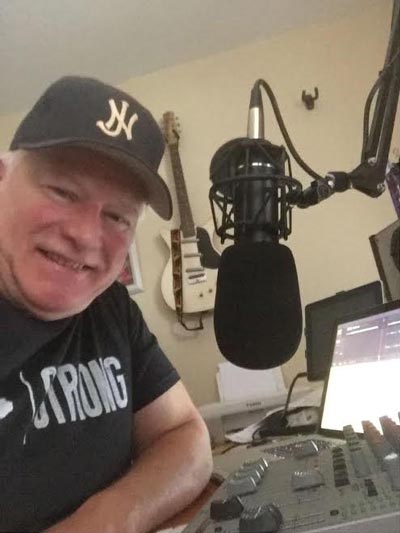 Radio Jersey is the flagship program of AsburyMusic.com, broadcasting every day Monday through Friday from 6:00pm to 8:00pm.  Hosted by Lee Mrowicki, the long-time DJ at Asbury Park clubs like The Stone Pony and the Wonder Bar, the show puts the spotlight on the Garden State like never before.  Mrowicki doesn't just focus on one genre of music, he spins music by New Jersey artists of every genre - including songs you won't find anywhere else.  You'll quickly realize just how amazing the state's musical history once you tune in.
New Jersey Stage spoke with Mrowicki about the show.
You've done the show for several weeks now, what has been the reaction you've seen from listeners?
I am actually overwhelmed by the reaction of listeners to the show. It's really the first of its kind, a show that only plays music from NJ and the response has been fantastic. One reason is that NJ performers have very loyal followers so if I play a favorite of theirs, they are enthusiastic because it's rare that any radio show plays more than Springsteen or Bon Jovi and maybe once in a great while Southside and the Jukes. People are saying the show is very cool!
---
The article continues after this ad
---
---
So many of the greatest artists of all time have been from New Jersey, but do you think the average music fan has any idea just how many artists have a connection to the Garden State?
They will when they listen to the show. I have always promoted performers from New Jersey whenever I played at the Stone Pony or the Wonder Bar and still do. This show is an extension of what I do live at both places when I work as a DJ. It gives me another opportunity to showcase all the talent here in the entire Garden State...north, south, east and west.
Who is an artist or two that you love playing that people probably don't know has a Jersey connection?
A couple of people were surprised that Peter Criss of KISS has lived at the shore for a long time and a few people didn't realize that My Chemical Romance was from NJ. 
With decades as a DJ under your belt, you obviously have no shortage of music to play.  Are you interested in having Jersey artists contact you or submit music for consideration? If so, how can they reach you?
I am constantly searching for good music to play... and especially from up and coming performers. I am always open to suggestions and performers can send me their best two songs in MP3 format via email to:

radiojersey@mail.com---- can't promise but I'll always give a listen. I have been playing new music from NJ performers since I started in radio many moons ago at Monmouth University, when I would anonymously get recordings from locals, including from a guy from Freehold named Springsteen. 
Can you give me a list of the shows Monday through Friday?
On Monday I start the program free form, playing anything and everything until the 5pm news with Steve Lubetkin, who I used to work with at Monmouth University and also at WJLK in Asbury Park. After the news, between 5-6 it's "Cover Me Monday" and I play cover songs by NJ performers. Jersey people playing others' music. Like Isley Brothers playing Stephen Stills "Love the One You're With" or Bon Jovi doing the Isley Brothers. Many performers in NJ started their careers doing other people's music so it fits. Between 6-7, it's Ladies Night... Jersey Girls singing.
On Tuesday, it's simple... "2 For Toozday!"  Nothing original about that but a good chance to feature two songs by Jersey performers. 
On Wednesday, I borrow from the famous WNEW-FM and do "Old, New, Borrowed, and Blue" sets on the hour along with free form radio.
Thursdays it's "Throwback Thursday" where I go down to the vault and dig up some gems... they might be a classic from someone like Tommy James & the Shondells or even something a few years old that hasn't been played in a while. Good music deserves to be played and that's my job. I also play some recordings that I have had from my past at the Pony, like Mad Dog & the Shakes, early Springsteen and Jukes, and bands that were great back in the day like Cahoots, Trigger, Sam the Band and Salty Dog. And I might also do a few "Now and Then" selections... featuring an artist that has new music as well as a classic of theirs, like Blondie.
On Friday, the show starts off free form. Between 5 and 6, it's "Happy Hour" playing some suggestions and upbeat music. From 6-7, it's "E Street Greatest Hits", when I play the solo stuff from E Street Band members, including Bruce. 
Oh, and I almost forgot. My trademark through the years has been playing Bruce...so around 20 after each hour, I usually play a Bruce tune. I'm known for that and it's tough to run away from. In fact, I played for four hours straight for 250 Bruce fans from the Spring-Nuts Facebook group a few weeks ago and they're part of my audience now. It's not the only thing I'm known for, like promoting NJ music in general... but it's who I am. In fact, someone reminded me of the night that Bruce played the Pony and introduced me as "The Handsomest DJ in the World".... just can't live it down.
You've recently started selling ad spots.  How can businesses get information on advertising?
Get in touch at our new email address --- radiojersey@mail.com---- just compiled a rate card and welcome all inquiries.
Finally, do you have any other ways currently set up for people to be able to listen to the show? iTunes, Mixcloud, etc.
Since we're new... I wanted to see the reaction from the audience first... it's fantastic to say the least. So, starting in a week or so, after the show airs daily, it will be placed on www.mixcloud.com so friends all over the globe can listen and it will be archived there in case anyone missed something. I have listeners in the UK, Australia, Japan, and Europe as well as here in the US... And of course, it's available on the TuneIn app... so people can listen in their cars, at home, or anywhere! 
And I want to let people know about our features... including fantastic stories from Rock and Roll Hall of Fame member Vini "Mad Dog" Lopez and Mark McEwen, who people will remember from his days at WNEW-FM and CBS-TV. In addition we have inspirational messages from R&B Legend J.T. Bowen, from Clarence Clemons' Red Bank Rockers... also health tips from Nurse Practitioner Alison Fragile... weather reports from Stella Mrowicki...and, Culinary and Lifestyle tips from NJ's Own Chef Diane Henderiks. All in all, it's a unique and interesting three hours of NJ music plus cool stuff. Nowhere else will you find anything like it, not on terrestrial, satellite, nor online radio. It's All Jersey... All the Time!
---
Gary Wien has been covering the arts since 2001 and has had work published with Jersey Arts, Elmore Magazine, Princeton Magazine, Backstreets and other publications. He is a three-time winner of the Asbury Music Award for Top Music Journalist and the author of Beyond the Palace (the first book on the history of rock and roll in Asbury Park) and Are You Listening? The Top 100 Albums of 2001-2010 by New Jersey Artists. In addition, he runs New Jersey Stage and the online radio station The Penguin Rocks. He can be contacted at gary@newjerseystage.com.
---