By Spotlight Central
originally published: 05/07/2017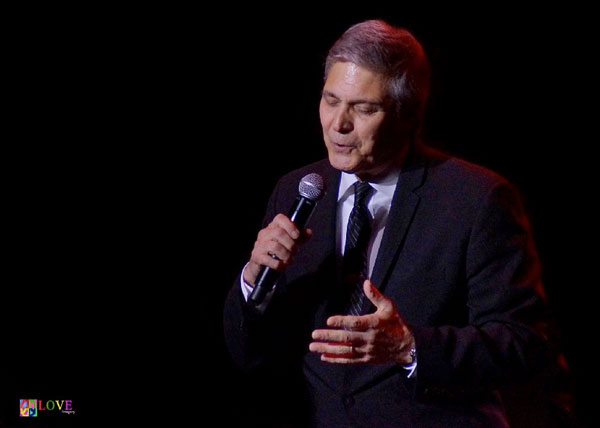 The music of the 1960s comes alive at Resorts Casino Hotel in Atlantic City, NJ at 8pm on Sat. May 20, 2017 with Sounds of the 60's live in concert! This magical evening of classic '60's songs features three memorable performers from one of the greatest eras in pop music history: La La Brooks, The Flamingos, and Dennis Tufano, the original lead singer of The Buckinghams.
In Sounds of the 60's, La La Brooks, former lead singer of The Crystals, will perform her biggest hits including "Da Doo Ron Ron" and "Then He Kissed Me," in addition to a tribute to "girl groups" from the 1960s.
The Flamingos, featuring Terry Johnson — known for such hits as "I'll Be Home," "Love Walked In," and "I Only Have Eyes for You" — will present their tribute to American music from the '60s including tunes by The Four Seasons, The Beach Boys, and Three Dog Night.
Dennis Tufano, the voice behind The Buckinghams, will sing the group's biggest hits including "Hey Baby (They're Playing Our Song)," "Mercy Mercy Mercy," "Don't You Care," and the band's 1967 #1 chart-topper, "Kind of a Drag."
Spotlight Central recently had a chance to catch up with Dennis Tufano following his knockout April 29, 2017 performance at The State Theatre in New Brunswick, NJ. During our interview, Tufano reminisced about his childhood musical roots and his memories performing live on TV's The Ed Sullivan Show, in addition to revealing his admiration for singer Bobby Darin and sharing his thoughts on performing live here in the Garden State.
---
The article continues after this ad
---
---
Spotlight Central: We understand that when you were a kid, your dad sang and also played violin, saxophone, and harmonica. Was he an inspiration to you to become a musician?
Dennis Tufano: Yeah, he was an inspiration in the sense that when I was about five, I got to see one of the last gigs he did with his band before he had to stop doing music so he could raise our family — and it was kind of a strange experience to see him up there playing instruments, because I didn't know he did that when I was that young! And, then, through the years, he always played in the house — and the music he played was all great music — so, without knowing it, I got this constant subliminal message about what good music was. And he was actually around to see all the success we had with The Buckinghams, so he really got a kick out of that, being a music man himself — and that was really good.
Spotlight Central: And was your mom musical at all?
Dennis Tufano: My mom was a great dancer. And there was always a lot of music and rhythm in our house, which my mother enjoyed — and my father used to sing to her all the time, so that was fun, too.
Spotlight Central: What artists or songs made an impression on you when you were growing up?
Dennis Tufano: When I was younger, one of the first 45s I bought was "Wear My Ring" by Elvis Presley. And something about the rhythm on that song, his voice on that song, and the arrangement really made me think about getting into music, wondering, "What is this all about?"
You see, I really didn't start thinking about music until high school. I mean, I listened to so many people — like I said, my father played stuff: early Tony Bennett, Frank Sinatra, Connie Francis — just unbelievable amounts of music. But for me, The Everly Brothers were a big influence. I actually listened to a lot of their records and learned how to sing harmony by listening to them.
And I was a really big fan of R&B, too. In Chicago, when we were really young, we used to dance to a lot of R&B music, so I loved the harmonies and I loved the melodies and all of that. And when we started doing the band, we covered all the stuff we were inspired by — all of our favorites, you know?
So it was those kind of people — The Beatles, The Hollies, The Zombies — when they came out, we were just floored by them. I loved Colin Blunstone and The Zombies — just the sound of their music was different. And recently, I got to meet The Zombies — they're really cool — Rod Argent and Colin are beautiful cats. And they still sound amazing — they're unbelievable — you've gotta go see 'em!
Spotlight Central: Definitely! And speaking of groups from that era, we recently had a chance to chat with some of the members of The Brooklyn Bridge and they were talking about what it was like to be on The Ed Sullivan Show and how significant it was for them in terms of getting their song, "Worst That Could Happen" out there to the public. Can you tell us a little bit about your experience on The Ed Sullivan Show with The Buckinghams?
Dennis Tufano: Yeah, when we were on The Ed Sullivan Show, it was pretty amazing! We had done an awful lot of TV but, all of a sudden, to be on The Ed Sullivan Show was a whole different thing — to meet Mr. Sullivan and have him introduce you and all that.
And the thing about The Ed Sullivan Show was that on most television shows at the time you had to lip-sync, but on his show, you had to sing live. We were always kind of uptight about having to lip-sync because, to us, it seemed kind of fake. But a lot of TV shows at that time didn't know how to get the right sound for live rock music, so you had to lip-sync — except for the Smothers Brothers Comedy Hour; there, you had to sing over your instrumental track. But on Ed Sullivan we all got to play and sing and that was fun!
Spotlight Central: Of all of The Buckinghams songs, is there a favorite you still enjoy performing today?
Dennis Tufano: Well, I like singing all of them, but my favorite song while we were involved in doing it was "Don't You Care." The follow-up to our hit, "Kind of a Drag," was actually written by the same guy, but it had a different twist to it — it wasn't a cookie cutter sort of thing. So it was a thrill to get a new song that was different to sing — it was really nice to have that diversity. So that's why that one has always been one of my favorites to sing.
Spotlight Central: And we recently read that you worked with one of our favorite jazz musicians, Tom Scott, with whom you recorded a TV show theme song?
Dennis Tufano: Yes, Tom wrote the music and Jeff Barry wrote the lyrics to the Family Ties TV show theme — this was before the show even came out. Tom and I were in rehearsals together for an Olivia Newton John concert tour where I was a singer and Tom was the musical director, and one day he said, "Look, I've got this song for a TV series coming up." And since we were already rehearsing on the Paramount stages in Los Angeles anyway, he just said, "Let's go into the studio here." And this beautiful singer, Mindy Sterling, and I just stood there with a mike between us and we did this duet about this couple — and it came out really cool.
Interestingly enough, when Tom and I first met, we were both stablemates at Ode Records. And Tom came up to me and reminded me that he was one of the sax players on one of The Buckinghams tracks on the first album with all the horns. And we're still good friends — he's an amazing player!
Spotlight Central: Can you tell us a bit about your Bobby Darin tribute show, I Remember Darin?
Dennis Tufano: Well, I heard Bobby Darin in high school a lot. And the thing that really struck me was when he appeared on The Dick Clark Beech-Nut Spearmint Gum Show. I don't know if you remember that show, but it was a concert show. And there was an audience and all the kids did this handclap thing (sings and claps) "We like Beech-Nut Spearmint Gum," because Beech-Nut was the show's sponsor.
And Dick Clark had people like Frankie Avalon and Bobby Rydell and Paul Anka — they were all like 17-year-old guys — and they would come on the show all dressed up in suits, looking really sophisticated. And then Bobby Darin came on the show, and the curtain opened and he was singing, "Splish Splash, I was taking a bath," with no shirt on — in a cardboard cut-out bathtub — scrubbing his back! And I said, "This guy is cool!" — because he has a sense of humor — so that really hooked me on him, and I started following his career after that.
But it was a long time before I started doing a tribute show to him, because I had my own stuff. The band broke up in '70 and I went into acting and did theater and did a lot of TV commercials — I did a lot of stuff for about 15 or 16 years — and then I just got this bug to sing again. I was trying to think about what to do and the Bobby Darin songbook — I just thought that was the perfect thing, you know — because it's such a lot of fun to sing that stuff.
Spotlight Central: And speaking of singing, how do you enjoy singing for audiences here in New Jersey?
Dennis Tufano: I love Jersey — I've always loved Jersey! And I love the music that comes out of Jersey — all the players. The audiences here are just robust. In Jersey, I can just stick that mike out there and the audiences will join in and sing with me. And when you can do that and you can hear the whole audience singing along with you, that's the fun part!
And people will always ask me, "Where do you get all your energy?" And I'll just say, "It's from you! You're giving me all this energy while I'm on stage — you're singing and you're right there."
And it's really true — that's where I get it!
And you can be there in person when Dennis Tufano — along with La La Brooks and The Flamingos — next takes the stage in New Jersey on May 20, 2017 in Sounds of the 60's at 8pm at Resorts Casino Hotel in Atlantic City! Ticket prices start at $35 and are available through Ticketmaster at www.ticketmaster.com, by calling 1-800–745–3000, or by stopping at the Resorts' Superstar Theatre Box Office, located at 1133 Boardwalk, Atlantic City, NJ!
Photos by Love Imagery
Spotlight Central. Your source for Jersey entertainment news and reviews
Love Imagery Fine Art Photography. all you need. peace/love/flower/power