By Gary Wien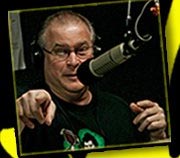 If it's Sunday night, it's time for Rock On Radio -- a weekly radio show broadcast on a mix of AM/FM and online radio stations throughout the world. Hosted by Danny Coleman, the show features interviews and live performances from artists in the New Jersey music scene broadcast and streamed from the studio at http://www.wifi1460am.com. NewJerseyStage broadcasts an encore recording of the show every Thursday (1pm and 8pm) and Friday (7pm) on our station, htttp://www.ThePenguinRocks.com -- we caught up with Danny to see how the show was going and how it's rejuvenated his own personal music career.

Tell me about Rock On Radio. When did you first get the idea to do a radio show like ROR? How difficult was it for you to actually get things rolling? And when did the show first broadcast?
The idea for ROCK ON RADIO came to me back in 2007 when a band that I was in at the time, made a live appearance on a friend of mine's radio program. We did a half hour segment, where we talked and he spun a song off of our CD. I thought, "Wow what a great concept." He deviated from his format for me, but it spawned the concept. I also remember the thrill of hearing my band on the radio when I was 16 yrs. old and thought how neat it would be to combine both elements and give others the same opportunity to showcase their talents.

It wasn't difficult to get it going at all. I saw a Craigslist ad. that read "Radio Show Ideas/Hosts Wanted." I pitched the idea, they bought it and ROCK ON RADIO was born on April 26, 2009.


Tell me a bit about your own music background and your DJ background.
Always loved music. I fell in love with the drums when I was about 10 yrs. old. I remember being fascinated with a drummer at a wedding. When it was done, he gave me his sticks, I was hooked! I've been playing since I was 11 yrs. old. I got into my first band when I was 14 yrs. old in high school, got hooked on Rock 'n' Roll and the rest is history...

I took up percussion in 2000, bought a set of congas and then bongos; put them together with all of my "weapons of mass percussion" that I already had and started doing background live and studio work for local musicians. I've since (as I stated earlier) branched out.

My DJ background is virtually non-existant. A year after I graduated high school I went to broadcasting school. I graduated, but radio wasn't paying as much as my day job, so I gave up on it until a back injury forced me out of work and I answered the Craigslist ad.


In a perfect world, would you prefer to be a rock star or a famous DJ?
In a "perfect world" I'd be able to do both.....like some have.
If I had my choice, it would be ROCK STAR. I love the thrill of performing, making people happy, watching them enjoy theirselves because of what my band is doing. I want to experience that on a large scale at least once before I'm too old and look possibly even more ridiculous!...lol....

I mean, c'mon, to be like Bruce or Bon Jovi, U2 or any others who've had 60-80,000 people singing the songs that they've written back at them from a sold out stadium or arena has got to be the ultimate adrenaline rush.


What would be the perfect Rock on Radio broadcast for you? (maybe a guest you've always wanted or just the vibe in the studio)
Hmmm...great question. I guess, it would be to interview a prominent musician or band. I love my indie original artists, but it would be nice to have an established act call in or stop by. Due to the personalites of the ROR staff, the vibe is always light hearted and friendly. Almost eveyone who has appeared have told me afterward that it was "the most fun that they've ever had doing radio." The "Relaxed Atmosphere" made them feel very "comfortable." I pride myself on this reaction because it means that the show is meeting my and its' expectations. That is exactly how I wanted the show to come across on air; hopefully it does.


What were some of your favorite moments in the studio so far?
I can honestly say that every week is a favorite; I have been blessed with many fantastic guests. However, the "Christmas Spectaculars" where I take the show to 2-3 hours have been the best yet. We have a party, many former guest call or just show up at the station and join in. Other than my one booked guest, I never know who is going to come thru the door. this past year was the best yet and I only anticipate them getting better.


One thing that always impresses me is just how much work you put into promoting the show. During an average week, how much time would you say you spend on promotion?
Not enough! LOL! I'm glad that you noticed though. I do spend several hours a day doing what I have termed "Shameless Self Promotion." If I don't make the show recognizable....who will? I create once a week events, post and repost on facebook, use myspace, twitter. On a daily basis I reach out to newspapers, online music mags. as well as other stations in an attempt to increase name recognition and listenership.


What's been your most successful avenue for promotion?
facebook, my bumperstickers and t-shirts have all been big contributors. By far though, the most successful has been public appearances. Showing up at Katmandu, doing gigs whenever asked at all of the Asbury Park venues, participating in and emceeing events have all been huge in the promotion of the show; and of course being syndicated on THE PENGUIN! I can't thank you enough Gary for what you've done for me and my program...very much appreciated!



What do you hope people get out of your show?
I hope that they get to know my guests on a more personal level. Many people have seen my guests in coffee house, bars, and showcases; but many don't know them as individuals.
I want my listeners to be entertained, informed and to feel like they know me, my guest and all of us at ROCK ON RADIO on a more personal level every week.


Finally, how has doing the radio show increased your own exposure or changed things for you musically?
It has totally resurrected my music career. I had pretty much put my drum kit aside and was concentrating solely on doing percussion for various local friends. The radio show opened up the Jersey Shore area to me, since probably 75% of my guests have been from the shore scene. Lance Reichert and his acoustic showcase at Katmandu in Trenton also has increased my visibility tremendously. Lance sends me many of the artists that come thru the doors of Katmandu. Also, playing drums for the amazing Jo Wymer for a period of time definitely increased my name recognition. My association with her, due to the radio show, has led me to many of the people that I still associate with and play drums and/or percussion for today.

---
Gary Wien has been covering the arts since 2001 and has had work published with Jersey Arts, Elmore Magazine, Princeton Magazine, Backstreets and other publications. He is a three-time winner of the Asbury Music Award for Top Music Journalist and the author of Beyond the Palace (the first book on the history of rock and roll in Asbury Park) and Are You Listening? The Top 100 Albums of 2001-2010 by New Jersey Artists. In addition, he runs New Jersey Stage and the online radio station The Penguin Rocks. He can be contacted at gary@newjerseystage.com.
---