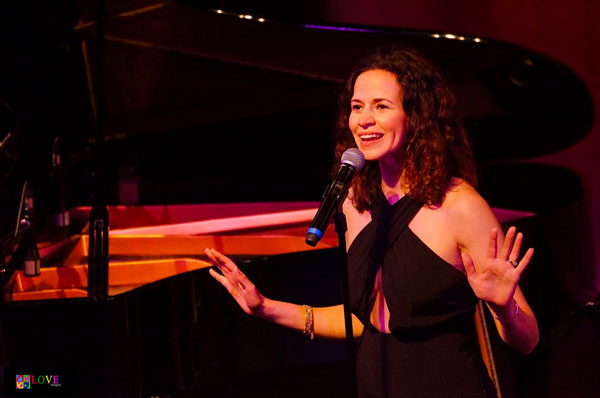 Broadway sensation Mandy Gonzalez (Hamilton, Wicked, In the Heights) brings her unforgettable Fearless show to Toms River, NJ's Grunin Center of the Arts on Friday, November 2, 2018 at 8pm.
Gonzalez, 40, was born and raised in California's Santa Clarita Valley. After graduating from high school, she briefly attended the California Institute of the Arts before becoming a background singer for Bette Midler on Midler's Millennium Tour.
Moving to New York City, Gonzalez worked as a coat check attendant while auditioning for various shows. As a cast member of the Off-Broadway production of Eli's Comin' — an innovative musical based on the work of songwriter Laura Nyro ("Stoney End," "Stoned Soul Picnic," "And When I Die")— Gonzalez won an Obie Award. She made her Broadway debut in the role of Princess Amneris in Aida as the standby for Idina Menzel, before being offered the role of Sarah in Jim Steinman's Broadway musical, Dance of the Vampires.
Gonzalez went on to create the character of Nina Rosario in the Off-Broadway production of In the Heights, where she received a Drama Desk Award; she additionally starred in the show when it ran on Broadway and appeared on the original Broadway cast album. Following her stint in In the Heights, she played Elphaba in Wicked on Broadway. She currently can be seen playing the role of Angelica Schuyler in the Broadway sensation, Hamilton!
No stranger to television and movies, Gonzalez' TV appearances include roles on Third Watch, The Good Wife, Quantico, and Madam Secretary, in addition to performances in films including Across the Universe and voice work on the Disney film, Mulan II.
---
The article continues after this ad
---
---
In 2017, Gonzalez released her first solo album, Fearless, a recording which features a title number written especially for her by In the Heights and Hamilton composer Lin-Manuel Miranda.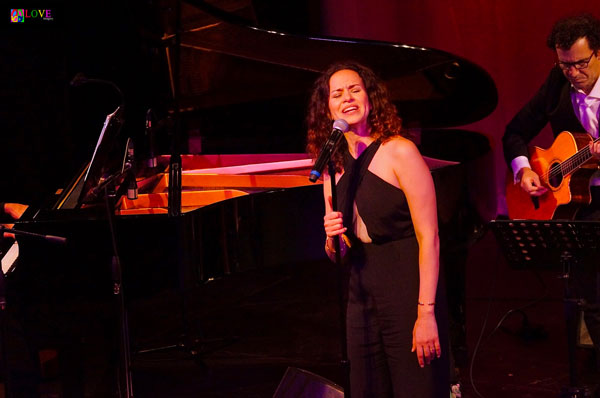 Spotlight Central recently caught up with Gonzalez and talked to her about her musical roots, some of her favorite Broadway performances, not to mention her upcoming Fearless show at Toms River's Grunin Center of the Arts.
Spotlight Central: Were you born into a musical family?
Mandy Gonzalez: I was definitely born into a family that loved music! Both of my parents worked, so the weekends were really their time to enjoy music. My mom would play a lot of Beatles' music around the house and then, on Sundays, we'd watch Elvis movies with my dad — so I definitely got a love of rock and roll through them.
Also, my grandma babysat us during the week and she was really into musical theater — big belty singers like Ethel Merman, Eydie Gormé, and Judy Garland. I was really the only grandchild who sang back to her and, at that point, she decided that I was too loud and that I was gonna hurt myself, so my grandma put me in lessons at a very young age.
So my family wasn't exactly musical in terms of being performers, but they were musical in the way that they had a love of music.
Spotlight Central: As a kid, did you sing in the school choir or perform in high school musicals?
Mandy Gonzalez: I did! I didn't do choir, but I did all of the musicals at my high school — shows like West Side Story and South Pacific. And my father, actually, was a singer when he was in high school — and I didn't realize that until I was about eight years old and his band had a reunion concert. I talk about this in my show, where I explain that my dad stopped singing when he went to Vietnam, and even when he came back, he no longer sang in his band, so, for years, I never knew my dad could sing.
But in high school, I did musical theater. And I also performed outside of school in a performing group called Rock Theater, where we would sing rock songs and theater songs. And I think it's a great thing to have parents who have no idea how to get their child ahead in a show business career, because my parents just knew I loved to perform, and so any opportunity I'd get to get ahead they would just say, "Yes!" So I would perform at malls, on boardwalks — pretty much anywhere I could sing.
Spotlight Central: We first saw you in your debut New York City role in Eli's Comin' — one of the early jukebox musicals that went on to inspire shows like Mama Mia. Were you already familiar with Laura Nyro's music before you got the role? And how did you feel about her music after you got the role?
Mandy Gonzalez: It's amazing that you saw that! It was actually one of my favorite experiences in New York. It was my introduction to New York theater, and what an introduction it was with Anika Noni Rose, Judy Kuhn, and Ronnell Bey! I wasn't familiar with Laura's music — although I knew The 5th Dimension's "Wedding Bell Blues," because of my parents' playlist in our house, and my dad was a fan of Three Dog Night, so I'd heard "Eli's Comin'" before. But once I started to learn about Laura's music and who she was — and that she was one of the first female singer/songwriters in the industry, and about the impact she had — I became a fan then, and I've remained a fan ever since.
I'm just so bummed, though, that we never recorded it! It was just one of those things and, then, people's careers just flew — Anika took off with Dreamgirls, and Judy Kuhn — well, her career was already huge — but it was one of those things where I still say, "If I only had that recording!" So I feel that when fans I meet come up and say, "I saw you in Eli's Comin'" [laughs] we share a little, sort of, underground secret.
Spotlight Central: And speaking of careers taking off, many people know you for creating the character of Nina in In the Heights. How did that come about?
Mandy Gonzalez: I was doing another show at the time — my third Broadway show — called Lennon. It was based on the life of John Lennon — and I played John Lennon — but the show didn't last very long.
After the show closed, my agent called me and said there was a young man who had written a musical about Latinos and he wanted an all-Latino cast for it. I was asked if I'd be interested in coming in to a reading, and after I said, "Ok," I was told, "He wants to meet you in the basement of the Drama Book Shop on 40th Street." Now, I had gone to the Drama Book Shop before, because I'm an actor in New York, and that's where you go to get your audition material, but I never knew there was a basement in there! So I went, and that's where I met Lin-Manuel and Tommy Kail — and Alex Blackmore I had already known, because I did the original reading for Wicked and he had worked on that.
So it was really the first time I'd met Lin-Manuel, and we put some songs in my key. And, after that, I went to the first table rehearsal for the show, and all the actors were there and we just sat around the table and Lin said, "I know you guys don't know any of the songs, so I'm just gonna sing 'em all." And Alex started playing and Lin started with "Lights up on Washington Heights…" and it honestly felt like history in the making because his career just blew up — the show blew up — and all of us went on this journey together. But that's how it all started — in the basement of the Drama Book Shop — so you just never know!
Spotlight Central: And speaking of Lin-Manuel, you're currently on Broadway playing the role of Angelica Schuyler in Hamilton where you get to sing our favorite song, "The Schuyler Sisters" — although "Helpless" is also really great, too — but what's it like being part of that phenomenal production?
Mandy Gonzalez: When I first opened the score for Hamilton at the first rehearsal, I was like, "Oh, my gosh, this is a masterpiece — he did it again!" But I was actually a part of the very first performance of some of those songs. Lin did a concert at Lincoln Center called Hamilton Mixtape, because he originally thought it was gonna be a record — you know, that's what he wanted to do with it — but he did Hamilton Mixtape and everyone was like, "This is a show! You have to write the show!"
So I was the first person to sing Maria Reynolds' first song which is "Say No to This," which was very cool. And even being a part of that concert, I knew that it was like In the Heights when I started singing it the first time — it was something that was electrifying and it made me want to be a part of it.
When I got the call to come and be a part of Hamilton, I was so excited, because there's this energy that takes place when you're [laughs] "in the room where it happens." Every night, as soon as the lights go out, the audience is cheering — before the show even starts — and that's never happened in any other show I've ever been a part of! And at the end, they're crying and cheering along — so they all come along for the journey.
And the show is telling the story of America that all can relate to — it's a story about humanity — so, for me, it's a very healing show to do every night, because it's a time when I feel that through art and music, we can all stand together. I'm still pinching myself that I'm a part of it — because it really is that role you dream of when you decide to become an actor and think, "I hope I can do something that is going to change the world," and I feel it has.
Spotlight Central: And you're doing your part in changing the world, also, with your latest album, Fearless. What was the inspiration for that recording which, really, is even more than just a recording — it's a movement.
Mandy Gonzalez: It is a movement! I started the Fearless Squad last year. It's a movement on social media — #fearlesssquad — and it has united hundreds of thousands of people from all around the world.
It's a movement about inclusion and belonging. I had so many people contact me and say, "I feel so alone — I want to talk, but I feel like there's really no place to do that." So I found a place where we could do it.
And the people I've met through this have honestly changed my life. There's a mother and daughter who are part of the Fearless Squad who joined when I started it last year. During the first six months we started, the daughter was being treated for cancer, and the mom wrote to me and said, "Do you think the Squad could send some love to my daughter?" And they did. Throughout all of her treatment, she had people in her corner from all around the world and they were all saying, "You can do it! We love you!" and providing words of encouragement. And I'm happy to say that at this time, she's cancer free!
So it's a celebration of humanity where we all stand together. We're all going through different struggles, and when we don't have to go through them alone, that's a beautiful thing.
And so it started with this movement, and then I decided I wanted to make an album for the Squad that would hopefully uplift them and inspire them to do things on their own in their own communities. I asked Lin-Manuel if he would write an anthem for the Fearless Squad and he said, "Yes," and then asked me what "fearless" means to me.
So I told him the story about my parents and how they met. They were pen pals when my father was in Vietnam. My father is Mexican-American and my mom is Jewish-American, and they fell in love through these letters. When my father came back from the war, he went to find my mother, but they were from "different worlds" — her family was not accepting of my father, and my mom had to choose whether she was going to go with her heart or stay with what other people wanted her to do. She went with her heart and my parents have been married now for 47 years.
And after I told Lin this story, he wrote the song, "Fearless," so that kind of started the whole album. And it really turned out to be a labor of love — I'm very proud of it.
Spotlight Central: And you're going to be doing your Fearless show at Toms River, NJ's Grunin Center of the Arts on November 2. What can audience members expect to experience at that show?
Mandy Gonzalez: I think they can expect to hear a lot of Broadway — a little bit rock and roll — and I think they can expect to experience some inspiration. And when I say "rock and roll," I do a song by Bruce Springsteen, who is one of my favorite artists. I married an Italian-American from New Jersey so Bruce Springsteen is definitely a must in our household!
And I'm going to be singing a couple of songs in Spanish that I recently put out on albums — and the show also involves the community. I asked students from some local high schools to come up and sing the Fearless Squad anthem that Lin wrote, so they'll sing it with me on stage. This show is all about coming out and supporting your community — supporting kids who have dreams and who love music and love standing together — so everyone should come see what it's all about and come be a part of it!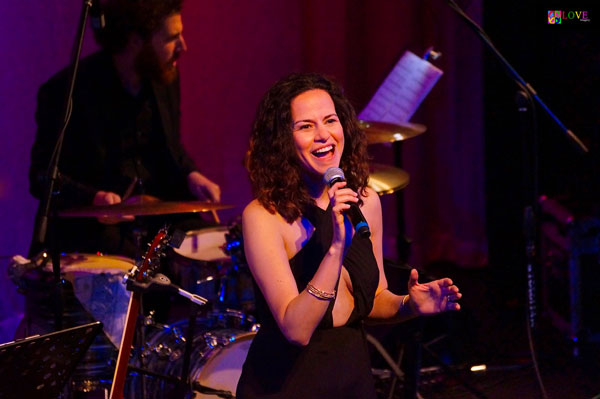 Mandy Gonzalez' Fearless will appear on Friday November 2, 2018 at 8pm at the Grunin Center of the Arts, located on the campus of Ocean County College in Toms River, NJ. Ticket prices are $42, $47, and $57 and can be purchased by calling the Grunin Center box office, Monday-Friday between 10am and 5pm, at 732–255–0500, or by clicking on grunincenter.org.
Photos by Love Imagery
Spotlight Central. Your source for Jersey entertainment news and reviews
Love Imagery Fine Art Photography. all you need. peace/love/flower/power