By Gary Wien
originally published: 10/21/2015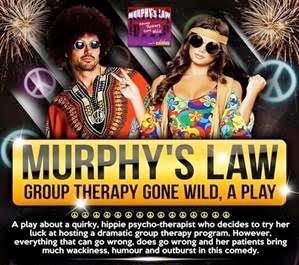 Murphy's Law: Group Therapy Gone Wild is a play by Andrea Clinton, niece of the legendary musician George Clinton.  The place will have its world premiere November 13-15 at the Hamilton Stage at Union County Performing Arts Center in Rahway as part of Union County Advancing Community Theatre (UCACT) program. 
The play is the first production by People Helping People, Arts & Entertainment, a non-profit organization founded by Clinton that helps citizens find jobs and offers referrals to agencies.  This branch of the organization seeks to help people via the arts.  
After years as an English teacher and high school principal, Clinton turned to writing and is involved with everything from books to plays to film scripts and poetry.  She is the author of several books in a series called "Life Knows No Bounds" and is working on a biography of her Rock and Roll Hall of Fame uncle.
 The cast for Murphy's Law: Group Therapy Gone Wild includes Dana Hawkins, Marshall Evans, K'von Madison, Doriane Swain, Jayna Strong, Peighton Bryant, Shiori Ichikawa, Erby Beauvil, Ashley Laroshe, Laymah Cisco, Alicia Whavers, Cely Rivera, Miguel Reis, Tiffany Stewart, Claushell Achille.
New Jersey Stage spoke with Andrea about the play.
---
The article continues after this ad
---
---
Tell me about Murphy's Law.  It sounds like a group therapy session run amuck. It absolutely is. MURPHY'S LAW: Group Therapy Gone Wild is so many things.  It's a play on monologues, as Dr. Kapewski's patients each share the issue that plagues them most. It's a feast of comical goings on; a play on mental health awareness and it advocates suicide prevention. It urges its audience members with mental health issues to seek help and educates family members of what it's like for their loved ones who internalize mental health issues; and since most of these patients are people from different classes, races and nationalities, they often clash, as personalities fly off the handle and certain group members i.e. characters fly off the chain gang, literally.
Does it blend the seriousness of mental illness and suicide with comedy? Yes, indeed, although there's no way to offer a comical relief about suicide, which is where things gets dark. The play is a dark comedy. The way I see it, life's a joke, right? And life can be very dark. So, with everything the play addresses, it just made sense that the play is written as such. Moreover, to deliver mental health issues and life events that we each face every day would've been sad and I feared it wouldn't attract audiences and if it did, it'd leave a bitter taste of reality. So I decided to break up the monotony by adding some elements of comedy and instead show that even in some of the worst circumstances and life events, we can find laughter. Much like when many of us say, "I had to laugh to keep from crying," it's almost essential that we sometimes chuckle and laugh an issue off of our shoulders.
It's not the easiest thing to do though, write a comedy, dark or otherwise, about such issues and calamities and surround them with elements set to bring forth laughter. Well, the act of writing isn't difficult, but digesting the darkness while writing about the characters seeking light at the end of the tunnel is, because we know mental health is not so meek an ailment. It's especially painful when you know the issues you've imposed on these characters' lives are happening to someone, even right now.
Has mental illness or thoughts of suicide directly affected your life or the lives of people around you?  Was the play inspired by a real life group therapy session? Yes, mental health has affected me on many levels. When I left the cut throat corporate world it was because I had a boss who wanted me to fire people for little things and was just—I couldn't do it. The pressure I endured watching her pick with the employees I supervised was team-too-much. I began having panic attacks, then seizures and when I went out on a medical leave of absence, I became depressed. In order to continue getting paid via my medical benefits, I had to go to group therapy, and I remember gazing around the room as if I'd encountered a feast for writings to come. I didn't write about any of their lives, I felt as though it would be a betrayal of the worst kind. However, they did inspire me to bring mental health awareness to the forefront when bringing these monologues together. My goal with the play, as with my books, is to show that life isn't out to get you.  It just doesn't know boundaries, much like what I did with my book series, "Life Knows No Bounds."
I turned up the mental health issues and suicide when my nephew died, then Robin Williams (aka Mork from Ork) died and then two weeks before the workshop of this play, my sister died as a result, many years later however, but as a result of complications from a suicide attempt. I HAD HAD IT! I needed to do something. I was so mentally beaten and brutalized by this issue of mental health and suicide, and I kept referring back to the feeling I had when I was in group therapy and it really started to feel as if this was a calling—a must write.
You've written novels, poems, film, and plays.  What points you in the direction of the stage for a story? Well, my grandmother was the director for the Right to Read program in Newark's school system. So she started me writing as early as 7 years old and since we were reading plays at the time, it was actually plays I began writing first and I never strayed. It was only later in high school when I read a short story by Charles W. Chestnut that I began writing fiction. I wrote my first film in 10th grade when I tried my hand at writing a script, a sequel to the gang movie, Warriors. I also write poetry, which I began in junior high school. With all these different areas of interest, theatre always called out to me. It actually brings tears to my eyes when I think of the accomplishments thus far, winning grants, acceptance into festivals in an area I initially didn't put too much stock into, even though I continued to write.
What do you hope to accomplish with the People Helping People productions? I'm hoping PHP, A&E can produce plays that offer anecdotes, remedies, and empower others: those being bullied, abused, stressed or beaten up.
Is this your first full staged production of one of your plays? Yes it is. I've written many plays, however, this is the first play that I've ever produced, thanks to Mohamed Jalloh and the UCACT program.
As a local artist, how important is it to have local government supporting the arts? It is extremely important that local government partake in furthering their citizens' dreams, aspirations and more. Turnabout is fair play, right? A government body that supports its people is a government heavily supported. We citizens are all so unique and have so much to contribute to our municipality, county, state, country and when our government makes a way for us to contribute to society, via the arts, sciences, etc., it is the village working together for a common cause, our species preservation, preserving our way of life. What this grant has done for me as a playwright and PHP, Arts & Entertainment is remarkable and I'm sure it's been a great assistance to the other theatre companies who received the grant as well. It's also been a learning experience. In addition to being both a funding and in-kind service, it's taught me a lot about promoting a production and publicity. It also provided an opportunity for me to exercise those producing things-to-do I learned in graduate school and it's opened doors for me. I've been received by people in the theatre world who initially bid me well on a totally different level. Now, I'm invited to submit my plays, having meetings about partnering to produce this play and asked about others I have in my repertoire. I've even been approached by a director about licensing the play—this is all because I won the Union County's Board of Chosen Freeholder's UCACT grant award to produce Murphy's Law. Programs such as UCACT enable residents to get a head start in the industry, exposure and gainful experience. I am ecstatic that Union County Board of Chosen Freeholders and staff accepted my play and proposal submission helping us in educating citizens about mental health awareness and suicide prevention, especially since it's a relevant issue in this country today.
You were diagnosed with Lupus several years ago.  How did the diagnosis change your life?  Did it inspire you to start the "Life Knows No Bounds" series? Although Lupus made me buckle down and publish my work, it wasn't the big inspiration for my "Life Knows No Bounds" series. The series was in fact inspired by life itself and how people deal (or don't deal) with it. Lupus did, however, flip my life upside down. I was so sick upon being diagnosed and doctors spent four months tending to me, not knowing what was wrong, so I was at a point of welcoming any diagnosis, for meds, for peace of mind. I was lifeless and lost my gumption. I went through depression. Then, I didn't want to be around people anymore. I still get that feeling quite often, "Like a dog going into the woods to die alone," as it is said in my play. Eventually I gained more spirit and one thing I can attribute to knowing how you may possibly die, you seem to want to contribute to making the world a better place. You want to help people, make a difference and often, save the world from itself, which I guess for me is where my writing comes in.
Lupus inspired me not to start it, but to see the series through, even when it takes me three times as long to do what it takes the average author, due to sickness, Lupus flare ups and the blood clotting disease it caused (APLS). It felt like life through me a curve ball, and I don't even play baseball. Seeing how people dealt with life made me want to write the series; to the point I found myself explaining in each book that, "Life isn't out to get you, it just doesn't know boundaries."
I feel a heavy weight of responsibility to share my story and so I begun a memoir titled, "Living With Lupus: a quiet nightmare" by Andrea Clinton. I don't know that I can add comedy elements to make this less gloomy but it will be a book about my experience/plight, others' experiences and inspiration in spite of the war on Lupus I've waged.
What are the biggest challenges you face as a writer due to Lupus? Keeping up with the Joneses. What other people can do or accomplish, it often takes me triple the time. I can begin a project on a good day and do well, until I have bad moments. On a bad day, I will suffer what there is to suffer and on that bad day, have a good moment or more, begin writing or doing something to further my endeavor to achieve a career in entertainment. Sometimes lupus inspires a great work and at other times it's a setback. As my rheumatologist says, "It's not the disease that's killing you, but the ailments the disease caused in the beginning…" and people wonder why I have no time for play. I'm on a mission to do, to write, to achieve. The weight of time being of the essence weighs heavy on my chest.
Finally, how is your biography/screenplay on George Clinton coming?  Any idea of a release date?  No release date in sight, maybe 2017 as I must do this book and screenplay justice. George wrote a memoir sharing with readers about his experience with music. In respect of his book and allowing the story of his music career to be told, I'm pacing myself with publishing the story of his and the family's life, growing up in Newark, New Jersey.
Some years ago when my grandfather, George Clinton, Sr. passed away, I was speaking with my uncle George about writing his screenplay and possibly a book about his life; but I was focusing on his life, not life in the music industry. However, George, after some not so great experiences in the music business, wants to share his experience in the music industry, the people he's met, worked with, industry goings-on, legalities and other items he feels is relevant for all to know, especially those going into the music industry.  So, it just makes sense to let the book on his music career and experience breathe.  Give it its proper time as he tours and does book signings all over the world. Then, I'll follow up with the film and book of his and the family's life, which is very interesting and at times, very funny and gives an inside view of some of the goings-on that made the man. I think people will not only be enlightened to who George the man is, but through learning about his family, my grandparents, my father and their other siblings, old friends and the neighborhoods he lived in; people will understand more of why so many of his songs have a deep and often subliminal, yet key message.
For more on Andrea Clinton

website: www.teaclinton.com

blog: www.andreaclinton.me

twitter: @Teaclinton13
---
Gary Wien has been covering the arts since 2001 and has had work published with Jersey Arts, Elmore Magazine, Princeton Magazine, Backstreets and other publications. He is a three-time winner of the Asbury Music Award for Top Music Journalist and the author of Beyond the Palace (the first book on the history of rock and roll in Asbury Park) and Are You Listening? The Top 100 Albums of 2001-2010 by New Jersey Artists. In addition, he runs New Jersey Stage and the online radio station The Penguin Rocks. He can be contacted at gary@newjerseystage.com.
---