By Spotlight Central
originally published: 10/30/2017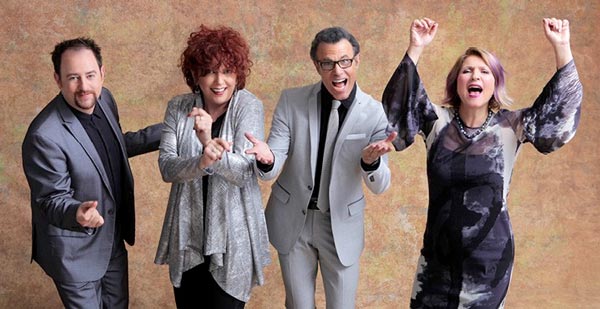 One of the most acclaimed and innovative of all contemporary vocal groups, The Manhattan Transfer, will perform at NJPAC's Victoria Theater in Newark, NJ, at 7:30pm this Saturday, November 4, 2017!
Known for their chart-topping pop hits, in addition to performing a cappella, swing, Brazilian jazz, and R&B — not to mention tunes from the Great American Songbook — whatever type of music the group decides to sing, they infuse it with their world-famous polished and elaborate four-part harmonies.
The Manhattan Transfer was originally formed in 1969 by the Jersey Shore's own Tim Hauser. Two years after the group disbanded, Hauser restarted the vocal quartet with new members Laurel Massé, Janis Siegel, and Alan Paul.
Honing their act in clubs in NYC, the foursome recorded a demo which was released by Atlantic Records. This recording — the quartet's breakthrough 1975 album, The Manhattan Transfer — produced a Billboard Top 20 hit, "Operator."
In 1978, Massé was replaced by Cheryl Bentyne. The group's first album with Bentyne — 1979's Extensions — produced the hit "Twilight Zone/Twilight Tone," a song which earned a Grammy nomination for Alan Paul. It also included a cover version of Weather Report's "Birdland," created in the musical style known as vocalese — a type of singing in which vocalists add words to jazz instrumental compositions. With lyrics by Jon Hendricks of the jazz vocal trio, Lambert, Hendricks, and Ross, the quartet won a Grammy for Best Jazz Fusion Performance and a Grammy for Best Vocal Arrangement went to Janis Siegel.
---
The article continues after this ad
---
---
The Manhattan Transfer made music history in 1981 by becoming the first group to win Grammy awards in both the popular and jazz categories in the same year. "The Boy From New York City" — a song which reached theBillboard Top 10 — won them a Grammy for Best Pop Performance by a Duo or Group with Vocal, and "Until I Met You (Corner Pocket)" earned them a Grammy for Best Jazz Vocal Performance by a Duo or Group. Both songs came from the same Manhattan Transfer album, 1981's Mecca For Moderns.
In 1982, the group won yet another Grammy for Best Jazz Vocal Performance by a Duo or Group for its rendition of "Route 66." Moreover, Vocalese, released in 1985, received twelve Grammy nominations making it, at the time, second only to Michael Jackson's Thriller as the most-nominated album ever.
1995's Tonin' — a collection of R&B and pop tunes from the 1960s — featured the Manhattan Transfer vocalists performing with a number of well-known guest artists. Collaborations included "Let's Hang On" with Frankie Valli, "Groovin'" with Felix Cavaliere, and "La-la (Means I Love You)" with Laura Nyro. The group also included innovative arrangements of such additional numbers as The Association's "Along Comes Mary" and Brian Wilson and the Beach Boys' "God Only Knows."
In 1998, The Manhattan Transfer was inducted into the Vocal Group Hall of Fame. Today, the quartet continues to tour and record despite Tim Hauser's death in 2014, at which point, singer Trist Curless was invited to join the group.
In addition to Manhattan Transfer founding member, Tim Hauser, group member Alan Paul also hails from the Garden State, having been raised in Newark. Paul began his professional career on Broadway at the age of 12 in the original cast of Oliver! He graduated Newark State College — now Kean University. After graduation, Paul returned to Broadway, performing the dual role of Teen Angel/Johnny Casino in the original cast of Grease where he introduced such well-known songs as "Beauty School Dropout" and "Born to Hand Jive."
Spotlight Central recently had an opportunity to chat with Alan Paul about his Jersey roots, the early years of The Manhattan Transfer, several of their most innovative recordings, and their upcoming Saturday, November 4, 2017 concert at NJPAC's Victoria Theater in Newark.
Spotlight Central: As a youngster, how did you get involved in music?
Alan Paul: It started with my family. My grandfather was a cantor in Newark, NJ, and it kind of came through my mother. And then I actually started singing at the South Ward Boys Club in Newark — [laughs] that's where it all started! — because I just loved to sing and I was very much encouraged to do so. And then I started studying in New York with a man named Charlie Lowe — he had a studio for kids — and that's kind of how I got started.
Spotlight Central: And how did you get involved in The Manhattan Transfer?
Alan Paul: When I graduated from Newark State College — which is now Kean University — I got into the original Broadway cast of Grease — actually, first it was off-Broadway, but then on Broadway. And some of the guys in the band were looking to get a record deal, so they were playing in a club, and I went to see them. Singing background for them was Laurel Massé and Janis Siegel — so that was really the first time I had ever heard either of them sing. Both Laurel and Janis had independently met Tim Hauser, who was driving a taxi in New York, and the three of them — Tim, Laurel, and Janis — were talking about putting a group together and were looking for a fourth singer. So Laurel's boyfriend — who was our drummer in Grease — recommended me, because he knew I was into a lot of different kinds of music and had studied music in college, so that's kind of how it happened.
Spotlight Central: And the rest was history?
Alan Paul: [Laughs] Yes, the rest was history.
Spotlight Central: You mentioned Tim Hauser — founder of The Manhattan Transfer — who was just recently honored by the city of Asbury Park, NJ, thanks to his contributions to the city's musical legacy. With his recent passing, how do you feel his musical legacy continues with the group?
Alan Paul: Well, it continues every night when we walk out on the stage. We always honor Tim. He was our foundation. You know, this was his dream — his idea — that we took and expanded on over the years. So he is always with us in that sense, musically, and that's how his legacy continues with us — through the music.
Spotlight Central: When The Manhattan Transfer started, it seemed to be more of a jazz vocal group. Were you surprised in 1975 when "Operator" became a Top 20 pop hit?
Alan Paul: Well, I would think that we were more of a nostalgia group — although we really hated that term. We never referred to ourselves as a nostalgia group, because to a new audience, what we were doing back than was not nostalgic — it was something that was fresh; it was only to people who knew the music originally, it was nostalgic.
But we did that type of music for six years and, also, on our first album, which we recorded once we signed with Atlantic Records; so, basically, the first album was comprised of the kind of material we were doing live. And "Operator" was on that first album, and it become a hit. And we were so green, we had no idea if anything was gonna really work [laughs].
But "Operator" was released as a single and it became very popular, actually, in the South. And when we first went there to play, the audience was primarily black because — at least, for those who only heard the single — they thought that we were a black group.
Spotlight Central: Because you sounded very soulful?
Alan Paul: Well, yeah, I mean, especially with Janis. You know, the first time I met her — at that gig — she sang Aretha Franklin's "Dr. Feelgood." So she had those roots.
Spotlight Central: One of our favorite albums is Extensions, with those very innovative vocal arrangements on "Birdland" and "Twilight Zone/Twilight Tone." How did you come up with the ideas for those arrangements?
Alan Paul: Well, "Birdland" was Janis' idea. She had heard Weather Report's instrumental version of "Birdland," and she thought it was like a pop record of the future. She thought it could apply itself so well to have someone sing it.
So originally we comissioned Eddie Jefferson — a great vocalese writer and singer — to write the lyrics. And he was working on it, but unfortunately he was killed. And when we went to his widow, we asked if he had written anything down, and she said she knew he was working on it, but he didn't have anything.
So then we went to Jon Hendricks — because we had a relationship with Jon early on from doing "Four Brothers" and "I Want You to Be My Baby" and "Doodlin' — that was Jon's stuff — and we went to Jon to ask him if he would write it, and he said, "Oh, I already wrote it!"
Spotlight Central: [Laughs] Wow!
Alan Paul: [Laughs] Yeah, that's Jon! That's how that came about — and that got us our first Grammy.
And "Twilight Zone/Twilight Tone" was my creation. I was always a big fan of Twilight Zone and, early on, I used to do a Rod Serling impersonation when we would play live. And so I just had this idea. The theme for Twilight Zone kind of became something that was "beyond" — it sort of became a point of view. If anything unusual — maybe hinting of the supernatural — would happen, people would go [sings] Da-na-na-na, na-na-na-na" and everybody understood what that was.
So I went to the group and I said, "I've got this crazy idea. I know you're gonna think I'm nuts. But I've got this idea to do a vocal interpretation of The Twilight Zone. And they all looked at me, and went, 'Uh, ok.' And then I got together with Jay Graydon, who was the producer of that album, Extensions, and Jay and I wrote it.
Spotlight Central: One of our all-time favorite feel-good albums is Tonin'.What was it like working with such great artists as Frankie Valli, Felix Cavaliere, and Laura Nyro on that album?
Alan Paul: It was really quite amazing for us. Frankie Valli had been a friend for a very long time — he was especially very good friends with Tim. So we had done stuff with Frankie in the past. I remember playing at the Greek Theater in LA, and Frankie came up and we did some Four Seasons' tunes — so that relationship was always there.
And Felix Cavaliere? I was such a Young Rascals' fan. That was my idea to do "Groovin'" and I wrote the vocal arrangement for that. And Felix is still so cool — we've stayed buds since that time.
And Laura Nyro — that was really special for Cheryl — and for all of us really. Because Laura was such an amazing artist and writer, and she was reclusive. By the time we did the album, she wasn't really doing much of anything at all — by choice — and her health wasn't really that good. So we were so thrilled when she agreed to do that — to sing 'La-la (Means I Love You).'"
Spotlight Central: And that turned out to be one great recording.
Alan Paul: Thank you.
Spotlight Central: And with respect to your November 4 concert at NJPAC's Victoria Theater in Newark — what can audience members expect to experience at this show?
Alan Paul: We're celebrating our 45th anniversary — it's 45 years from 1972 when the second incarnation of The Manhattan Transfer with Tim, Janis, Laurel, and myself started. So in honor of that 45 year anniversary, we're doing this show. We have some songs we haven't done in years that we worked up just for the occasion. And we're gonna have some other special surprises — I'm not gonna tell you what they are — but I am very excited about performing there, especially because I'm from Newark. For me, personally, it means a lot. I have a lot of family and friends who are going to be coming, so it will be a special night.
Spotlight Central: And is there anything else you'd like to add?
Alan Paul: Only that we have a new album that we just finished up — it's coming out in the Spring — and we have our new member of the group whose name is Trist Curless, and he's wonderful. He started subbing for Tim when Tim was ill — so he's a part of our family — this long, extensive family. We have so many people who are connected to The Manhattan Transfer — musicians, people who have worked with us, staff — a lot of people, and a lot of history. So we're thrilled to be coming to Newark and to be able to share our music with our fans!
The Manhattan Transfer will perform on November 4, 2107 at 7:30 pm at NJPAC's Victoria Theater located at 1 Center Street in Newark, New Jersey. Ticket prices are $69-$89. For tickets and/or information please call 1–888-GO-NJPAC or click on http://www.njpac.org.
Spotlight Central. Your source for Jersey entertainment news and reviews
Love Imagery Fine Art Photography. all you need. peace/love/flower/power