By Spotlight Central
originally published: 05/28/2018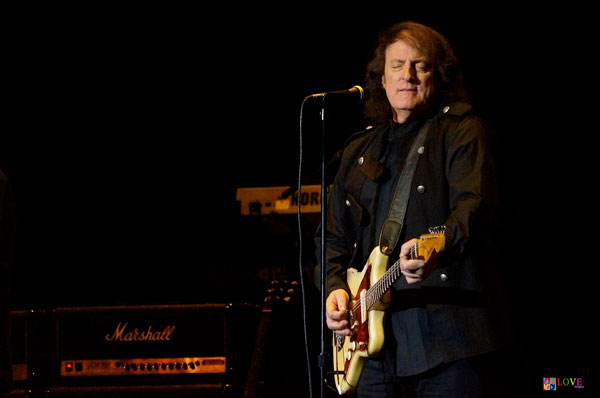 It's drizzling and cold this May 12, 2018 evening in Englewood, NJ, as we dodge the raindrops and duck into a local pizzeria for a hot bowl of soup and a tasty slice of tomato pie.
As we enjoy our meal, we come upon several fans of classic '60s music, all getting a quick bite to eat before tonight's concert at Englewood's own Bergen Performing Arts Center by '60's icon Tommy James and his band, The Shondells!
Exclaims Priscilla from Park Ridge, "I adore Tommy James! My sister and I grew up listening to him — we always played his tapes. Whenever I hear his song, 'Crystal Blue Persuasion,' my heart melts," before confessing, "When I was a teenager, I even bought a 1969 Plymouth Duster because the color was 'Crystal Blue'!"
Going on to acknowledge, "I saw Tommy perform last year, and when he came down into the audience during 'Mony Mony,' I tripped and fell and wound up right in his arms — and he was so nice!"
Priscilla's sister, Diane from Lodi — who reveals the siblings have seen Tommy James perform live nearly a half dozen times together — discloses, "but we love seeing him here at BergenPAC — it's convenient, all the seats have a good view, and the sound is great!"
---
The article continues after this ad
---
---
Lastly, we chat with a family of musicians — "Mama" Lisa from Bridgewater and children Kylee, Tyler, and Anna — who have their own music group called The Green Planet Band.
Says Lisa, "I'm a music teacher and I taught all of the kids how to play." Although The Green Planet Band has performed gigs at various locations around the United States, the group can often be found on the Boardwalk in Asbury Park playing songs by artists including Buddy Holly, ABBA, and Linda Ronstadt.
States the band's drummer, Tyler, age 10, "When I grow up, I want to be a musician," acknowledging that one of his favorite songs is Glen Campbell's 'Rhinestone Cowboy.'"
His twin sister, Anna — who plays the bass — concurs stating, "I also want to be a musician," before revealing that she especially likes the song "Goodbye Earl," by The Dixie Chicks.
Lastly, Kylee, 12 — the band's lead singer, who also plays guitar — tells us she's a fan of Janis Joplin's "Piece of My Heart." One thing that Kylee, her siblings, and "Mama" Lisa can agree on, however, is that they all love to play Tommy James' hit, "Crimson and Clover" with their band!
Explains Lisa, "That's why we're attending tonight's concert — to hear him play that song," before confessing, "and we're also all hoping to meet Tommy James, as well!"
After finishing our meal, we make our way around the corner and enter the BergenPAC lobby where we spot actor Al Sapienza, known for his work on such popular television series as The Sopranos, House of Cards, and 24.
After explaining that he's currently working on a new TV series for Amazon Prime entitled Tom Clancy's Jack Ryan — in addition to a movie about Al Capone called Fonzo — Sapienza says about Tommy James' performance this evening, "I'm expecting brilliance tonight! He's a great songwriter and performer, and he constantly delivers!" Music is something that Sapienza knows something about since he spent several years on Broadway singing and playing the drums while performing the role of "Ringo Starr" in Beatlemania!
We exit the lobby and take our seats in the beautiful BergenPAC auditorium where the lights dim and comedian Buddy Fitzpatrick takes his place on the stage and immediately quips, "I was told I'm not getting an introduction tonight, so here I am."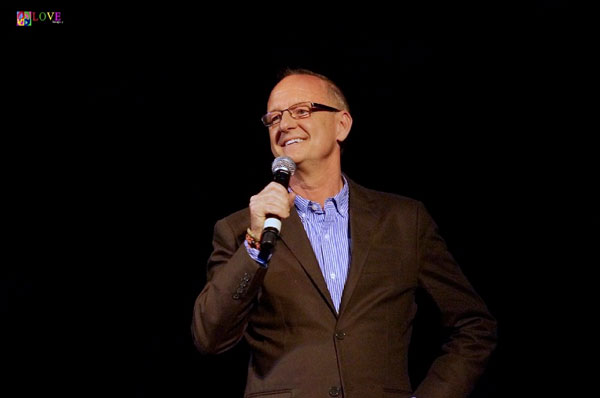 Providing the packed house with comic observations of his life as a father of teenage girls, detailing the trials and tribulations of communicating with electronic personal assistants like SIRI, and sharing his experiences regarding dating as a middle-aged man, Fitzpatrick has this BergenPAC crowd roaring with laughter!
Following a short intermission, band members take their places on stage, and Tommy James is introduced amidst energetic cheers and applause.
A rockin' bass line has everyone instantly tapping their feet as James opens with his 1971 solo smash, "Draggin' The Line." His voice sounding as rich, full, and resonant as ever, he and the band thrill the BergenPAC audience with their big Tommy James and The Shondells sound!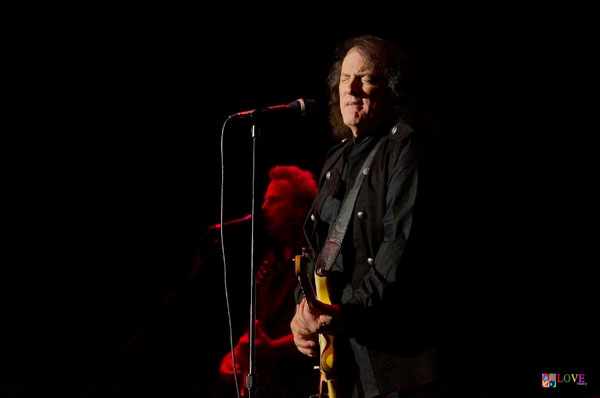 As a breezy tremolo electric guitar plays out, James croons the lyrics to his popular Top Ten hit, "Crystal Blue Persuasion," its powerful message of "Love is the answer," as timely today in 2018 as it was when James originally recorded it a half-century ago in 1968.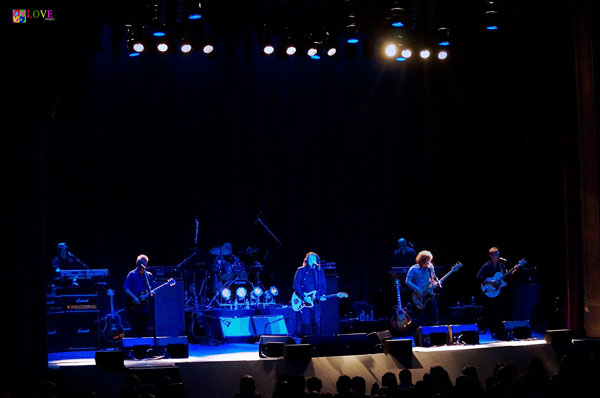 Wailing guitar and classic organ stand out on the group's next number, "Say I Am," before James and company delight the crowd with the bubblegum sounds of "Getting Together." Segueing into the "This Old Man"-inspired "It's Only Love," fans in the audience clap their hands together as they happily sing "It's only love/Tryin' to get through" with Tommy James and his Shondells.
After warmly welcoming the crowd, James takes a moment to tell the audience about his memoir, Me, the Mob, and the Music, a book which is slated to become a major motion picture. According to James, when he and his bandmates originally signed to their record company, Roulette, none of them had any idea it was a front for one of the most powerful organized crime families in New York City. In the final scene of the movie script, explains James, following a tumultuous career with the label, the mobster who ran Roulette dies and a song is played where Tommy can say an "imaginary goodbye" to the man who made him and his music famous, but also, at times, made his life a terrifying ordeal.
The song is a slow, melodious, thoughtful — and mainly "unplugged" — version of "I Think We're Alone Now," presented in the form of a contemporary power ballad featuring Tommy on acoustic guitar.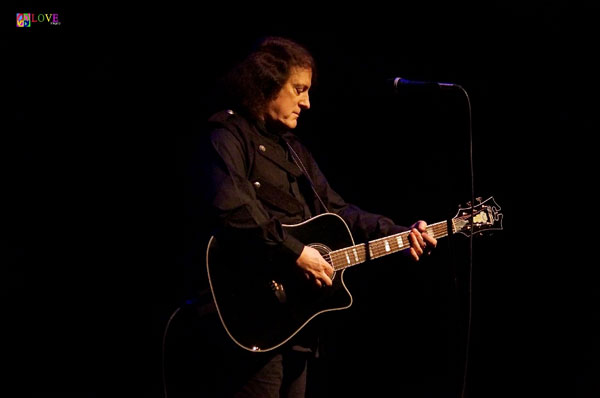 Following huge applause, James and the group move on to one of the musical highlights of the evening, a powerful and driving rendition of "Ball of Fire" — a song which features stunning live vocal harmonies from Tommy and rest of his talented musicians.
The performers follow that up with a tune which James wrote and produced for the group, Alive N Kickin', back in 1970. Filled with great harmonies and mighty power chords, he and the boys — notably John Golden who's featured on a wailing lead guitar solo — rock the house with their electrifying version of "Tighter, Tighter."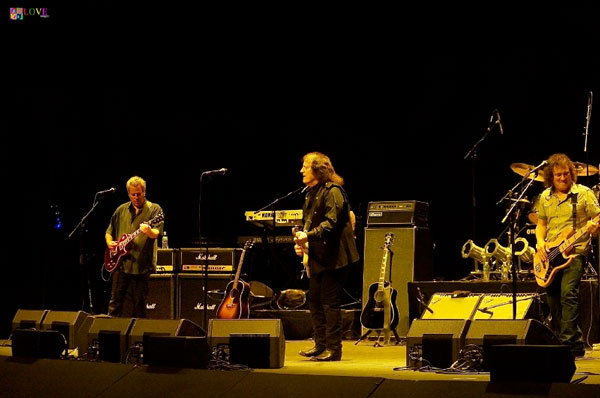 The crowd cheers as Tommy and the band ramp things up even further with a performance of James' #1 smash from 1968, the psychedelic "Crimson and Clover" — a record which sold over five million copies. With Tommy singing lead — accompanied by a veritable wall of sound behind him — he and the group sound like a symphony!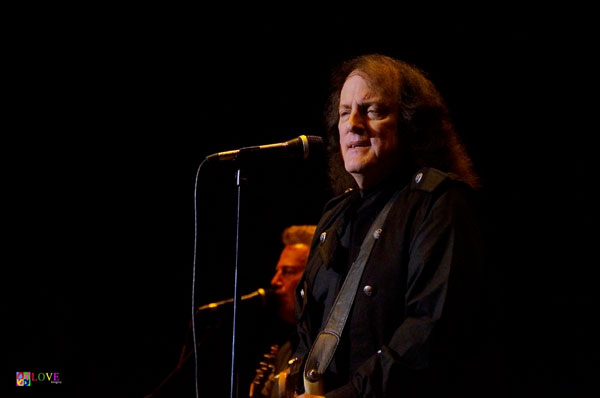 While lights flash to the rhythm, the famous wailing tremolo on the final refrain, "Crimson and clover, over and over," reverberates throughout the auditorium and fills the souls of the fans in the house "over and over," bringing the entire BergenPAC crowd to its feet!
Standing and cheering, the guys' next song really gets the fans moving — TJ and the Shondells' 1966 release of the Jeff Barry and Ellie Greenwich classic, "Hanky Panky." On this number — James' very first #1 hit record — audience members are out of their seats dancing to the infectious beat! As they joyfully rock and roll to the music, Tommy and bassist Greg Smith rock out too, in front of the electric BergenPAC crowd.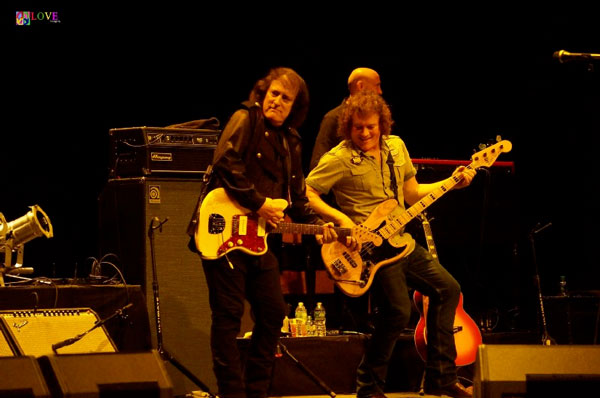 The hits keep a-comin' with a reprise of "I Think We're Alone Now" — this time, presented as an up-tempo number just like the original 1967 #4 charting single — where audience members sing along and dance at their seats with their hands in the air.
James and the band follow that up with a spirited rendition of 1968's catchy "Do Something To Me," the audience screaming with approval for Tommy and his music!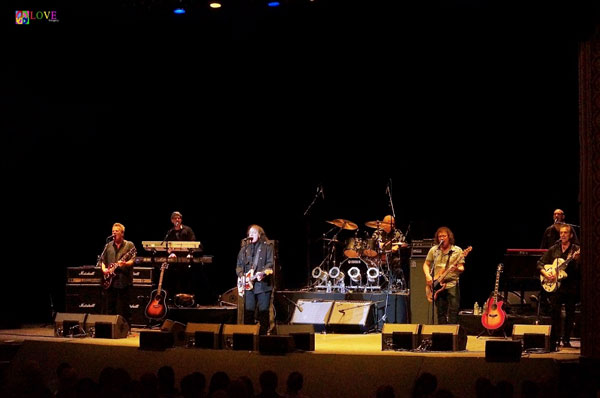 Following excited cheers and applause, the James' gang launches into an incredible extended version of one of the greatest party songs in the history of popular music, 1968's Top Ten smash, "Mony Mony!"
The audience happily claps along as James exits the stage and makes his way into the audience shaking hands. As he meets and greets fans throughout the auditorium, the rest of the Shondells play their hearts out, jamming and filling the room with swirling sound as the lights pulse along in time to the music.
As the musicians on stage continue to sing, "You make me feel…so… good!" James is escorted back onto the stage for a final coda of "Mony Mony" where he introduces the talented members of his band — John Golden on lead guitar, Jonathn Ashe on rhythm guitar, Greg Smith on bass, Mike Dimeo on organ, Bobby Guy on synthesizer, and Glen Wyca on drums — each musician individually featured on his respective instrument as the group shines on this monumental arrangement of the song.
Following tremendous applause, the musicians take leave of the stage, but soon return for an encore performance of James' soulful 1969 Top Ten hit, "Sweet Cherry Wine."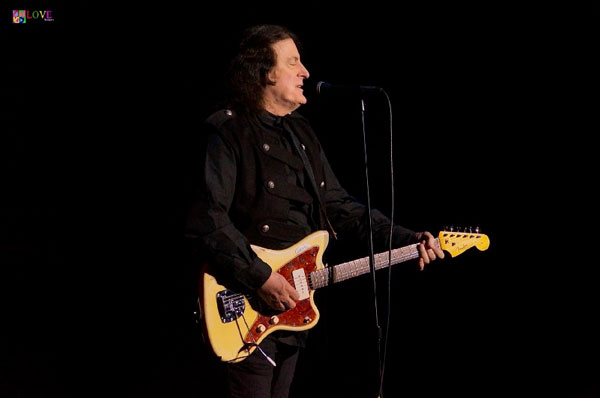 Then, Tommy and the guys launch into a rollicking rendition of 1967's "Mirage" and finish up with a rockin' reprise of "Mony Mony," after which audience members leap to their feet with sustained cheers and applause!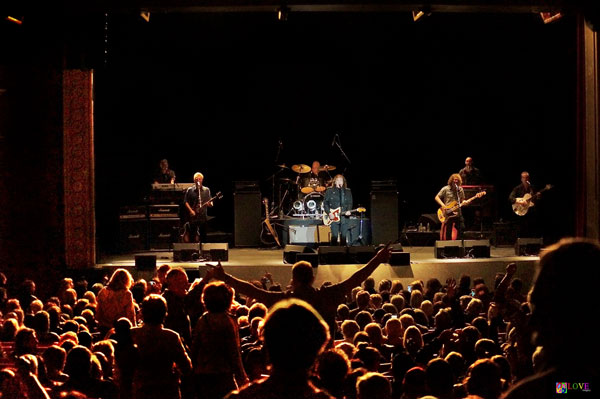 As the happy crowd makes its way out of the auditorium and back into the BergenPAC lobby, we happen to catch up with Priscilla and Diane, the siblings whom we met earlier at the pizzeria.
Exclaims Priscilla, "Tommy James was incredible — every song was incredible — and his voice is better than ever!" Her sister, Diane, agrees, adding, "The whole show was fantastic!"
We also happen to come upon "Mama" Lisa and the kids of The Green Planet band, waiting in line to meet their idol, Tommy James.
Declares "Mama" Lisa about tonight's show, "Tommy James has a lot of energy! For me, 'Crimson and Clover' and 'Mony Mony' were the best!"
Daughter Kylee agrees with "Mama," asserting, "'Crimson and Clover' was just amazing — I just loved the lights on it — and how the whole audience was into the music!"
We also catch up once again with actor Al Sapienza who remarks, "Tommy James was fabulous — he has incredible songs!" adding, "That catalog of hits — where does it come from?"
Declaring, "I've always thought that the opposite of war is not peace — it's art," Sapienza explains, "Art brings everyone together," before concluding, "Tommy James brought everyone together tonight. He's an American master."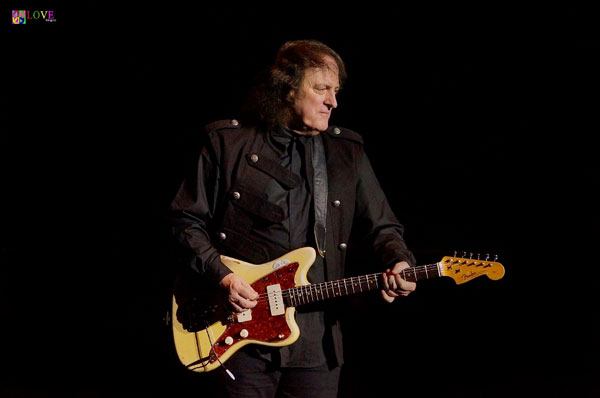 For more information on Tommy James and The Shondells, please go to tommyjames.com. For information on Buddy Fitzpatrick, click on buddycomic.com. To learn more about The Green Planet Band, check out thegreenplanetband.com. For info on upcoming concerts at BergenPAC — including The 2018 Happy Together Tour featuring The Turtles, Three Dog Night's Chuck Negron, The Cowsills, The Association, Gary Puckett & The Union Gap, and Mark Lindsay of Paul Revere & The Raiders on June 19 and Hippiefest 2018 with Vanilla Fudge, Rick Derringer, Mitch Ryder & The Detroit Wheels, and Badfinger featuring Joey Molland on July 25 — please click on bergenpac.org.
Photos by Love Imagery
Spotlight Central. Your source for Jersey entertainment news and reviews
Love Imagery Fine Art Photography. all you need. peace/love/flower/power