By Gary Wien
originally published: 06/16/2015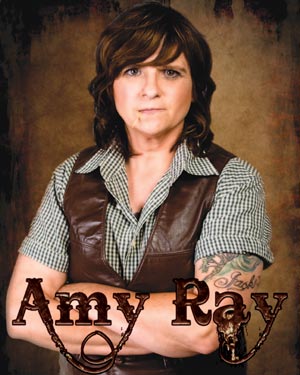 The Indigo Girls are back with their first album in four years (One Lost Day) and a tour that will include a number of shows in New Jersey and New York. New Jersey Stage caught up with Amy Ray to discuss the new tour and the band's beginnings back when college radio and indie record stores were still major players in the industry.  We also had a chance to talk to her about the band's activism and the issues they care about.  They are known for their work towards peace, justice and human rights; women's health/hiv/aids; native & environmental; queer; independent media; music community; and voter education issues.
So, we asked her if she could only promote and push one issue, what would be the most important to her.
Oh, that's not fair (laughs).  I have to say it would probably be racism.  Honestly, that covers the Native American work that we do and it covers the criminal justice and the death penalty work we do.  I think that would probably be the most important issue.
They're all inter-connected, isn't it?
Yeah, it's all inter-connected and I think racism is this thing… I mean, you see it now.  We're making so much progress in the United States and other places in gay issues — there's obviously a lot of work to be done and there's still a super high teen suicide rates and all the really bad stuff with queer issues — but I live in a rural area of North Georgia and I swear to you that gay people are accepted here before a person of color is.   To me, if you want to be free you have to free everyone.  
I think racism is the thing that plagues our country, especially right now.  It's been on the news lately in Baltimore.  It's happening and it's so hard to get a grip on it.  It's so hard to change the fundamentals and to change people's perceptions.  It's a long entrenched thing that is hard to shift and racism affects everything.
---
The article continues after this ad
---
---



You mentioned queer issues.  Would you rather be known as a lesbian musician or rather never have anybody bring that up?
It's… I don't want it to be… I guess because of my activism and because we're in the midst of social change, I'm proud to be known for that.  But you can't eat your cake and have it too.  I'd rather they look at the music before they focus on my lifestyle, but there's no way to realistically say my being queer — my sexual orientation — has not affected my music or the way I write on the songs I write or the stories I tell.  But, you know, art should be something that different people can relate to for different reasons  and it shouldn't always be within the lines that only gay people can relate to gay music.  It's just like the way I can relate to a great song by the Replacements and Paul Westerberg.  I can relate to a song he's written and I'm not a straight white guy, but I can relate to that song as well as if it was my own story.  I would hope people can see our music, at least some of our music, in that way.  Maybe not all of it, but some of it.

I was just wondering because of your activism what you'd rather see as an end result? Would you rather still be queer and proud or have everyone believe we're all equal? Or does it even matter?
I hope we get to a time when that's true.  I hope we get to that Star Trek Next Generation moment when those boundaries just don't exist or it's a whole different set of things we didn't think about.  It would be great to get to that place, but because we're not in that place I don't mind being known for that.  I love it when someone can see beyond that and can just relate to it because it gives me hope.

Last question, considering we're at the beginning of a Presidential race… do you think it's important to elect a female as President (whether Hilary Clinton or someone else)?  
I think it's important at some point to elect a woman President, but I don't ever believe we should elect somebody just because they are a woman.  I think it would be a big mistake and do a disservice to women in general.  So, it has to be the best person for the job.  

I never like to, as an Indigo Girl, endorse a specific candidate because I think people should be voting on issues and voting on what they feel and not on what somebody else tells them to vote.  But I do think we should all vote.

What do you think that would do to inspire or help the next generation of women?
It would be amazing! It would be a total advancement for our country.  We would be seen differently and it would change the profile of our nation internationally.  Yeah, I think it's important at some point. I think it's important that a women can get elected.

 

For an interview with Amy Ray about the band's upcoming tour and their early days back when college radio and indie record stores were still major players in the industry click here.

See the Indigo Girls Live

July 23 @ City Winery, NYC

July 24 @ BergenPAC, Englewood, NJ

July 25 @ WesthamptonPAC, Westhampton Beach, NY

July 26 @ XPoNential Festival, Camden NJ




---
Gary Wien has been covering the arts since 2001 and has had work published with Jersey Arts, Elmore Magazine, Princeton Magazine, Backstreets and other publications. He is a three-time winner of the Asbury Music Award for Top Music Journalist and the author of Beyond the Palace (the first book on the history of rock and roll in Asbury Park) and Are You Listening? The Top 100 Albums of 2001-2010 by New Jersey Artists. In addition, he runs New Jersey Stage and the online radio station The Penguin Rocks. He can be contacted at gary@newjerseystage.com.
---