By Gary Wien
originally published: 06/16/2015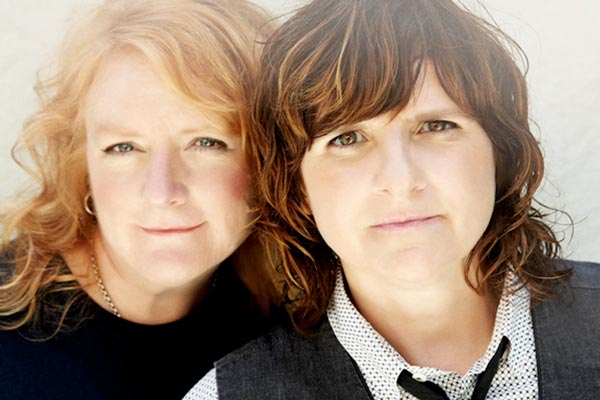 The Indigo Girls are back with their first album in four years (One Lost Day) and a tour that will include a number of shows in New Jersey and New York.  The duo of Amy Ray and Emily Saliers first met in elementary school in Decatur, Georgia and began singing together during high school.  They've been releasing records since the late 80s with this being their 13th overall.

In the years between the band's last release, both women have become mothers and Ray released two solo records.  There was never a doubt they would return to recording together, but they decided they did need to bring new people on board to get the sound they wanted.  They enlisted the services of producer Jordan Brooke Hamlin (Lucy Wainwright Roche), brought on mixer Brian Joseph (Bon Iver, Kathleen Edwards), several new musicians, and recorded the album in Nashville, TN.

"We took some chances on the making of One Lost Day, with a new producer, engineer, and various musicians," Saliers said. "Stretching like that felt liberating to me. Each song tells a story of where we've been and what we've thought about, whom we've met, and the travels we've had. It is a travelogue on lessons learned and love lived. I'm so glad we brought Jordan Hamlin on board to take us to new musical landscapes for this group of songs. And my relationship with Amy feels further strengthened by the collection of these songs and the diligent effort to make them the best they could be."

According to Ray, the title sums everything up.  "This is about the one lost day that rekindled and infused with our spirit to find that making music is just as vibrant and full of passion as it's ever been for us!"

New Jersey Stage caught up with Ray to discuss the band's beginning during a period of time in which college radio and indie record stores were still major players in the industry.

You've got a couple of shows coming to our area, will that be with the full band or as a duo?
With the full band.  Our record will be out on June 2, so we'll be playing new songs and playing older songs too.  It's gonna be a real fun tour.

---
The article continues after this ad
---
---



Your self-titled record was one of the first I ever played on college radio.
Wow! Yeah, college radio was sort of in its heyday during that time.

Maybe closer towards the end…
It was like just before a really great amp blows.  It always sounds good and then you lose it!

Back then you still had the dream of being a DJ and being able to play whatever you wanted.   Is it frustrating to be an artist who was there when there was that freedom for someone to see you in a club and start spinning you the next day and then to see the red tape it takes to get airplay today?
Yeah, it's very frustrating.  I think, for me, I feel like the change happened gradually.  We'd been together for so long and it was just a gradual disintegration of that sort of freedom and the maverick-ness of radio.  Remember when people would break songs? Great DJs were famous for introducing us to artists and it was just an amazing time.  I think it gradually eroded over the years.  It's almost like I knew it was happening, but I didn't have that bad thing that new artists have to go through now where they look at the landscape and say, "Jesus, I wish I could have experienced radio in its heyday."

And it's true.  I just feel lucky that I got to experience it because I know people in their 20s who just pine for the days that we had in the mid and late 80s when there was a lot going on in the indie world.  I think there's a lot going on now, but it's more on social media and the Internet.  It's a different ball of wax.

I think about the stations we had around here and the DJs, they were all looked up to because they were considered the ones that did take risks and play something that no one had ever heard.  You looked up to a DJ for doing that and now they can't even do it.

For a lot of people, that's why you became a DJ.
Yeah! Because you're a music fan and you know you're going to be able to turn people on to some really cool stuff.

I think satellite and internet stations try to keep that vibe going, but do you think we'll ever see a reversal of FM? Or is the corporate landscape here to stay?
Oh God… I mean, I don't know.  Maybe if there is an apocalypse or something and all the corporations die! I think it's hard to say because I'll listen to a station that's not in Georgia and I can get exposed to music from someone that has a cool internet station or podcast.  I think it's harder for it to have the power it would have on radio on a local or regional level because it is so spread out.  We don't have the regionalized scenes that we used to have where Athens was famous for its music scene or Austin or Atlanta or whatever.  There's some of that, but it's not to the degree it used to be and I think a lot of the things we had go hand in hand.  You used to have a great radio station hooked up with a great newspaper hooked up with great indie record store and they all kind of worked together with each other.  

So, I can listen to a cool broadcast out of Nebraska, but it's not going to have the same impact as if it was in my own town and it was a maverick DJ.  Like if the Sex Pistols were coming to play a show and they just played a song and I'd go get tickets and go to the record store and buy the record.  It was like a snowball effect and I don't think that is going to happen again.

But it remains to be seen because I think we're still in the midst of a revolution and the gatekeepers are changing.  The old gatekeepers are dying off.

Indie record stores… another thing gone.  In a way, the Indigo Girls were fortunate to be there to establish a name before a lot of stuff went away.
Yeah, we got lucky.  We could practice until we're blue in the face and tour and play a million dates and have a great work ethic but if that window had not been open for us, we would not be where we are today.  And that window was that last little portal of time in which college radio was still accessible to us and indie record stores were around — that's what we counted on.  Indie record stores, indie radio, and indie media.  With all that together, even before we got signed to a label, we were able to establish a touring circuit and sell our records out of the car and at indie stores and consign them at places.  Remember consignment? That was another crazy thing we did back in the day!

All that stuff was at our fingertips and we were able to build our career even before we were signed.  We had the groundwork and the confidence that if we didn't want to be in the label situation, we could always go back and do it ourselves like we had done before. So, yeah, I consider us to be incredibly lucky timing wise.

This is the first record by the Indigo Girls in four years.  You've had a couple of solo releases in that time.  Did you ever think of calling it quits with the band or did you just know the two of you will always be together in some way?
No, we never thought of calling it quits.  We definitely have an agreement that we don't do a record until we're ready to do it.  And we needed that time to step back from the other one.  We both had kids and I did want to do some solo stuff.  It wasn't because I didn't want to do the Indigo Girls, it was more like when I see the Indigo Girls aren't going to be doing something  that's when I'll fit in a solo record.  I think some of it was writing wise, we needed some time to write and more time than usual, and that is what happened.  

We do have an agreement with each other that we don't do things until we're both ready and we always try to balance career and family and sanity, and that's always been the case.  We don't want to make a record just for the sake of it.  We want to be into it and do the best we can and evolve and keep creating and meeting new people and growing.  We know we could play "Closer To Fine" and "Galileo" and it would be fine, but we want to be the band you want to hear a new song from.   I know the old songs are always going to be important to people and I appreciate that, but I love it as a fan when I go to see a musician play that I want to hear new music from.  It means something to me if that musician is so inspiring to me that I want to hear what they're creating now.

For more on Amy Ray's thoughts on racism and the upcoming presidential election click here...

See the Indigo Girls Live

July 23 @ City Winery, NYC

July 24 @ BergenPAC, Englewood, NJ

July 25 @ WesthamptonPAC, Westhampton Beach, NY

July 26 @ XPoNential Festival, Camden NJ

 


Photo by Jeremy Cowart

---
Gary Wien has been covering the arts since 2001 and has had work published with Jersey Arts, Elmore Magazine, Princeton Magazine, Backstreets and other publications. He is a three-time winner of the Asbury Music Award for Top Music Journalist and the author of Beyond the Palace (the first book on the history of rock and roll in Asbury Park) and Are You Listening? The Top 100 Albums of 2001-2010 by New Jersey Artists. In addition, he runs New Jersey Stage and the online radio station The Penguin Rocks. He can be contacted at gary@newjerseystage.com.
---