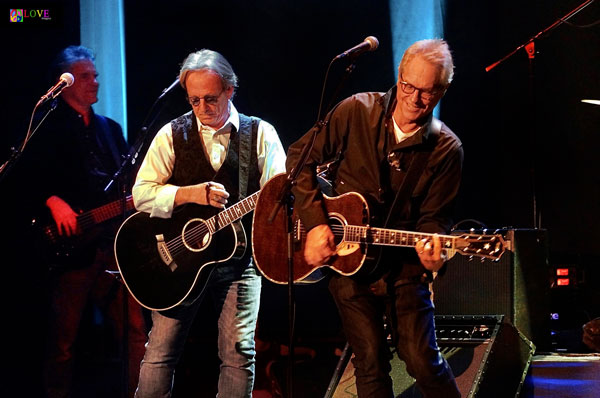 2018 marks the 48th anniversary of the band, America!
Founding members Gerry Beckley and Dewey Bunnell — along with former bandmate Dan Peek — met in high school in London in the late '60s. As children of American servicemen stationed in London, the young musicians decided to name their band America so they wouldn't be confused with actual British groups who wanted to sound American. The trio ultimately made their way up to the top of the charts with a brand of melodic pop rock which incorporated elements of folk, jazz, Latin, and country music.
After winning the Grammy for Best New Artist in 1972, starting in 1974, America began work with George Martin, well-regarded for producing the vast majority of recordings by The Beatles.
Over the course of their career, six of America's albums were RIAA certified gold and/or platinum and their History collection of greatest hits went multi-platinum, selling over four million units.
Peek departed from the group in 1977, leaving Beckley and Bunnell to continue on as a duo. The pair's growth as singers, songwriters, and performers has continued to the present day with such millennial releases as 2007's Here and Now, 2011's Back Pages, and the group's newest release, 2015's Lost and Found.
---
The article continues after this ad
---
---
Similarly, America's audiences have continued to grow, going on to comprise a legion of first, second, and third generation fans, all bearing testament to the band's enduring appeal.
On Friday, February 23, 2018, the America tour made a stop at the State Theatre in New Brunswick, NJ to perform a concert for a sold-out crowd of 1970s-era music lovers!
In the State Theatre lobby before the show, we get an opportunity to chat with America's young drummer, Ryland Steen, a member of the group for the past three and a half years.
Steen tells us it's not uncommon for him to come out and chat with audience members before an America concert explaining, "The reason I like hanging out with the audience before the show is because I like conversing with people — it's kind of like a party — and it calms me. Then, during the show, we'll celebrate a night of music where we'll play all of our hits!"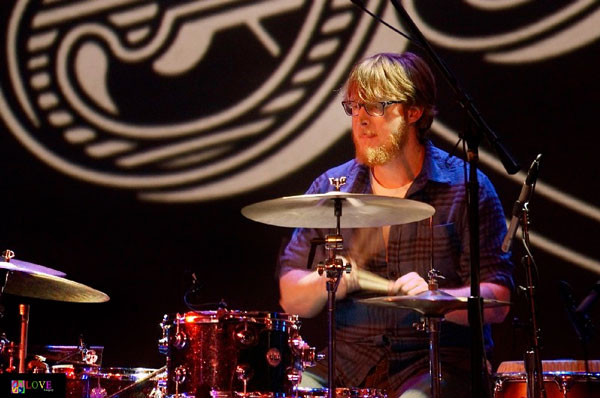 A singer/songwriter himself, Steen is a long-time friend of America founding member Gerry Beckley's son. When the band's drummer retired, Steen was asked to join the group.
Having had such close ties with the Beckley family, Steen jokes, "It was kind of like I was joining 'Uncle Gerry's' band," before noting, "Because Gerry is such an unassuming guy, it wasn't until I had become a member of the group that I learned what kind of history this band has had. Now, I feel lucky to be a part of a group that has been so influential!"
When asked his thoughts about performing with America here in the Garden State, Steen says, "This is the first time we've been at this particular venue, but we've played Jersey before! Jersey crowds seem to be a bit more boisterous — there's a bit more energy in the air! And — as with audiences everywhere — it's always great to see the expressions on people's faces when we break out into a certain song," noting, "We're all here to enjoy that moment."
As we make our way into the historic State Theatre auditorium, we see that the stage is set up with drums, guitars, keyboards, and lots of amps and microphones, in addition to an enormous screen which reads "America." Before the show begins, we even notice fans going up to the foot of the stage to take selfies with the "America" backdrop in their photos!
The lights dim, and the large on-stage screen flashes images of a younger America against a backdrop of memorabilia and photos from prior tours as the band — Ryland Steen on drums; Rich Campbell on bass; Andy Barr on guitars, banjo, and keyboards; and original members Gerry Beckley and Dewey Bunnell on guitars — takes the stage.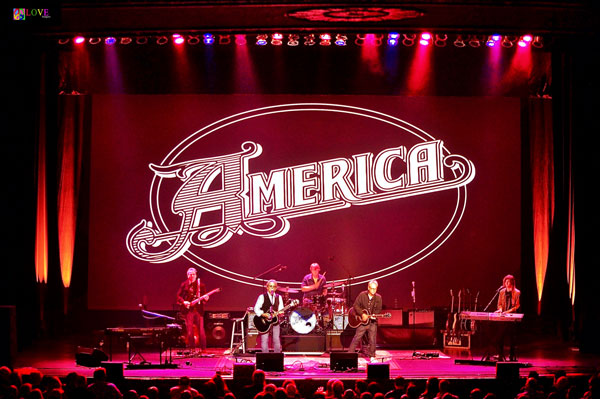 Opening with "Tin Man," Dewey Bunnell takes the lead on the group's 1974 Top 5 hit. Singing, "But Oz never did give nothing to the Tin Man/That he didn't, didn't already have," Bunnell's voice sounds just as it did over four decades ago!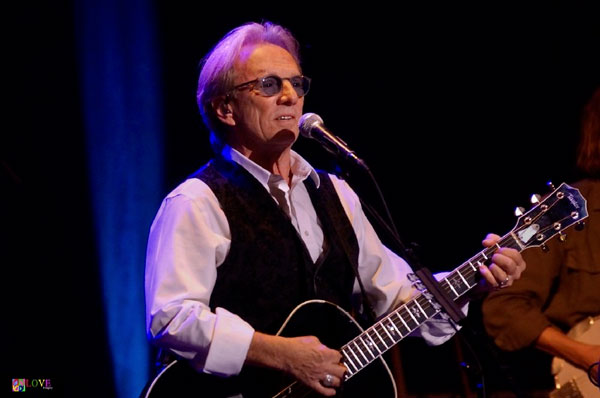 The joyful strumming of Bunnell and Beckley's acoustic guitars fill the hall, supported by Rich Campbell — a 15-year band member — on bass, in addition to relative newcomers Ryland Steen on drums and Andy Barr on keyboards.
Following enthusiastic applause from the crowd, the group launches into their 1982 Top 10 hit, "You Can Do Magic," featuring Gerry Beckley on lead vocals.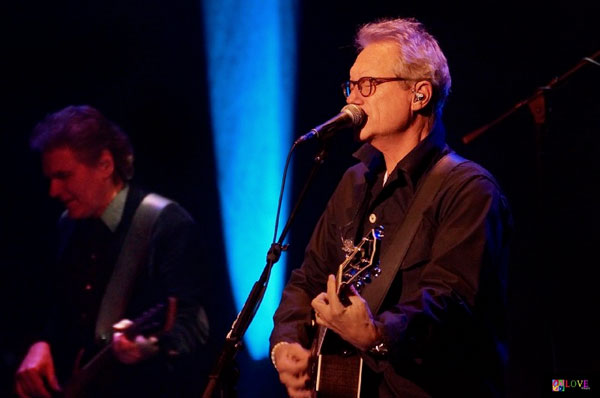 The audience sings along with Beckley as Andy Barr switches over to electric guitar, complimenting the acoustic guitars of Beckley and Bunnell. As the group performs, lights turn overhead, raining streams of beams over the musicians.
The crowd cheers and, together, Bunnell and Beckley welcome the crowd promising, "We're gonna play everything we know!"
Moving on to an album cut from 1972, the group performs the catchy folk-rocker, "Don't Cross the River." Steen's energetic drums drive the number ever forward as Andy Barr sings lead while picking on the banjo and Bunnell and Beckley provide tight vocal harmonies.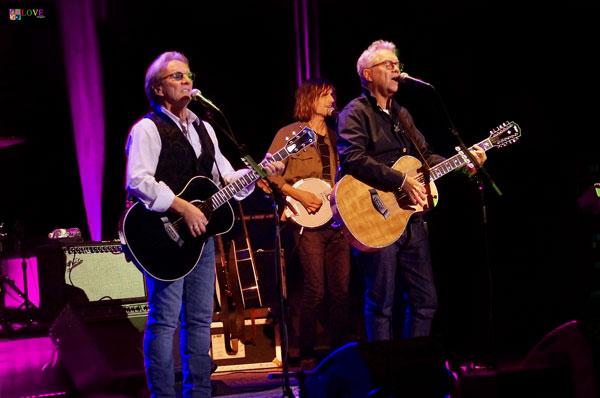 Following more audience cheers, Bunnell announces that America is now "in our 48th year!" after which, he introduces his long-time partner Gerry Beckley acknowledging, "Gerry has been writing and singing those love songs and ballads for years."
As Beckley switches over to keyboard, he and the band perform his original composition, the group's 1975 Top 20 hit, "Daisy Jane." Singing the popular chorus, "Does she really love me, I think she does/Like the stars above me I know because/When the sky is bright, everything's all right," the audience drinks in the memories the song evokes and happily sways to the music.
Bunnell introduces the next number stating, "This next song is from 1971, so we're reliving our youth!" The audience cheers as the group performs a number which Bunnell refers to as "the first song from the first side of our first album." Entitled "Riverside," Beckley strums his guitar on the tune's extended intro before Bunnell takes over the lead vocals on this rhythmic folk rocker.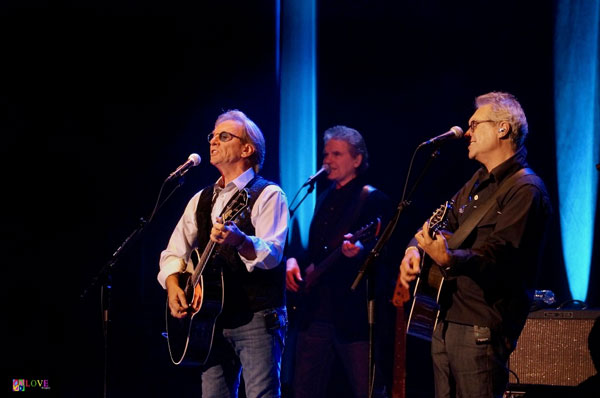 Bass player Rich Campbell moves over to the piano for the next tune, the group's 1972 Top 10 single, "I Need You." Beckley sings the lead on his original composition, and the rest of the band accompanies him with top-notch vocal harmonies on the famous "I need you/Like the flower needs the rain/You know I need you/Guess I'll start it all again" power chorus.
Segueing into their 1971 album cut, "Here," images morph on the screen during the slow guitar introduction and continue to change as the band plays. Soon, the tempo picks up and there's a spirited Andy Barr electric guitar solo in addition to a booming Rich Campbell bass solo. Lights flash at the conclusion of the tune as several of the musicians flick their picks into the audience!
A highlight of the evening's performance is the group's rendition of their 1972 Top 10 hit, "Ventura Highway." Featuring the band's trademark hammer-on guitar introduction — not to mention excellent vocal harmonies — the group sings about "alligator lizards in the air" and "purple rain" in this classic Dewey Bunnell composition which sounds crisp and clean in this live concert setting.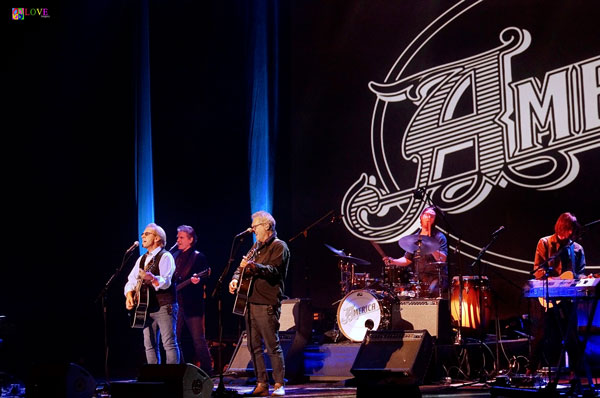 By the song's conclusion, the audience is cheering on its feet!
Moving on to the opening song from their 2015 album, Lost & Found, the band performs "Driving," a catchy tune which features a driving rhythm, wonderful background harmonies, and a vintage 1960's era Glen Campbell-style twangy electric guitar solo.
Revealing that "George Martin produced us from all over the planet," the group performs an album cut originally produced by Martin — "Monster" from 1977's Harbor. Singing about all "the things that you'll never do," tight vocal harmonies abound, accompanied by crystal clear guitar strumming on this unique ballad.
Driving drums and keyboards support America's tribute to The Beatles — a dynamic performance of "Eleanor Rigby" which not only inspires cheers from the audience but a Bunnell and Beckley fist bump at the end.
As the "America" background graphic morphs into swirling colors, the band performs its 1972 album cut, "Cornwell Blank." Vocal harmonies are front and center on this song in which the group majestically sings, "I've been down to the water/I've been on top of the world/Somebody should come and see me/Somebody should give me the word."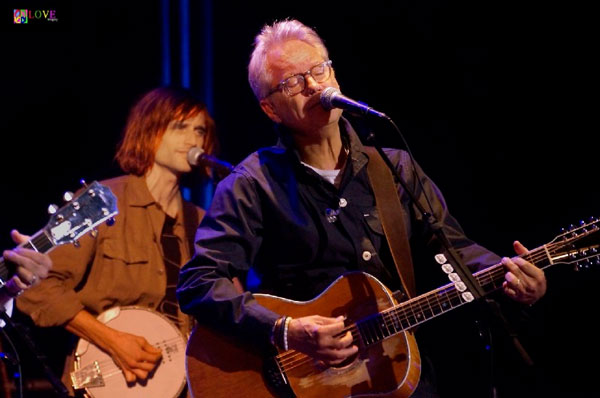 Images of America's star on the Hollywood Walk of Fame flash on the big screen behind the band as the musicians performs their 1974 tune, "Hollywood." Andy Barr's lively electric guitar solo rocks the house as images of Hollywood movie and television luminaries flash overhead. After the audience applauds for Barr's musical solo, Bunnell jokes, "That was dangerously close to jamming!"
Moving on to another rocker, the driving beat underscores the band's 1983 Top 40 hit, "The Border," a powerful performance which features Bunnell and Beckley providing twangy guitar solos.
Green lights rain down on the musicians as they perform an album cut from 1994's Hourglass entitled "Greenhouse." As Steen's playing conjures up images of a young Ringo Starr's fab style of drumming, Bunnell's voice sounds rich and full on this bluesy rocker.
A reggae feel permeates "Woman Tonight," where Beckley's voice parallels Graham Nash's as he sings and accompanies himself on the piano. The song also features a cool Andy Barr guitar solo which sounds reminiscent of the famous "backwards guitar solo" on The Beatles' "Tax Man!"
Beckley and Bunnell take a moment to share some of their experiences with the audience about their years growing up in London as "U.S. Air Force military dependents." They talk about having the pleasure of seeing many artists play in London "between 1967 and 1969" including "Jimi Hendrix, The Who, and The Rolling Stones," while also spending time listening to the "vinyl of The Byrds, Simon and Garfunkel, and the Beach Boys."
Acknowledging their next number is "a song from that era," America performs their compelling rendition of the Mamas and the Papas' "California Dreamin'" Opening with a stoic keyboard introduction, a leaf falls on the screen before the band picks up the tempo and "lightning" strikes behind them to accompany the music.
Paying homage to their former original bandmate Dan Peek, Beckley plays harmonica — and the audience sings along — on another highlight of tonight's show, Peek's 1974 Top 5 composition, "Lonely People." Bass player Rich Campbell — about whom his colleagues say, "plays the lowest notes and sings the highest notes" — beautifully performs the gorgeous high vocal descant as the group sings, "This is for all the lonely people/Thinking that life has passed them by/Don't give up until you drink from the silver cup/And ride that highway in the sky."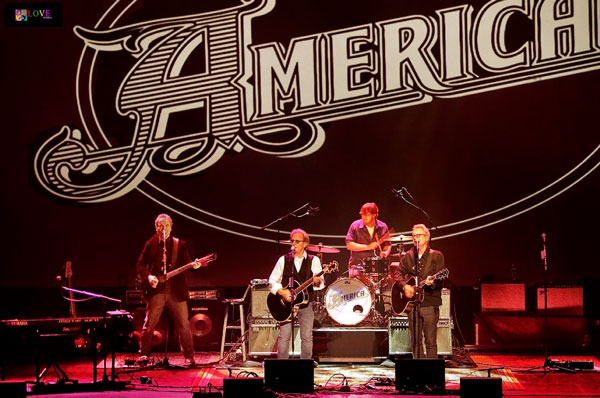 Following huge applause, Bunnell and Beckley introduce each of the band members to the crowd. They also introduce all of the America crew members before thanking the members of the audience for their long-time support and making them feel like a valued part of their musical family, as well.
Moving on to yet another highlight of the show, America performs their 1971 song, "Sandman," a number which was never released as a single but received airplay on album-oriented rock stations thanks to its dynamic music and Vietnam War-oriented lyrics. As the music swirls and builds, images of 1960s-era historic events flash on the screen, adding to the overall power of the presentation.
After enormous applause, America concludes the evening's concert with a lively rendition of their 1975 #1 hit, "Sister Golden Hair," the sold-out crowd on their feet happily singing along and cheering at the end.
The band members take leave of the stage, but the crowd continues to hoot, holler, and cheer until they're sure America is coming back for an encore!
To the audience's delight, Bunnell, Beckley, and company return to perform America's 1972 hit that rocketed straight to the top of the charts. Still on their feet, the audience joyfully sings along with the group on "A Horse with No Name" until the very end when Bunnell and Beckley declare, "We love you — take care of yourself."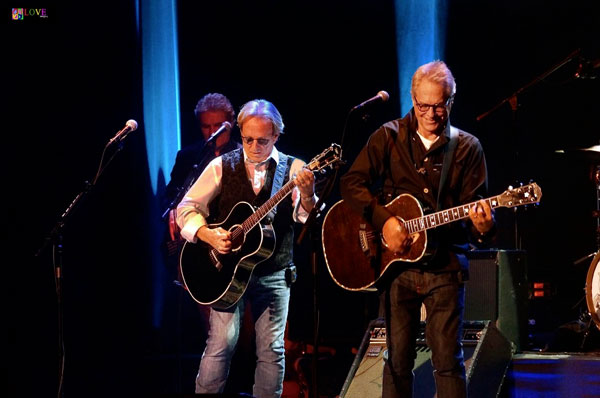 As audience members happily make their way out of the auditorium and back into the State Theatre lobby, we chat with several music lovers in the crowd who share their opinions of tonight's performance by America.
Comments Terry from New Brunswick, "America was great tonight! This is the second time I've seen them. I think their voices are strong and their harmonies are better than ever," before noting, "And it's nice to have young blood in the band, too!"
We also chat with a family of two generations of America fans who came to enjoy this concert together — brothers Harley and TJ and their mother, Evelyn — all from Hightstown.
Reveals Harley, "I grew up hearing this music — my mom introduced me to it! This is my second time seeing America," before adding, "and their song, 'Tin Man' really strikes a chord with me."
Brother TJ concurs, acknowledging that his favorite song is "You Can Do Magic," and declaring, "I've gone on to introduce America's music to my wife, and now she enjoys it as well!"
Mom Evelyn explains, "My mom turned me on to this music when I was little and then I played it for my kids — so it's really a three-generation thing within our family!"
Acknowledging, "I've been to lots of America's concerts," Evelyn recalls, "I started taking my kids when they were three or four years old. I love all of the group's songs — most people don't realize how many hits they have! It's amazing to me that they can still sing like they do," before promising, "I'll come next year to see them again."
Lastly, we come upon a group of gentlemen in the lobby who also share their opinions of America's performance with us.
Comments Jim from New Brunswick, "I like how versatile America is — how they're able to play so many different kinds of songs."
Tom from Basking Ridge adds, "And the young guys bring energy to the band — they inject a different new life to it." Revealing, "I saw America a few years ago, but I think they are even better tonight," Tom additionally remarks, "To me, Gerry and Dewey seem to be energized by the addition of such youthful musicians!"
Ray from Lawrenceville agrees. Acknowledging, "I've been a fan since 1975," Ray recalls, "I saw them in 1975 at Middlesex County College, and I've seen them many times throughout the years. Nowadays, though, it's like you're seeing a different show. The young musicians add a huge amount of 'juice' to the performance! And, if you're a real America fan, now you'll hear songs in their shows that they just don't play on the radio," going on to exclaim, "so, for me, tonight's concert was just great!"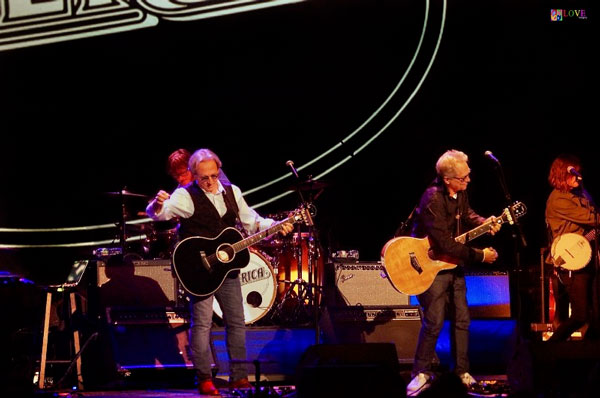 To learn more about America, please go to venturahighway.com. For information on upcoming performances at The State Theatre — including Patti LaBelle on April 8, George Thorogood and the Destroyers on April 19, Kool and the Gang on May 12, and The Temptations and The Four Tops on May 13 — please click on stnj.org.
Photos by Love Imagery
Spotlight Central. Your source for Jersey entertainment news and reviews
Love Imagery Fine Art Photography. all you need. peace/love/flower/power