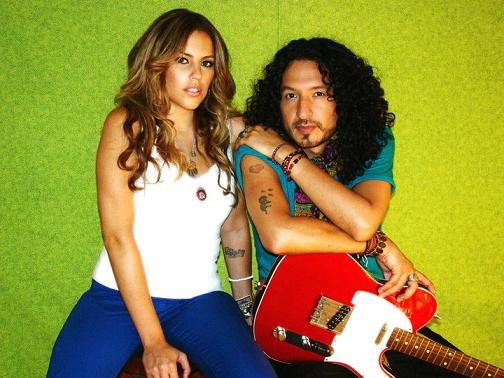 Tell me about your new project. When did it start and who's in the band?
"Love at the Bodega" was a band I started after deSoL decided to take a break from the "grind". L@theB has been together since this past summer. We have been getting together working on arrangements to songs I have been writing with my partner Sally Perez. I reconnected with Sally in Williamsburg Brooklyn. A chance meeting outside a corner Bodega and talking about music was all we needed to start writing and creating a vision for a new band. Sally shares the vocal duties with me in the band.
The Band consists of musicians from Philly: Nezhi Antakli (percussion) from the West Philadelphia Orchestra, Nathaniel Wurschulz (Bass), Eric Aldrich (keys), Michael Dibernardo (guitar), Shawn Hennessey (drums) from Leana Song, myself (Albie Monterrosa), and Sally Perez.
We are beginning to book shows and start the growth of the band. Our first show was in N.H for WZID. We have a show booked at the Grape Room in Philly on Thurs. Dec 9th and at the Wonder Bar in Asbury Park on Sat. Dec 18th. More shows to follow.
There are definite plans for a new record but right now I'm having fun writing and being free creating. Cant wait to get into the studio! Will keep you posted this.
How is this new band different from your work with deSol?
I really didn't set out to create anything different from deSoL. Im still interested in mixing the latino thing with the american rock and pop. It has worked for me since I founded deSoL in 2001. The audience for this is forever growing. Sally Perez my vocal and writing partner is first generation Latino American like myself. We grew up the same way.
If anything is different it's the fact that I am working with a different group of dynamics and feeling freer these days to write whatever I want to write. deSoL got to the point where there was a feeling of always trying to sound or "be" deSoL. I think our audience loved the band as long as we delivered a great uplifting performance and a good song to sing.
The biggest difference with Love at the Bodega is splitting the vocal duties with Sally and getting that Strong female energy in the mix. She is a powerful, beautiful creative spark of energy. She brings the yin to my yang!!!
With deSoL you toured throughout the country, have you been able to build off that band's fanbase for the new project?
Yes! I've been fortunate that the love for deSoL is also love for what I do creatively. We've always connected to our fans in a strong and intimate way. I continue to wish to be connected with our fans in this manner. They are everything to us.
Is deSoL on hiatus for a while or is it pretty much done for now?
Not sure about this question. We all spend an awesome time together celebrating the marriage of Andy Letke and Dori in September, but there's not much talk about a future right now.
We have been through so much together in the last 10 years. We have been warriors out on the road all over the nation playing our music and building a name for ourselves. We care for each other in a very deep way. They are my brothers. I think we all needed to step back out of the "grind" and live life for a while...get married, have kids, be home for the birthday parties, and other social events that we have all missed out on in the last 10 years. I had lost touch with many friends and family.
deSoL is my baby and I have a feeling that in time it will live again!
What were some of your favorite memories with deSol?
Not one moment in deSoL is my favorite. There are memories upon memories that we all created together. Not only between the band members but our road crew as well. We were a true team believing in one thing...the music. The spirit of what we did and how we did it is what was most important.
The constant touring of shows and seeing different places and faces was my favorite thing. I love writing and recording but the thing that turns me on most is the feeling of being free out there traveling, playing music night after night to a different audience. To look around the stage knowing that your bros are next to you and with you on the same journey has been priceless feeling.
Anything you'd like to say to fans that have been following you for quite a while now?
I thank the fans and wish them to know they are a part of my family. I thank you for allowing our music into your hearts :)
For more information on Albie's new band visit http://www.facebook.com/desolmusic#!/loveatthebodega
Photo Credit Diaz/Candelaria