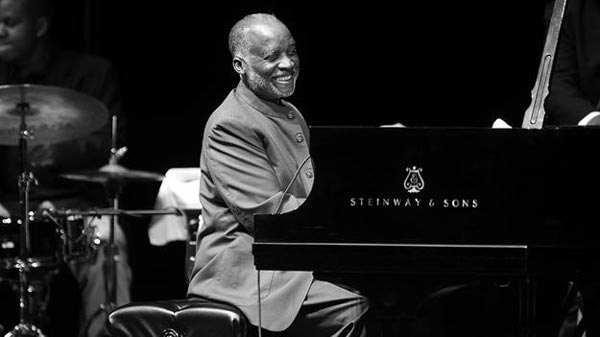 (PRINCETON, NJ) -- What becomes a legend most?  How often do we get the chance to experience an artist who gives new meaning to the word? Legends come and go to the point where the phrase "living legend" all too easily lapses into cliché. But in the jazz world there is only one true "living legend" still active amongst us, a man who observes his 89th birthday on July 2nd -  a man who started playing the piano at the age of three, and is still going strong today - 86 years later - a pianist who calls jazz "America's classical music." His name? Ahmad Jamal and he will perform for the very first time ever at McCarter Theatre in Princeton on Saturday, May 18 at 8:00pm in the Matthews Theatre.  
How can one put a career like his into words?  Here is an artist whose influence has transcended time itself, and who continues to represent generations of jazz when his colleagues were giants who walked the earth and today are just names to us on a CD - men and women like Miles Davis, Thelonious Monk, Charlie  Parker, Benny Goodman, Louis Armstrong, Oscar Peterson, Count Basie, Errol Garner, Dizzy Gillespie, John Coltrane, Duke Ellington, Ella Fitzgerald, Dave Brubeck -  an historic legacy that continues right down to their contemporaries of more  recent times, like Wynton Marsalis, Keith Jarrett, McCoy Tyner  and Herbie Hancock. 
Jamal's  influence over fifty years on the art of jazz improvisation and his contribution to the evolution of the "cool jazz" movement  is indisputable and legendary, and stretches across generations, from the big-band era to be-bop to cool jazz, and  even to today's electronic styles.
That Ahmad Jamal is an NEA Jazz Master goes without saying – you could almost say they created the award in his honor. Ditto a Grammy Lifetime Achievement Award (in itself an understatement) and a Kennedy Center Living Legend (there it is again!). And lo and behold, he is still making records (his latest CD Marseille, came out last year) but jazz fans of any age will remember his theme song Poinciana, from his 1958 release At the Pershing: But Not For Me, which put him on whatever maps he was not already on.
When Jamal comes to McCarter on May 18, joining him will be three longtime associates who are coming from all over just to play with him on what is his only concert in the eastern USA this year: the New Orleans- based drummer Herlin Riley; James Commack on bass; and the Puerto Rican-born percussionist Manolo Badrena. And if that weren't enough, one of his protégés (another: Hiromi, at McCarter on October 18), the pianist and composer Shahin Novrasli, will play an opening set, blending his classical knowledge and jazz with the traditional folk "Mugham" of his native Azerbaijan. McCarter Theatre is located at 91 University Place in Princeton, New Jersey.
---