By Gary Wien
originally published: 01/21/2016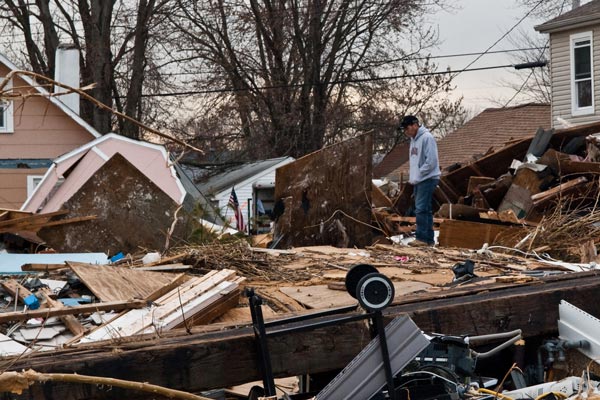 When Superstorm Sandy hit, Joe Minnella found himself working with a volunteer organization distributing food and supplies to various towns.  He saw areas that weren't hit that hard and others that were completely devastated, but he never thought about filming what he saw.  Thankfully, others pushed him to take out his camera, leading to the wonderful documentary called After Sandy.
"I started looking at the scope of it and said someone is going to make a documentary film about this, why not me?" said Minnella.
His documentary takes a look at a few Jersey Shore towns that were hit hard from Sandy and their recoveries.  Most of all, he focuses on the unsung heroes from the many volunteer organizations that sprung up.  People like Cassandra Vitale who founded the Bucket Brigade and Jeannette Van Houten who went through piles of rubble to rescue and restore photographs throughout her town of Union Beach.  There are many examples of volunteers doing simple yet amazing things.
"I didn't even realize the first few times that I met (Jeannette) that her own house was destroyed," he continued.  "In a way I started feeling pressure as I met more and more of these people.  I hope I can do their story justice."
We feel the sense of loss when people stand in an empty lot and describe the room they would be in if the house was still standing.  We feel helpless when people describe having to be moved to temporary shelters or hotels far away because there is no place left to go in their town. Minnella never thought of himself as a documentary filmmaker, but his fluid camera work and wonderful editing style effectively captures the emotions of several people through a period of time in which their lives were turned upside down.  
---
The article continues after this ad
---
---
Minnella points out how for years we've all seen stories of natural disasters like this on the news, but now we were experiencing one firsthand.  Since many Jersey Shore towns were cut off from the outside world with no cell phone signals, no power, and little fuel, residents did not know what was happening elsewhere in the state. This film fills the void by highlighting the good deeds and "Jersey Strong" spirit.
"It surprised me that people could be so selfless," said Minnella.  "One person who had lost his house told me, 'you know, a lot of people have things worse than me.'  It was people thinking of who has it worse than me and what can I do to help? That's why I decided why focus on the negative? There's so much negative that people can see and I don't think that's what happens the majority of the time. I think that's just what people focus on because it seems juicier and I don't think it has to be."
Some of the most difficult moments to watch were also the hardest to film.  These were the demolition scenes of houses being crushed - often with the family who lived there watching it crumble to the ground.  For Minnella, these scenes weren't just difficult on an emotional level, they were also challenging on a physical level.  The demolition would kick up so much dust and debris in the air that he had to wear several masks and goggles.  Minnella often put himself in risky situations during the shooting of this film, but his effort succeeds in driving home the human aspect of the disaster.  
"The test I had on this film was can I be steady and do it in a dangerous spot like when I'm running through a house from the outside through to the other side knowing that the house could collapse or I could step on some nails or step into a sinkhole.  I just gritted through and said I'm going to tell this story and I want people to see it exactly the way I'm seeing it," he explained.
After Sandy has dramatic scenes shot by a Glidecam showing the devastation across an entire house or neighborhood.  Time-lapse photography is also used very effectively.  The film doesn't just cover the disaster but the years after in which the towns and townspeople struggled to rebound.
"I put scenes together in a way that's most impactful for me," he explained.  "I think if it impacts me and I see it all of the time then it's going to be impactful for whoever else watches it."
The film does an amazing job of telling a complete story - something even more impressive when you realize that it was a story still being written at the time.   
After Sandy will be screened at the New Jersey Film Festival on Sunday, January 31.  It will follow a film called Two Years by Lauren Hall, which is also about Super Storm Sandy and a New Jersey community fighting to recover.
---
Gary Wien has been covering the arts since 2001 and has had work published with Jersey Arts, Elmore Magazine, Princeton Magazine, Backstreets and other publications. He is a three-time winner of the Asbury Music Award for Top Music Journalist and the author of Beyond the Palace (the first book on the history of rock and roll in Asbury Park) and Are You Listening? The Top 100 Albums of 2001-2010 by New Jersey Artists. In addition, he runs New Jersey Stage and the online radio station The Penguin Rocks. He can be contacted at gary@newjerseystage.com.
---