By Gary Wien
originally published: 03/19/2015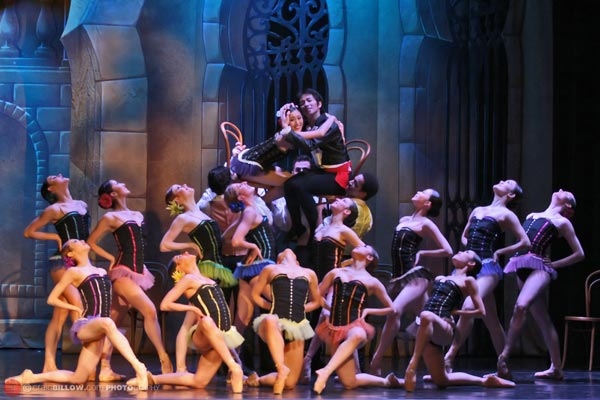 If you didn't know there was a professional ballet company in Atlantic City you're not alone.  Founded in 1982 by the international ballerina, Phyllis Papa, the history of the Atlantic City Ballet is one of struggle and perseverance.  Decades after the company's debut, it looks like they finally have a home and are trying to play a role in the city's revitalization.
"Papa started the company because someone from one of the casinos saw her perform in NYC and asked her if she wanted to start a ballet company in Atlantic City," explained Alexandria Pieroni, Managing Director, Atlantic City Ballet. "She was able to get a grant and her and about 10 dancers from New York came down to South Jersey.  At first she had a lot of support. The company performed in almost every casino and some even donated to the ballet so she could buy sets and costumes. Then there was a change in leadership in the city and in the casinos. The casinos felt gamblers didn't want to see ballet but it was more like ballet audiences don't just sit in the casinos and gamble, they want to do other things.  So the support dried up. They became strictly a touring company with no real home."
The company's problems continued when they soon found themselves not even being able to rehearse in the city.  Papa purchased a studio in Egg Harbor City and moved the company there.  It wasn't until last year that the Atlantic City Ballet was able to move back to the city, which they were able to do with help from the Casino Reinvestment Development Authority (CRDA).   The goal now is to make people aware that there is a ballet company in Atlantic City, build an audience, and get people to come to performances on a regular basis.  One of the ways they're trying to do that is productions of "Ballet on the Boardwalk" during the summer.
"Ballet on the Boardwalk" takes place at Kennedy Plaza.  They attract hundreds of people for each performance. "Some people come to them on a regular basis, some are just tourists walking down the boardwalk," said Pieroni.  "Its great because the stage there has no room for backdrops or sets so you get to see the dancing in its purist form with no distractions. The stage has a cover but not for the audience, so we don't perform in the rain."
The company's main performance spaces are the Celebrity Theater located inside the Claridge Hotel and their studio inside Boardwalk Hall.  On March 28, they have their Young Choreographers Series at The Celebrity Theater.   All of the choreographers are members of the company and the pieces are chosen by the dancers.  Ms. Papa is dedicated to nurturing the creative talent in the company, said Pieroni noting that the experience may help them when they are no longer dancing and possibly enter the next stage of their careers.
---
The article continues after this ad
---
---
 "There are not a lot of opportunities for young dancers to experiment with music or choreography," Pieroni said. "Most companies don't want to risk it. Ms. Papa has a lot of faith in our dancers. Actually when dancers present their own pieces they have a better appreciation for what Ms. Papa does every day. It is not always as easy at it looks. The dancers she has chosen are the ones that she feels are ready for this. This series will become a regular thing that we do every season, probably around the same time of year."
In April, the company performs Carmen at The Celebrity Theater on April 18 and then brings the production to The Strand Theater in Lakewood, NJ.  They have performed there a few times in the past and are looking forward to returning and hopefully building an audience in that part of the state as well.  
Carmen is one of the company's signature pieces.  Created by Papa, the full-length ballet premiered in 2013. Pieroni says that most ballet companies only tell a part of the Carmen story in a smaller work, which makes this production stand out.  Papa's Carmen tells the entire story in a two hour performance.  Papa creates one or two ballets a year, but most are shorter pieces at around 45 minutes to an hour in length.  This was her first full-length ballet she's created in a while.
 When asked what she would like people to know about the company, Pieroni said, "I think the biggest misconception about our company is that these are students or young kids. All of our dancers are paid professionals who range from ages 22-30 years old. They have danced all over the world with other companies. Most of them have trained since they were toddlers. When you come to see the Atlantic City Ballet you are coming to see a professional company not a dance recital. The quality of our dancing is just as good if not better than the more well known bigger ballet companies.   
"Our dancers come from all over the world. Currently they come from the following countries, France, Latvia, Brazil, Romania, Italy, Japan and the US," continued Pieroni.  "At times we've had over 10 countries represented. Ms. Papa holds auditions in NY, Rome, London and various cities across the US. Ms. Papa's style of choreography is very different from other ballet companies. It's classical with many other forms of dance mixed in. This means our dancers must be classically trained but be able to perform other types of dance also."
---
Gary Wien has been covering the arts since 2001 and has had work published with Jersey Arts, Elmore Magazine, Princeton Magazine, Backstreets and other publications. He is a three-time winner of the Asbury Music Award for Top Music Journalist and the author of Beyond the Palace (the first book on the history of rock and roll in Asbury Park) and Are You Listening? The Top 100 Albums of 2001-2010 by New Jersey Artists. In addition, he runs New Jersey Stage and the online radio station The Penguin Rocks. He can be contacted at gary@newjerseystage.com.
---