By Spotlight Central
originally published: 08/27/2017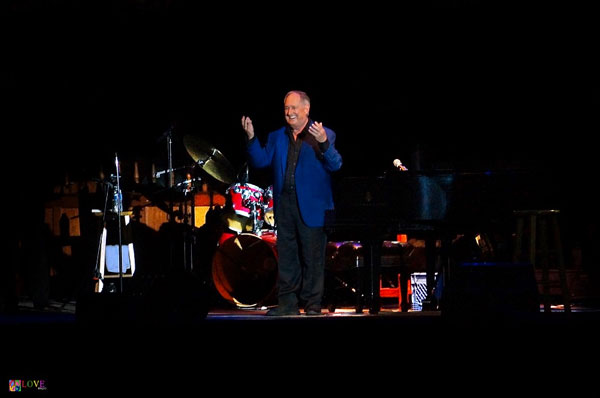 Although it's still early, there's a much larger crowd than usual waiting outside Ocean Grove's Great Auditorium for tonight's show on this beautiful Saturday, August 12, 2017 evening.

As music lovers wait to pick up their tickets from the outdoor box office and others chat with friends, there's a break in the action when a car rolls up Pilgrim Pathway and stops by the front entrance to the Auditorium.
The car door opens and a large cheer from the crowd ensues when, in an instant, everyone seems to realize exactly who has emerged from the vehicle, ready to make his way through the crowd.
It's tonight's headline performer, Neil Sedaka!
Once people realize it's really "him," they stop and part the way, cheering and clapping for one of the great musical icons of the past six decades.
Not far from here in Ocean Grove, NJ, Neil Sedaka was born in the Brighton Beach section of Brooklyn. His interest in music was ignited at the age of four listening to the radio. By the age of eight, he had begun to play the piano — five hours a day!
---
The article continues after this ad
---
---
As a teen, Sedaka was selected by classical piano virtuoso Arthur Rubenstein to play on New York's classical radio station, WQXR. By that time, however, he had become attracted to popular music and had already begun writing songs with his high school pal, Howie Greenfield.
While on a two-year scholarship to New York's Juilliard School of Music, Sedaka sold his first song, "Stupid Cupid" — co-written with Greenfield — which went on to become a 1958 hit for Connie Francis. Three years later, Francis had a second smash with another Sedaka/Greenfield composition, "Where the Boys Are."
Little did these young men know at the time that so many of their songs would go on to become hits by some of the world's greatest performers, many of whom are highlighted in a video played on two overhead screens before the beginning of tonight's live performance inside the Great Auditorium.
Frank Sinatra, Connie Francis, Shirley Bassey, Engelbert Humperdinck, The Captain and Tennille, Elvis Presley, and many more take their turns in the video's spotlight before Neil Sedaka enters the Great Auditorium to excited applause and cheers!
Taking his seat on stage at the Steinway grand, Sedaka opens his show with a solo version of his song, "One More Ride on the Merry-Go-Round."
Singing, "Give me one more chance at the midway/Stop the clock from spinning around/Give me back the world I remember/One more ride on the merry go round," lights stream down in rays as Sedaka, 78, sings and plays with youthful vigor, his voice sounding clear and resonant as he expertly accompanies himself on the piano.
Following enthusiastic applause, Sedaka explains how he's been "writing songs for 65 years" and is "proud to be a part of rock and roll history."
And, as if to prove it, with the help of his expert five-piece band — Eric Bikales on keyboards, Jim Fielder on bass, Jim Varley on drums, Pat Perez on saxophones, and Jennifer Somo on background vocals — Sedaka stands behind the microphone to perform a song he originally recorded with Sir Elton John, 1975's "Bad Blood."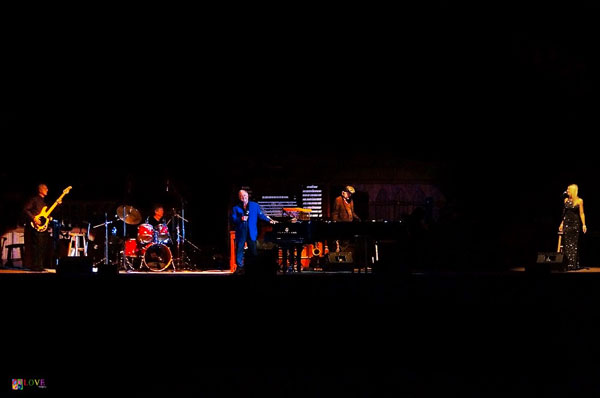 The audience nods their heads in time to the easy groove, and Sedaka even takes some time away from the microphone to sneak in a piano solo in the middle of the song.
After telling a story about how he wrote his next number for "Carole Klein, who later changed her name to Carole King," Sedaka performs a snappy version of "Oh, Carol." He follows that up with an upbeat rendition of his 1961 hit, "Happy Birthday Sweet 16," as the crowd joyfully sings and claps along.
Although Sedaka reveals that he typically writes his songs based on his own ideas, he acknowledges that one of his compositions was "written on commission." Here, he performs "Where the Boys Are." Fans softly sing along with Sedaka who is accompanied by his own skillful piano playing in addition to Somo's background vocals, Perez's saxophone, and Bikalis' keyboards.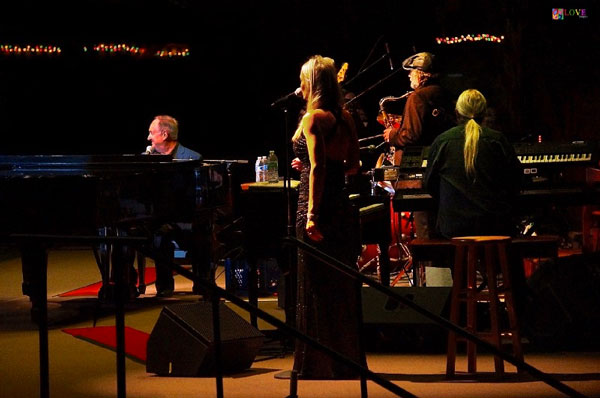 Moving on to his 1962 #1 smash, Sedaka — the self-described "king of the tra-la-las and dooby-doos" — performs an up-tempo rendition of "Breaking Up is Hard to Do." The crowd sings along, claps, and dances in their seats as the band joyfully rocks and rolls along.
Neil follows that up with a buoyant version of his very first solo hit, 1959's "The Diary," in addition to a lively rendition of "Calendar Girl," the bouncy feel-good tune reminding the entire audience to love "every day of the year."
And speaking of years, between 1958 and 1963, Sedaka acknowledges he sold "over 40 million records" until a "new group from England stormed America — The Beatles." As a result, Sedaka retired from singing for 13 years and let other artists record his compositions.
Ever the songwriter, at this point in the evening, Sedaka introduces the audience to "a new song dedicated to all of you," simply entitled "You."
With lyrics like, "No one can make me feel the way you do. There can be no one — no one but you," Sedaka sings directly to his fans. Perez's soprano saxophone perfectly compliments Neil's youthful vocal, and the rest of the band supports his gorgeous piano playing just as his fans have supported his music for over 60 years.
At the end of the number, the audience cheers, after which they can clearly see that Neil is overcome by emotion as a result of their affectionate display.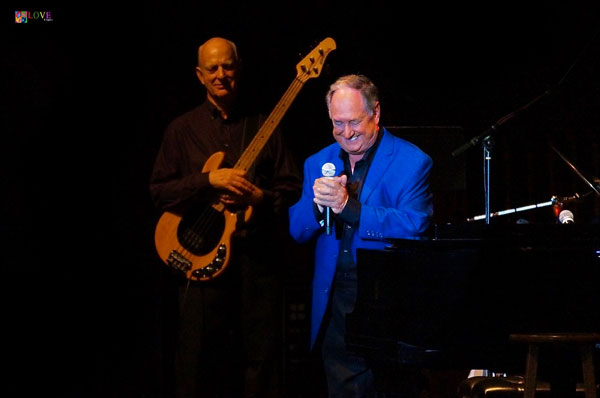 Inviting singer Jennifer Somo to join him in the spotlight, Sedaka goes on to perform a vocal duet with her. Introducing it as "one of only three father/daughter hits" — it's a tune he originally recorded with his own daughter, Dara — 1980's "I Should've Never Let You Go." Neil's and Jennifer's voices blend beautifully in this tender love song.
Explaining that people frequently ask him questions like, "How do you write songs?," Sedaka takes a seat at the grand piano and answers by using his 1975 Grammy-winning Record of the Year as an example.
For that song, he says, "I took the vocal style of Diana Ross, added the beat of Brian Wilson and the Beach Boys, and then for the bridge, I added the kind of augmented chords you might hear on an Al Green song."
With Jim Fielder's top-notch bass playing holding down the bottom and some innovative saxophone playing by Pat Perez on top — the audience grooves to Neil's rip-roaring interpretation of his monster hit for the Captain and Tennille, "Love Will Keep Us Together."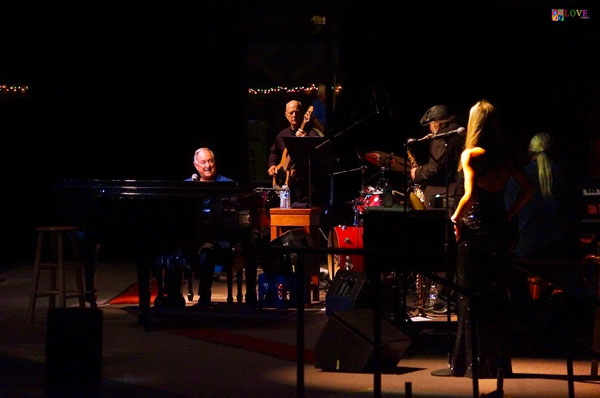 Moving on to his song which he says has been "covered by more artists than any other," Sedaka gives his own take on "Solitaire," the number building as his fellow musicians join in before slowing down to great applause. After seeing the audience's incredible reaction, Neil covers his eyes in obvious emotion.
Next up is Sedaka's 2010 salsa-influenced, "Do You Remember," the rockin' groove of Jim Varney's drums augmented by additional Latin percussion. The audience dances in their seats to this highly syncopated number which Sedaka ends with a "cha-cha-cha" flourish!
Proving he can still hit all the high notes with perfection, Sedaka performs a powerful and touching rendition of 1975's "The Hungry Years." As the audience clamors their approval, Sedaka — again overcome with emotion — responds by saying, "You are just marvelous."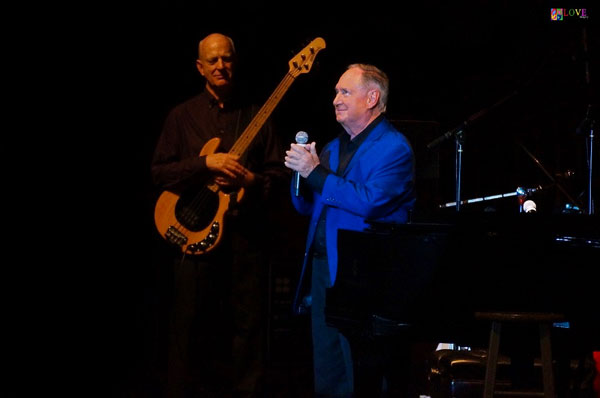 Performing a record-copy version of the song Elton John helped to make his #1 comeback chart-topper, 1974's "Laughter in the Rain," Sedaka elicits smiles and good vibrations from his fans. The tenor sax solo by Pat Perez adds to drummer Jim Varney's easy groove, making this audience of Sedaka music lovers instantly feeling very happy.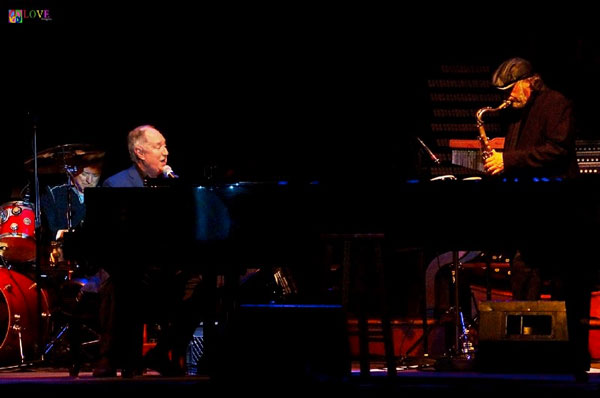 After a short break while a 1961 color video of "Calendar Girls" plays on the video screens, Sedaka regales the crowd with a new original song, "I Do It For Applause." Revealing and poignant, bearing his heart and soul, Sedaka inspires the entire audience at the Great Auditorium to respond with a stirring standing ovation.
Sedaka follows up by channeling his childhood roots when he plays a nimble solo version of Chopin's "Minute Waltz" on the Steinway for the dazzled crowd. His fingers flying over the keys effortlessly with precision, Neil jokingly fans himself at the end to wild applause exclaiming, "I'd like to see Elton John do that!"
Next, Sedaka launches into yet another highlight performance of the evening when he gets the entire house clapping, tapping, and snapping to 1974's "That's When the Music Takes Me," a blockbuster number chock full of "good feelin'" and "happy, happy, happy" emotions. Of particular note is keyboardist Eric Bikales' wonderful Hammond B-3 organ playing, in addition to expert musician Jim Fielder's bass part which includes an impossibly difficult slap bass line and an ongoing sequence of electric guitar-inspired figures played simultaneously on his bass!
Inspiring the ardent fans to respond with yet another energetic standing ovation, after taking leave of the stage and returning, Sedaka and the band get the entire audience singing along to a slow encore version of his 1975 signature song, "Breaking Up Is Hard To Do."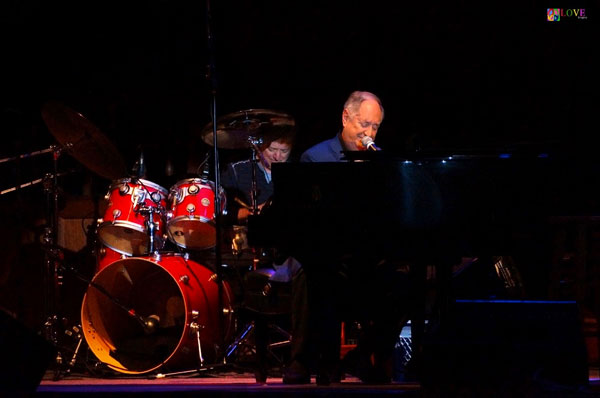 The crowd rewards Sedaka's remarkable performance with yet another heartfelt standing ovation!
For a second encore, Sedaka and the band raise the roof of the Great Auditorium with Neils' 1959 rocker, "I Go Ape." On this wild number, keyboardist Bikales rocks the house with his expert boogie-woogie piano playing and fans jump out of their seats to dance. Concluding with yet another standing ovation, Neil waves his sincere appreciation to the crowd.
After the show, we're delighted to get an opportunity to chat with several long-time members of Neil Sedaka's band.
First, we catch up with keyboardist, Eric Bikales from Kansas City. Bikales has performed with such artists as Cher, the Pointer Sisters, Dolly Parton, Helen Reddy, and many more. He also has just relaeased a wonderful new solo piano CD of original new age music entitled Follow Your Heart.
Talking about his long-term gig with Sedaka, Bikales reveals, "I've played with Neil since 1983 — that's 34 years!" before noting, "and what you saw tonight is the 'real Neil' — he's 78 years old, and his voice never changes. He's still got it!"
Going on to reflect what it's like to perform here at Ocean Grove's Great Auditorium, Bikales adds, "You can't beat playing in this building — the woodwork, the pipe organ, the acoustics — they're all perfect."
Saxophonist Pat Perez from Toronto — the self-described "baby in the group" because, as he quips, "I've only been with Neil for two decades" — agrees with Bikales when he states, "I've played in the Great Auditorium for 20 years, and playing here is like playing in the belly of a Stradivarius violin — the sound is incredible!"
Going on to explain, "It's like when you play the sax. Most people think you have to blow hard to play, but you just need a little air. And it's the exact same thing in this venue — you don't need a big sound because of the amazing acoustics."
Moreover, as a Canadian who enjoys performing at the Jersey Shore, Perez adds, "I love America, and parts of New Jersey remind me of Newfoundland — rolling hills and gardens — it's great! I guess that's why they call it the Garden State."
Lastly, we get a chance to chat with one of our long-time musical heroes. Bassist Jim Fielder of Portland, Oregon has not only played with the likes of Frank Zappa and Buffalo Springfield, but he was also the original bassist for Blood, Sweat and Tears. As such, he performed on all of their major recorded hits including "Spinning Wheel," "You've Made Me So Very Happy," "And When I Die," and so many more.
States Fielder, "I've been playing with Neil since his big comeback in 1977 — that's 40 years!" Relating how much he enjoys playing in New Jersey, Fielder discloses that, in addition to The Great Auditorium, "I've played at many of the other great venues here in the Garden State, too — The Mayo Center in Morristown and The State Theater in New Brunswick, for example."
Talking about his famous boss, Fielder reveals, "Neil takes marvelous care of his voice and is very professional. He is musically in shape," going on to add, "These days, Neil doesn't write songs often, but when he does, they are truly special."
In addition to these fine musicians, we also get a chance to chat with several concertgoers to ask them their opinions about tonight's performance by Neil Sedaka.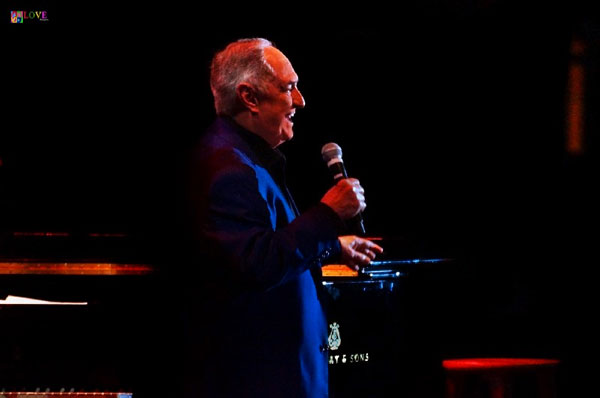 Lucille from Lanoka Harbor exclaims, "I loved listening to Neil and his band tonight. His voice is as strong as it was when he was a teenager!"
Kathleen from Lakewood — a fan of Sedaka's since 1967 — agrees, stating, "This is my 50th year as a fan and Neil's voice is still right there. I've seen him in Pennsylvania, New York, and many places here in New Jersey, and he is always excellent. Plus, he is a really nice man — someone I would call a 'straight-up' guy."
By way of example, Kathleen relates several personal stories about Sedaka, including one where she discloses, "I have a parrot and I found out that Neil had one, too. So, for many years, I sent his parrot notes 'from' my parrot. And one time, I saw Neil following a show and I asked him how his parrot was doing, and he just smiled and thanked me, exclaiming, "So those notes were all from you!"
Lastly, Jill from Ocean Grove speaks for many of the concertgoers and musicians who helped to make this evening's concert at The Great Auditorium such a special occasion when she sums up her feelings about Neil Sedaka in just two simple words:
"Absolutely wonderful!"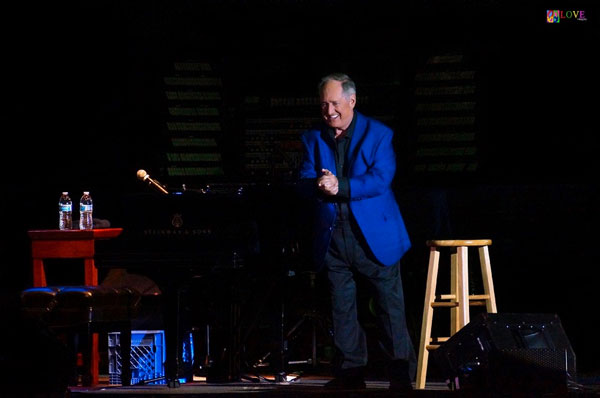 For more on Neil Sedaka, please go to neilsedaka.com. To learn more about keyboardist Eric Bikalis and his new CD, Follow Your Heart, please click on ericbikales.com. For further information on upcoming performances at Ocean Grove's Great Auditorium — including a Labor Day and Broadway Celebration by Father Alphonse and the Orchestra of St. Peter by the Sea on September 2 — please go to oceangrove.org.
Photos by Love Imagery
Spotlight Central. Your source for Jersey entertainment news and reviews
Love Imagery Fine Art Photography. all you need. peace/love/flower/power