By Gary Wien
originally published: 08/20/2015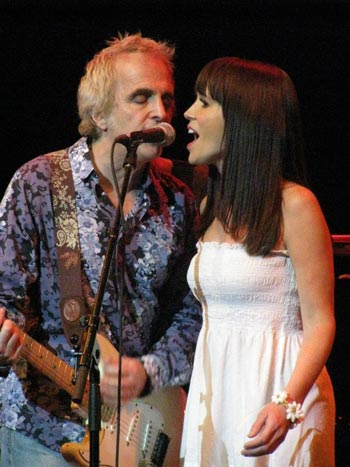 He may always be a slave of New Brunswick, but Glen Burtnik was reborn in Asbury Park.  His story is about to embark on a new chapter on September 19 when he will marry fellow musician Christina Shafer on stage at the Paramount Theatre in Asbury Park.
It's been a wild ride for Burtnik throughout his musical career and he's definitely hit a second act ever since moving to Asbury Park around 2008.  His career began on Broadway alongside Marshall Crenshaw in Beatlemania in the seventies.  Since then, he's had minor success as a solo artist, major success as a songwriter, and been a member of Styx, The Orchestra (featuring former members of the Electric Light Orchestra and ELO Part II), as well as several Beatles cover bands.  For nearly a decade, he's produced shows replicating Beatles albums note for note along with the popular Summer of Love concerts. These days, you can follow his jet-setting performances across the globe and his current group, The Weeklings, via his very active Facebook account.
In a strange twist of fate, Burtnik's career and personal life both took off after he moved to Asbury Park.  He soon found himself becoming part of the local scene again for the first time since the eighties when he was a regular on the Stone Pony stage with La Bamba & The Hubcaps and Cats On A Smooth Surface.  Shafer was one of many musicians that became part of his inner circle, many of whom got their first exposures on major stages when Burtnik included them in his Beatles and Summer of Love shows.
At the Asbury Music Awards last December, Burtnik received the Living Legend Award.  While on the Stone Pony stage, he proposed to Shafer.  He described his plans for the wedding on his Facebook page:
"Instead of hiring a hall and inviting friends, we've decided to share our nuptials publicly, incorporating the moment as part of The Love Concert," said Burtnik.  "But here's the thing: we do not want gifts.  We only ask people - friends included - to buy tickets.  Your ticket is your gift to us.  You might say our wedding registry is the Paramount Theater.
---
The article continues after this ad
---
---
"I know it's unusual. So is my life. So is our love for each other. Love should never be typical or 'usual.' This will be a concert to celebrate love. We just so happen to love each other and love Asbury Park and want to include our wedding with our friends. All of our friends. And it will be a fabulous show."
The slate of musicians involved in The Love Concert reads like a who's who of Burtnik's musical career.  Dusty Micale, who has been friends with Burtnik since they were both teenagers, is composing and arranging the strings for the concert; Marshall Crenshaw is on board, The Burtnix (a group comprised of Burtnik's son Beau, his daughters Darla Rose and Sally, and Glen himself) will reunite for a performance, Tony Pallagrosi (who played trumpet in La Bamba & the Hubcaps with Glen long before becoming a promoter) will "come out of retirement" to sing a song, and Shafer's 16-year old nephew Tommy Shafer will perform as well.
 In addition to Burtnik's current band, The Weeklings (which includes Bob Burger, John Merjave, Dave Anthony, and Burtnik), performers include Remember Jones, Williams Honor, Rick Barry, Emily Grove, Tom Brislin, the Barefoot Strings, Jerzy Jung, Brielle Von Hugel, Mike Stein, Joe Bellia and New Yorkers Mark Hudson, Fawn Segerson, Freedom Bremner, and Sammy Boyd.  Additional artists are likely to be added as well.
After a summer filled with shows in places like Scotland, Israel, Germany, Estonia, Finland, and Spain, it will feel good to be home again.  And being on stage in Asbury Park has always been home for Burtnik.  He's just adding another memory to a very long list.
Photo by John Cavanaugh
Burtnik brings his Summer of Love show to The Levoy Theatre in Millville on October 23.
---
Gary Wien has been covering the arts since 2001 and has had work published with Jersey Arts, Elmore Magazine, Princeton Magazine, Backstreets and other publications. He is a three-time winner of the Asbury Music Award for Top Music Journalist and the author of Beyond the Palace (the first book on the history of rock and roll in Asbury Park) and Are You Listening? The Top 100 Albums of 2001-2010 by New Jersey Artists. In addition, he runs New Jersey Stage and the online radio station The Penguin Rocks. He can be contacted at gary@newjerseystage.com.
---