originally published: 07/05/2017
"For the first time in many years, I feel like I have something to say as a writer," said Constantine Maroulis, the Tony-nominated actor and rock 'n' roll star. "I'm 41 years old now and I think it's starting to click."
Maroulis broke out nationally as a contestant on American Idol's fourth season. He not only grabbed everyone's attention with his incredibly theatrical voice, but with the music he performed – rock 'n' roll, a genre rarely heard on Idol until Maroulis. But he didn't just sing the songs, he performed them as only a musical actor could. Paula Abdul once told him that he was going to make Broadway cool for everyone again.
She was right.
After Idol, Maroulis found himself starring on Broadway in The Wedding Singer. He would go on to receive a nomination for the Tony Award for Best Performance by a Leading Actor in a Musical for his role in Rock of Ages in 2009, and a Drama League Award Nomination for a Distinguished Performance Award for Jekyll and Hyde in 2013.
In doing so, Maroulis was part of a movement to "modernize" the music on Broadway. While there have always been rock 'n' roll-based plays, the genre is currently enjoying its most successful period on The Great White Way. From shows featuring music of U2 to Green Day, '80s rock to the hip-hop breakout of Hamilton, Broadway songs are more contemporary than they've been in years.
"Broadway is so diverse now in its influences and execution," noted Maroulis. "I think a show like Rock of Ages opened the door for Hamilton to be successful. There were a few attempts at a hip-hop musical and they just didn't work. I think you needed Rock of Ages to kick in the door and bring a whole new perspective to what Broadway can be and see how far it could go.
"What was amazing about Rock of Ages was that we did bring in a new audience. We brought in an audience of people that had never been to a Broadway show before. They were like, 'This is really cool; I love Broadway and I'm going to see other shows!'"
Maroulis has also branched out into the behind-the-scenes world of the industry. He was one of the producers for a history-making revival of Spring Awakening in 2016 that included deaf actors, sign language and spoken English – a production that earned multiple Tony nominations, including Best Revival of a Musical.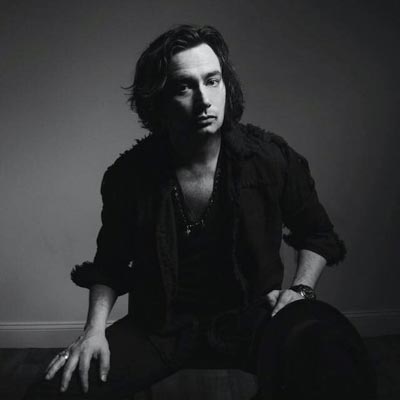 Over the years, while his acting career was thriving, he continued to release music and perform concerts with his band. His most recent song, "All About You," was released at the end of March, following four singles released in the previous two years.
On Monday, July 10, Maroulis will perform songs from throughout his career in an intimate performance at Cape May Stage. The show is part of the PNC Arts Alive 2017 Broadway Series, which also includes performances by Charles Busch (July 17), Jim Dale (July 24) and Jill Eikenberry with Michael Tucker (July 31).
"I think it's great when the fans get a chance to see me in a more intimate setting," said Maroulis. "It'll be just me and a piano player, sort of running through my career in a storybook setting, growing up in a big Greek Orthodox family in Brooklyn and then New Jersey. Growing up with everything from West Side Story to Jesus Christ Superstar in the house, to Nat King Cole, Frank Sinatra, Sam Cooke and even Led Zeppelin and The Doors. Just trying to bring the audience into a very intimate look at my career in a way over the last dozen years or so in the public eye from American Idol to Broadway, the Tonys and beyond. I'll talk about the writers to influence me and the writing I'm doing now."
When Maroulis was five, his family moved to Wyckoff, New Jersey. He graduated from Ramapo High School in 1993 and went on to earn a B.F.A. in Music Theater from Boston Conservatory. Although he has acted throughout the state, he's never acted in South Jersey. Cape May Stage is excited to have him at their theater and would love to see him in a show sometime.
"When I asked my patrons who they would like to have perform, one said 'Be still my heart, Constantine Maroulis'. I saw him on American Idol and I love his work,'" recalled Roy Steinberg, Producing Artistic Director at Cape May Stage. "He has never performed here but we'd be thrilled to have him. Karen Ziemba (Tony Award winner) did a Monday night for us and came back to do Steel Magnolias."
The idea for the Broadway Series came to Steinberg when he arrived at Cape May Stage in 2009. He remembers how the theatre's beautiful space used to be dark on Mondays, so he decided to call up some friends and invite them to perform for one night. The theater worked out a deal with a local bed and breakfast to house the artists and their music directors. Over the years, the series has hosted artists who perform at venues like 54 Below and Café Carlisle in New York.
If you're looking for a truly unique experience, seeing an artist like Maroulis up close and personal at Cape May Stage is a great choice for a Monday night in the summer.
"You can expect everything from Leonard Bernstein to Stephen Sondheim to Frank Wildhorn to Whitesnake!" said Maroulis. "I get to do a little of everything and it's a lot of fun. There might be some serious vocal belting happening and I try to reel you in with portrayals as well. I'm an actor, so I take pride in interpreting the lyrics and telling the story with each song. I think the show is even more interesting because I don't have a loud band playing behind me. It's just me, a piano, and my voice giving all I have."
See Constantine Maroulis on Monday, July 10th at 8:00pm at Cape May Stage's Robert Shackleton Playhouse, 405 Lafayette Street in Cape May, NJ. Tickets are $53. For more tickets and information on the PNC Arts Alive Broadway Series, click here. For more on Maroulis, visit his website or Facebook page.
---
About the author: Gary Wien is a music journalist from Belmar, NJ. A three-time winner of Asbury Music's Music Journalist of The Year, his writing and photographs have been seen in publications like Upstage Magazine, Backstreets Magazine, Gannett Newspapers, and Princeton Magazine. He is the also the author of two books: Beyond The Palace (about the history of rock music in Asbury Park) and Are You Listening? (his picks for the Top 100 Albums of 2001-2010 by New Jersey Artists) and is the publisher of New Jersey Stage magazine.
Content provided by Discover Jersey Arts, a project of the ArtPride New Jersey Foundation and New Jersey State Council on the Arts.