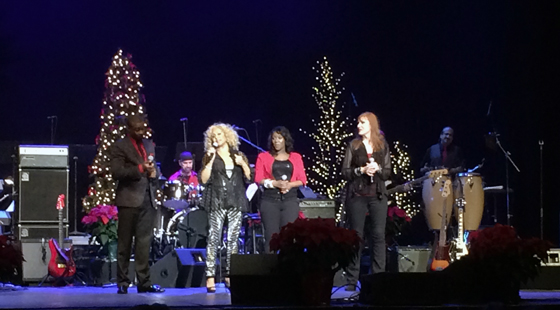 (RED BANK, NJ) — The only thing more difficult than finding a parking place in Red Bank during the holidays was finding a ticket to The Count Basie's "A 'Souled' Out Christmas" show on Sunday, December 21. Those fortunate enough to be in the audience were treated to two legendary Rock and Roll Hall of Famers backed by two amazing bands. The night was filled with classic hits and Christmas songs with a stage adorned with Christmas trees, lights, and enough poinsettias to put everyone in the holiday spirit.
There's something about the holidays at the Basie where so many wonderful Christmas shows have taken place throughout the years, yet this night would rival them all. Darlene Love and Felix Cavaliere were both in top form and showed why they've been successful for over 40 years in the business. This was not your typical "oldies" show; the songs performed were just as vibrant today as the day they were recorded and the artists were clearly master entertainers.
Felix Cavaliere & His Rascals opened the night with "(I've Been) Lonely Too Long," one of many Rascals' classics to performed during his 90-minute set. Highlights included fan favorites like "Good Lovin'", "Groovin'" and "People Got To Be Free". Being a Christmas show, the band added their takes on such favorites as "Santa Claus Is Coming to Town," "Little Drummer Boy," "Run, Rudolph Run," "Christmas Is Coming Soon" along with a pair of original tunes: "Christmas In Your Arms" and "Christmas in New Orleans." The Late Show's Gospel Choir also performed a few Christmas songs during the first set including "Silent Night" and "The First Noel".
The band was spectacular - especially the lead guitarist whose subtle solos put the rock in rock and roll christmas tunes — and the backup singer who sang a wonderful version of "How Can I Be Sure". For someone who had never had the pleasure of seeing The Rascals perform live, this was a tremendous experience.
After Felix came the headliner of the night - Miss Darlene Love. Her set took the audience on a ride throughout her career from her early days with Phil Spector to Little Steven Van Zandt convincing her to move to the East Coast to finding fame with her annual Christmas shows with David Letterman. It was a tour that included many of her hits, tributes to artists she loves, and, of course, lots and lots of Christmas songs.
"Welcome to my Christmas extravaganza," said Love.
The night was filled with conversation as Darlene turned the Basie into a private living room show. She spoke about the first recording she made with Phil Spector.  How he tried to rush the single out before it was scheduled for release by Vikki Carr. Since Love didn't think the song would be a hit, she signed a deal for $3,000. Meanwhile "He's a Rebel" would go on to reach number one on the charts and sell millions. The song made a fortune for Spector, but not a dime more for Love. It's something that is obviously a dark cloud over her career, but she sees the bright side now. While Love gets to perform concerts at places like the Count Basie for Christmas, Spector's spending Christmas in jail.  After receiving a rousing applause for that line by the audience, she performed that first hit.  She would later revisit her days and battles with Spector to have songs released under her name rather than that of different artists.
During the night she mentioned that she and her husband have been married for 30 years and asked the audience how many had been married that long or even longer. She found plenty that were married 30 years and several married 40 years; she even found a couple in the first rows who had been together for over 50 years. "To each other?" she joked. She went on to say that people still pay quite a lot of money for her to play "The Boy I'm Gonna Marry" at weddings, but they were going to hear it for free.
She also spoke of her long time friendship with Steven Van Zandt and how he convinced her to move to New York. He told her "If you move here, I'll find you work" which he did. It's a friendship that has gone on for decades and continues today. It may have taken longer than expected (largely due to Little Steven being on tour with Bruce Springsteen and his acting career), but she proudly announced that Little Steven has produced her first new record in a long time. The new release should be out in early 2015. In honor of Little Steven she played "All Alone on Christmas", a song Steven wrote for the Home Alone film soundtrack.
One of the best moments of the night came during a medley of Marvin Gaye songs. The medley included "Ain't It Peculiar,", "Ain't No Mountain High Enough" and a beautiful take on "What's Going On" which features lyrics that seem as poignant today as ever.
Sometimes when you have a Christmas styled show like this you get only secular tunes or only religious based songs, this night had both. The blend of songs you would hear in Church and songs from pop radio kept the focus on the importance of the holiday without being too preachy or too flippant.
Around the tri-state area, Darlene is known for kicking off the Christmas season with her annual appearance on David Letterman's show to sing "Christmas (Baby Please Come Home)". It's a tradition that has been going since 1986, but sadly ended this year. With David no longer hosting the show, Darlene Love has said she plans to retire the song from television as well. She credits Letterman with much of the success she's had in recent years as the annual performance helped put her back on the map. The song was used as the closer for the night and was certainly one of the highlights, but its brilliance was matched note for note by the utterly mesmerizing performance of "O Holy Night" which featured one of her backup singers.
Darlene Love famously sang backup for artists like Elvis Presley, Aretha Franklin, and Frank Sinatra and was featured in the Oscar-winning film 20 Feet From Stardom; She knows the power of good backup singers and she had a trio of amazing voices lending their support. As Darlene said time and time again, "Talent this good should be shared" and she's right. It's easy to see any of the three headlining their own show somewhere down the line. After all, they're learning from the best.
In the spirit of Christmas, the show (presented by Sammy Boyd Productions) helped benefit Little Kids Rock, an organization that ensures that every student has the opportunity to unlock the music inside them — even in these times of budget cuts where music programs are being stripped from the curriculum at schools across the country. For more information on the organization visit http://www.littlekidsrock.org/