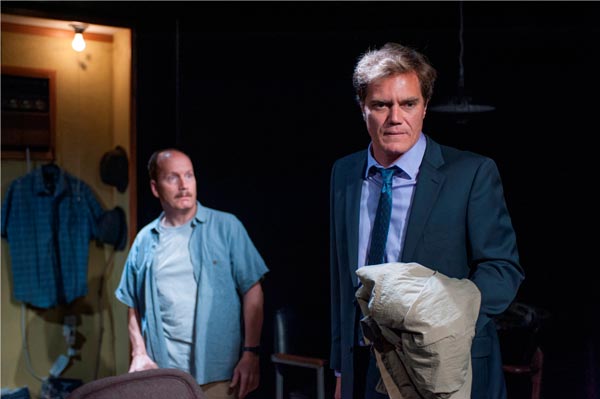 (PRINCETON, NJ) -- Buried secrets, blackmail, and false identities race onto the stage in this hard-driving tragicomedy about the slippery netherworld of thoroughbred racing from Pulitzer Prize-winning dramatist Sam Shepard. When a simple phone call causes Carter and Vinnie's shady past to resurface, fierce loyalties that were once hot-blooded begin to run astray. McCarter Theatre kicks off its 2017-2018 theatre season with a collaboration with the acclaimed Chicago ensemble A Red Orchid Theatre Simpatico to bring the riveting American drama, Simpatico, to Princeton. Featuring Oscar and Tony nominee Michael Shannon with members of A Red Orchid Theatre's ensemble, performances are scheduled to run September 8 to October 15.
McCarter Theatre Center has a storied history of previous collaborations with other forward-thinking theatre companies across the country including Lookingglass Theatre, Steppenwolf, Fiasco, and Bedlam. In that tradition, A Red Orchid Theatre makes its debut at McCarter. 
Celebrating its 25th anniversary season, A Red Orchid Theatre is a critically-acclaimed collective of artists operating out of a 70-seat theatre space in Chicago's Old Town. Known for gritty, visceral performances and production styles, A Red Orchid Theatre's 2013 production of Simpatico "evokes an American society with a divided soul, one part 'civilized,' the other primitive and intuitive." (The New York Times). 
In addition to Michael Shannon (Carter), the cast of Simpatico includes A Red Orchid Theatre co-founder (and full-time Chicago firefighter) Guy Van Swearingen (Vinnie), with A Red Orchid Theatre ensemble members Mierka Girten (Cecilia) and Jennifer Engstrom (Rosie). Kristen Ellis (Rosie) and John Judd (Sims), round out the cast. The design team features frequent A Red Orchid Theatre collaborators Grant Sabain (set design), Christine Pascual (costume design), Mike Durst (sound design) and Joe Court (sound design). Christa van Baale is the production stage manager. 
About the collaboration with A Red Orchid Theatre and Sam Shepard's recent passing, McCarter Artistic Director Emily Mann said "Sam Shepard, of course, is one of America's iconic playwrights, and it's no surprise to me that an ensemble like A Red Orchid Theatre would thrive off of his idiosyncratic dialogue, raw and multi-faceted characters, and fevered exploration of American nostalgia and identity. Sam Shepard shaped the American theater from the moment his plays appeared on our stages Simpatico, like all of Shepard's plays, is a true feast for an adventurous company and a wild ride for any audience. His passing is a stunning personal loss to all of us who knew him and a devastating loss for the theater community at large. We dedicate our opening play of the season to his memory." 
---
The article continues after this ad
---
---
Photo: Guy Van Swearingen and Michael Shannon in Simpatico
---
ABOUT PLAYWRIGHT SAM SHEPARD

Sam Shepard (1943 – 2017) was born in Fort Sheridan, Illinois. He moved to New York from California just as the off-Broadway theatre scene was emerging. He has written more than forty plays--of which eleven have won 'Obie' awards—besides collections of stories, prose writing and screenplays. His plays include Buried Child, The Late Henry Moss, Simpatico, Curse of the Starving Class, True West, Fool for Love, A Lie of the Mind, and States of Shock. His screenplay for Paris, Texas won the Golden Palm Award at the 1984 Cannes Film Festival and he directed his own screenplay, Far North, in 1988. A member of the American Academy of Arts and Letters, Shepard received the Gold Medal for Drama from the Academy in 1992, and in 1994 he was inducted into the Theatre Hall of Fame. In addition to his career as a playwright, Shepard enjoyed success as a director and actor for stage, screen, and television. 

 
---
ABOUT DIRECTOR DADO

Dado is a theater director/actor/visual artist from Chicago and an ensemble member from A Red Orchid Theatre. She is also this year's recipient of The Claire Rosen & Samuel Edes Foundation Prize for Emerging Artists from the University of Chicago. For A Red Orchid: The Room, The Mutilated, Red Handed Otter, The Hothouse, The Seahorse, The Grey Zone, The Unseen, The Fastest Clock in the Universe, as well as the world premiere of Brett Neveu's Megacosm. She has received a Jeff Citation, an After Dark Award, and is a Maggio Fellow of the Goodman Theatre. Education: MFA from the University of Chicago Department of Visual Art (DOVA). She has taught and directed at DePaul University, University of Illinois in Chicago, and AMDA (Los Angeles). She is collaborating this year with Facility Theatre to produce a sculptural installation of an experimental opera, David Lang's little match girl passion. 
---
ABOUT THE CAST AND CREATIVE TEAM
Kristen E. Ellis (Kelly) from the original Chicago cast, is making her debut at McCarter. Recent: the Midwest premiere of Dominique Morisseau's Paradise Blue (TimeLine Theatre). Other: What I Learned in Paris (Black Theatre Alliance Award nom. for Best Featured Actress, Congo Square Theatre), The Inside (Black Excellence Award nom. for Best Theatre Actress, MPAACT Theatre), Theatre Wit, Steppenwolf Garage Rep, Griffin Theatre, and Collaboraction Theatre. Kristin's work in independent films has premiered vastly in Chicago film festivals. Kristin received her BFA degree in Acting from The Theatre School at DePaul. Currently, Kristin can be seen in the short film Side Effects airing on Amazon Prime and Xfinity: Streampix. Kristin is represented by Stewart Talent Chicago. IamKristinEllis.com.

Jennifer Engstrom (Rosie) is a Chicago-based actor, last seen in HIR at Steppenwolf Theatre (U/S Amy Morton). Off-Broadway: Excuse My Dust, A Dorothy Parker Portfolio. Regional: Angels in America Part I and II (Kansas City Rep), MacBeth (Norte Dame Shakespeare), A Streetcar Named Desire(Williamstown Theatre Festival). Chicago: Death of A Streetcar Named Virginia Woolf: A Parody, A Streetcar Named Desire (Writers Theatre); The North Plan, One Flew Over The Cuckoo's Nest (Steppenwolf Theatre); Sweet Bird of Youth (Goodman Theatre). Jennifer is a proud ensemble member of A Red Orchid Theatre, where she has appeared in The Mutilated, 3C, The Hothouse, Fatboy, and dozens more. Ms. Engstrom will be seen in the upcoming motion picture Slice and has appeared on Chicago Fire and The Onion Network. 

Mierka Girten (Cecilia) was last seen in The Room at A Red Orchid Theatre where she is a proud ensemble member. She was recently seen in Master Class at A Human Race Theatre as Diva Maria Callas. Off-Broadway: Mistakes Were Made with Michael Shannon (Barrow Street). A Red Orchid Theatre: Mud Blue Sky, Becky Shaw, Mistakes Were Made, Weapon of Mass Impact, The Meek, Kimberly Akimbo, and The Treatment. Select Chicago credits: her one-woman show With or Without Wings, The Walls (Rivendell Theatre Co); A View from the Bridge (American Theatre Company); The Book of Liz (Roadworks); The Danube, Edmond, Marat Sade, A Blood Wedding (The Hypocrites); and many more. National tours: The Secret Garden. Film: The Manson Family, The Lake at Evening, The Drunk.

John Judd (Simms) returns to McCarter Theatre Center, last appearing there in Steppenwolf Theatre's production of American Buffalo in 2010. A Chicago-based actor for over 30 years, he has appeared on most of the stages there as well as numerous regional and off-Broadway engagements. He last collaborated with A Red Orchid Theatre in the 2005 production of Gagarin Way, appearing alongside Mr. Van Swearengin and Mr. Shannon. He is most recently found on television recurring on Empire, Chicago Fire, and Sense8.

Michael Shannon (Carter) is a founding father of A Red Orchid Theatre, where he has been seen in Pilgrim's Progress, Simpatico, Mistakes Were Made, Gagarin Way, Mr. Kolpert, BUG, among others. He made his directorial debut at A Red Orchid Theatre with Ionesco's Hunger and Thirst and looks forward to directing the world premiere of Traitor by fellow ensemble member Brett Neveu this winter. Mike currently lives in NYC and recently performed in Ionesco's The Killer (TFANA), made his Broadway debut in Grace, and played Astrov in Annie Baker's adaptation of Uncle Vanya (Soho Rep). Select film: Groundhog Day, Chicago Cab, Pearl Harbor, 8 Mile, Revolutionary Road, Take Shelter, Mud, Premium Rush, The Iceman, Man of Steel, 99 Homes, Elvis & Nixon, Loving, Nocturnal Animals. TV: Nelson Van Alden on HBO's Boardwalk Empire.

Guy Van Swearingen (Vinnie) is the founding Artistic Director and Ensemble member of A Red Orchid Theatre where he has appeared in over a dozen productions, most recently The Nether, Red Handed Otter, Simpatico (Jeff nom.), The Sea Horse (Jeff nom.), and The Opponent (also produced at 59E59 in NYC). Regional: The Sign in Sidney Brustein's Window (The Goodman); Taking Care, The Time of Your Life (Steppenwolf); Eleven Rooms of Proust (Lookingglass, About Face, Goodman co-production). Other Chicago theaters he has appeared at include Defiant, Plasticene, Famous Door, and Mary Arrchie. Film: Captive State (2018 release), The Dilemma, The Merry Gentleman, Take Shelter, Public Enemies, The Weatherman, Ali, Janie Jones, The Unborn. TV: Chicago Fire, Boss, Sirens, Detroit 1-8-7, Gifted Hands: The Ben Carson Story, The Beast, Turks, Early Edition.

Grant Sabin (Set Design) A native of rural Illinois, Grant blends his rural roots with urban art. He's a recipient of the 2015 Michael Maggio Emerging Designer Award. He is known for his keen eye in capturing atmospheric detail and his ability to design "impressively executed sets" on a storefront-theater budget. His designs have been seen at Northlight, Victory Garden, Steppenwolf, Next, The Royal George, Overture Center, Theatre Witt, Gallagher Bluedorn, ATC, The House, The Hypocrites, and A Red Orchid. He was nominated for a Jeff Award for Yankee Tavern (American Blue Theatre), The Sea Horse (A Red Orchid Theatre), and Mr. Marmalade (Dog & Pony). He was recently named one of the Top 50 Players in Chicago Theatre by New City Magazine. Grant is currently a part-time faculty member at Columbia College.

Christine Pascual (Costume Design) is delighted to be designing at McCarter for the first time. Recent designs: Put Your House In Order (The Roustabouts), Paradise Blue (Timeline), Wit (The Hypocrites), East Texas Hot Links (Writers Theatre). For A Red Orchid Theatre: Trevor, Simpatico, Megacosm. Additional Chicago designs at American Theater Company, Timeline, Theater Wit, Teatro Vista, The Goodman, Next Theatre, Steppenwolf, Drury Lane, Victory Gardens. Regional: The Island (APT), Joe Turner's Come and Gone (Centerstage), Fences (Virginia Stage). Off-Broadway: The Elaborate Entrance of Chad Deity (Second Stage – Henry Hewes Award nom. for best production design). Awards: Black Theater Alliance Award for Best Costume for Seven Guitars and Joe Turner's Come and Gone (Congo Square), Jeff Citation for The Skriker (Defiant Theatre). Member of United Scenic Artists Local 829.

Mike Durst (Lighting Design) Mike is a Chicago based lighting designer and ensemble member with A Red Orchid Theatre. Off-Broadway: Primary Stages, 59E59, Cherry Lane. Regional: The Huntington, Lookingglass, The Court Theatre, Olney Theatre Center, The Hypocrites, Cardinal Stage, A Red Orchid Theatre, Timeline Theatre. National tour: Its Always Sunny in Philadelphia's The Nightman Cometh. Mike is a lecturer of Lighting Design at The University of Chicago and a consultant on theatrical renovations including the Gray Center at The University of Chicago and The Circle Theater in Los Angeles. He is a recipient of Chicago's Jeff award, L.A.'s Ovation award, and San Diego's Craig Noel award. Mike is a member of IATSE Local 2 and United Scenic Artists 829. 

Joe Court (Sound Design) is excited to work with McCarter Theatre Center for the first time. For the last 10 years Joe was a freelance artist based in Chicago. His work has been heard in Chicago (Mary-Archie, A Red Orchid Theatre, The Hypocrites, Emerald City, and many more), New York (59E59, off-Broadway), Los Angeles (REDCAT at The Disney Concert Hall), The Clarence Brown Theatre (Knoxville), Great Lakes Theatre (Cleveland), Virginia Stage Company (Norfolk), and the Idaho, Lake Tahoe, and Illinois Shakespeare Festivals. He has taught at Ball State University (Muncie, IN) and the University of Chicago and is currently on faculty at Virginia Tech. Joe has received two Jeff Award nominations and a Broadwayworld.com nomination for his work. Member of USA 829.