By Gary Wien
originally published: 04/24/2018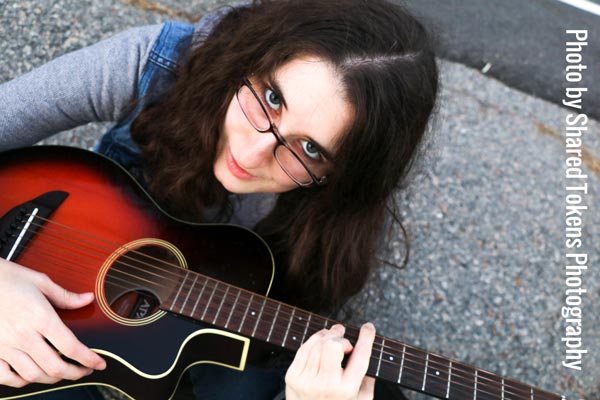 Someday I'm gonna sing a song that's not in G, and like it / Someday I'm gonna do those fancy pickings at speed / Someday I'm gonna look an audience in the eye, and not stumble / Maybe even tell them something I haven't memorized / But I'll get there, I'll get there, I'll get there, I'll get there / The fun's in the journey anyway
Those are the lyrics that kick off Secrets I Told To A Sound Hole, the debut studio album by Morris County singer-songwriter Amanda Rose Riley.  It's a fun, quirky look at the life of a musician from the very beginning of a career.  In many ways, all of the songs tell the same story from different angles.  The end effect is similar to a concept album.
"When I released the album, I did think of it as a concept album," said Riley.  "I was very careful to try to order the songs so they sort of tell the story of my journey with music.  But when I was writing songs, I actually stumbled on the theme by accident.  I was just thinking a lot about music, my relationship with it, and my ambitions.  I realized I couldn't write songs about anything else.  The only thing that was coming out was stuff about music.  I was actually kind of annoyed at myself at first, but I eventually decided to go with it because I realized it could be interesting."
Her journey is definitely interesting as it provides insight into the mind of a young artist.  Riley is not your typical artist either.  She created an entire marketing plan from scratch for this album - spending time to create lists of publications, radio stations, and blogs who might be interested in her work.  While many artists can't wait to record their first record in a real studio, Riley spent two months rehearsing her songs before entering the studio for the first time.  For someone excited to move forward as a musician, she was also careful to take time with each step of the road.
Riley was not merely patient; she loves every aspect of the business.  She enjoys reaching out to people, researching, reading books and blogs, and simply soaking up every aspect of the music industry.
---
The article continues after this ad
---
---
"I think I'm lucky in that none of it was boring or tedious for me," said Riley. "I was very motivated because it's a lot of money to invest for somebody that's on a budget.  So, I wanted to make sure that I wasn't just throwing my money into a void.  I wanted to do everything right."
This means being proactive.  Riley has done everything from open mics to livestream acoustic concerts on the web. She has performed abroad and busked in public, performing for strangers with just her guitar.  Locally, she has performed as part of NJ Transit's "Music In Motion" program, which auditions musicians to be able to play in major train stations and terminals.  She has performed in a few different stations in North Jersey and New York City, but generally returns to the Secaucus Junction station where she has received the best response (both tips and applause).
Her first experience busking was rather nerve-wracking, but she fought through it.  "It was funny because I was nervous about people hearing me, but, at the same time, nobody was even hearing me!" she recalled.  "Everyone was into their own business.  It's very loud in the stations and I don't use an amp or microphone, so people only hear me when they're right next to me.  I like it that way because the only people who stop to listen are the people who are interested.  That way I don't have to annoy a lot of people and make them cranky on their commute."
Riley has also busked a few times in England.  Her favorite artists include Frank Turner and many who are also on the same Xtra Mile Recordings label as Turner.  She has gone to England several times to see artists in concert and has made many British friends during her travels.  In addition, her love of Turner has also led to some of the biggest steps in her career.
She was able to perform in the middle of an impromptu set Turner was playing during a Flogging Molly cruise, which led to several new fans.  Turner has also helped promote Riley's music on social media.  Riley says getting associated with larger artists has helped her career more than anything else.
"I think the key thing is to find a place where there is a lot of people who would potentially like your music such as fans of a similar artist," said Riley.  "That's the kind of exposure I think is important. Everything I do has helped me.  Some things are better at bringing in new people and other things are better at keeping people engaged.  Even if people listen to you at one place and they like you they won't necessarily follow you.  And, if they do follow you, you might bore them if you don't keep doing different things."
Doing new and different things has never been a problem for Riley. Unlike many artists, her first studio album was composed of completely different songs than she had been playing. Often, a debut album contains songs written years earlier and performed dozens or even hundreds of times before ever being recorded in the studio. 
"I wish I could write all of the time," admitted Riley.  "I always try to put myself on a daily or weekly schedule to write a little, but, for some reason, my brain just works better if I give myself a time to just hole myself away for a couple of weeks.  When I wrote the album, it was basically within a month and a half.  I took breaks when I got burned out, but it was pretty much several hours a day every day.  That just seems to work well for me."
It's not like she didn't have a collection of songs previously written to choose from.  In another nod to planning out a musical career, Riley spent a full year releasing new music via the Throwaway Song of the Week.  None of these songs appear on her album, although the best of the 52 songs are available on her Ultimate Digital Collection (2015-18), which she sells on a USB stick.
"I had only written a handful of songs before starting the Throwaway Song of the Week," recalled Riley.  "The reason I did it is because I knew I would have to write a lot of songs before I starting getting good.  So, I told myself I was going to do a full year of weekly songs.  By the end of that, I was going to be proud of my songwriting skills and it pretty much worked!"
Her plans for a career in music also led Riley to make the leap from working full-time to part-time.  This was done for two main reasons: it gives her more time to focus on music and it also forces her to find ways to make money from her music.
"I think it helps me mentally because it makes me feel like I have to try harder to build income streams and build a career," she explained.  "If you have a stable job and you don't have to worry about money, I think it's a lot harder to make yourself take risks and everything with music."
None of the work and plans made by Riley would mean much if the songs aren't good, but they are.  Secrets I Told To A Sound Hole is a wonderful folk rock album with songs that often share Riley's love of music with inspiration as a whole. Listeners are welcomed into her dream of being a musician and we follow her heartbreaks and successes only the way.  Most of all, Riley shows that there are more successes and joys in life than people generally see.  In fact, one of her lyrics has even spawned its own movement.
The line, "I will choose love and music is enough" led Riley to create the hashtag #IWillChooseLove — something that inspired a music video and led to a page on her website that seeks to fight the negativity in the world with positive vibes.  She describes the page on the website as "My little corner of the internet that focuses on the good in the world, and positive responses to all the bad.  I'm far from perfect, but I want to see a better world, so I'm attempting to be the change."
"I didn't write that song for other people, I wrote it for myself," said Riley.  "Last year, I was going through a period where I was having some personal issues and I was also getting down about some of the problems going on in the world and all of the negativity.  So, I was thinking how music is enough for me.  When I'm having a bad time, music pretty much always makes me feel better about everything.   I was also thinking about positivity in general - how behind every problem that people argue and complain about, there are good people trying to make things better."
The web page contains links to websites with good news, places that promote random acts of kindness, organizations Riley likes, and links to charities and places where people can find volunteer opportunities.
Amanda Rose Riley knows that even with the best planning, the music business is one without guarantees for success.  For Riley, music itself is the success.  She cannot see herself apart from music and the fun is in the journey, wherever it takes her.
---
People round the world who want to hear me sing my songs… 

what a dream

I'm watching the old lady at the open mic

She's amazing; am I afraid that could be me?

I'd have to say no; let's call it plan B.
---
Gary Wien has been covering the arts since 2001 and has had work published with Jersey Arts, Elmore Magazine, Princeton Magazine, Backstreets and other publications. He is a three-time winner of the Asbury Music Award for Top Music Journalist and the author of Beyond the Palace (the first book on the history of rock and roll in Asbury Park) and Are You Listening? The Top 100 Albums of 2001-2010 by New Jersey Artists. In addition, he runs New Jersey Stage and the online radio station The Penguin Rocks. He can be contacted at gary@newjerseystage.com.
---