By Spotlight Central
originally published: 01/19/2018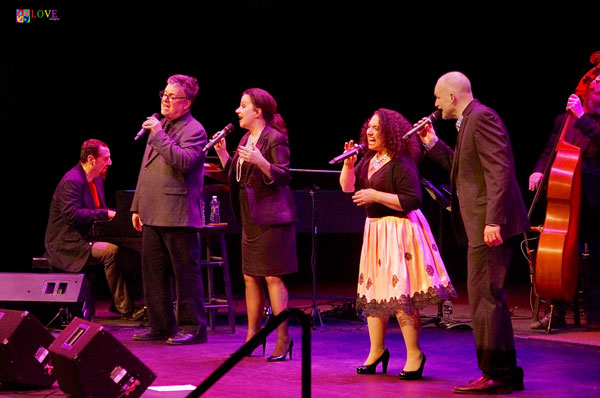 In February of 2018, the members of the jazz singing group, New York Voices, will celebrate their 30th anniversary together! Renowned for their close-knit voicings, inspired arranging, and an elite vocal blend, the vocal group is comprised of four world-class jazz singers — Kim Nazarian, Peter Eldridge, Lauren Kinhan, and Darmon Meader.
In addition to being a founding member of New York Voices, Kim Nazarian has performed with Bobby McFerrin on his VOCAbuLarieS CD and is also a part of "Vocalese," a special program which integrates NYV with members of the well-known vocal quartet Manhattan Transfer and Jon Hendricks of the legendary jazz vocal trio Lambert, Hendricks, and Ross.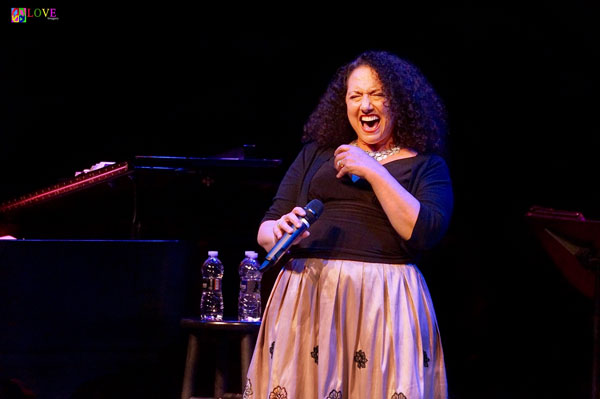 Singer and composer Lauren Kinhan's most recent solo CD is 2017's A Sleepin' Bee, a recording which pays tribute to jazz songstress Nancy Wilson. In addition to working with jazz saxophonist Ornette Coleman, Kinhan is also a member of JaLaLa, a vocal supergroup which also includes The Manhattan Transfer's Janis Seigel and Lauren Massé as members.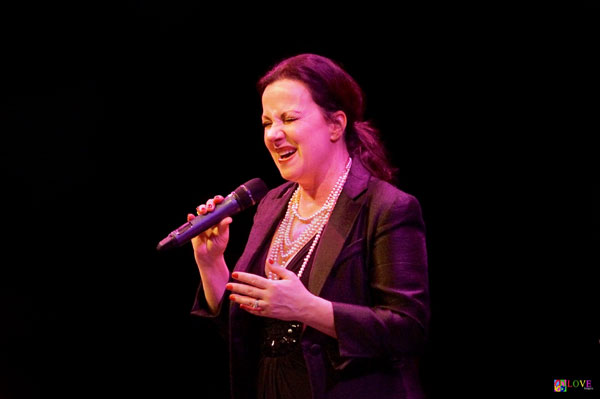 Darmon Meader is the musical director and chief arranger of New York Voices. Through his work with NYV, he's collaborated with such artists as Bernadette Peters, Don Sebesky, Paquito D'Rivera, and the Count Basie Orchestra. His vocal, choral, and instrumental arrangements are performed by musical groups worldwide.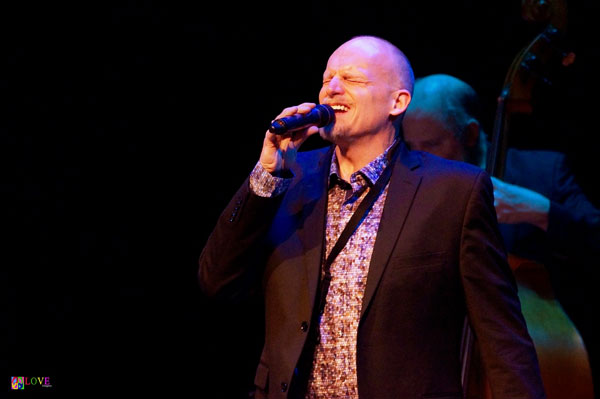 Lastly, Peter Eldridge is a singer, pianist, composer, and arranger with four solo albums under his belt including 2016's critically acclaimed Disappearing Day. Eldridge was on the voice faculty of Manhattan School of Music for 18 years, and is now currently a professor of voice at Boston's Berklee College of Music.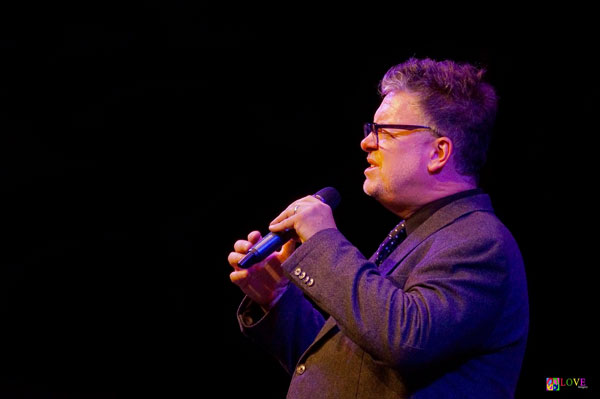 ---
The article continues after this ad
---
---
In addition to being known for their outstanding performance capabilities, the singers of New York Voices are also well regarded for their top-notch workshops and master classes which they've carefully designed to help nurture the next generation of musicians.
On Friday, Jan. 12, 2018, the members of New York Voices presented a day filled with intensive music workshops for high school musicians. They followed that up with a live concert performance at the Grunin Center of the Arts, located on the campus of Ocean County College in Toms River, NJ.
In front of an audience comprised of music lovers of all ages — and backed by a top-notch jazz trio featuring acoustic piano, bass, and drums — the members of New York Voices take their places on stage. The group gets the audience grooving right away as they open the show with an inspired up-tempo arrangement of Cole Porter's "It's All Right with Me."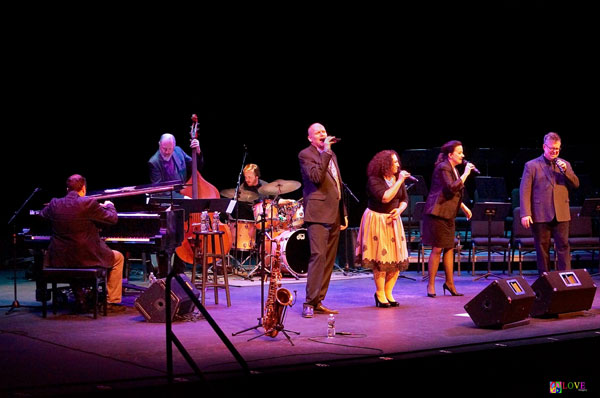 Singing in tight harmony, the singers dazzle the crowd with their refined sound and exciting scat solos, not to mention a piano solo accompanied by vocal "oohs" in four-part harmony!
Following rousing applause, NYV musical director Darmon Meader takes the microphone to welcome the avid crowd. Revealing that he hails from "upstate New Jersey," Meader tells the audience about the sensational time he and the rest of his NYV colleagues spent at the Grunin Center today "working with all the students from Southern Regional High School" located in Manahawkin, NJ.
After a compelling rendition of "You Go to My Head," New York Voices perform a swingin' version of Duke Ellington's "Bli Blip" — a snappy number which features Peter Eldridge and Lauren Kinhan on lead vocals.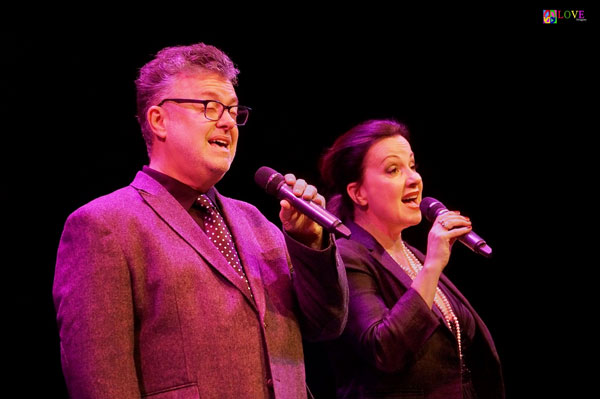 The creative Darmon Meader vocal arrangement also boasts an outstanding bass solo which features runs up and down the instrument's fretless fingerboard, producing pleasing soft tones from this beautiful-sounding acoustic instrument.
Operatic-like vocalizing is featured on "Invitacion," a number which also features an extended piano solo. After which, the New York Voices musicians perform one of the highlight songs of the evening, an original tune entitled, "Answered Prayers (E De Dues)." The song's smooth Brazilian sound has audience members joyfully tapping along to the number's samba feel and nodding their heads to the tasty saxophone solo by Darmon Meader. The joyful melody and harmonies put everyone in a festive mood.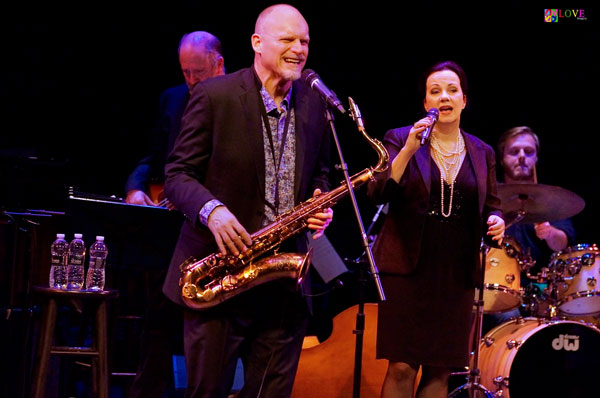 Moving on to Meader's arrangement of Stevie Wonder's classic R&B number, "Don't You Worry 'Bout a Thing," Lauren Kinhan expertly handles the lead vocals, the group moving to the tune's easy groove as they sing.
Paying tribute to jazz vocal legends Lambert, Hendricks and Ross, Kim Nazarian impresses the crowd with her extraordinary vocal chops on Meader's marvelous arrangement of "Jackie." With lightning fast lyrics like, "I turned 'round and found/Something I thought was merely my imagination/On my blouse, a mouse, sat there/An' that's the crazy story I heard," Nazarian scat solos high and low with ease.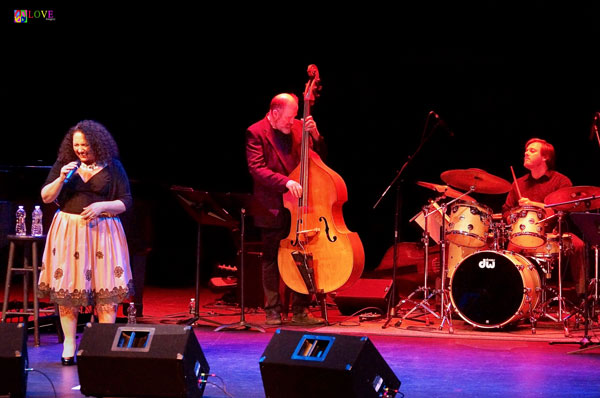 Followed by appealing bass and piano solos, the group finishes off the song to wild audience applause!
Revealing that New York Voices' 30-year anniversary will take place on Feb. 2, 2018, the group launches into an outstanding original song by Peter Eldridge and Lauren Kinhan entitled "The World Keeps You Waiting." The memorable composition not only finds Eldridge playing the piano, but also spotlights Kinhan expertly handling the lead vocals while accompanied by the vocal talents of the Southern Regional High School Vocal Jazz Ensemble.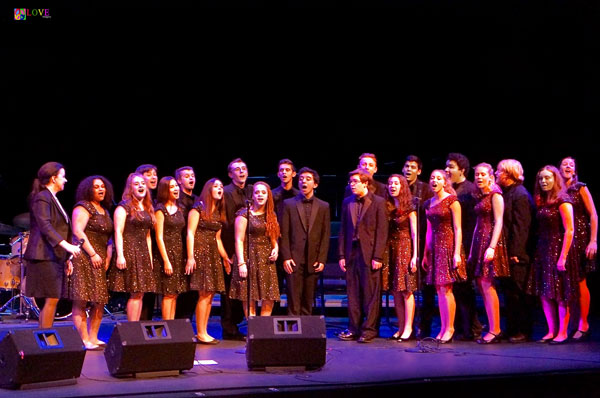 The musicians give the audience members chills with their thrilling performance!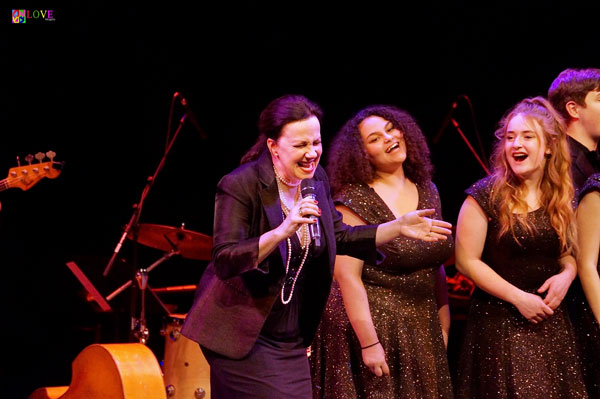 During a short intermission, we take a moment chat with Carolyn Placa, director of the Southern Regional High School Vocal Jazz Ensemble. According to Placa, "A total of 171 Southern Regional students came to Ocean County College today. 80 members of the school's Concert Choir participated in a master class with New York Voices — 20 of those students also being members of the Vocal Jazz Ensemble who performed on-stage with the New York Voices this evening."
Calling today's workshops, "very rewarding musically," Placa explains that all 80 members of the Choir performed the NYV song, "The World Keeps You Waiting," for the quartet this afternoon and "the four members of the group gave the students feedback to help them with their upcoming performance of the song in their 2018 Spring Concert."
Concludes Placa about today's educational experience, "It was so great to see the elated faces of the students looking so bright after working with the talented members of New York Voices!"
Act II of tonight's performance opens with a trio of songs featuring the 22 student musicians of the Southern Regional High School Jazz Ensemble, under the direction of Jennifer Hodgkin. Following a swingin' version of "Sing, Sing, Sing," the group performs a jazzy rendition of "I Could Write a Book." They follow that up with "Smack Dab in the Middle of it All," the audience clapping along as the New York Voices sing up, down, around, and right smack dab in the middle of the song's catchy melody.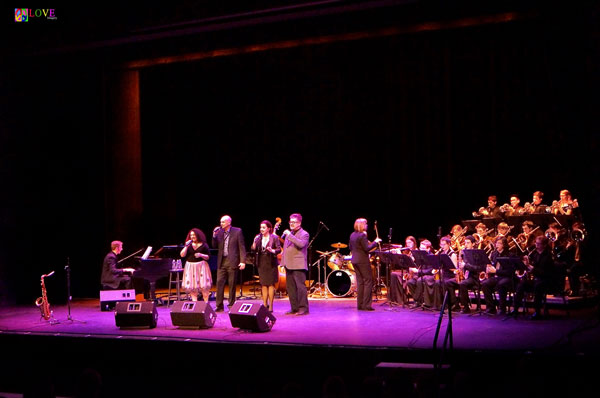 As they scat, the members of NYV invite the audience to echo exactly what they sing, which the crowd does with bouyant enthusiasm!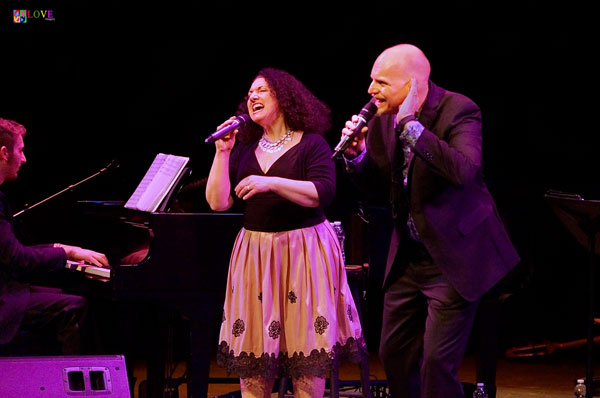 Peter Eldridge takes over the piano again to sing and play his own arrangement of "I Get Along Without You Very Well," a haunting piece which the audience adores.
Lauren Kinhan is the featured lead vocalist on the swingin' "Love Me or Leave Me," a number which features the entire quartet blending beautifully as they scat sing in harmony in the middle of the tune.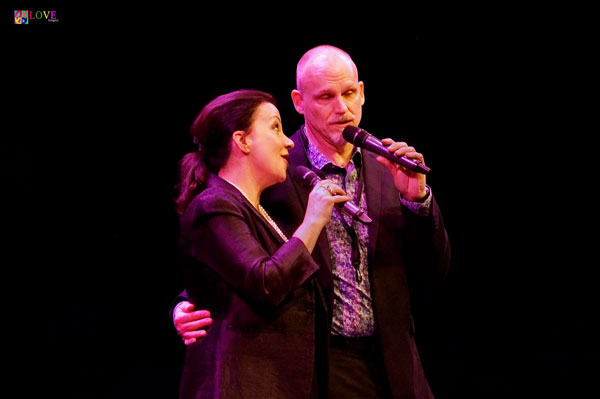 Revealing they saw "a YouTube clip of Ella Fitzgerald, Perry Como, and Catarina Valente singing an arrangement of the song, 'Avalon,'" New York Voices concludes their performance tonight with their rendition of "Avalon." It's a number the group reveals they sang live "to Catarina on her 80th birthday in Switzerland."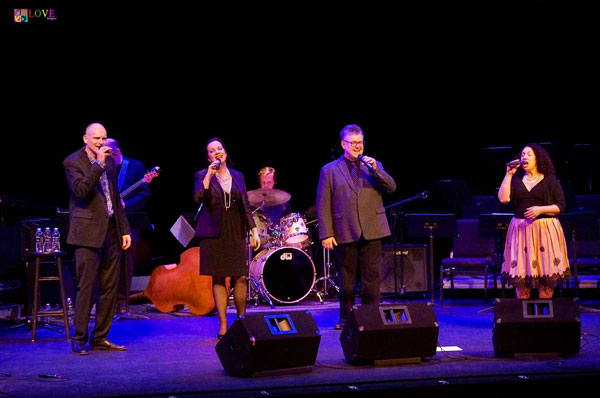 Featuring Kim Nazarian on lead, the group sings, scats, and swings around the stage, all to the delight of the Grunin Center audience, which happily rewards them with a well-deserved standing ovation!
As the crowd makes its way out of the auditorium, we chat with several members of the audience about tonight's performance by New York Voices.
Acknowledges Kelly, a college music major from Waretown, "I really liked this show — it was inspiring!" After revealing, "I recently sang Duke Ellington's 'Bli Blip' with the Jazz Ensemble at Rider University, so I really enjoyed that," Kelly additionally adds, "and I also really loved the song, 'Jackie' — it was different from the original recording, which proves that jazz improvisation is different every time!"
Rachel, a mom from Toms River, comments, "The New York Voices were fantastic! I am so amazed! I'm melting at how smooth the music was," before confessing, "I wasn't expecting to see the kids from Southern Regional here tonight. They were so good — they blew me away!"
We also chat with two of the members of New York Voices.
First, we talk to vocalist/pianist Peter Eldridge who says, "I was so impressed working with and performing with all of the students here today. They worked really hard," before commenting, "New Jersey has really got it together with music in their schools and with jazz music in particular. To bring this type of American music to kids who are in high school was just amazing. They were like sponges!"
Next, we chat with singer Lauren Kinhan who reveals, "It's always exciting to work with kids in New Jersey! The teachers here really know their music, so it's always a big success. We know how much effort it takes to make a day like this day happen, and we appreciate all the work that goes into it," before noting, "Music teaches kids attention to detail, communication, discipline, cooperation, and satisfaction and, hopefully, all of this will carry into whatever the students decide to do in the future."
Lastly we chat with a member of the Southern Regional High School Vocal Jazz Ensemble. Olivia, 17, is a high school senior who acknowledges she's considering pursuing a degree in music therapy.
Says Olivia, "I listen to all kinds of music, but I've liked jazz ever since I was a little girl. I've listened to Frank Sinatra, Nat King Cole, and Natalie Cole, and I especially like the 'casualness' of singing jazz."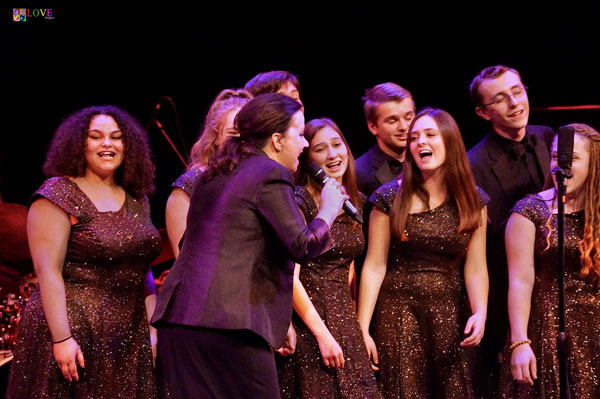 Noting, "It was amazing to sing with New York Voices tonight," Olivia also discloses, "I was practically in a trance on stage — I was so involved in the music!" before concluding, "For me, being up on the stage with New York Voices was a once in a lifetime opportunity!"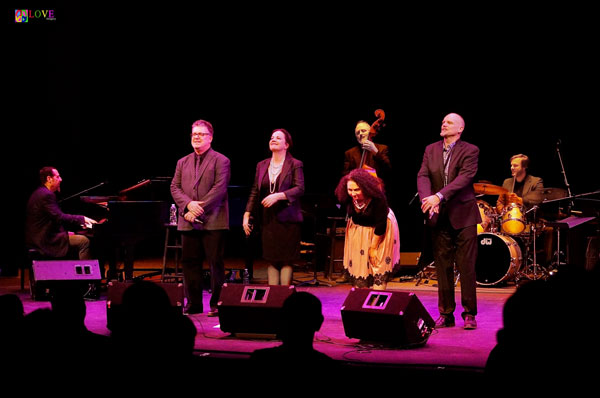 For more on New York Voices, please go to newyorkvoices.com. For information on upcoming performances at Toms River's Grunin Center — including Barenaked Ladies' Steven Page and the Art of Time Ensemble on Feb. 2, mandolinist Sierra Hull on Feb. 3, American Idol finalist Michael Lynche on Feb. 17, and Rickie Lee Jones on Mar. 22 — please click on grunincenter.org.
Photos by Love Imagery
Spotlight Central. Your source for Jersey entertainment news and reviews
Love Imagery Fine Art Photography. all you need. peace/love/flower/power