By Gary Wien
originally published: 07/10/2016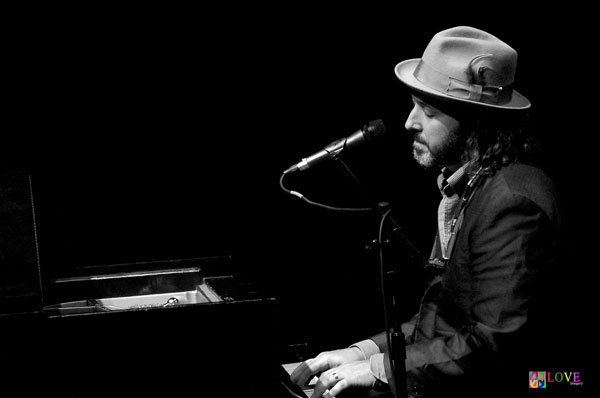 (LAKEWOOD, NJ) — Can you recreate magic? Should you even try? Or is it best to go a completely  different way?
On July 2, 2016, Arlan Feiles recorded a live album at The Strand in Lakewood.  He was inspired by a live set he performed during one of the Strand's "Backstage Pass" shows last year, which was broadcast live on internet radio.  This time around, he wanted to record the show for a new album.  The band recorded an earlier run through as well as the actual show with the hopes of capturing something wonderful for a record.  I hope they succeeded because the show was incredible and it will make a great album.
As usual, Arlan was backed by another fine cast of musicians (Bess Rogers, Michael Scotto, Jack Petruzzelli, Dan B. Green, Layonne Holmes, Eryn Shewell).  His never-ending circle of performers included just two (Green and Shewell) from last year's show, yet this group's credits are just as impressive, if not more. Petruzzelli is a founding member of the Fab Faux who has worked with artists like Patti Smith, Rufus Wainwright, Ian Hunter, and Joan Osborne; Bess Rogers is a talented singer-songwriter who was a member of Ingrid Michaelson's band; Michael Scotto has been a mainstay of the Jersey Music Scene for years with his work for Republic and Agency as well as solo shows; and Layonne Holmes is not only one of the best vocalists in the area but she's recorded with Arlan in the past.
Both the cast and the setlist made this a very different experience from last year's show even though the band wound up playing 9 of the 12 songs performed last May.  Sometimes it is amazing how the sequence of songs can entirely change the way a record sounds as a whole. Likewise, the addition of a few songs — including a pair of blasts from the past — created something close to a greatest hits album that includes a bunch of new songs.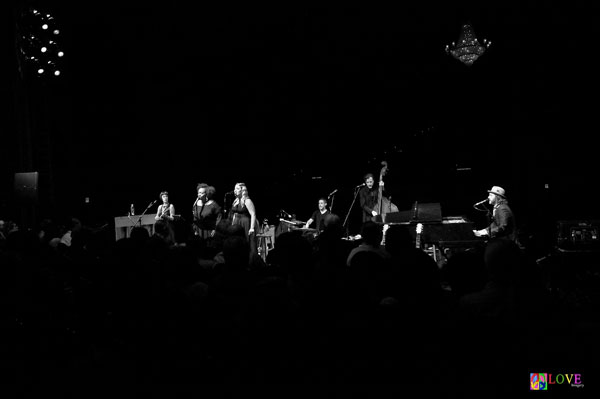 Arriving on stage wearing his trademark hat and hair flowing out, he tuned his guitar while thanking those in the audience who made contributions to the GoFundMe campaign which made the live recording possible.  With the intimate setting of the Backstage Pass series, in which the audience sits in chairs on the stage along with the musicians, Arlan played "Valentine" - a soft, sweet folk song solo on guitar. 
---
The article continues after this ad
---
---
He invited Bess Rogers to come out for backing vocals on the next song, "Change" - a wonderful track from Razing A Nation.  That's the album that introduced Arlan's music to me and completely floored me many years ago.
in this town, we all know what's going down

what goes up and what comes 'round

nothing here's ever the same

everyone's headed for change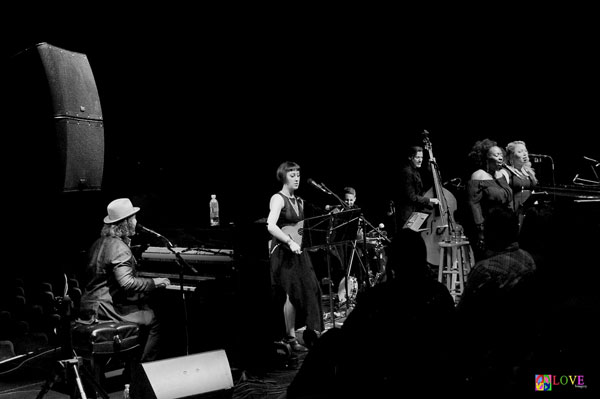 The rest of the band then came out on stage.  Seated at one of the two pianos on stage, Arlan said, "At some point, I'm going to need a scotch!" before the band kicked into "Weeds Kill The Wild Flowers."  It was fun seeing Michael Scotto on drums.  Long known along the Jersey Shore as a guitarist, Scotto has progressed so well as a drummer that he was chosen for a live recording.  That's pretty cool!
"Weeds" sounded a bit tinny to me at first as if they were still working out the sound for the full band songs, but any sound issues cleared up quickly.  When Arlan said, "Alright… that scotch?" I wondered if perhaps he had noticed it as well.  Was the pressure of a live recording starting to show?
"This is a song about not taking shit from anybody," said Arlan. With that, he led the band into "Wake (Don't Back Down)." This not only sounded wonderful but is one of the most beautiful songs ever penned by Arlan. The song appeared on trailers for Dallas Buyer's Club film, but has yet to appear on any of his official albums.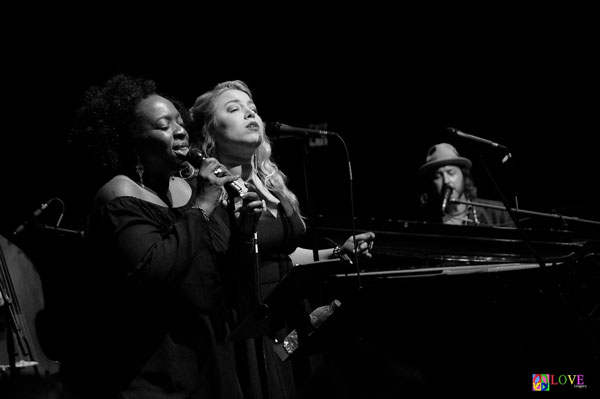 The band (and the sound) hit their stride with "Wake."  The combination of Layonne Holmes and Eryn Shewell on backing vocals knocked it out of the park!  Holmes, who is featured on the actual studio recording, showcased stunning vocals during this song.
Continuing their momentum, the band launched into "50 Miles" - the spiritually uplifting track Arlan penned for Selma 50, the 50th anniversary of Dr. Martin Luther King's March to Montgomery.
"It's funny as I look back on my old songs and not a lot has changed in the last 25 years," said Arlan as he switched to the piano on the other side of the stage and brought out an old nugget from his days in Miami with the terrific band Natural Causes. The song was "The Hangin' of Mr. Johnson" — one of my favorites from his old band.  They were very popular in the south and fans of Arlan's current work would love those old songs as well.  It's always great to see him insert one into a set.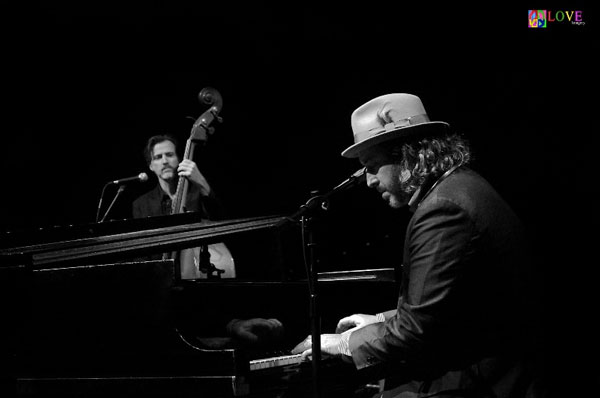 Moving back to guitar, Arlan introduced the next song with, "This is about sticking together.  The more we stick together, the more we can build this middle class up." Then the band kicked into "Workers United."  This song featured a wonderful trio of vocals from Bess Rogers to Layonne Holmes to Eryn Shewell. It's rare enough for an artist to have one great backup vocalist, for this night Arlan was fortunate enough to have three.
The next song was one of Arlan's most powerful and popular new tunes, "Ghosts Of Our Lovers."  As with last year's show at The Strand, this song again featured Eryn Shewell on vocals in a setup that truly lets her voice shine.  Simply breathtaking vocals and an amazing back and forth between Arlan and Eryn.
I may take the arrow, but I will not fire this gun
Back at the piano with drink in hand, "Cheers everybody," Arlan toasted before launching into the beautiful "My Sweet Rose" followed by the jazzy "Everybody Steals."
Popping back to guitar, the band kicked into a rather unique version of "Katie Truly."  Best known as a song featuring the Lone Orchestra with lots of lots of sound coming from tons of musicians, tonight's version seemed a bit darker, more introspective than I'm used to. 
Back at piano, Arlan took advantage of having three wonderful back up singers to work to create a slow opening for "Come Sunday Morning" that featured the women's voices like a gospel chorus.  I wondered if this might have been the opening he always wanted for the song.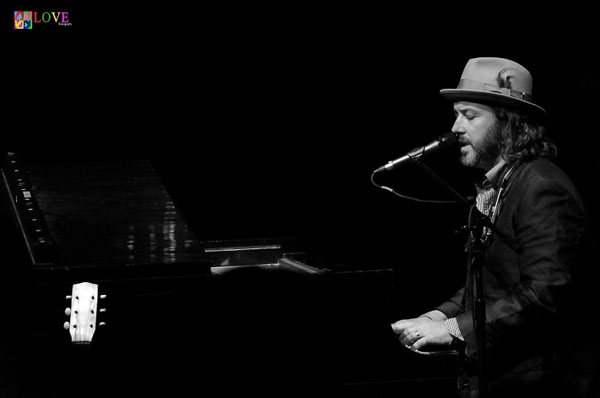 Avoiding an issue with his monitor, Arlan hopped across stage to the other piano for an amazing version of "Viola."  There is absolutely nothing better for me than hearing Arlan Feiles spin tales and play piano and when he plays "Viola" he does both.  It is truly a song that needs to be experienced live because it is an experience in itself -- especially when he has superb singers alongside him. The song was written about Viola Gregg Liuzzo, a woman he learned about while watching a special on the civil rights movement on television.  She was a white woman who traveled from Detroit to Selma, Alabama to take part in the Selma to Montgomery marches.  She was shot dead by members of the Ku Klux Klan.  Her story greatly inspired Arlan.
"She died for our right to vote.  Most of the time, I don't ask you to vote one way.  I just think we'll wind up on the right side of history… This song is dedicated to her and the sacrifice she made," he said.
Hold tight, we're gonna fight, yeah I told ya

Stand tall, stand up right, you're a soldier

We're gonna take this head on, shoulder to shoulder

I hope you're with me, Viola
Arlan brought out a second tune from his days with Natural Causes - "Morning Song" - a tune that featured just Arlan with Layonne Holmes and Eryn Shewell.  The trio sounded amazing together.  The band then came out for the final number "With You Always".
The Jersey Shore is blessed with some amazing keyboard players, but one of the best is Arlan Feiles.  If you're a fan of soulful piano and stories, you'll love the upcoming live album.  And if you'd like to contribute, you can still do so at his gofundme page.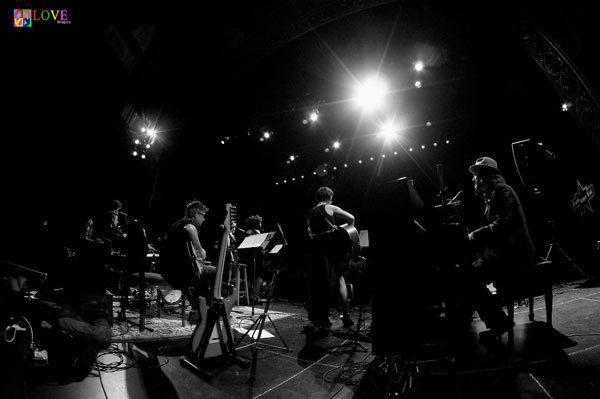 Photos by Love Imagery
Love Imagery Fine Art Photography. all you need. peace/love/flower/power
---
Gary Wien has been covering the arts since 2001 and has had work published with Jersey Arts, Elmore Magazine, Princeton Magazine, Backstreets and other publications. He is a three-time winner of the Asbury Music Award for Top Music Journalist and the author of Beyond the Palace (the first book on the history of rock and roll in Asbury Park) and Are You Listening? The Top 100 Albums of 2001-2010 by New Jersey Artists. In addition, he runs New Jersey Stage and the online radio station The Penguin Rocks. He can be contacted at gary@newjerseystage.com.
---