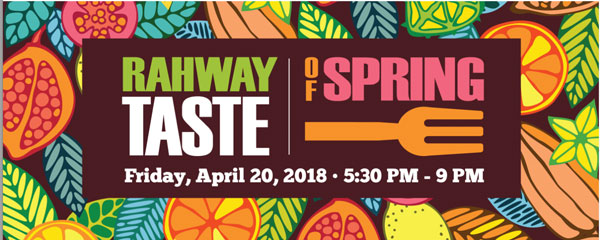 (RAHWAY, NJ) -- On the evening of Friday, April 20, 2018, over twelve hundred hungry patrons attended the eighteenth annual Rahway Taste of Spring, one of the largest tasting events in the metro area. Guests enjoyed a variety of culinary concoctions from over seventy vendors representing both big name chain restaurants and smaller single proprietor entities, as well as a bounty of aperitifs and spirits provided by Witty's Fine Wine & Liquors and Metro Liquors.
This sold out event proved it was the "place to be" with tasters dancing the night away to the musical beats of bands High Strung and Karickter and the spinning tunes of DJ On Fire. Artisans and artists, peppered through the footprint of the event, showed off their works and provided festival goers with a break from the tasting.
Managing Director of the Rahway Arts and Business Partnership (RABP), the organization that hosts this event, commented, "This was the best year so far! We had over 70 vendors. There are not many other tasting events in the area that can boast those numbers. It is an excellent marketing opportunity."
Amy Garcia Phillips, Executive Director of the RABP said, "We usually sell tickets at the door but this year we sold out well before the event started. It was heartbreaking to turn people away but we are really excited that this event has a growing following!" Food, music and fun define the Rahway Taste of Spring; another year, another success.
The Rahway Taste of Spring is also a food competition awarding winning restaurateurs with a beautiful plaque, "Günter Cash" awarded by Günter Wilhelm, a high end cutlery and cookware company, and a year's worth of bragging rights. In addition, the overall winner, the coveted Taster's Choice, also received an engraved knife from Günter Wilhelm.
---
The article continues after this ad
---
---
Taste Of Spring Competition Winners 2018
Seasons 52, 217 Lafayette Ave, Edison, NJ 08837
Best Gourmet Seafood
Best Gourmet Entree
Best Side
*Taster's Choice*
Red Knot, 3 Golf Dr, Kenilworth, NJ 07033
Best Appetizer
Havana Central, 55 Parsonage Rd, Edison, NJ 08837
Best Entree
Best International
Rosie's Cafe, 238 Inman Ave. Colonia, NJ 07067
Best Salad
Bar Louie, 675 U.S. Highway 1S, Ste. 8, Iselin, NJ 08830
Best Pasta
Best Sliders
Ceviche 14, 268 Monroe St, Rahway, NJ 07065
Best Gourmet Pasta
Beana's Para Siempre, 988 St. Georges Ave, Rahway, NJ 07065
Best Mexican Food
Chevys Fresh Mex, 1150 S Stiles St, Linden, NJ 07036
Best Metro Ribs
Bahama Breeze, 520 Woodbridge Center Dr, Woodbridge, NJ 07095
Best Chicken Wings
Best Restaurant Dessert
Mara's Bakery Cafe, 250 South Ave, Fanwood, NJ 07023
Best Pulled Pork
Dorsi's Bakery, 479 Port Reading Ave, Port Reading, NJ 07064
Best Dessert Bakery
Best Gourmet Dessert Bakery
Gold Leaf Pastry Shop and Cafe, 900 W St Georges Ave, Linden, NJ 07036
Best Metro Bakery
*Best Table Display*
For more information, please visit www.rahwaytaste.com.